Mango Soba Noodle Salad
9 November 2018
|
0 comments
Mango Soda Noodle Salad packed with gently cooked greens and finished with a tangy chilli and lime dressing.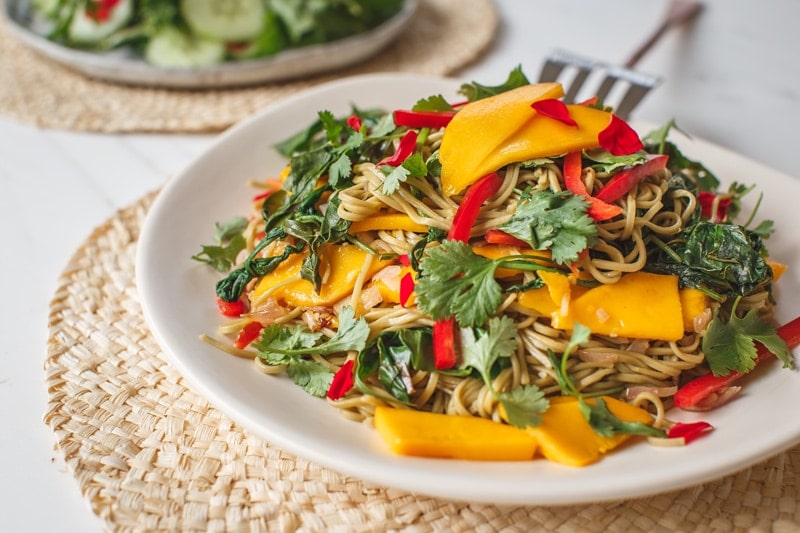 It has been a while since my last recipe post, I couldn't resist these new season sweet mangoes, so I have for you today a deliciously simple soba noodle salad in a tangy chilli and lime dressing.
If you're on my newsletter list, you will have heard that I spent a week in hospital with a deep vein thrombosis in the arm and chest recently (in the end, it was an anatomical issue – the clavicle bone and top rib seemed to be impinging on the subclavian and basilic veins, preventing blood flow – and yes, I'm totally fine now!).
There was a lady opposite me with Type 2 diabetes, who came in with a septic foot almost up to the knee, and had to have her big toe amputated. It would have been an incredibly painful procedure – with the skin graft and all.
Now, she had litres and litres of diet coke stacked behind her bed. I asked her if she knew that soft drinks were known to cause loss of bone mineral density (amongst other things), and she replied: yep! Probably why they had such an easy time cutting my toe off!
In these instances, there is just nothing you can do, aside from be there in the background, ready to educate and inspire when they're ready. I really felt for her though, who really wants to be put through so much pain and suffering?
That brief conversation did something for me though – it re-ignited the desire to keep sharing simple healthy recipes here for you. I get emails each week from people that follow this blog or are on my newsletter list – sharing triumphs in spite of adversity – overcoming health conditions or simply improving quality of life by choosing to make healthy choices every day.
And health is a choice – sometimes it's a difficult one – I get that it takes time, effort and planning when you first start out. But how good does it feel when you can love yourself enough to put your needs first, and invest in proper nutrition, exercise, self-care, positive mindset and healthy relationships?
I have so much respect for all of you on this journey – you're amazing! I hope you know that.
With that in mind, here is that yummy salad – the dressing is my favourite part – so at the very least, give it a whirl with your next meal.
Simple Mango Soba Noodle Salad with a mean Chilli + Lime Dressing - find it here!
Click To Tweet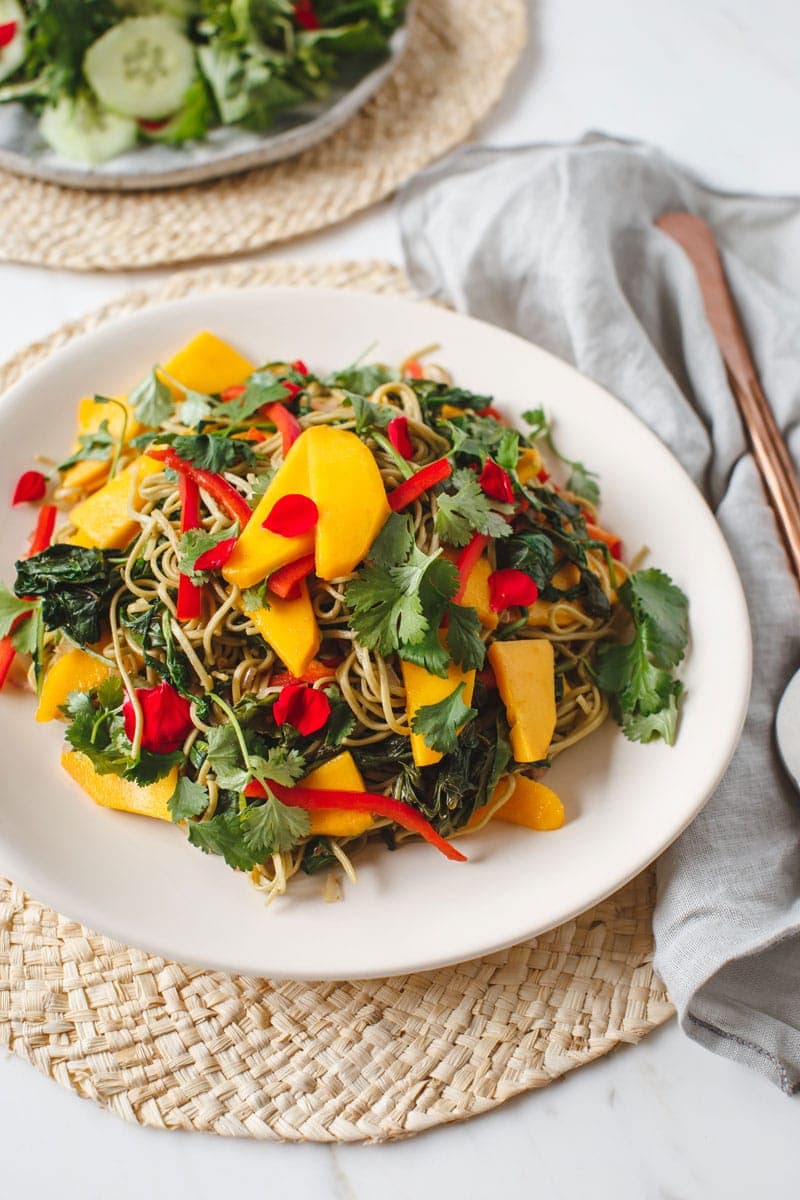 Mango Soba Noodle Salad
Traditionally, soba noodles are made from buckwheat flour or a combination of buckwheat and wheat. So if you are gluten free or gluten sensitive, check the label before you buy them.
Because I'm constantly advocating to crowd in as much low-starch vegetables as humanly possible in a day (8 cups is ideal!), there is a generous amount of fresh spinach slightly wilted and folded through, which isn't a typical feature in this type of salad. By all means leave it out and use some more traditional ingredients like thinly sliced cabbage or carrot.
Chilli and Lime Dressing
The dressing is a bit of winner. One of my biggest supermarket gripes is the cost of limes – $1 per – and all for very little juice.
So here's a great hack for you – use lemon juice to get the acidity, then add a few drops of lime essential oil to jazz it up.
There are 6 drops of lime oil in my recipe – totalling 50c for the lot – much better!
doTERRA's lime essential oil is cold pressed from the rind of the fruit. It is also delicious in guacamole, green smoothies or tomato salsas.
To make it a balanced meal:
Add protein – marinated tofu cubes or thinly sliced tempeh cooked in a little coconut oil
Add more greens – we enjoyed it with mixed salad greens, mint, cucumber and avocado
Be generous with the fresh coriander on top!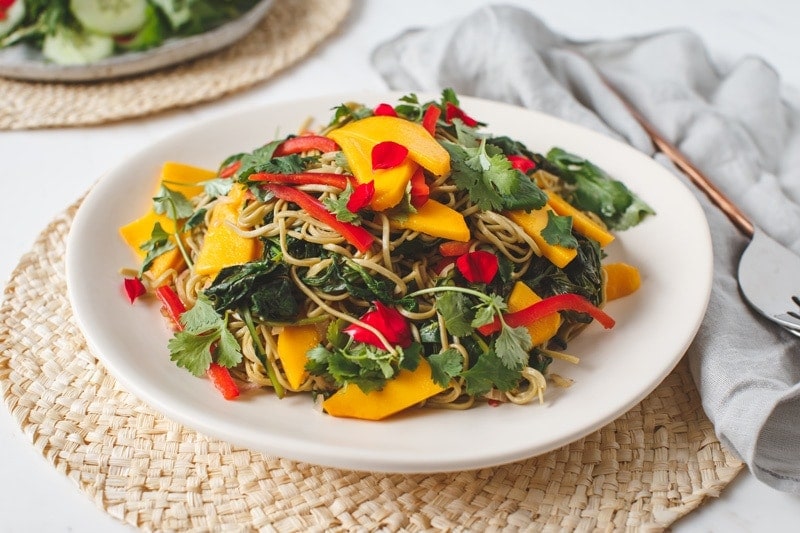 If you make and enjoy this recipe, please leave a rating below. And better yet – leave me a comment to tell me how you got on, or just say hi – I LOVE hearing from you. Follow me on Instagram, Facebook or Pinterest to see more of my everyday recipes and wellness tips.
If you'd like to chat with me about essential oils, or book in a class, you can do that here. If you're after a Naturopathic consult, read more here.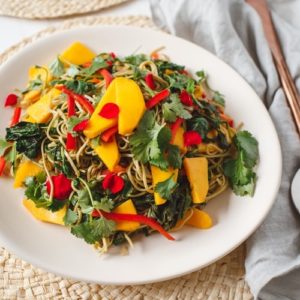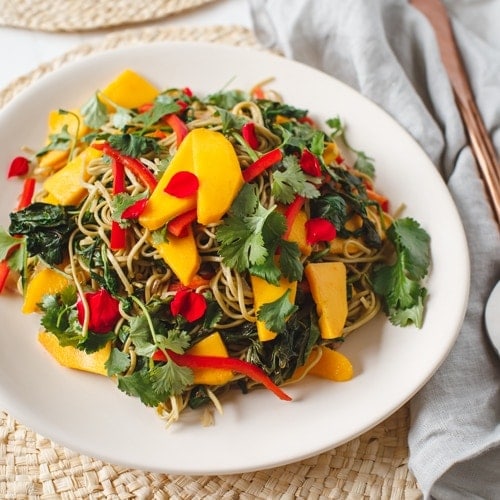 Mango Soba Noodle Salad
Mango Soda Noodle Salad packed with gently cooked greens and finished with a tangy chilli and lime dressing.
Ingredients
Mango Soba Noodle Salad
200

g

soba noodles

3

shallots

diced

3

inch piece

red chilli

deseeded and sliced fine

6

cups

spinach

fresh

1

mango

1

red capsicum

fresh coriander

to serve
Chilli and Lime Dressing
2

tablespoons

extra virgin olive oil

1

tablespoon

brown rice vinegar

Juice of half a large lemon

2

teaspoons

tamari

gluten free soy sauce

1-2

teaspoons

pure maple syrup

6

drops doTERRA lime essential oil

1

teaspoon

chilli flakes

2

cloves

garlic

minced
Instructions
To make the dressing, combine all ingredients in a cup and whisk together.

De-seed and finely slice the capsicum, peel and finely slice the mango.

Wash spinach, remove any tough stalks, roughly chop and set aside.

Cook the soba noodles as per packet instructions then set aside in a large bowl.

Add a teaspoon of the dressing to a fry pan and cook the shallots and chilli till soft and golden. Transfer to the soba noodles and toss.

Add another teaspoon of the dressing to the pan and cook the spinach till just wilted down.

Transfer to the soba noodles, add the remaining dressing, capsicum and mango, toss well to combine.

Season with a little sea salt and sprinkle with fresh coriander to serve. Enjoy!
Lauren's Notes
Soba is either made entirely from buckwheat (gluten free) or a blend of buckwheat with wheat (not gluten free), check the packet if you need it to be gluten free
You can omit the spinach and use thinly sliced cabbage, carrot and red onion instead
If you want to present it beautifully, reserve a few of the ingredients and place directly on top of the noodles before serving for maximum impact
Add tofu or tempeh for extra protein
This does need to be seasoned with sea salt to your liking once done
Nutrition Facts
Mango Soba Noodle Salad
Amount Per Serving
Calories 316
Calories from Fat 72
% Daily Value*
Total Fat 8g 12%
Sodium 605mg 25%
Total Carbohydrates 57g 19%
Protein 10g 20%
* Percent Daily Values are based on a 2000 calorie diet.
Getting started with essential oils
If this has inspired you to experience essential oils, and you'd like to get started, you can either book a complementary consult with me to learn more first, or join with doTERRA right away.
If you know you'd love to get on them right away, 
I'll guide you through how to purchase them here.
If you'd like to chat further, 
you can book a free consult with me here.
And if you're local to me in Auckland and would like to come along to a class, 
have a look at my timetable here.
Thank you for reading, enjoy the salad!
See you again next week,
Lauren.