This beautiful salad is filled with vegetables from the brassica family – Brussel's sprouts, broccoli, cauliflower, kale and mustard - all superstars when it comes to being choc full of liver-loving compounds.
It's 2pm, and I'm only just getting settled at my desk to do some work today. A wee bit of a bumpy start – an angry, inflamed back, combined with an absolutely relentless hedge-trimmer outside my window (aren't they the worst?!), have really tested my patience this morning.
I didn't at all feel like parking my bottom down to do some work – not in such an irritated frame of mind, so instead, I did the sensible thing, and took the morning off. It was absolutely magical – a lovely coastal walk, no headphones, just peace and quiet, taking in all the senses.
I felt the cool, dry air on the back of my neck, and the thick, waxy petal of an unripe magnolia flower in my hand. I saw the foaming bubbles shimmer and burst on the edge of the beach, and the reflection of the black oystercatcher in the rock pool.
I smelt the mix of yeast, vinegar, hash browns and coffee, walking past a café, I tasted the trace of salt on my lips, and the sourness of the wood sorrel I picked, and heard the flinging of sand as a dog furiously dug for whatever treasure he was looking for. These are all the things you miss when your mind is anywhere but present.
And so, I've returned home, grounded, re-energised, and far calmer. This is how I like to roll these days. I have no desire to be operating out of a space of tension, frustration, or angst. And I certainly don't want to be infusing the words I write to you in my blog posts with that kind of energy. High vibes only!
It's funny, sometimes the best remedy for being in a funk really is as simple as a mindful walk.
[bctt tweet="Liver-loving Sprouted Forbidden Rice Salad - find the recipe here!"]
Now, my recipe for you today is a Sprouted Forbidden Rice Salad, and it's packed full of liver loving nutrients. Forbidden rice (black rice) is rich in protective phytonutrients, and the brassica vegetables lend sulphur compounds that enhance liver detoxification pathways. This will make a large platter – and it tastes delicious for lunch the next day.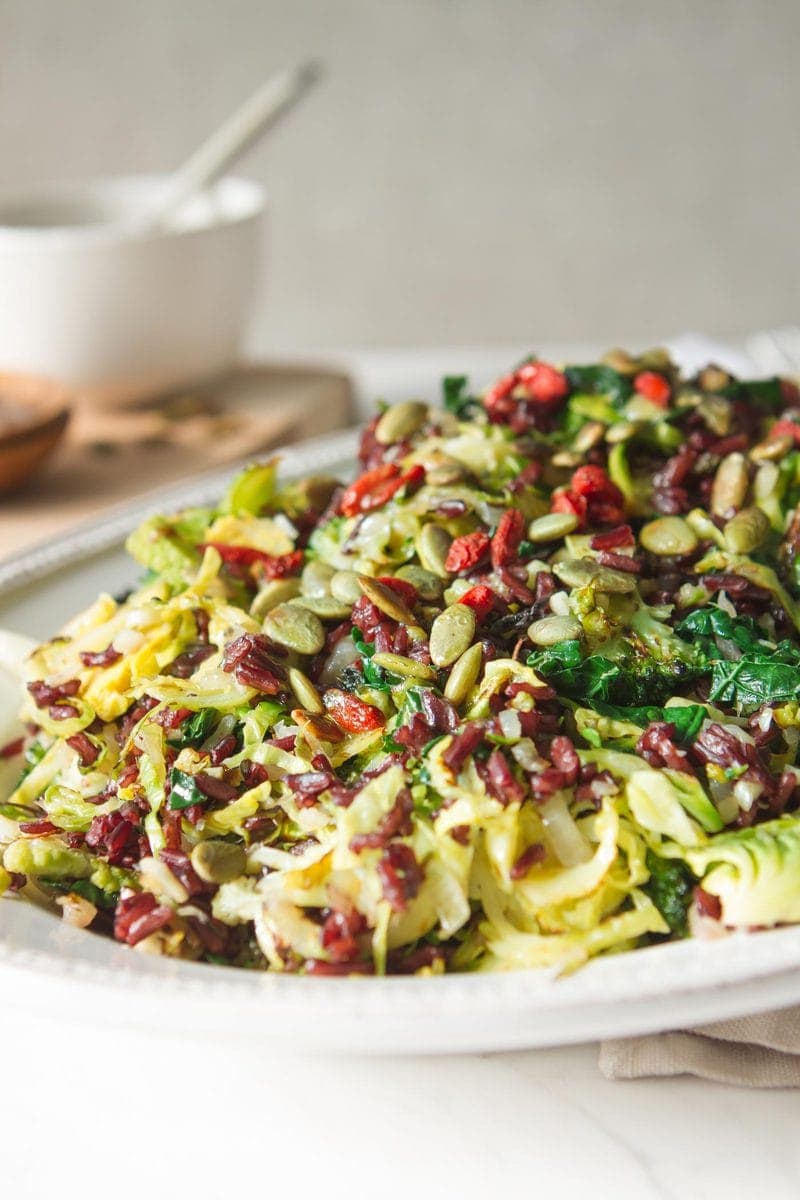 Nutritional Goodies
Forbidden rice, really, is just black, unmilled rice. It is said that nobles in ancient China highly prized the grain and thus would not allow commoners to eat it – hence the name, forbidden rice. That doesn't seem very fair, does it?!
Thanks to the natural dark pigment, forbidden rice comes packed full of anti-ageing antioxidants and anti-inflammatory compounds. In fact, the husks are thought to be among the richest food sources of anthocyanin flavonoids, which offer a broad range of health benefits.
Studies suggest that the anthocyanins in black rice are twice as potent as the antioxidants found in blueberries.
Finally, the rice is soaked in water for 24 hours before cooking, helping improve digestibility, and reduce cooking time.
Brussel's sprouts, broccoli, cauliflower, kale and mustard are all members of the brassica family.
As mentioned, they contain compounds that are used by the liver in detoxification pathways. It is the liver's job to transform toxins into water soluble and therefore excretable metabolites.
This biotransformation occurs in two key reactions. In the first reaction, a toxin is rendered slightly more water soluble, though temporarily becomes even more toxic. In the second reaction, these toxic metabolites are conjugated and rendered highly water soluble – ready for excretion via the urine.
Specific nutrients are needed to support both of these reactions, and the brassica family of vegetables provide natural sulphur compounds for the phase II reaction known as sulphation.
Going back to the powerful antioxidants in black rice for a moment – it's worth noting that they play a direct role in liver support by helping neutralise the oxidative stress induced by those toxic intermediaries produced after the first detox reaction.
So – we're winning all round! Food as medicine, always.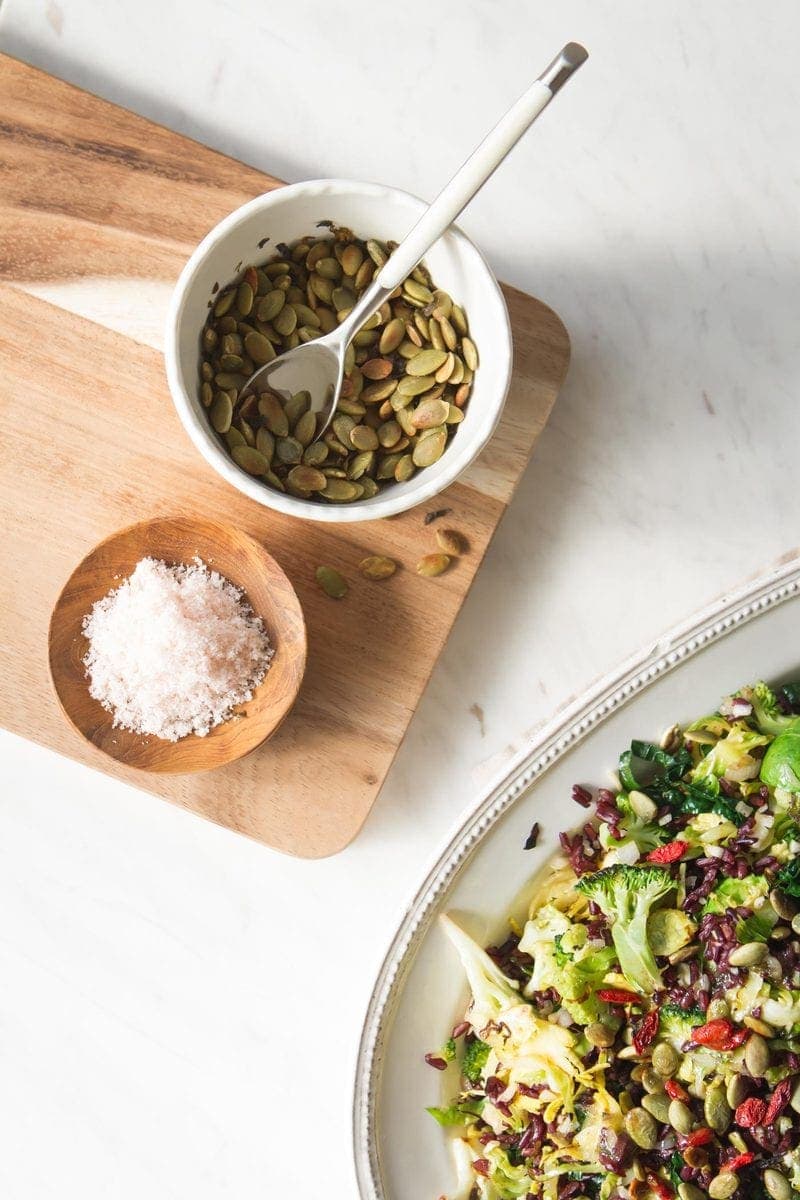 Now – the dressing for this salad uses the homemade mustard from last week. After a week in the fridge, it should have mellowed a bit. It's not a fancy dressing – just a basic mix of quality olive oil with apple cider vinegar, mustard, maple syrup to sweeten, and a dash of sea salt and black pepper.
Hope you enjoy!
If you make and enjoy this recipe, please leave a rating below. And better yet – leave me a comment to tell me how you got on, or just say hi – I LOVE hearing from you. Follow me on Instagram, Facebook or Pinterest to see more of my everyday recipes and wellness tips.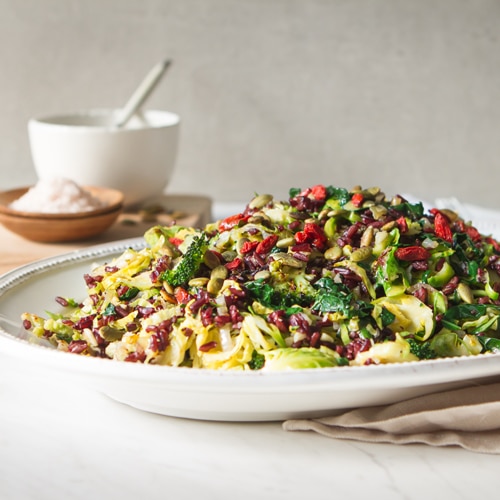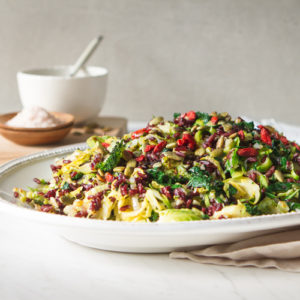 Forbidden Rice Recipe
This beautiful forbidden rice salad is filled with vegetables from the brassica family – Brussel's sprouts, broccoli, cauliflower, kale and mustard - all superstars when it comes to being choc full of liver-loving compounds. Note the prep time is 20 minutes but there is 24 hours of soak time done in advance for the black rice. Serves 4.
Ingredients
½

cup

black long grain rice

Coconut oil – to cook with

2

shallots

4

cloves

garlic

1

small red chilli

if you like a bit of spice!

1

tablespoon

mustard seeds

250

g

Brussel's sprouts

approx. 10 large or 20 small

150

g

broccoli/cauliflower

I used mostly broccoli, with a little green cauli

Small bunch of kale

approx. 60g – stems removed

Handful of pumpkin seeds

Few tablespoons dulse flakes

or karengo flakes (New Zealand native nori)

Few tablespoons of goji berries

Sea salt
TO DRESS:
3

parts quality olive oil to 1 part apple cider vinegar

Equal parts mustard and pure maple syrup to taste

usually 1 teaspoon each to ¼ cup oil/ACV mix works well

Salt and pepper
Instructions
The night before, place rice in a sieve and rinse under running water to remove excess starch. Leave to soak in ample water overnight. The next morning, drain and rinse, then let soak again till the evening.

When you're ready to make dinner, give the rice a final rinse and drain, then place in a pot with 1 cup cold water, and a few pinches of salt. Cover, bring to a boil, reduce to a simmer, and cook till soft. Once cooked, fluff with a fork and transfer to a large serving bowl.

While rice is cooking, prep the vegetables: finely slice and mince the shallots and garlic. Wash all greens, then finely slice the Brussel's sprouts and set aside in a large colander to drain. Chop broccoli and cauliflower florets up small, or slice them thinly, add to colander. Remove stems of kale leaves and finely chop them. Keep separate from Brussel's sprouts and broccoli/cauli.

Before you start with the vegetables, add pumpkin seeds and dulse to a dry frying pan and toast till golden. Set aside in a small dish to sprinkle over the salad later.

Add a teaspoon of coconut oil to the pan. Add mustard seeds and cook till they have popped – you may like to keep a lid over the pan while doing this. Once popped, tip them over the rice. Heat a little more oil in pan if needed, and cook shallots till soft and golden. Add garlic, cook a few minutes more, add chilli if you like a bit of heat, then lightly fry the Brussel's sprouts, broccoli and cauli in two separate batches. Once cooked – transfer to the rice dish.

Cook the kale last – just wilting it in the pan for a few minutes. Add to salad. Mix all ingredients together and sprinkle toasted pumpkin seeds, dulse and goji over the top.

Whisk all dressing ingredients together then pour over the top. Add a bit of sea salt and you're all done.
Nutrition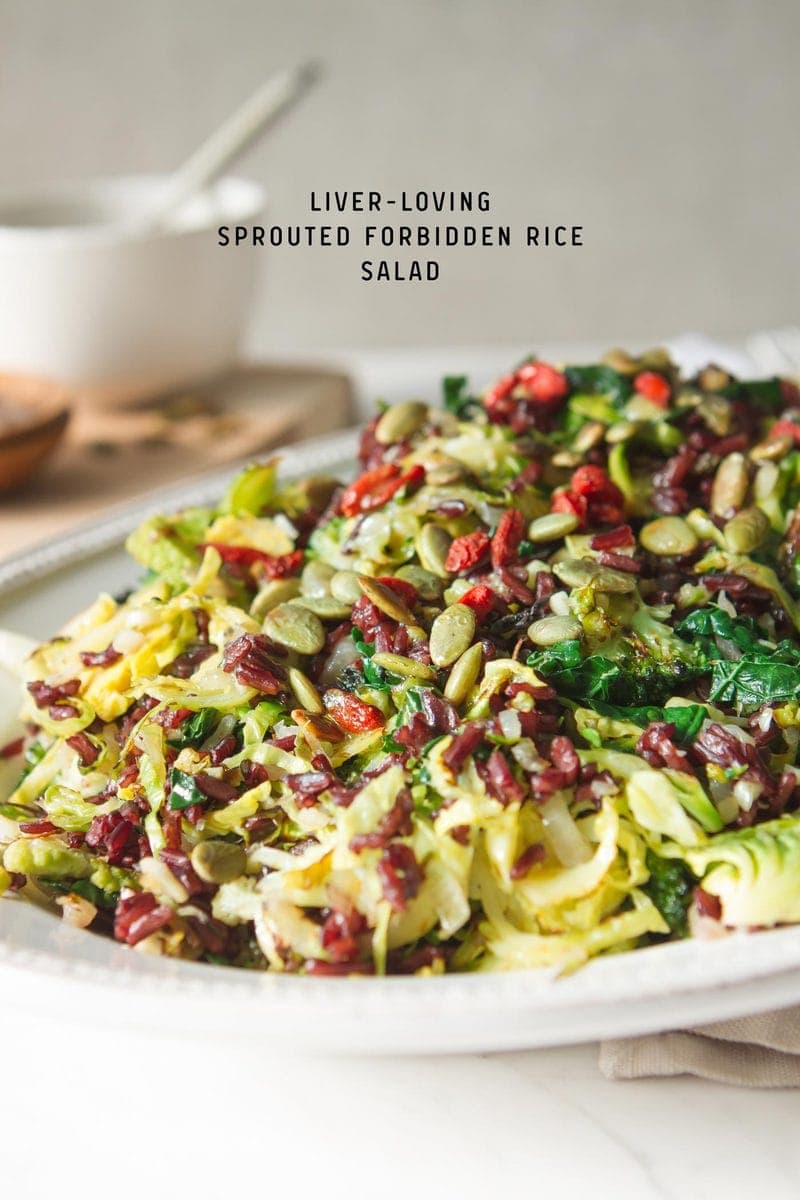 Pengkumsri, N., Chaiyasut, C., Saenjum, C., Sirilun, S., Peerajan, S., … & Sivamaruthi, B.S. (2014). Physiochemical and antioxidant properties of black, brown and red rice varieties of northern Thailand. Food Science and Technology, 35(2), 331-338. Doi: http://dx.doi.org/10.1590/1678-457X.6573

Salmond, S. (2014). Liver dysfunction and disease. In J. Sarris, & J. Wardle (Eds). Clinical Naturopathy (2nd ed. pp. 130-158). Sydney, Australia: Elsevier Australia.

Liska, D., Lyon, M., & Jones, D.S. (2006). Detoxification and biotransformational imbalances. Explore: The Journal of Science and Healing, 2(2), 122-140. doi: 10.1016/j.explore.2005.12.009