A healthy and vibrant saffron rice recipe. This is absolute, pure mood food! Saffron has been well-studied for its therapeutic use in anxiety and depression, so give this recipe a whirl for both its taste and uplifting benefits.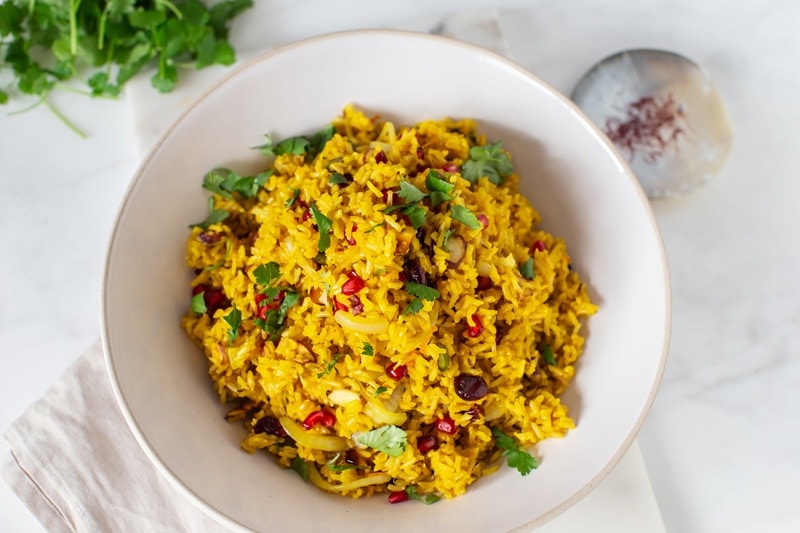 This bright and cheery saffron rice recipe is an easy and nutritious dish, studded with pomegranate, cranberries, pistachios, orange zest and almonds.
It's the perfect side to accompany something like this Pumpkin Chickpea Rocket Salad and this Green Bean, Cucumber and Mint Salad.
A little savoury (due to the spices), a little sweet (due to the fruit + nuts), visually impressive, perfect for a festive occasion (it would go well with my Plant Based Christmas Menu here), and, it comes together in about 40 minutes.
This dish is food as medicine, friends. Saffron is a well-regarded mood-booster, whilst the other colourful additions bring their own benefits to the table (notably: gut-loving polyphenols!).
I'm going to share a little on the kick-ass health benefits of this wonder spice then get straight into how to prepare saffron rice from start to finish.
Let's go!
[bctt tweet="Mood-boosting antioxidant-rich Saffron Rice recipe with pomegranate, orange and pistachio – find it here!" username="laurenglucina"]

Saffron: strands of gold
Saffron is derived from the Arab word for yellow, a nod to the carotenoids in the bright yellow stigmas, though the petals are an absolutely stunning purple. Saffron's botanical name is Crocus sativus.
It is an incredibly precious spice. Saffron flowers contains only three stigmas each, and bloom for just three weeks out of each year. It takes approximately 75,000 saffron blossoms or 225,000 stigmas to produce just one pound (454g) of saffron as the spice we know it – doesn't that just blow your mind?!
Key health benefits of Saffron
Saffron has a long history of traditional use in Greece, the Middle East, China and Europe.
Its therapeutic uses were listed in the Canon of Medicine – a medical text written by the famous Persian physician Avicenna, back in 1025.
Today, it sits on the shelves of our Herbal Medicine dispensaries – with current evidence to support its use in mood disorders such as anxiety and depression, neurodegenerative diseases such as Alzheimer's, menstrual disorders, pain, gastrointestinal complaints, metabolic disorders, upper respiratory conditions, age-related macular degeneration and immuno-modulation.
It contains water-soluble carotenoids, which are potent antioxidants, helping reduce oxidative damage and protect against cancer.
There is particularly good evidence for its use in mood disorders – found to be significantly more effective than placebo, and comparative to anti-depressant medications, whilst being better tolerated, with less adverse effects, and benefits within starting within two weeks [1, 2, 3].
Herbs complimentary to saffron in the treatment of mood disorders such as anxiety and depression include St John's wort, turmeric, ginkgo and American ginseng [4].
Most of the clinical trials on saffron used 30mg per day – this is equivalent to a loose-packed half-teaspoon of saffron stigmas (I had to get my high-sensitive food scales out for this!).
You'd be hard-pressed to consume that daily just by using the spice in your cooking – but even including a small amount on a regular basis will support your health in positive ways.
If you would like to use saffron therapeutically for a mental health condition, be safe guys – book an appointment with a qualified, registered Naturopath and/or Medical Herbalist.
Saffron Rice Health + Nutrition Benefits
Now that we know a little more about our power spice, let's take a look at the wider benefits of this saffron rice recipe:
Saffron is an antioxidant-rich spice with evidence to suggest its efficacy in treating mood disorders such as anxiety and depression. The amount used in this dish isn't at therapeutic levels, however it will still benefit your wellbeing (experiment with saffron in other recipes and aim to include a small amount every so often in your diet)
Brown basmati rice is a low-GI whole grain, providing B-group vitamins, vitamin E, minerals and dietary fibre
Pomegranate contains polyphenols, bulky molecules that are poorly absorbed, though act as antioxidants locally in the gut lumen. They take the heat off the GI tract – as it is constantly exposed to stressors in the form of food molecules, bacteria and environmental chemicals. They therefore help lower the body's inflammatory load [5]
Cranberries are another source of polyphenols. They have been shown to stimulate the growth of a particularly important bacteria in the gut – akkermansia muciniphila [6]. Akkermansia's job is to help produce a highly protective mucous barrier in the gut wall – we need him fed and happy! Tip: try and source reduced-sugar dried cranberries, and if you can find them fresh – even better!
Pistachios are a source of healthy fats, and are a particularly rich source of vitamin B6
Orange zest is a concentrated source of citrus bioflavonoids – antioxidant compounds that support the immune system (tip: add a little to your salads daily)
How to make Saffron Rice
Start by sourcing a good-quality saffron, it should smell a bit like hay – see this post to learn how to identify qualify saffron.
To prepare the saffron, grind half in a mortar and pestle, until it has powdered. Then add the remaining stigmas, with two tablespoons of hot water.
Let it steep for 10 minutes. The mechanical grinding and hydration both help to release the therapeutic constituents.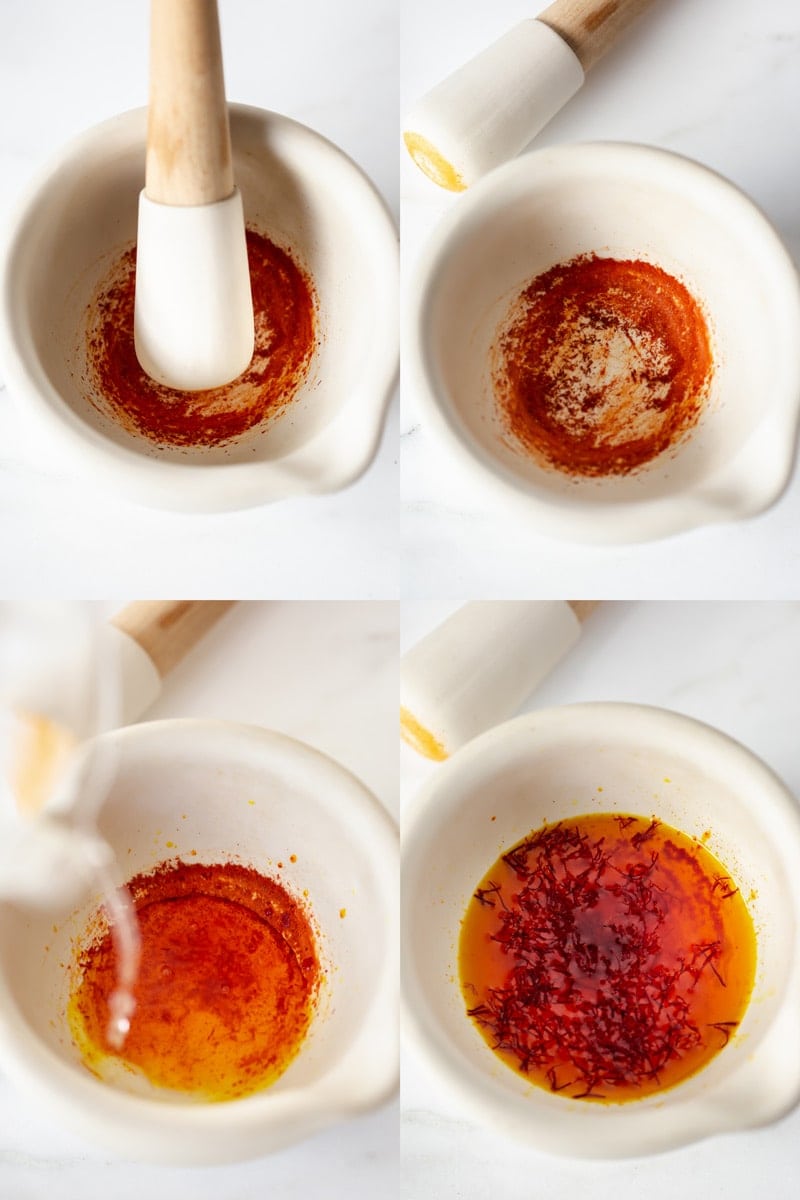 Now we need a large saucepan. Heat a glug of olive oil, then add your bay leaf, cinnamon, cumin and cardamom. Cook over low-medium heat until the spices release their fragrance (about a minute).
Add washed and drained brown basmati rice, and stir well to combine. Cook like this for another minute.
Then add vegetable stock and hydrated saffron – cover and bring to a boil. Reduce to a simmer, and leave to cook.
Quick tips - how to cook rice perfectly
Use double the liquid to rice
Cook low and slow
Don't faff with it while it cooks
Let the rice absorb all the water – no need to drain (unless you use too much liquid – then you need to drain, to prevent soggy rice!)
Remove from heat and fluff with a fork before serving
Now – if you want to go to the effort of including the extra little goodies – pistachios, almonds, cranberries, pomegranate – fabulous – but if not, the dish is totally delicious plain.
I like to go the extra mile 😉
So – while your rice cooks, dry toast (in a frying pan) pistachios and slivered/flaked almonds (tip – pine nuts are a great alternative for either here), then set aside. Add a drizzle of olive oil back to the fry pan, then cook finely sliced onions until they're soft and brown.
By now our rice should almost be done – so throw the dried cranberries into the pot so they have time to soften.
Remove the rice from the element and pick out the bay leaf and cardamom pods if you can (using tongs is helpful). Fluff with a fork, then add all remaining ingredients.
Boom! Our Saffron rice recipe is done, jewelled up and ready to serve!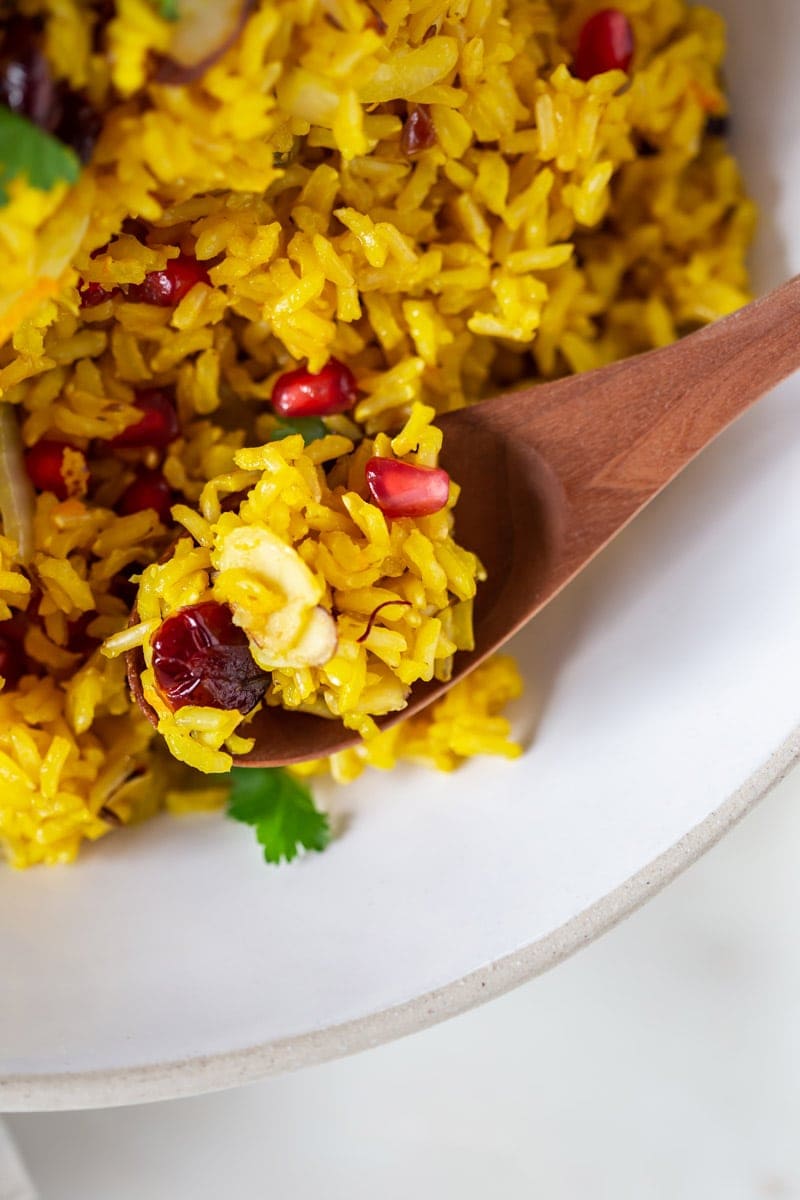 Less meat, more plants
Guys, in light of these Amazon fires, I really question how helpful the #govegan cries are at the moment. Telling people what to do won't get us very far, people need to be shown how to do it! The truth remains the same either way – we really do need to address and reduce our meat consumption globally in the name of the planet's welfare.
This is a 100% plant-based blog, and has been for the last 7, nearly 8 years. There are hundreds of delicious free recipes here – all of them healthy, most with accompanying nutritional notes. If you feel called to do so – please help me spread the word by sharing some of my recipes. Let's educate and empower!
Love to you all,
Lauren. x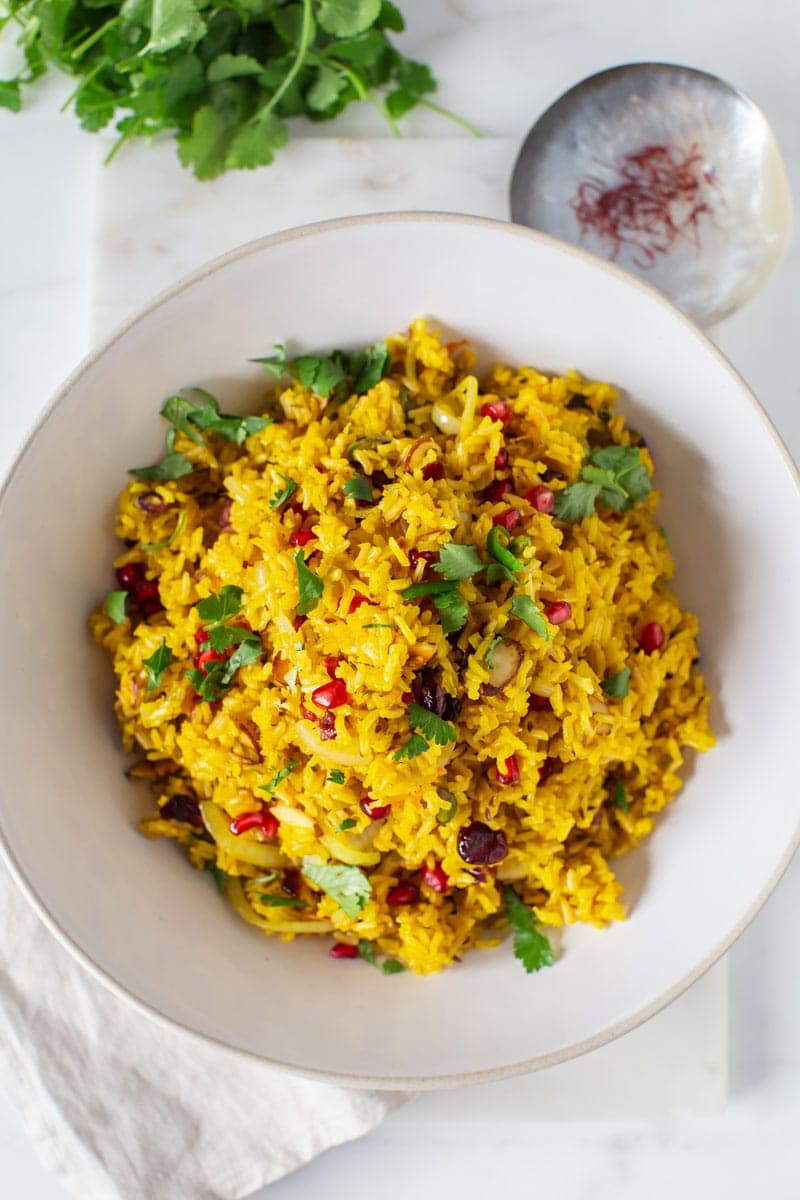 If you make and enjoy this recipe, please leave a rating below. And better yet – leave me a comment to tell me how you got on, or just say hi – I LOVE hearing from you. Follow me on Instagram, Facebook or Pinterest to see more of my everyday recipes and wellness tips.
If you'd like to chat with me about essential oils, or book in a class, you can do that here. If you're after a Naturopathic consult, read more here.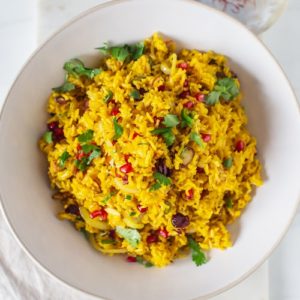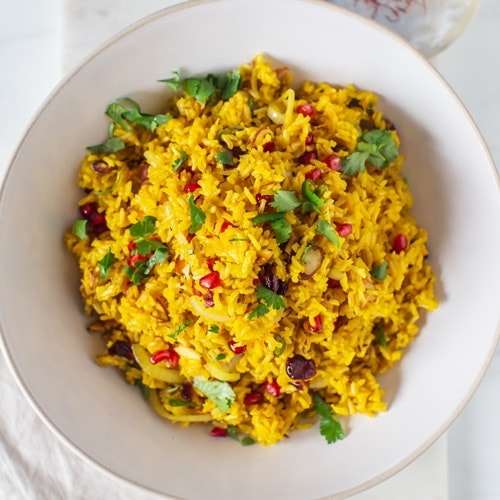 Saffron Rice
A vibrant, fragrant and fluffy saffron rice recipe, cooked in vegetable broth with caramelised onions, studded with pomegranate, cranberries and pistachios. Saffron is a mood-boosting spice – this dish is pure food as medicine!
Equipment
Mortar and pestle

Large saucepan

Fry pan
Ingredients
2

cups

long-grain brown basmati rice

1

litre

vegetable stock

organic, low sodium

1/2

teaspoon

saffron threads

2

tablespoons

olive oil

1

medium

onion

brown

1

cinnamon stick

1

bay leaf

6

cardamom pods

2

teaspoons

cumin seeds
Optional
1/4

cup

slivered/flaked almonds

1/4

cup

pistachios or pine nuts

1/4

cup

pomegranate arils

2

tablespoons

cranberries

zest

of half an orange
Instructions
Prep saffron; grind half in a mortar and pestle, then add remaining stamens and a
few tablespoons hot (not boiling) water, let steep for 10 minutes.

Heat one tablespoon olive oil in a large saucepan, then add spices: bay leaf, cinnamon, cumin, cardamom. Fry over low heat for a minute or so until fragrance is released.

Add rinsed and drained long-grain basmati rice, and fry for another minute.

Add one litre stock, and pour in the hydrated saffron. Cover, bring to a boil, then reduce to a simmer.

Meanwhile, in a fry pan, dry toast the nuts until golden, then set aside, add remaining tablespoon of oil to the pan, and fry sliced onion until soft and caramelised.

Check on the rice: it should now have just about absorbed all liquid. Add the cranberries now to soften them.

Once rice has cooked, remove from element, pick out the bay leaf and cardamom pods if you can, add all remaining ingredients, and fluff with a fork ready to serve.
Notes
You can use white basmati in place of brown basmati, though I prefer brown from a nutritional standpoint as it is a whole grain with more nutrients in tact.
Brown basmati takes a little longer to cook than white.
Make sure the rice cooks low and slow, then fluff with your fork for utter perfection.
This recipe is delicious without the addition of the berries and nuts - so if you're after something fuss free, just omit. In fact - the berries + nuts are more akin to a traditional Persian Jewelled rice.
Pine nuts and currents are great alternatives to the nuts and cranberries.
Fresh cranberries would be amazing!
Nutritional panel is an estimate only, and has included the berries + nuts.
Nutrition