My now legendary Raw Chocolate Raspberry Tart is the ultimate treat to indulge in. The base is a crunchy mix of cashews, coconut flakes, whole dates, cacao and ginger, while the mousse-like filling combines raw cacao with fresh raspberries, more ginger and a little pure maple syrup to sweeten. Deceptively simple to make, and best served with a sprinkle of fresh flowers.
Chocolate, raspberries and ginger are such a heavenly combination. A while back I made some mini Raw Chocolate Raspberry Tarts for a feature SBS were doing on plant food, but felt they had a bit of a Valentine's vibe, so re-visited the recipe. My originals were quite light and not too sweet. This time round however, I decided to make them a little richer. Cashews with cacao powder and cacao butter created a gorgeous smooth filling, and with double the amount of ginger – it all of sudden came together.
I also decided to get just a little crazy with the flowers to decorate. I tore up a handful of edible flowers, broke open a few whole fresh raspberries, and sprinkled a few teaspoons of buckwheat groats over the top for good measure. The end result was pretty impressive!
[bctt tweet="A healthy Valentine's treat: Raw Chocolate Raspberry Tart infused with ginger. Find it here."]
This tart is super decadent and should be enjoyed on special occasions such as these. It is naturally gluten free though I've taken to using oats in my cake bases of late so if you're not sensitive to them I highly recommend swapping out some of the cashews – this will also lower the overall fat content. I still much prefer these types of treats when they're called for – especially when you consider what goes into a conventional Chocolate Tart – pastry, butter, double cream, sugar and the like.
By the way – the ginger in this recipe is so out of this world – it is also a circulatory stimulant, meaning it may work as an aphrodisiac. Ooh la la!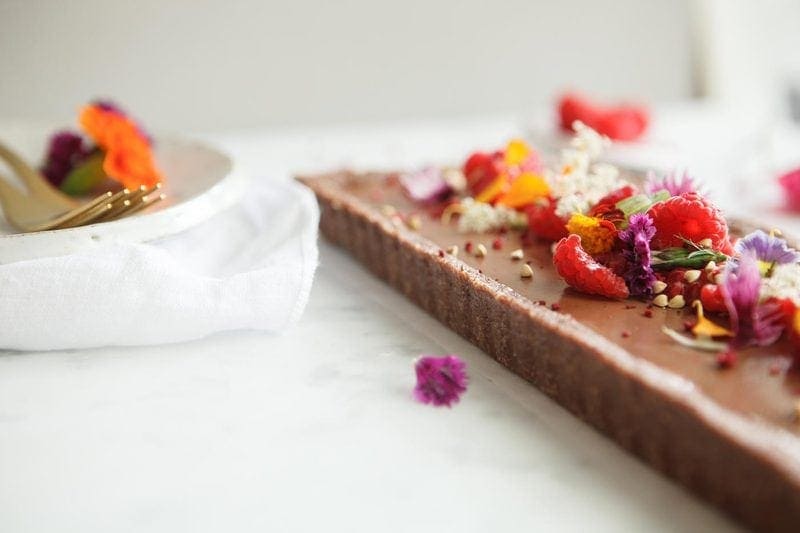 My Best Awkward Valentine's Ever
I thought I'd share my best ever but totally awkward Valentine's Day with you, because I have a giggle about it every year around this time.
When I first met my partner, he 'threw his line out' – his own words. We were newly dating when Valentine's Day rolled around, and he pulled out all the stops. It didn't however quite go to plan.
He decided that a cruise around the harbour would be a good idea. Fair enough. I was instructed to dress nice and wait to be picked up. Unfortunately, the chain of unfortunate events started with him getting stuck in peak hour traffic. Arriving late, hot and sweaty, he shoved past me to the kitchen, hastily filled a pot with water and plonked a bunch of wilted tulips inside, then grabbed my hand with a sweaty palm and hurried me out to the car.
We arrived a few minutes late, just as the boat pulled out from the wharf. Before I knew what was happening, he had grabbed my purse from me, gripped my hand, and started sprinting toward the moving boat. It was a total James Bond moment but we somehow managed to jump off the wharf and land in the middle of the doorway despite the host on board waving his arms angrily.
After hobbling inside (I had worn my highest heels which were now just a wee bit bent), we quickly discovered the Valentine's Cruise was a cross between the old Love Boat meets E-Harmony awkward first date meet-up. We were the youngest couple there by a good decade, and sat on plastic chairs watching the homemade love heart bunting sway and bob with the boat, listening to Celine Dion's The Power of Love belt out from a crackling speaker. It was actually quite hilarious. A buffet filled with meats and potatoes (not vegie friendly by a long shot!) and a forced group salsa-dance later, we were safely back where we started.
Despite it being just a tad bit different than he had anticipated, it was still the most romantic Valentine's Day I've ever had, albeit an awkward one. Unfortunately, it looks like it will be the most romantic Valentine's Day I ever will have too – every year since has gone by with decreasing enthusiasm. He 'caught the fish' – again his own words (gee thanks), so no need to go all out. Man logic!
Now, I'd love to hear your funniest Valentine's story if you're up for sharing?
Happy day of love my friends, and if you don't have someone to spoil you, spoil yourself by making this delicious treat!
Enjoy,
L.
Raw Chocolate Raspberry Tart
To fill a loose bottom rectangle tart tin, 12cm width x 36cm length x 3cm height. Please note the active prep time is around 25 minutes, but this excludes the 2+ hours soaking required for the cashews.
Ingredients
BASE:
2

cups

nuts

cashews, walnuts or almonds

1

cup

coconut flakes

½

cup

dates

pitted (about 115g)

2

tablespoons

cacao powder

1

tablespoon

coconut oil, melted

2

teaspoons

ginger powder

2

pinches

coarse sea salt
FILLING:
1

cup

cashews

soaked in water for 2-8 hours

¼

cup

nut milk

¾

cup

fresh raspberries

¼

cup

100% pure maple syrup

¼

cup

+ 2 tablespoons cacao powder

¼

cup

cacao butter, melted

2

tablespoons

coconut oil, melted

2

teaspoons

ginger powder

1

teaspoon

vanilla extract

2

pinches

coarse sea salt
Instructions
BASE:
Place nuts in food processor and blend till they become a fine meal.

Add coconut flakes and blend till fine.

Add cacao, ginger, salt and coconut oil, blend to combine.

Add dates last one by one as motor runs, blend till well combined.

Line a rectangle tart tin with plastic wrap, then transfer base mixture and press into tin. Use your fingers to press the mixture right into the grooves, take time to get into the scalloped edges for the best end result. Set in freezer.

FILLING:
Drain the soaked cashews and add them to a blender with the maple syrup and raspberries. Blend till smooth.

Add all other ingredients and blend till combined.

Pour mixture over the base and set in the freezer.

Decorate with flowers and fresh raspberries to serve, keep in the fridge or freezer.
Nutrition
Calories:
545
kcal
Protein:
8.9
g
Fat:
40
g
Saturated Fat:
17.6
g
Fiber:
7.5
g
Sugar:
22
g
Calcium:
660
mg
Iron:
0.6
mg
If you make and enjoy this recipe, please leave a rating!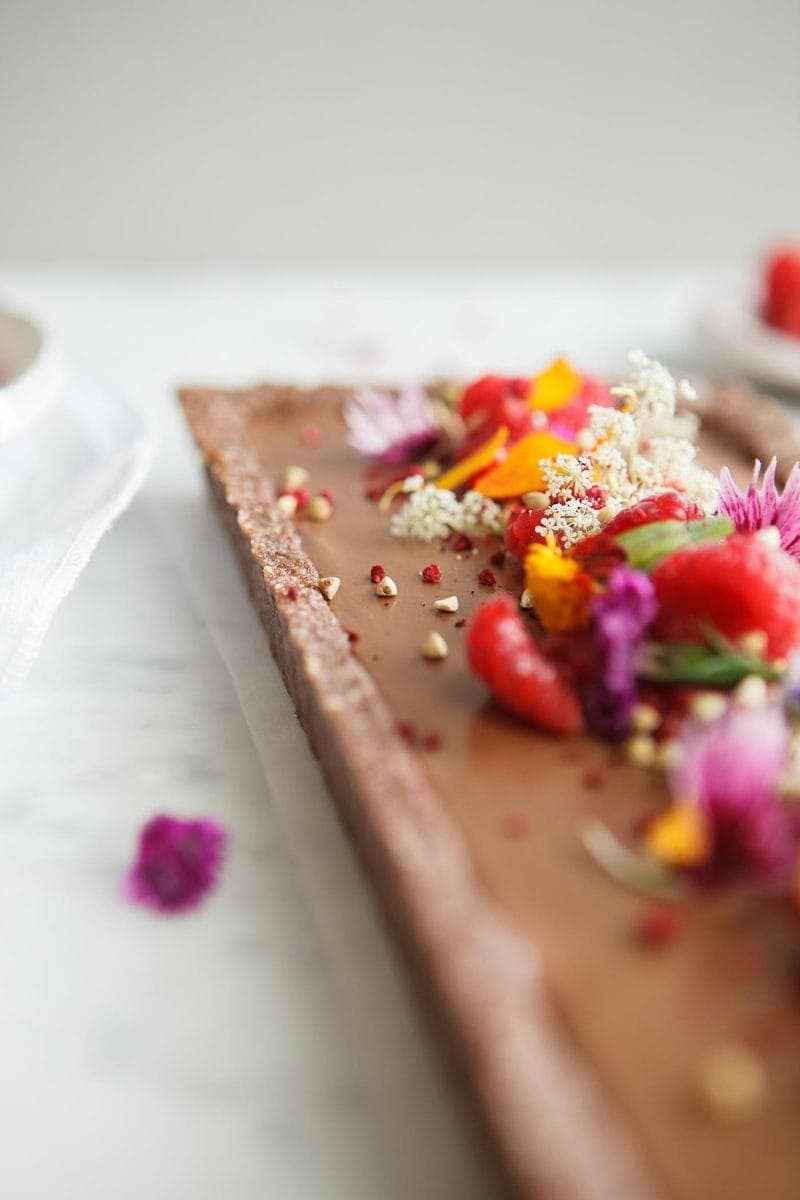 I'd love you to follow me on Instagram,
tag me @ascensionkitchen so I can see your creations!