Roast kumara salad is a Kiwi favourite! Kumara are New Zealand sweet potatoes – and they're delicious roasted and tossed with caramelised onions and a zingy orange dressing.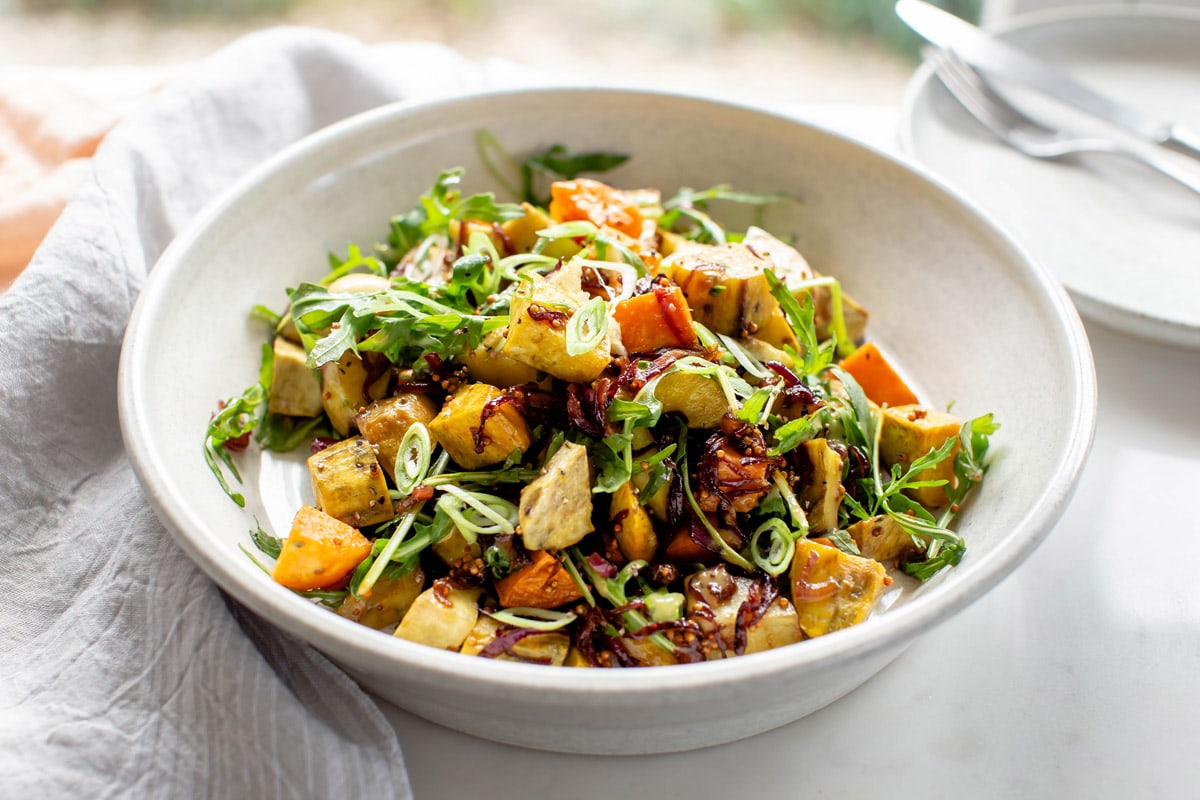 Are you ready for a Kiwi classic? On the menu today – roast kumara salad with a zingy orange and tahini dressing.
🍠 Kumara are the same as sweet potatoes - botanically, they are both Ipomoea batatas, and part of the Convolvulaceae (morning glory) family, native to America, not New Zealand.
New Zealand kumara varieties come in a range of colours, a spectrum that ranges from red to purple kumara, and gold to orange.
Available year-round, they are incredibly energy dense so are great to serve as a side dish to make your main feel more substantial.
Jump to:
👩‍⚕️Kumara nutrition
Purple kumara (least sweet) have a purple skin and flesh and are rich in anthocyanins – a type of flavonoid with potent antioxidant effects.
Red kumara (mildly sweet) have a red skin with creamy white flesh. Like purple sweet potato, they contain anthocyanins due to their red pigment. They're a good source of vitamins C and B3, and contain some B1, B6, and manganese.
Gold kumara (sweet) are a good source of vitamin B2, B6 and folate, and contain some B1, B3, copper, and magnesium.
Orange kumara (sweetest) are rich in beta-carotene, the dietary precursor to vitamin A. A source of B1, B2, B3, B6, vitamin C and manganese.
All kumara plant varieties are a source of dietary fibre, and contain a significant amount of potassium, a key mineral involved in regulating fluid and pH balance, muscle contractions and nerve signals.
Diets high in potassium are associated with lower blood pressure, so may reduce risk of hypertension and stroke.
🍊Ingredient notes
There are many renditions of the beloved roast kumara salad here in NZ – but the most popular tend to be more akin to traditional potato salads, with spring onions and lashings of mayo and sour cream. Common additions are bacon, walnuts and curry powder.
This easy kumara salad is a lighter take, friendlier to those on special diets.
It combines a range of coloured kumara with garden herbs, garlic, caramelised onions, ample fresh rocket (or, baby spinach as a substitute) and a creamy orange tahini dressing.
🍠Roast kumara salad - step by step
1. Roast kumara. Choose a variety of kumara and cut them into medium sized chunks. Arrange evenly on a baking dish. Scatter fresh thyme and whole garlic cloves over the top, and roast for about 35 minutes.
💁🏽To coat kumara evenly with extra-virgin olive oil, I pour the oil into the palm of my hand, rub my hands together then massage over the kumara.
2. Fry onions. Finely slice one red onion and fry with a few teaspoons of yellow mustard seeds until soft and golden over medium heat.

3. Caramalise onions. Add equal parts pure maple syrup and balsamic vinegar.
Turn down the heat and cook for a good 10-15 minutes until the liquid has reduced and the onions are browned. The mustard seeds will eventually pop as they heat up – delicious!
4. Prepare the dressing. To make the kumara salad dressing, whisk together fresh orange juice, tahini, Dijon and wholegrain mustard, olive oil, maple syrup and sea salt. So good.

5. Assemble. Toss the roast kumara with caramalised onions and fresh rocket in a large bowl. Add sliced green onion, and pour the dressing over the top (you won't need the whole amount).
There you have it – the most delicious salad ideal for the cooler months, enjoy!
🍴Serving and storage
Roast kumara salad is great paired with a serve of quality protein and a side of fresh greens
This easy recipe is a great one to meal prep for easy mid-week lunches – try adding creamy avocado and black beans – yum!
Store in an airtight container in the fridge and enjoy within a couple of days
🥗More healthy salads
Enjoy friends! Till next time,
Lauren. x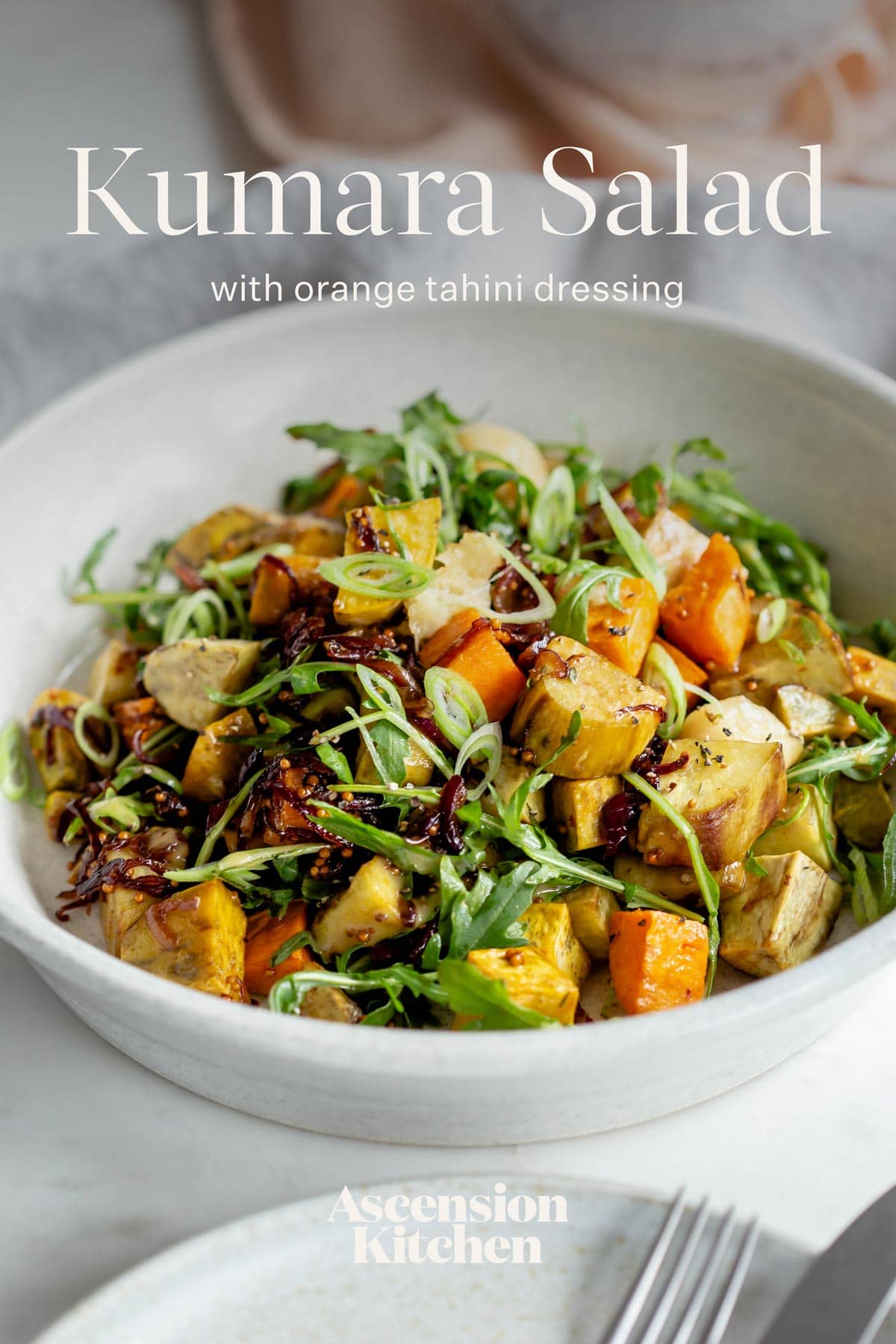 🌿Enjoyed this recipe? Leave a comment below, better yet - share a snap with me on instagram @ascensionkitchen. If you're after personalised health and nutrition advice, contact my clinic, I'd be happy to work with you.
📖Recipe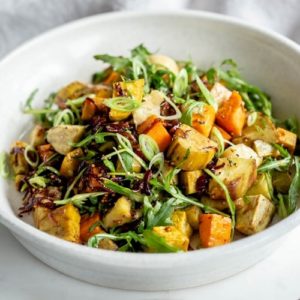 Easy roast kumara salad with orange dressing
An orange and kumara salad to enjoy year-round– this is a classic NZ recipe. Serves 6 as a side.
Ingredients
3

kumara

red, orange, gold varieties

1 ½

tablespoons

olive oil

3

sprigs fresh thyme

5

garlic cloves

whole

1

red onion

2

teaspoons

yellow mustard seeds

2

teaspoons

pure maple syrup

2

teaspoons

balsamic vinegar

1

heaped cup fresh rocket/arugula
Dressing:
1

tablespoon

fresh orange juice

1

scant tablespoon

tahini

hulled

1

teaspoon

Dijon mustard

½

teaspoon

wholegrain mustard

2

teaspoons

olive oil

2

teaspoons

pure maple syrup

pinch

of sea salt
Instructions
Prep: Pre-heat oven at 170˚C (338˚F).

Roast kumara: Wash, pat dry, and cut kumara into chunks, place in a baking dish or in single layer on an oven tray.

Drizzle over ½ tablespoon olive oil, toss to coat, then add fresh thyme and garlic.

Bake for about 35 minutes or until soft and golden, set aside. Once cooled enough to handle, peel the skins off the garlic cloves.

Fry onions: Heat 1 tablespoon olive oil in a frying pan, then add finely sliced red onion and 2 teaspoons yellow mustard seeds. Cook over medium heat until soft and golden.

Caramelise onions: Add 2 teaspoons each pure maple syrup and balsamic vinegar, turn the heat down slightly and let cook for a further 10-15 minutes until caramelised.

Prepare the dressing: Whisk all ingredients together in a small bowl.

Assemble: Combine roasted kumara, caramelised onion and 1 heaped cup fresh rocket in a large salad bowl. Add finely sliced spring onions, and pour the dressing over the top (use enough to your liking, it makes a larger portion than needed).

Serve and enjoy!
Notes
Kumara can be found in the produce isles of supermarkets
You can sub baby spinach for the rocket
Choose extra-virgin olive oil over vegetable oil, as the latter is inflammatory and lacks the beneficial phenols EVOO contains
Avoid crowding the kumara in the baking tray or it will steam rather than roast
Hulled tahini is my preference for the dressing as unhulled tahini can be bitter
You probably won't need all the dressing for this salad
Next time, I might add a little orange zest to the dressing
Nutrition panel is an estimate only
Nutrition
Calories:
159
kcal
Carbohydrates:
20
g
Protein:
2.8
g
Fat:
7.8
g
Saturated Fat:
1
g
Fiber:
2.7
g
Sugar:
7.7
g