Matbucha - a rich and delicious sauce made with bell peppers and eggplant, spiced with garlic, chili and paprika. 30 minutes cooking time - just add flatbread!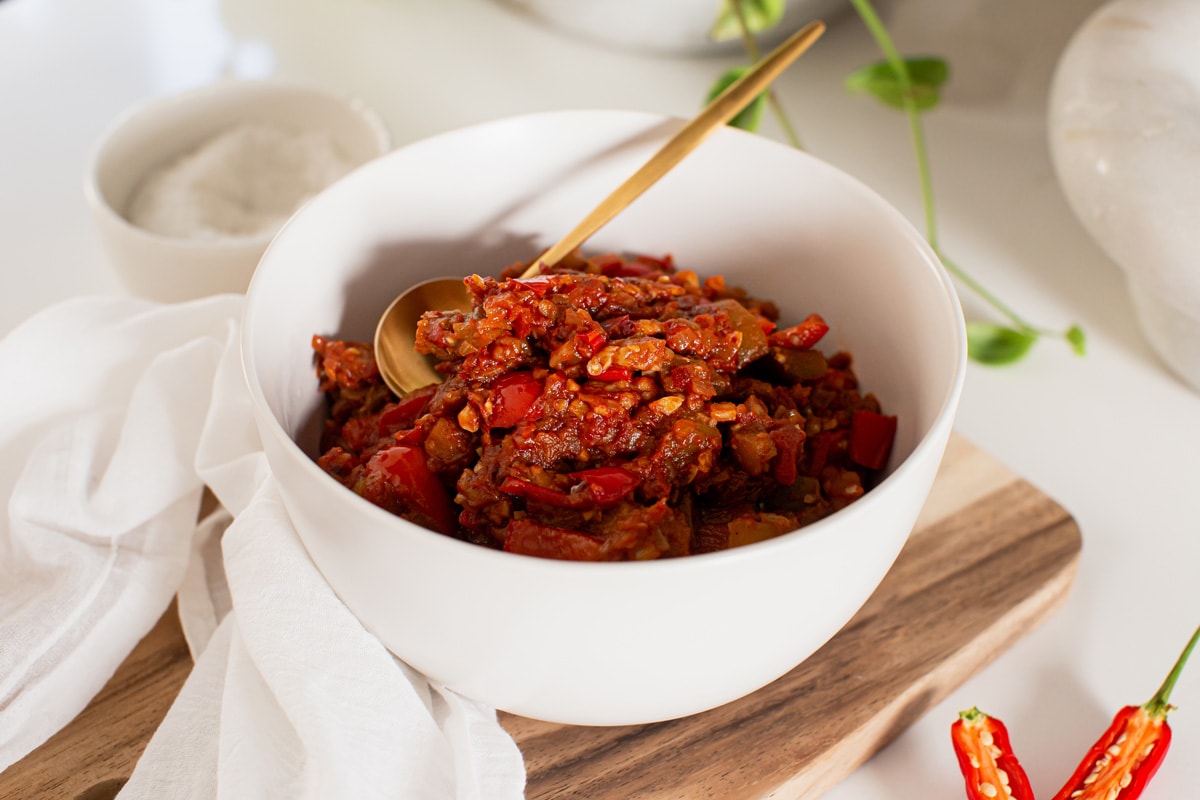 Matbucha is a sauce made from cooked tomatoes and red bell peppers, seasoned with spices such as garlic, chilli and paprika. Some variants also include eggplant. The dish originates from Morocco and parts of Northern Africa, is widely enjoyed in Israel, and often features on a meze platter as a rich and flavorful appetizer. Also known as matbukha – Arabic for 'cooked'.
We have a similar condiment in Croatia known as ajvar, though with less of the sweetness and ground spice, and more acidity due to the addition of vinegar. I adore both.
Traditionally, both ajvar and matbucha require the peppers and eggplant to blacken in the oven or over the barbeque before preparing the dish. This means all the fiddly faffing involved in peeling and deseeding afterwards. Yes – it's quite intense!
Matbucha is an incredibly flavorful Moroccan appetizer, ideal on a serving platter with flatbreads or toasted sourdough. If you feel like getting totally wild in the kitchen – it would also be great with my vegan kofta!
My matbucha recipe breaks the rules a little, I've condensed the recipe down to 10 minutes prep and 30 over the stove.
Jump to:
👩‍🍳Why this recipe works
30 minutes on the stove and you're done
No need to blacken and remove the skins and seeds of the vegetables prior
The perfect amount of heat, with just a hint of sweetness
The addition of eggplant helps thicken the dip and add a flavor punch (us Croatians – eggplant in errything!)
Yields a decent portion (8 serves)
Ideal to share with guests as a light meal – just add toasted sourdough with fresh basil leaves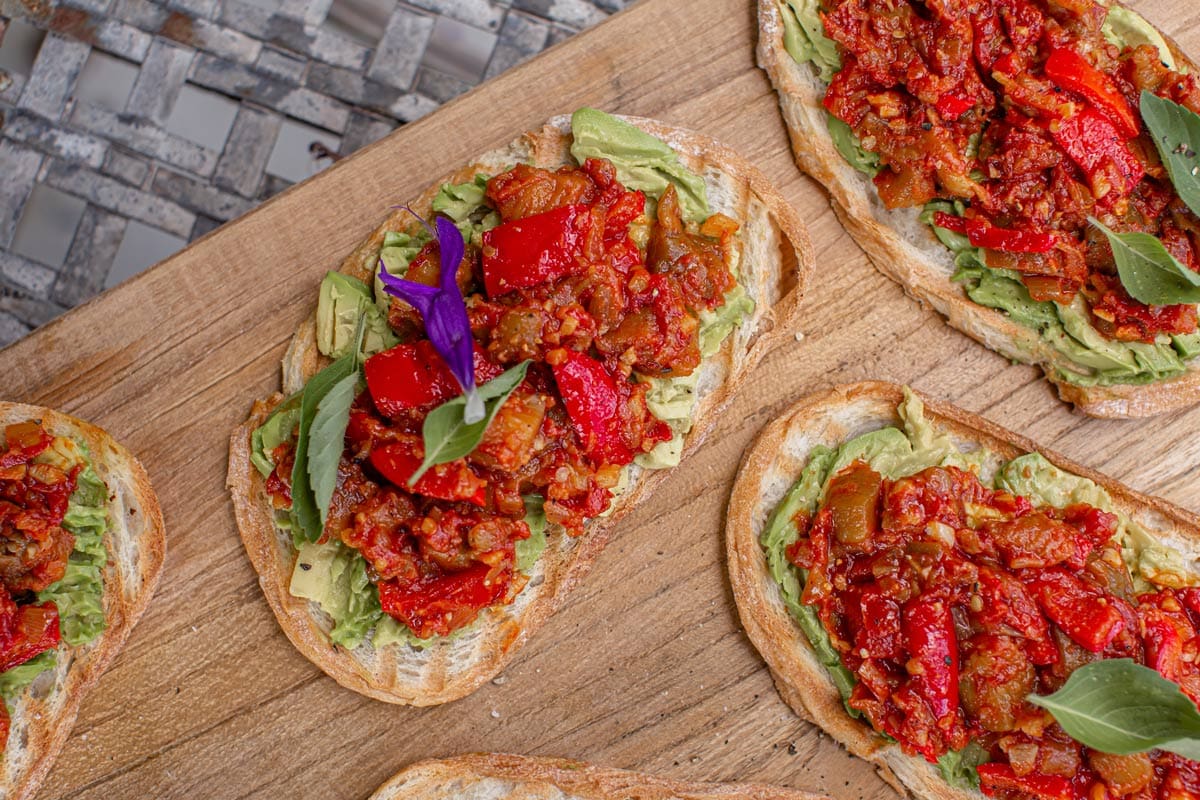 🍆Ingredients and benefits
Most of the key matbucha ingredients fall into the nightshade family – bell peppers, eggplant, tomatoes, chili and paprika.
Nightshades contain glycoalkaloids (such as solanine in eggplant), which can cause reactions in very sensitive individuals.
Solanine can be neutralized to some degree by cooking with the addition of salt (Pitchford, 2002). For the rest of us, in moderation, alkaloids in plants from the Solanaceae family have actually be found to confer some protective benefits, with studies suggesting an anti-tumour effect [1].
The cooked tomatoes will provide the antioxidant lycopene in abundance, while extra virgin olive oil (EVOO) provides phytochemicals with potent antioxidant and anti-inflammatory effects.
By the way, EVOO is, would you believe it, an ideal frying oil! Plenty of myths abound that it shouldn't be used in high temperatures, so I encourage you to read a few of the articles linked here as newer research has proved that despite its smoke point, it is the safest and most stable oil to cook with.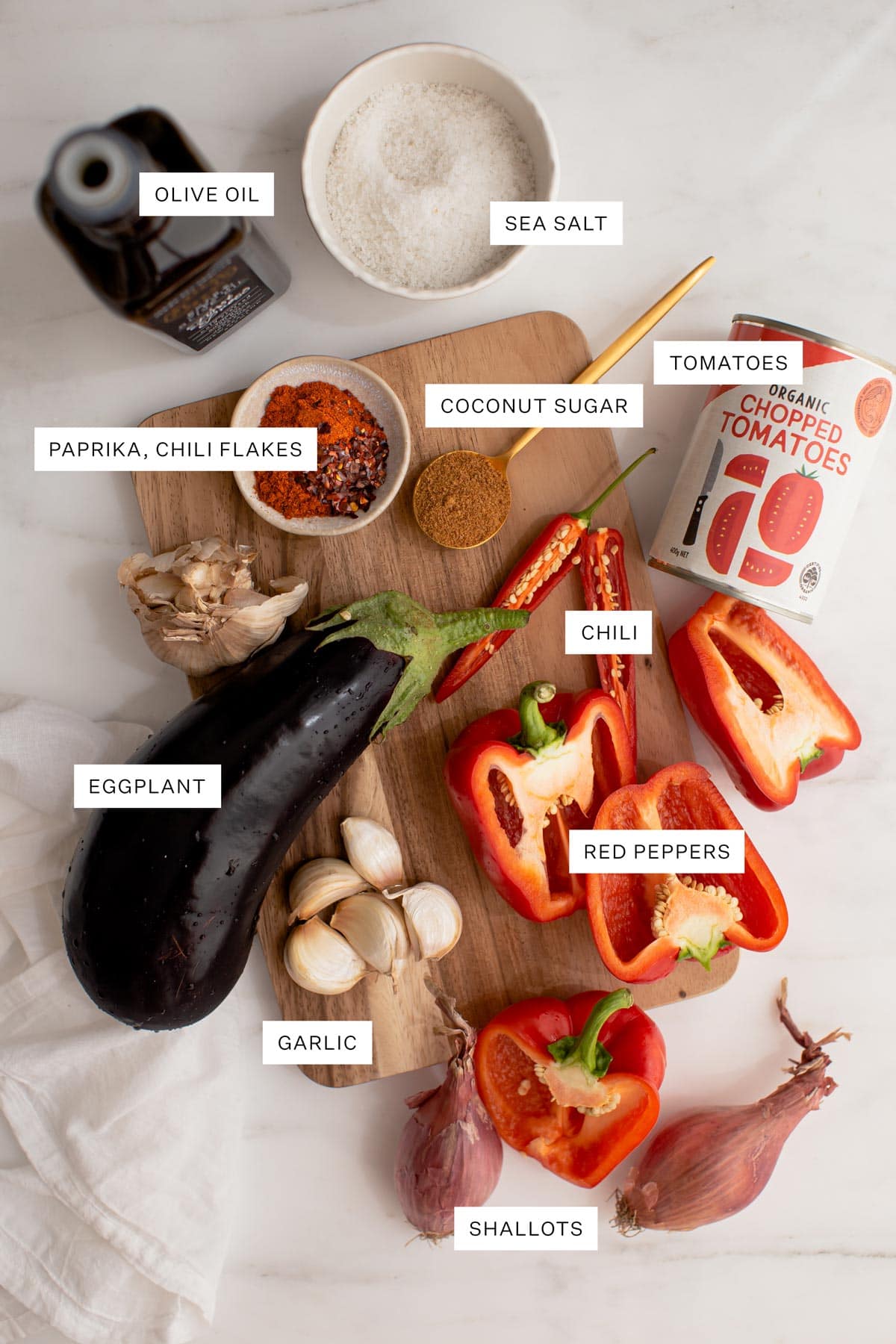 🌶Step-by-step instructions
Ok let's get this Moroccan matbucha underway! Start by preparing your ingredients, peel the eggplant and cut it into 1cm cubes like the image below. Remove the stems and seeds from the bell peppers and cut them into smaller pieces also.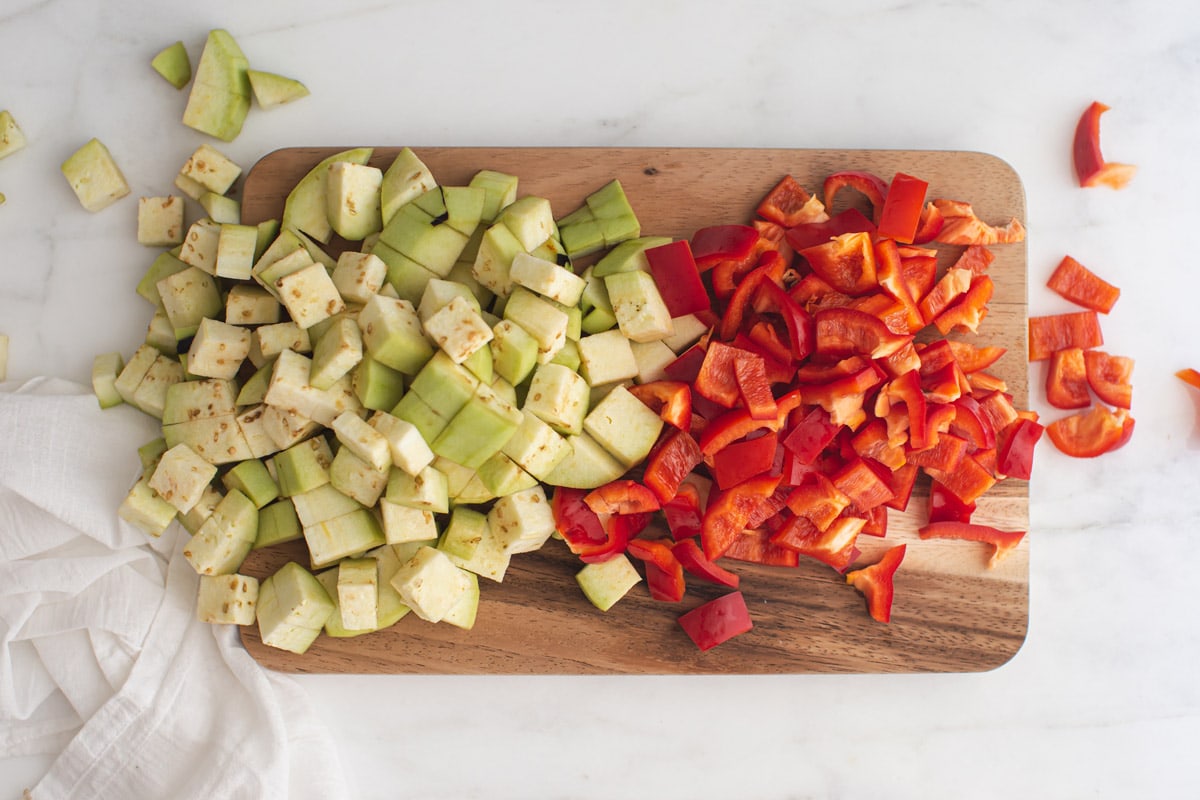 Add your olive oil to a heavy-bottomed saucepan to disperse the heat evenly and avoid burning your food. Add diced shallots, your eggplant and bell peppers, finely sliced chili and a sprinkle of salt.
Cook over low-medium heat for a good 15 minutes, stirring often, until the vegetables have softened greatly.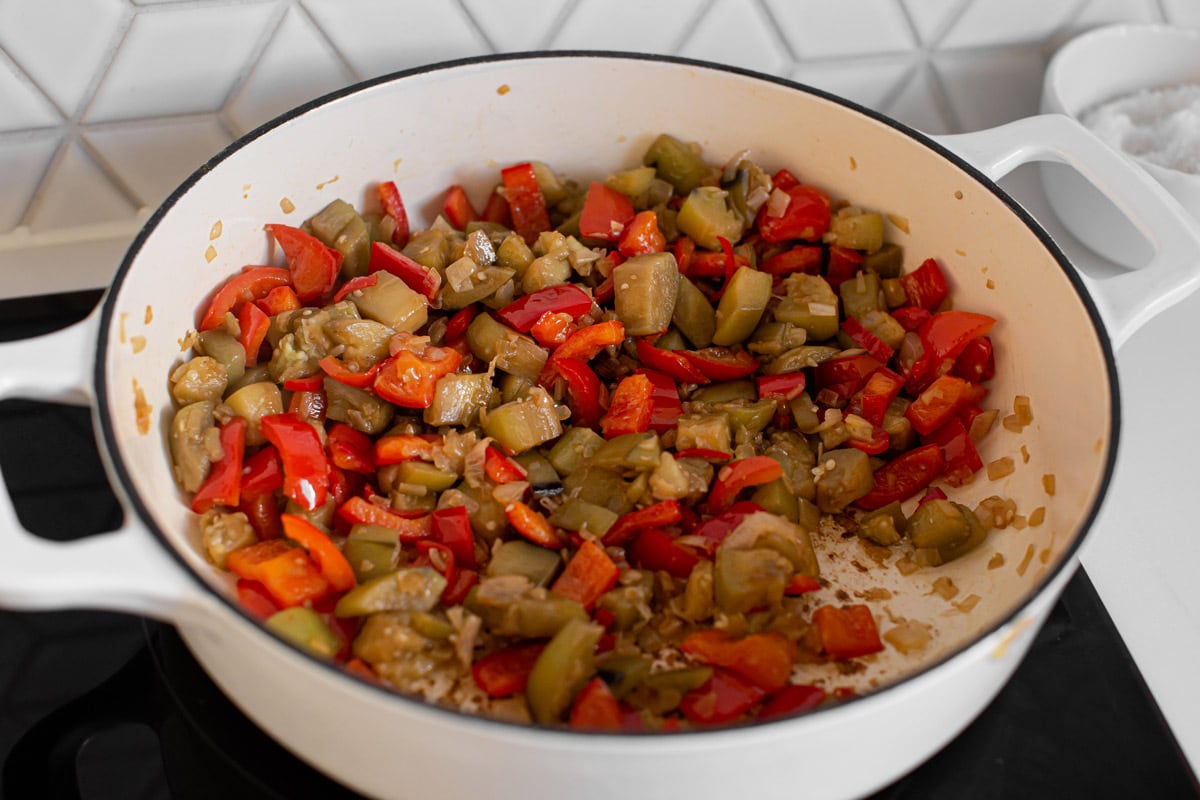 Now we add our spices, cooking them for a few minutes to intensify the flavour – garlic, chili flakes, paprika.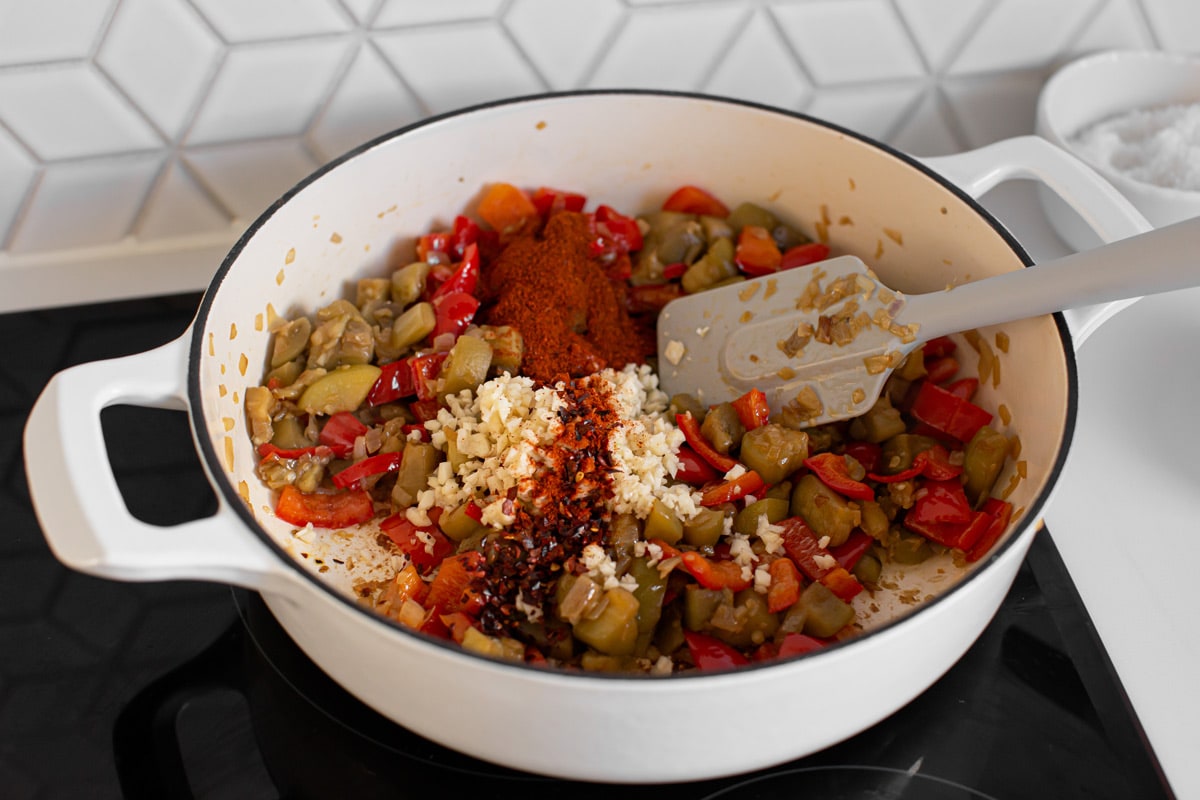 Time to add the canned tomatoes – along with a good teaspoon of coarse sea salt, coconut sugar (or honey), a liberal amount of black pepper, and an extra tablespoon of olive oil.
Let this simmer for a further ten minutes, evaporating off the juices and letting the mixture develop a more jam-like consistency.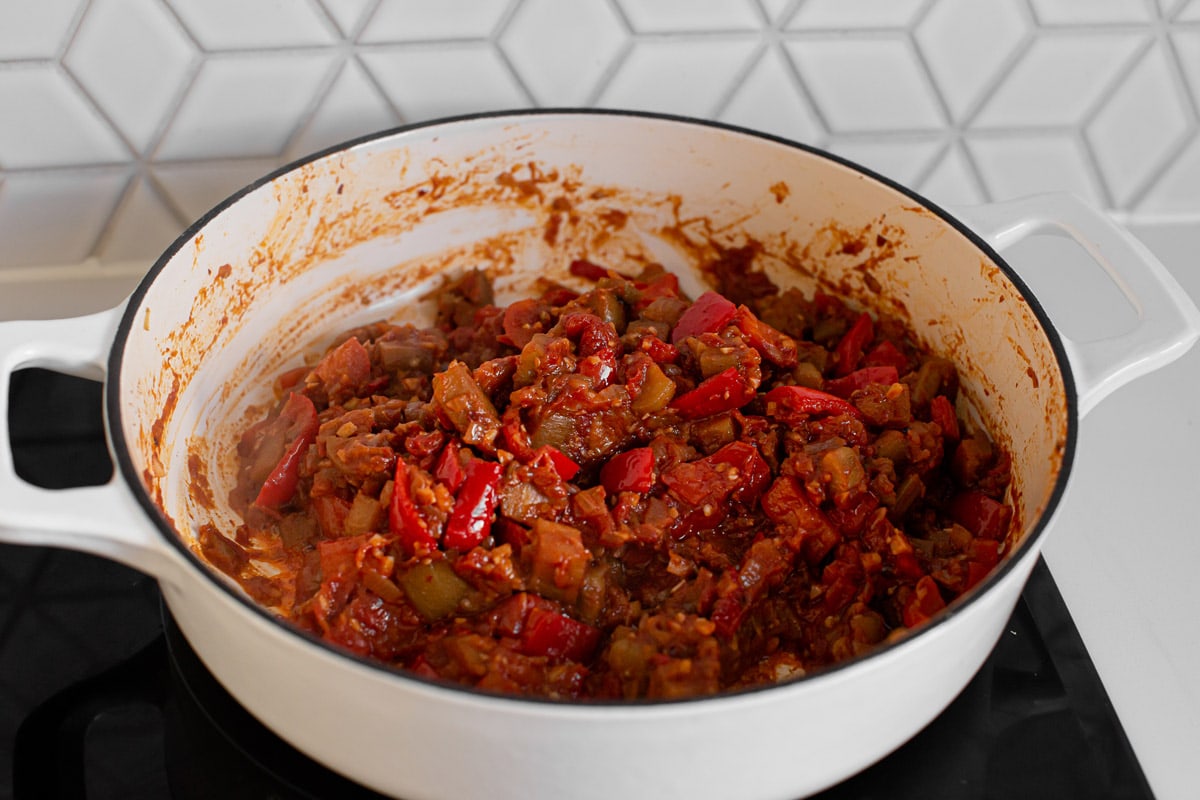 Remove from the heat, and mash half of the matbucha before serving.
This is the texture you want to aim for – less of a salsa, more of a dip or jammy spread.
🥙Serving suggestions
This is a fantastic dish to cook the night prior to having guests – the next day, simply toast up some flatbread or sourdough, and top with avocado, chilled matbucha, and a few basil leaves. Impressive and so easy.
Other ideas – use it as a base for this tagine, add to sandwiches, spoon a little over cooked vegetables or enjoy it as it.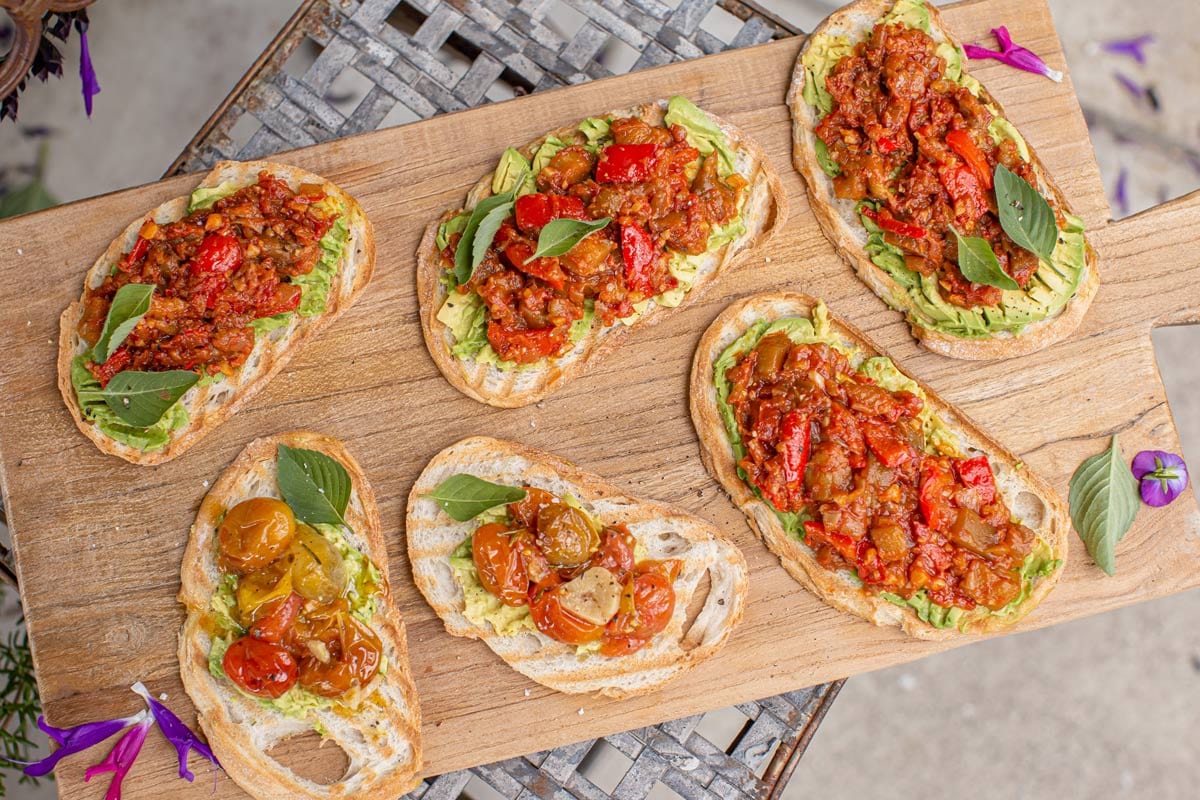 🍅FAQ's
How long does matbucha keep?
Store it in the fridge and enjoy within the week.
Can I freeze it?
Yes you can freeze matbucha in air tight containers or a silicon pouch.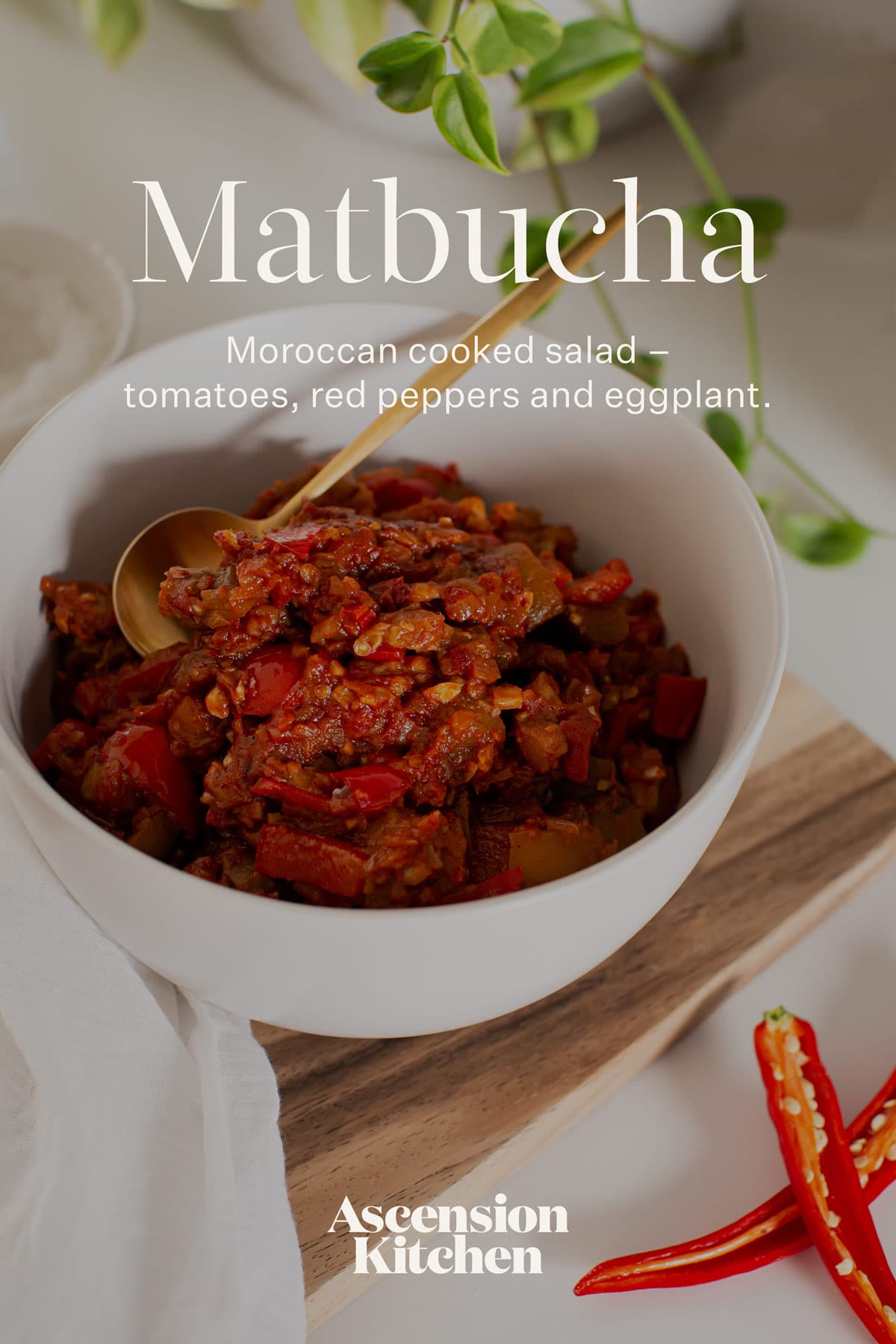 Enjoyed this recipe? Leave a comment below, better yet - share a snap with me on instagram @ascensionkitchen. If you're after personalised health and nutrition advice, contact my clinic, I'd be happy to work with you.
📖Recipe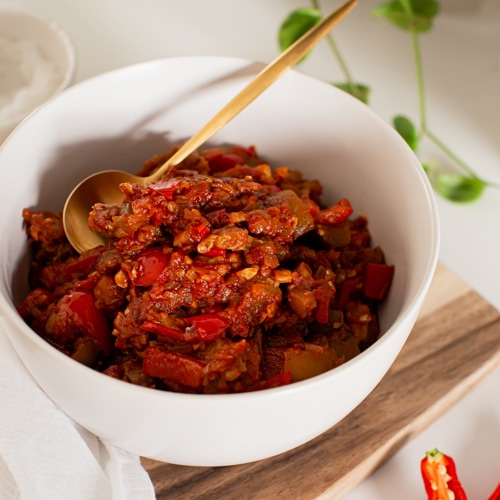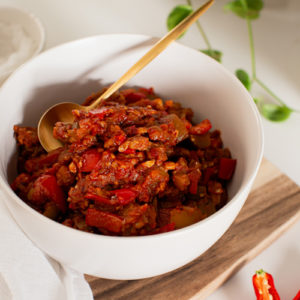 Matbucha
Rich, juicy and delicious - the perfect Moroccan appetizer! Made with eggplant, bell peppers, shallots, tomatoes and spices. Just the right amount of heat and sweetness.
Ingredients
1/4

cup

extra virgin olive oil + an extra tablespoon

2

shallots, or 1 red onion

diced

1

eggplant

2

red bell peppers

1

red chili

de-seeded, sliced thin

1

tablespoon

coconut sugar

or honey

6

cloves

garlic

minced

1

tablespoon

sweet paprika powder

1/2

teaspoon

dried chili flakes

1

teaspoon

coarse sea salt

liberal amount

black pepper

1

400g/14oz

can of chopped tomatoes
Instructions
Peel the eggplant and cut into 1 cm cubes. Remove the stems and seeds from bell peppers, slice into 1cm strips.

Heat ¼ cup oil in a heavy-bottomed pan, medium temperature. Add shallots, eggplant, peppers, sliced chili and a good sprinkle of salt. Cook for 15 minutes until the vegetables have softened considerably.

Add garlic, sweet paprika powder and dried chili flakes, cook a few minutes.

Add chopped tomatoes, sea salt, coconut sugar, liberal amounts of black pepper and remaining tablespoon of olive oil. Cook a further 10 minutes, stirring frequently, until the juices have evaporated off and the mixture has thickened.

Remove from heat, mash half of the mixture for a jam-like texture before serving.
Notes
Use a heavy-bottomed saucepan to evenly distribute the heat and avoid burning
Both the eggplant and the bell peppers can be blackened over a barbeque or in the oven prior for a smokier flavour - I have omitted this step for the sake of time and truly the end result is spectacular without it
You can omit the eggplant and use more bell pepper
Honey can be substituted for the coconut sugar
Mash with a potato masher or fork to get the ideal consistency
Serve with flatbread or toasted sourdough
Keep in the fridge for up to a week
Freezes well
Nutrition panel is an estimate only, and reflects one of eight serves
Nutrition
Serving:
1
g
Calories:
130
kcal
Carbohydrates:
12
g
Protein:
2
g
Fat:
9
g
Saturated Fat:
1.25
g
Sodium:
120.5
mg
Fiber:
3.25
g
Sugar:
7.25
g
Vitamin C:
39
mg
Iron:
0.6
mg