Kawakawa is a beloved New Zealand native and powerful healing herb, affectionately referred to as 'pharmacy of the forest' due to its versatile applications. Here's everything you need to know to safely identify, respectfully harvest, prepare and use this wonderful Rongoā herb.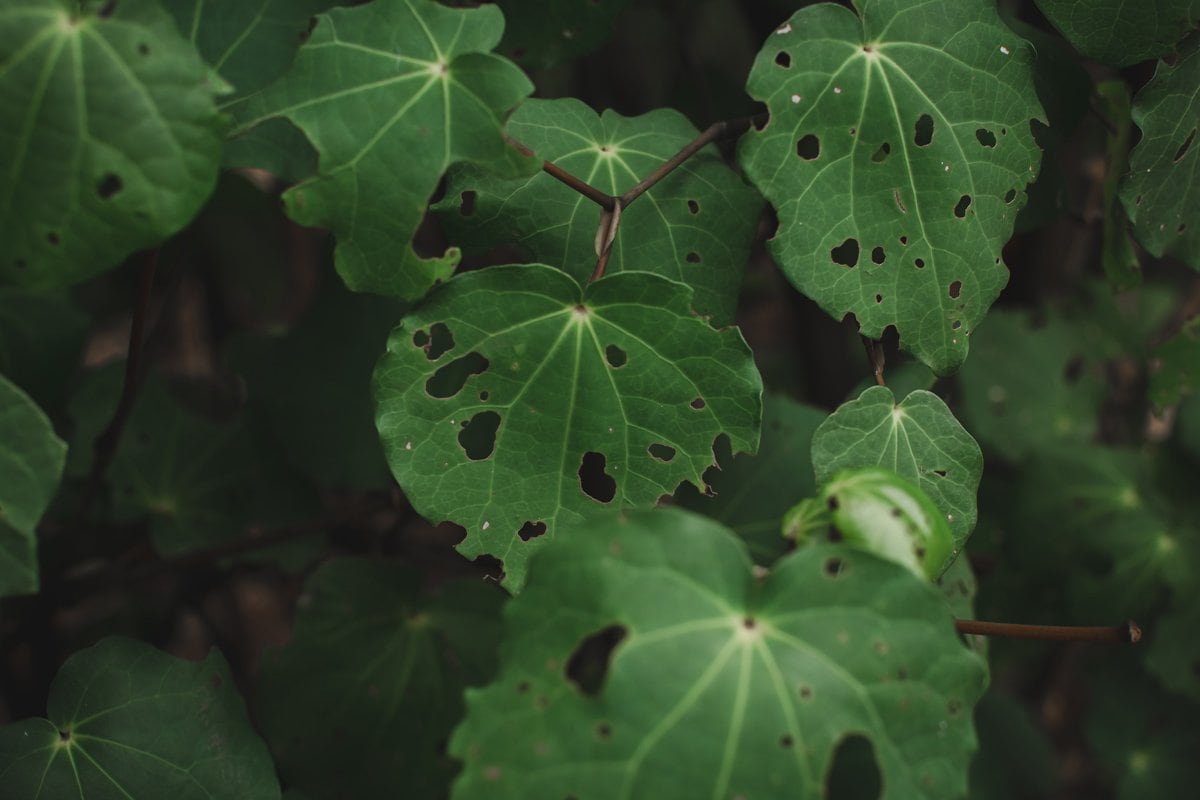 Kawakawa – botanical name Macropiper excelsum, is a versatile food and medicine.
Known as the New Zealand pepper tree, kawakawa leaves and seeds have a pungent bite while the fruits are taste akin to passionfruit.
This Rongoā rākau (Māori herbal medicine) has a wide array of applications due to its antimicrobial, anti-inflammatory and analgesic properties.
🌿 Kawakawa leaves were traditionally used to prepare medicinal teas, poultices, oils and balms to treat a range of ailments. These include inflammatory skin conditions, cuts, boils and abrasions, insect bites and stings, neuralgia and shingles, digestive distress, muscle and joint pain, bruising, and toothache.
Read on to learn how to correctly ID the kawakawa plant, harvest and prepare your home remedies.
Jump to:
🔍How to find and identify kawakawa
Kawakawa is prolific in New Zealand, growing in coastal and lowland forests throughout the North Island and upper South Island.
The kawakawa tree is reasonably densely branched with knobbly 'joints' and can reach heights of up to 5 meters, quite a feat for a shrub!
Kawakawa leaves make the plant an easy giveaway in the forest. They are dark green, glossy, heart-shaped, palm-sized, and often full of holes thanks to its sole predator – the looper moth.
This is what they look like – see the holes? It's said the holier kawakawa leaves are the most therapeutic!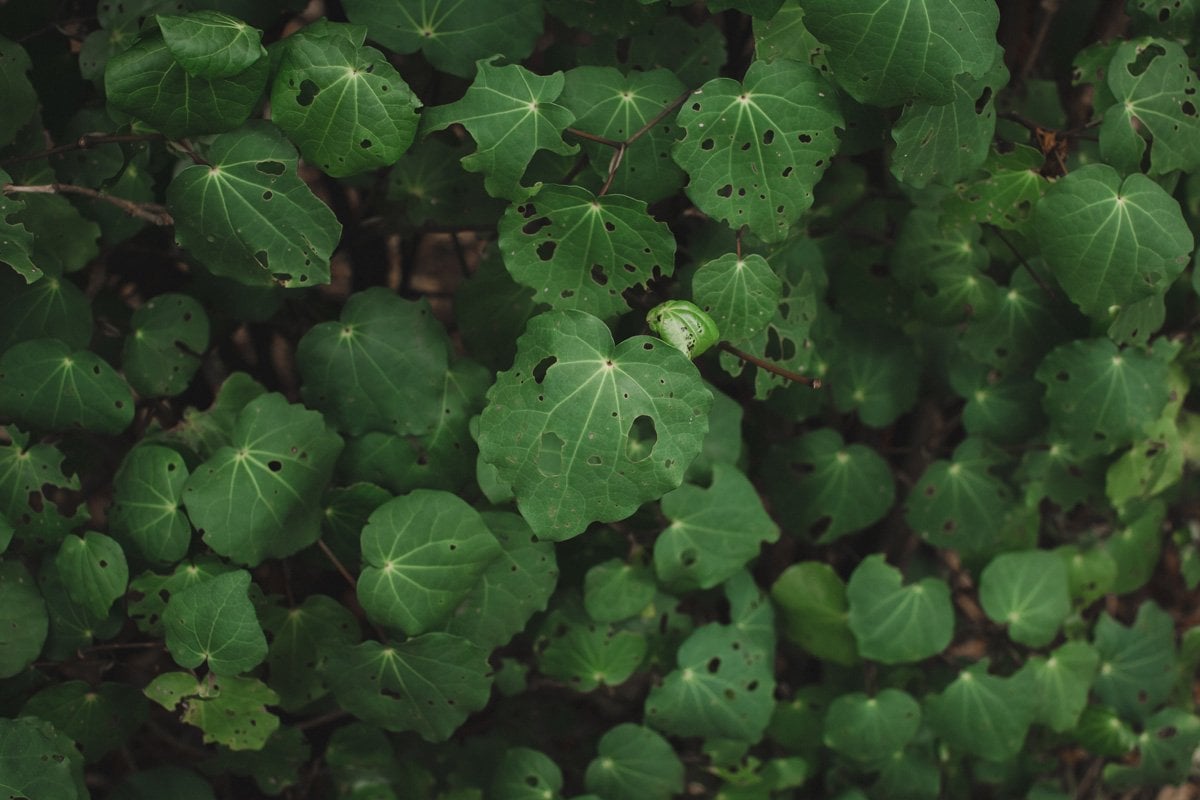 🍵Edible parts
Kawakawa leaves are most commonly enjoyed as a tea
Kawakawa berries appear on the female plants – they start out as plump flowering spikes and ripen from green to a bright orange colour during summer months. These berries are known as tākawa in Māori. Male plants will produce thin flowering spikes that will not mature into a fruit. Kawakawa fruit taste like passionfruit while their seeds are hot and peppery. Apparently they're delicious dipped in chocolate? Eat too many though and your mouth may go numb!
Kawakawa seeds taste just like peppercorns. Once harvested, dry in the dehydrator or oven then ground into a rough powder and use as a seasoning
🌿Kawakawa medicinal properties and traditional uses
The Kawakawa plant is incredibly revered in Rongoā rākau, traditional Māori herbal medicine. The fruit, seeds and leaves are used in various preparations for both medicinal and ceremonial use [1].
Topically, kawakawa has antimicrobial and anti-inflammatory properties, it's a natural pain reliever, increases circulation to the skin's surface, acts as a counter-irritant, and purifies the blood. It also contains compounds that exert an insecticide effect [2].
Therefore, kawakawa is an excellent herb for;
Cuts and boils
Skin conditions such as eczema, psoriasis, dermatitis
Promoting warmth and circulation
Pain, swelling and stiffness in the joints, tendons, ligaments, bones and muscles
Neuralgia, shingles
Bruising
Keeping insects away
For those interested in the plant's chemistry, the main constituent in kawakawa is the volatile compound myristicin, which is also found in nutmeg.
Myristicin is a strong antibacterial agent against both gram positive and negative bacteria [3].
It is also able to inhibit nitric oxide, cytokines and chemokines, all of which play a role in inflammation [4].
Myristicin is a similar compound to eugenol in clove, lending pain-relieving properties.
Diayangambin is another active, its immuno-modulatory, anti-allergic and anti-inflammatory effects [5] indicate the use of kawakawa in eczema, psoriasis and rheumatic diseases such as arthritis.
🧺How to harvest
To respectfully harvest kawakawa, ask the spirit of the plant for permission first, then offer a prayer of gratitude. I was taught to give a physical offering too – such as a sprinkle of organic tobacco.
Collect the kawakawa leaves in the morning once the dew has evaporated, from the northern most part of a healthy plant.
Take only what you need, and not too much from a single shrub, to ensure future growth.
Finally, make sure the environment surrounding the kawakawa plant is clean and free from contamination, harvesting roadside or in an industrial area is not a good idea.
☀️How to dry
When you get home, spread the kawakawa out to let any bugs crawl away, then wash if necessary and pat completely dry with a paper towel.
To dry the kawakawa leaves for later use, place them on mesh trays and pop into the dehydrator at 40-45˚C for 4-6 hours or until completely dry yet still a vivid green colour, then crumble with your hands and store in an airtight jar.
🧴Kawakawa home preparations
Kawakawa tea or infusion is the easiest home preparation for medicinal use. A strong brew will really warm the belly, while supporting digestive health (bloating, spasms, gas) and promoting circulation
Fresh, chilled kawakawa tea can be gargled at first sign of a sore throat
Kawakawa oil can be used topically for a range of skin conditions, and is highly indicated in eczema, psoriasis, dermatitis, nappy rash, minor abrasions, insect bites and stings, and inflamed joints
Kawakawa balm is made by combining the oil with beeswax. The applications are the same as above
Kawakawa cream is a lighter preparation than a salve, and will get absorbed quicker whereas a salve will provide a longer lasting protective barrier over the skin
Kawakawa liquid herbal extract is available via a Naturopath and/or Medical Herbalist. It is a much stronger preparation than any of the above and generally prescribed either as a tonic or to help shift those more stubborn health complaints.
🥄Kawakawa recipes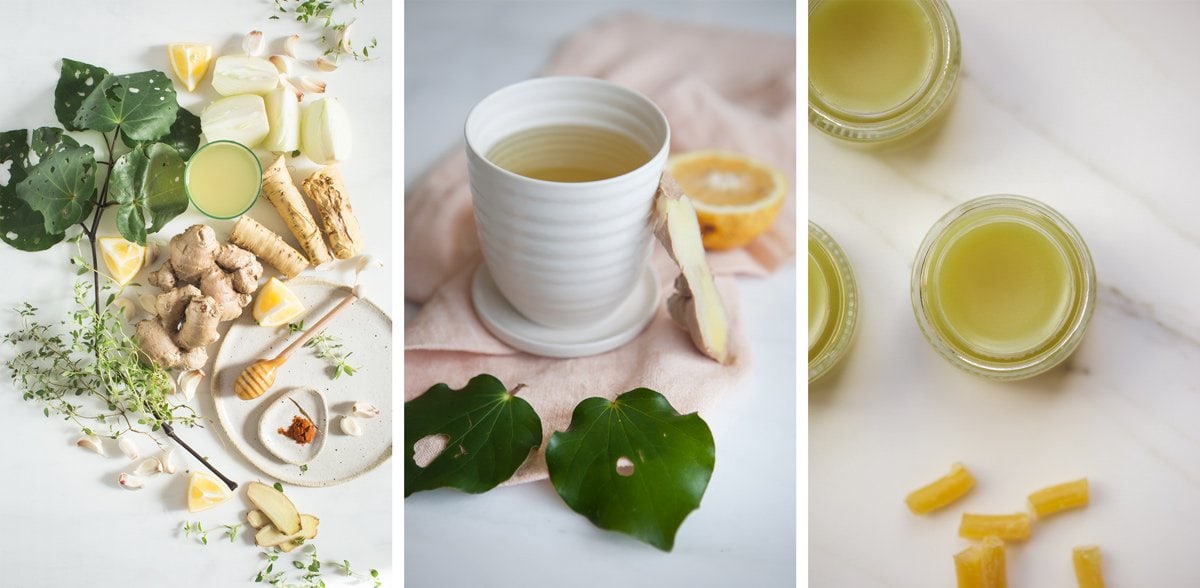 👩‍⚕️Cautions
Kawakawa leaves can have a numbing effect if taken in excess. If you are pregnant, nursing, taking prescribed medications or navigating a health condition, consult with your local Rongoā practitioner, Naturopath or Medical Herbalist for expert safety advice.