How to make Kitchari – a cleansing and healing Ayurvedic dish, balancing to all doshas (constitutions).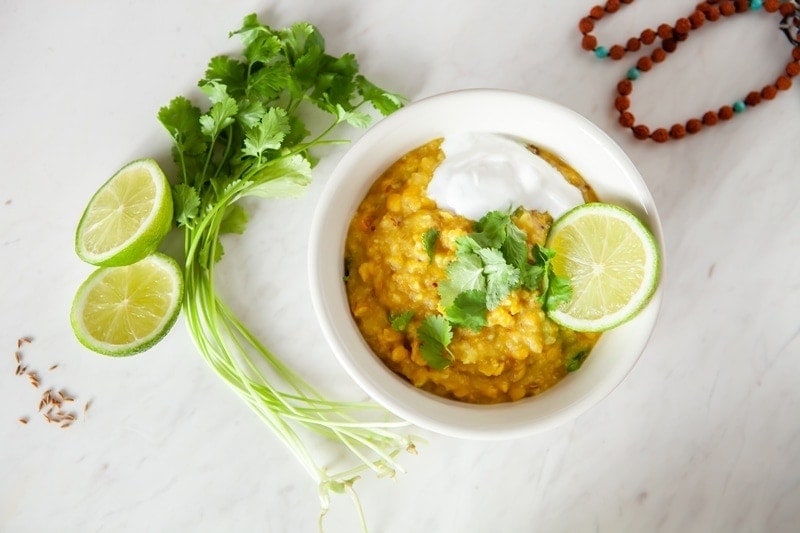 I love exploring all elements of Ayurvedic healing, particularly the recipes. There are a lot of gems to be gleaned from this traditional wisdom – in fact, Ayurveda philosophy dates back as far as 5,000 years or more.
I've been on a plant based diet for close to ten years now, and know may way around Indian cuisine fairly well, as it really is a vegetarian's delight – but my curiosity into Ayurvedic cooking is more recent.
Today I'm sharing a little about one of their staple healing or convalescing dishes, Kitchari, also known as Khichdi. I used to make various versions of this years ago, while I was exploring food as medicine for treating my gut dysfunction.
It hasn't made an appearance on my kitchen table for a very long while, but with free time in between studies and a partner bundled up on the couch with a chronic case of man flu, it seemed fitting to experiment once again.
The recipe at the end of this post is based on a classic Kitchari according to my books on Ayurvedic cooking and medicine. I've just adjusted the spices to my liking and used a bit of homemade vegetable broth and kombu to cook with.
[bctt tweet="Kitchari – the classic one pot Ayurvedic detox dish, balancing for all doshas. Find it here."]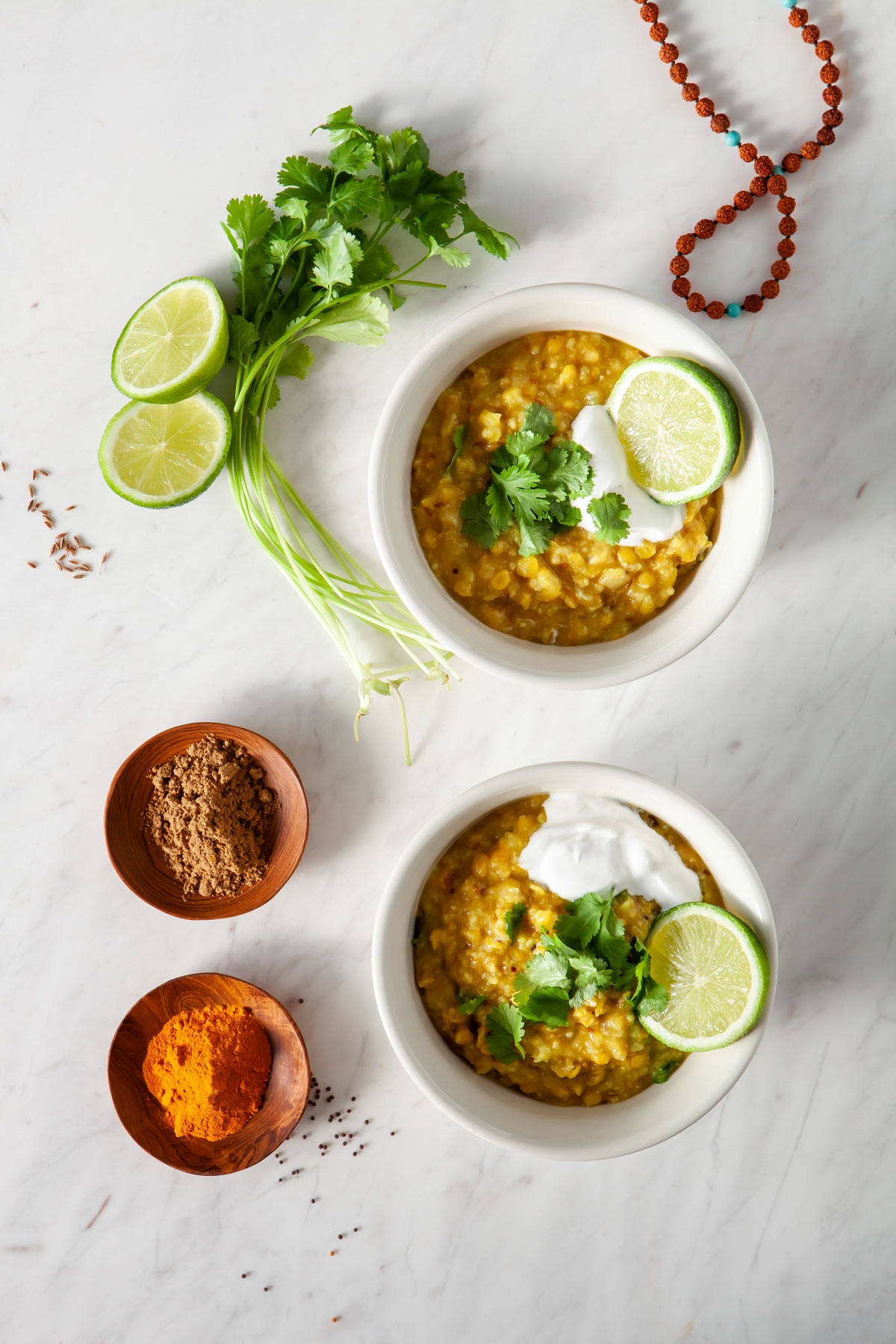 Kitchari / Khichdi
Kitchari means mixture, and is a one pot meal of lentils and rice, traditionally made with a little ghee (clarified butter) and spices. I don't believe any garlic or onion are used traditionally, as they are stimulating.
Similarly, I think the addition of vegetables to this simple mixture may be a more recent thing.
This comforting meal is the classic Ayurvedic dish. It is simple and easy to digest, a complete source of protein (as it combines legumes with grains), and given to people who are ill or recovering from illness.
In fact, it is often taken as a fast, where a person will consume only kitchari for a number of days, to aid in the clearance of toxins (ama) and strengthen their digestive fire (agni).
This simple meal is also given therapeutically as part of panchakarma – Ayurveda's ancient mind-body, cleansing and rejuvenation practice to strengthen the digestive and immune systems, restoring balance and wellbeing.
Kitchari is good for all constitutions – described as vata, pitta and kapha. A slight tweak of the spices is all that's needed to tailor it to your own body's needs.
I personally find it like one big warm hug in a bowl, it's instantly warming, grounding and soothing.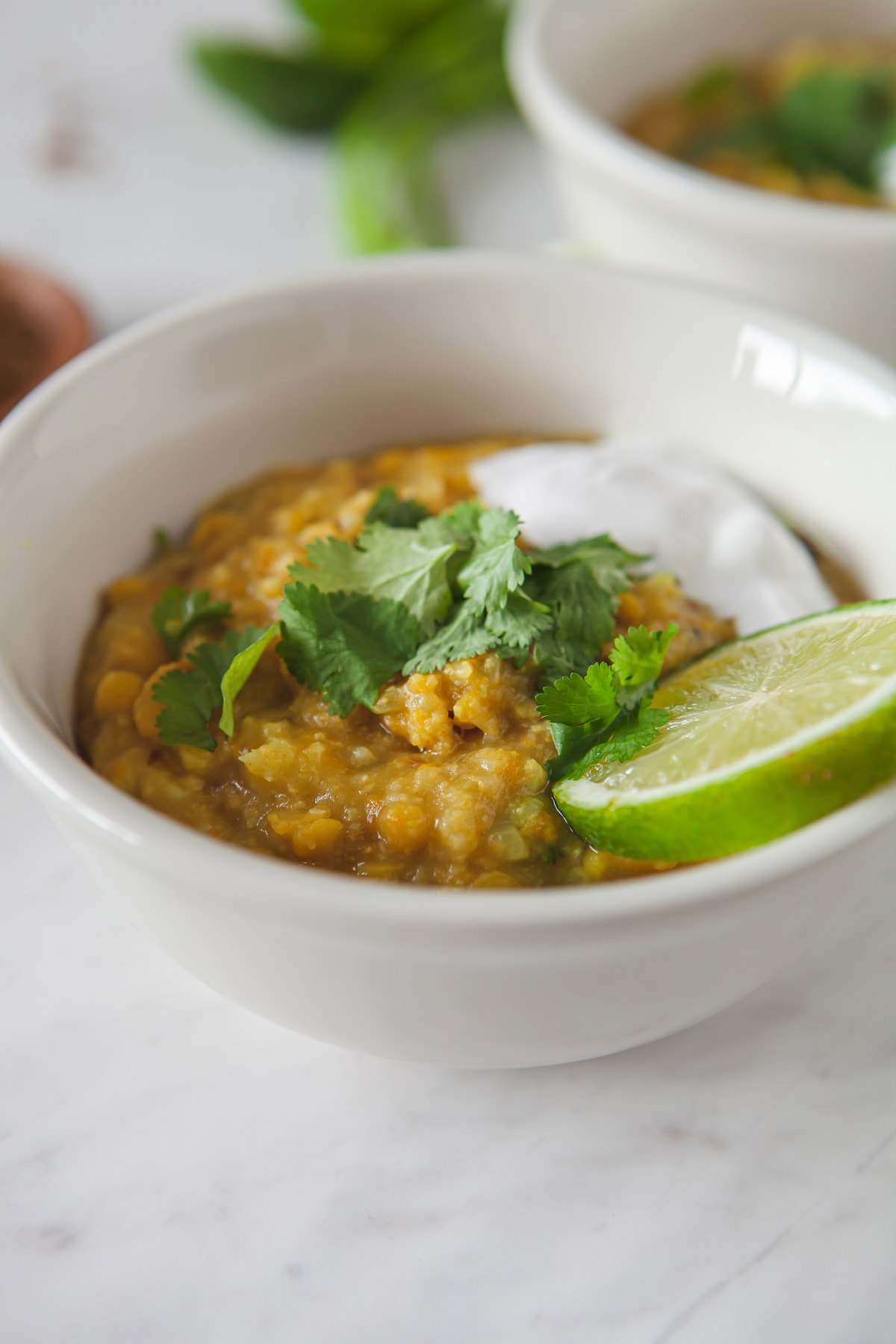 Kitchari - Key Ingredients
Split yellow mung beans
These lentils are from whole (green) mung beans that have been split, during which the husks are removed, revealing the lighter, yellow split mung beans [1].
The removal of the husks greatly improves digestibility. They are thought to be the only lentil not to produce intestinal gas. They are also soaked well in advance of making the dish, which further adds to the digestibility.
Lentils in general are a fabulous source of dietary fibre and folic acid. They also include a variety of minerals in good amounts, such as copper, phosphorus, manganese, iron, zinc and potassium. They are a particularly good source of vitamins B1 and B6 [2].
White basmati rice
Like the split mung beans, white basmati rice has been hulled and so is easier on the digestive system.
Split yellow mung beans and white basmati make a complete protein
Proteins in the body are made up of combinations of 20 amino acids, nine of which are essential, meaning they must be provided through the diet.
There are 11 non-essential amino acids, which the body can easily make itself, though some of these are conditional, meaning, they become essential under certain circumstances – usually when the body is stressed or sick.
Animal protein sources are complete, whilst plant foods are incomplete.
However, you can combine various plant foods together to create a complete protein, and in fact, this has intuitively been the case for many cultures around the world - for example – beans and rice in Mexico, bean stews with bread in Africa, pasta with beans in Italy, and lentils with rice in India.
Lentils and other pulses are a good source of lysine though lack methionine and the conditional essential amino acid, cysteine. Grains are the perfect complement as they lack lysine though offer methionine and cysteine.

Asafoetida
Asafoetida (often called hing) is an incredibly stinky spice. However, its pungent, sulphuric smell luckily subsides upon cooking. Many refer to it as 'devil's dung' because of this.
It is the powdered form of an oleo gum resin obtained from the rhizome and root of a tree native to the Middle East [3].
A staple in Indian cuisine, asafoetida is widely used as a digestive aid.
When paired with typically gas-producing foods such as beans, lentils and cruciferous vegetables, it has an antispasmodic and carminative effect – making them far more tolerable.
According to some Ayurvedic texts, this spice and medicine is classed as a 'restorer of consciousness'.
It is a common traditional remedy for a variety of ailments, including digestive disorders and excess wind. It is used as a nervine stimulant and sedative, and as an expectorant for respiratory conditions [4].
It is sold in powder form, compounded with rice or wheat flour and gum arabic.
I find that keeping the small jar of asafoetida within a larger airtight container helps prevent the smell from overpowering my pantry - it really is that stinky! You only need just a pinch in cooking, even if you're making a large one pot meal such as kitchari.
Ghee
Ghee is clarified butter. The butter is cooked until the liquids (water and milk solids) separate from the butterfat, meaning the end product does not contain any casein or lactose – making it available for those with intolerances to both.
I'm sure the ghee would add a creamy, buttery taste, but personally I prefer to use a little coconut oil instead.
Other common spices used are cumin, coriander, fennel, ginger and turmeric. These spices are typically calming to the digestive tract.

My own little twist on the classic recipe
I have used a little black mustard seeds as they're warming and good for my constitution (vata). You can tailor the spice mix to suit your own needs – however coriander, cumin, turmeric and fennel are considered tridoshic spices (beneficial for vata, pitta and kapha).
I added a stick of kombu (seaweed) to the pot while cooking to sneak some extra minerals in there - just discard it once cooked. I also used homemade vegetable broth in place of water, for extra flavour.
I saw a lovely idea over at Banyan Botanicals where they served the meal with fresh lime, coriander and coconut – I tried this myself and it was just delicious.
Finally, I went for a 50/50 blend of lentils and white rice, but you can adjust this to your taste. White basmati rice can be substituted for other whole grains such as quinoa, buckwheat and amaranth. Add more water if you want a lighter consistency than what I have used here.
Enjoy!
L.
More Healing Recipes
If you make and enjoy this recipe, please leave a rating below. And better yet – leave me a comment to tell me how you got on, or just say hi – I LOVE hearing from you. Follow me on Instagram, Facebook or Pinterest to see more of my everyday recipes and wellness tips.
If you'd like to chat with me about essential oils, or book in a class, you can do that here. If you're after a Naturopathic consult, read more here.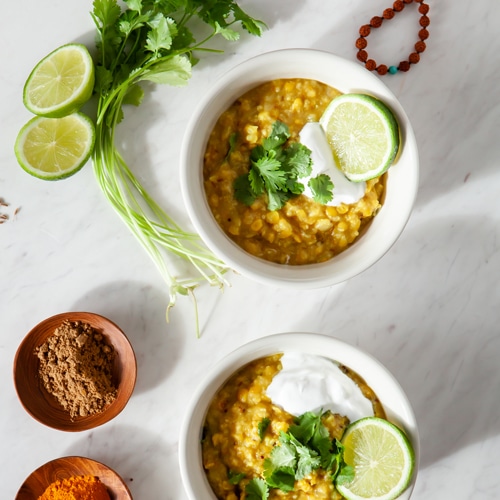 How to make Kitchari – an Ayurvedic healing meal
How to make Kitchari – a cleansing and healing Ayurvedic dish, balancing to all doshas (constitutions). Note prep time is 20 minutes but recipes requires a one hour soaking of the rice and lentils.
Ingredients
½

cup

split yellow mung beans

½

cup

white basmati rice

2

tablespoons

coconut oil or ghee

1

inch

stick of kombu

4

cups

homemade vegetable stock

or water

2

tablespoons

coconut cream
SPICES:
1½

teaspoons

cumin seeds

1½

teaspoons

fennel seeds

1½

teaspoons

coriander powder

1

tablespoon

ginger root

freshly minced

½

teaspoon

turmeric powder

½

teaspoon

fenugreek seeds

¼

teaspoon

black mustard seeds

pinch of

asafoetida
VEGETABLES:
2

cups

any mixed vegetables

I used butternut, green beans and cauliflower
TO SERVE:
fresh lime

fresh coriander

coconut yoghurt

sea salt

to taste
Instructions
Combine mung beans and rice in a large bowl, cover with water, let soak for one hour, then drain and rinse.

Prepare vegetables by peeling and chopping them up, set aside.

Heat coconut oil or ghee over medium heat, in a heavy-bottomed pot. Add cumin, fennel, fenugreek and black mustard seeds and cook for a few minutes to release aromatics, and until the mustard seeds have popped. Add the rest of the spices and stir to combine.

Add rice and mung beans, stir well and let cook for a moment.

Add all other ingredients, cover and bring to a boil, then reduce to a low heat. Simmer for about 35 minutes, stirring frequently.

Check the pot periodically as the rice swells and may stick to the bottom. Add more water if you want a soupier consistency, and simmer longer to get a thicker stew.

Once cooked, discard the kombu, and serve with fresh coriander chopped and folded through, a drizzle of fresh lime juice, spoon of coconut yoghurt and sea salt to taste if you used water rather than stock.
Video
Notes
Stick to three vegetables for this recipe - the simpler the combination the easier on the digestive system
Vatas are better for the oil and coconut cream, and ample warming spices
Pittas are better for coconut and coriander, and less of the heating spices (mustard, ginger, excess turmeric)
Kaphas are better for less oil or coconut cream, and more beans
The stick of kombu is optional, but it does leach valuable minerals into the mixture as it cooks
If you are cooking on an electric element, stir frequently to prevent it burning
Here's a hack I learnt: place three stacks of coins of equal height around the circumference of the element, then place your pot on top. This creates just a little distance between element and pot, helping prevent burning
Nutrition panel is an estimate only
Nutrition
Calories:
187
kcal
Carbohydrates:
22
g
Protein:
6
g
Fat:
10
g
Saturated Fat:
8
g
Sodium:
19
mg
Fiber:
5.75
g
Sugar:
2.75
g
Calcium:
50
mg
Iron:
2.7
mg
Finally - a few people shared on my instagram page that they had tried and loved kitchari, and found it helpful with acid reflux and upset tummy. Have you tried it? Was it soothing or helpful for you? I'd love to know...