Crunchy hazelnut granola – serve it with ice cold plant-based milk and a spoon of yoghurt, a sprig of cool mint, fresh berries and a side of tropical fruits – do summer breakfasts get any better?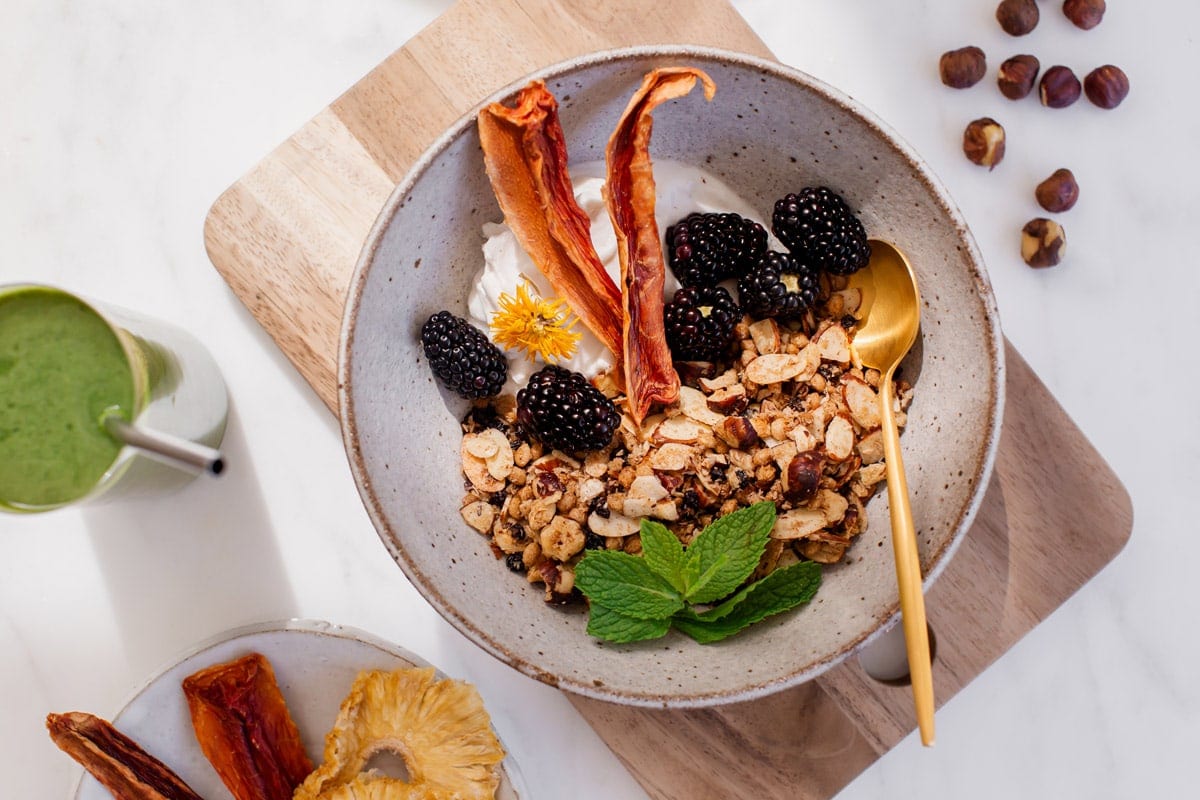 What to do in sweltering heat when you can't travel and are resigned to a staycation? You bring Bali or the tropics to you.
A generous sleep in, fresh linen sheets. A cotton robe. Slowness. Sliding doors flung open, cool breeze, rainforest sounds on the speakers. A freshly pressed organic juice: green apple, celery, green bell pepper, lemon, lime, cucumber. Crunchy cafe-style granola with blackberries and papaya, a wandering mind, quiet time, peace.
I hope you can recreate this recipe and this moment for yourselves, your nervous system will thank you!
Jump to:
🌰Ingredients and substitutions
This cafe style granola uses a blend of hazelnuts, almonds, coconut, puffed quinoa, currants, cinnamon, pure maple syrup and vanilla.
I've used both whole and flaked almonds – the different textures really work.
Most of the ingredients can easily be substituted – just aim to replace an equal amount. If you can't do nuts, using a mix of sunflower and pumpkin seeds is an option.
Puffed quinoa can be substituted for puffed oats, buckwheat or millet. And if you can't find currants, dried figs, mulberries (oh gosh - their caramel notes are the perfect pair with hazelnuts!) or apricots are all great.
The bulk bin stores are your friend for this recipe!
🥣Step-by-step instructions
Start by pulsing the whole almonds and hazelnuts together until roughly broken down. A little bit of texture is good!
Add all dry ingredients to a large mixing bowl.
Combine your wet ingredients – the pure maple syrup, coconut oil and vanilla extract, and whisk together. Pour this delicious mixture over your dry ingredients then give it a really good mix.
Lastly, spread the granola over a baking tray and bake for about 25 minutes, tossing the mixture a couple of times. The crunch factor won't be there until its entirely cool, so don't stress if after that time it still doesn't look 'done'.
🍓Serving suggestions
Let's be brutally honest, granola is a total treat food! This recipe is nutrient dense, being based on nuts, and does contain both coconut oil and maple syrup.
With that in mind, opt for smaller portion sizes, and top your bowl up with chilled plant-milk and low-sugar fruits such as berries (raspberries, blueberries, blackberries, strawberries), kiwifruit and papaya.
Fresh mint leaves are another favourite and I think they go particularly well with the hazelnuts.
This recipes yields a generous amount, and is a great gift if you source a nice jar.
There we go, hazelnut granola done and dusted, enjoy! – Lauren. x
Enjoyed this recipe? Leave a comment below, better yet - share a snap with me on instagram @ascensionkitchen. If you're after personalised health and nutrition advice, contact my clinic, I'd be happy to work with you.
📖Recipe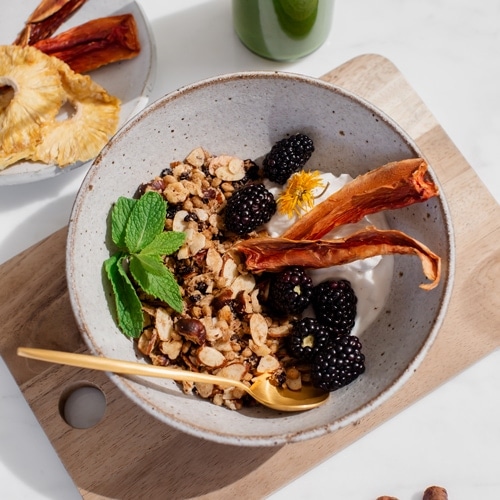 Hazelnut Granola
Perfectly crunchy hazelnut granola sweetened naturally with pure maple syrup. Serve with chilled plant-milk and low sugar fruits for an easy and delicious breakfast. Yields about 6 ½ cups, one serving has been calculated as ½ cup.
Ingredients
Dry ingredients
1

cup

hazelnuts

1

cup

desiccated coconut

1

cup

flaked almonds

¾

cup

whole natural almonds

1½

cups

puffed quinoa

½

cup

currants

2

teaspoons

cinnamon powder

¼

teaspoon

coarse sea salt
Wet ingredients
¼

cup

pure maple syrup

¼

cup

coconut oil

1

teaspoon

vanilla extract
Instructions
Pulse the whole almonds and hazelnuts together until just broken up.

Combine all dry ingredients in a large mixing bowl.

Combine all wet ingredients, whisk together well, then pour over the dry ingredients, mixing well to combine.

Spread the mixture over a baking tray and place on the lowest or middle rack of the oven, fan bake at 135˚C / 275˚F for about 25 minutes. Toss the mixture half way through the baking time, and ensure it doesn't burn. Allow to cool entirely then store in a glass jar.
Notes
Swap the nuts for seeds such as sunflower, pumpkin, hemp if desired
Aside from currants, mulberries, dried apricots and figs would be lovely
Puffed quinoa can be subbed for millet or buckwheat - both are gluten free
Stick to a 1/2 cup serving size as this is a nutrient-dense recipe
Serve with chilled plant-milk, and low sugar fruits such as berries, kiwifruit and papaya
Store in a a glass jar
Nutrition