Soft and springy feijoa loaf with a creamy lemon icing if you're feeling extra. This is a super quick and easy recipe, sweetened naturally with fresh feijoa fruit, banana and honey. The taste - out of this world!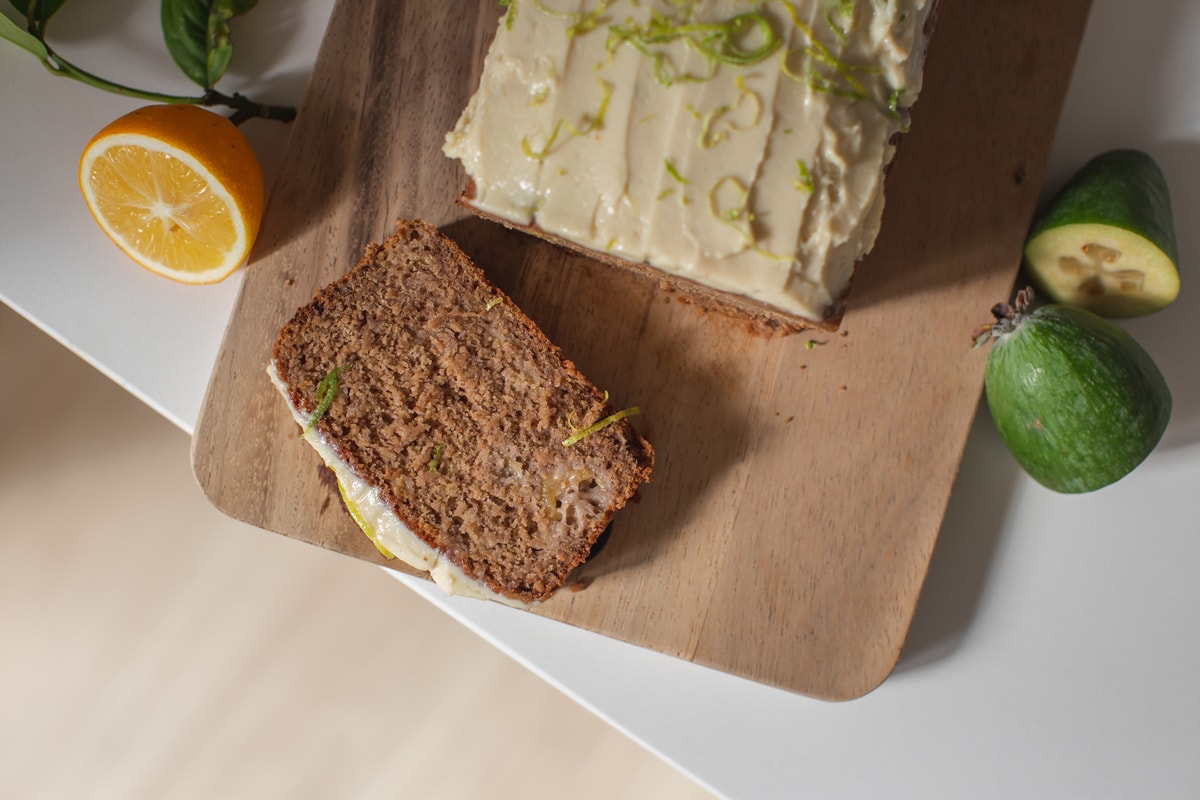 Feijoa season is still going strong here in New Zealand and I'm here for it. This feijoa and banana loaf is the most delicious recipe, and it's so simple to make.
Free from refined flours and sugars, butter, eggs and dairy milk – it's suited to those on gluten free or plant-based diets, without compromising on taste.
The perfect Kiwi afternoon tea snack, with a cup of Kawakawa tea!
FYI – feijoas are also known as pineapple guavas, still, if you can't source any, just sub for apple puree.
Feijoa taste like a combination of pear with pineapple and guava. The fruit has a grainy texture with a sweet, jelly-like centre. The fragrance is truly unique, and highly aromatic.
Jump to:
🌿Why you'll love this recipe
Quick and easy, great way to use up excess feijoas
Heathy, gluten free and easily adjusted to suit vegans
No stand mixer - just two bowls and a loaf pan!
Fruity and delicious!
🍋Key ingredients and substitutes
This feijoa loaf is pretty much a banana bread with a twist - the highly fragrant feijoa fruit totally elevating the recipe.
Mashed bananas and fresh feijoa fruit: together these are sticky enough to act as a binder in place of eggs.
Buckwheat flour: I don't often use buckwheat on its own in baking as the flavour can be a bit strong, but here the fruits mask the nuttiness perfectly. Buckwheat is unique in that it tends to get quite sticky and almost elastic once combined with liquids, which is just another reason why there's no need for a binder here. It's naturally gluten free, but you can sub for a GF flour blend here instead
Extra-virgin olive oil: heart healthy and packed with antioxidants
Oat milk: easily substituted for almond, cashew or rice milk
Raw honey: you can substitute with rice malt syrup or possibly even jaggery/coconut sugar
👩‍🍳How to make feijoa loaf
Step one. Let's kick this off – get the oven on – 175˚C/350˚F, and prep a loaf pan – either lightly grease or line with baking paper.
Step two. Take a large ripe and spotty banana, and mash well with a fork. Scoop the flesh from around 10 or so feijoa fruits, then mash well – we're aiming for about a cup of pulp here.
Scrape this into a large mixing bowl and add all other wet ingredients, mix till combined.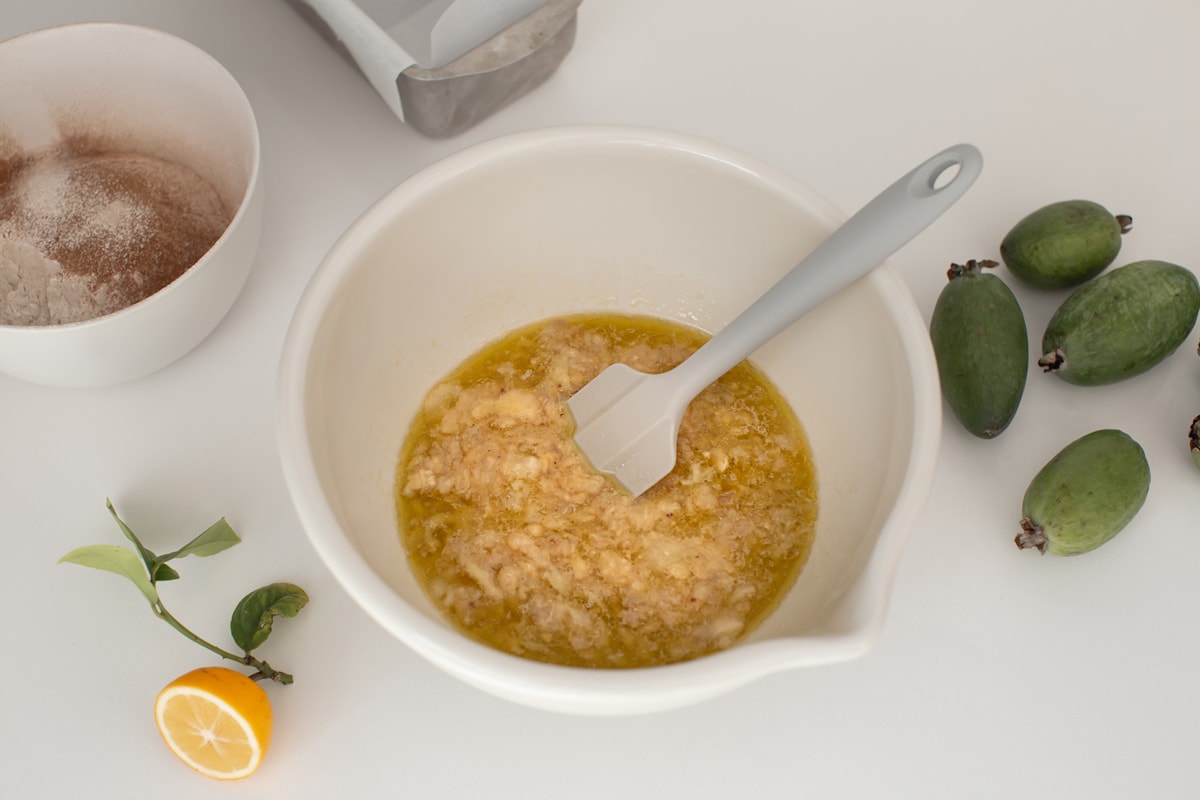 Step three. Sift all your dry ingredients together in a separate bowl, then shake a little into the bowl of wet ingredients and mix together.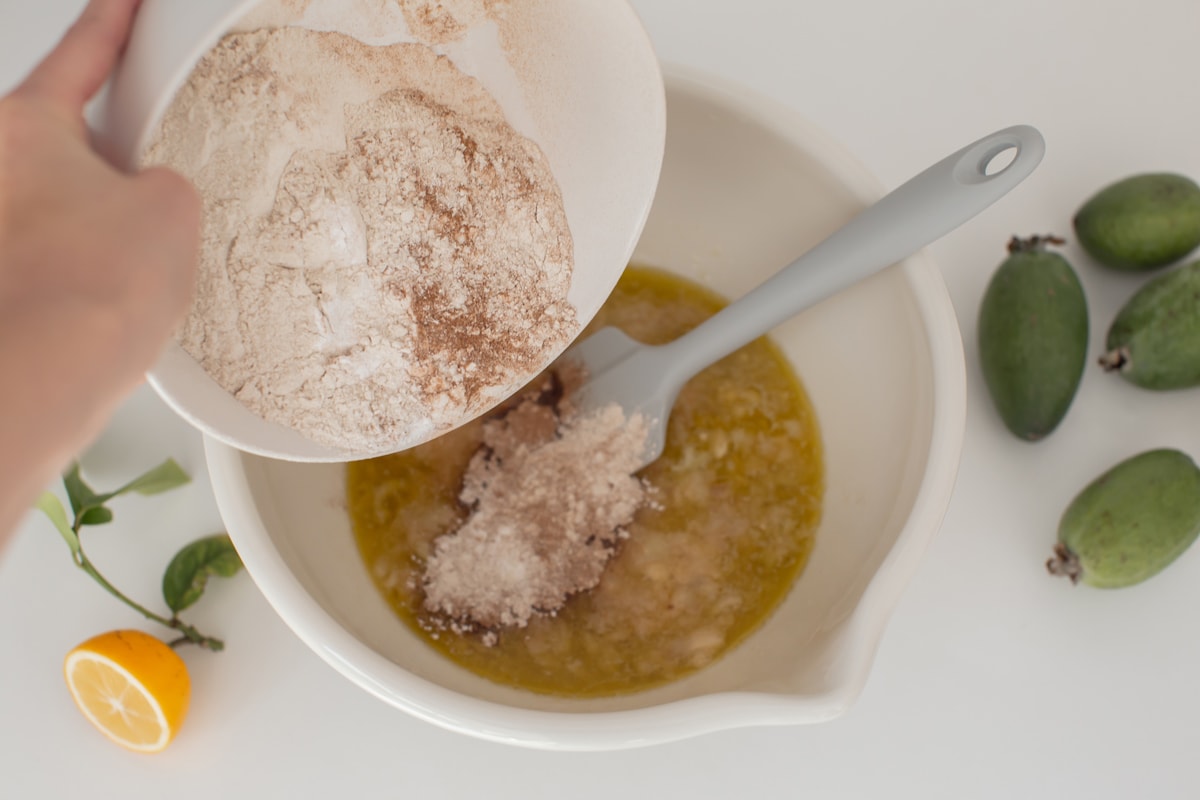 Add a little more and repeat, until there are no clumps of flour.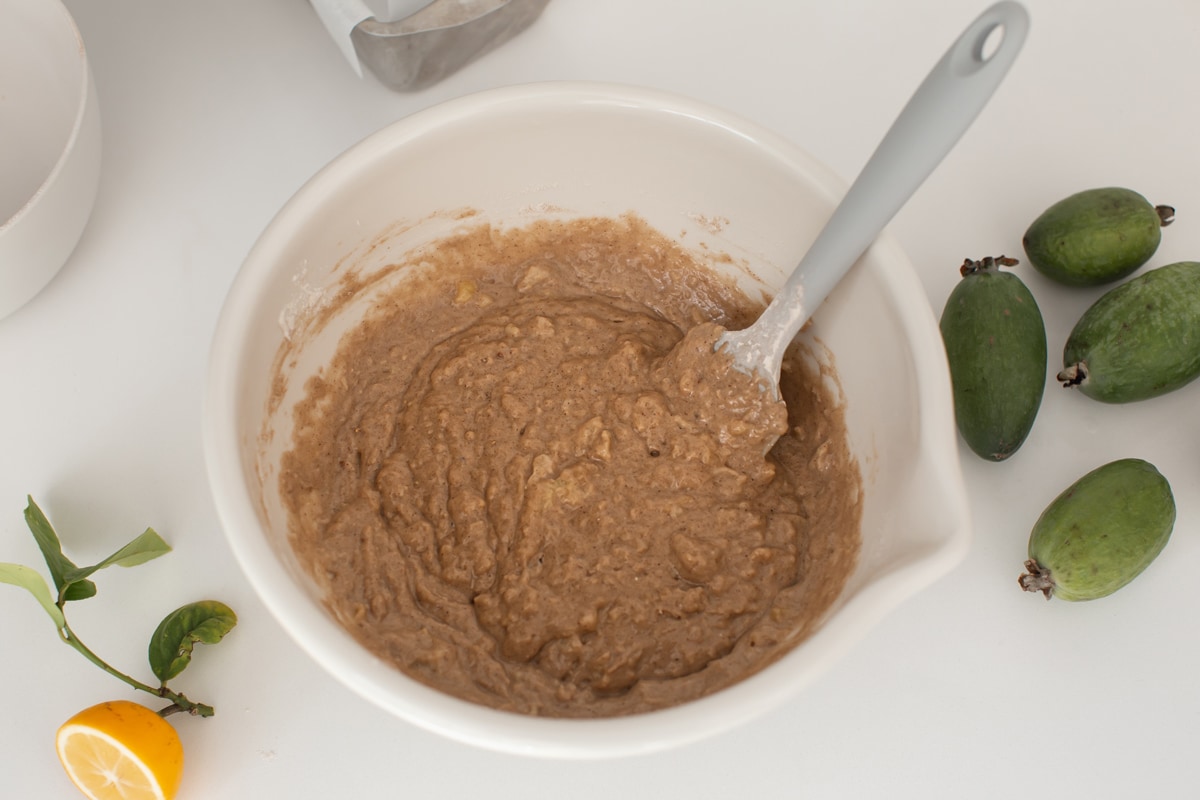 Step four. Pour the batter into your prepared loaf tin, then set it in the middle of the lower rack in the oven, and conventional bake (not forced fan) for about 45 minutes. I'd be checking it from the 40-minute mark – you want a knife or skewer to come out clean.
Step five. Once done, turn onto a cooling rack before using a serrated knife to cut and serve….. unless you're extra and want to ice this baby.
🧁Serving suggestion
The only thing better than a freshly baked feijoa loaf is one slathered in a creamy frosting.
So, to make the icing of your dreams, we'll be using the lemon cashew number from my ginger cake here.
Everything goes into the blender, then the freezer to firm up, then spread over the loaf and topped with fresh lemon or lime zest. It's a lovely recipe, but note you do need to soak some cashews in advance.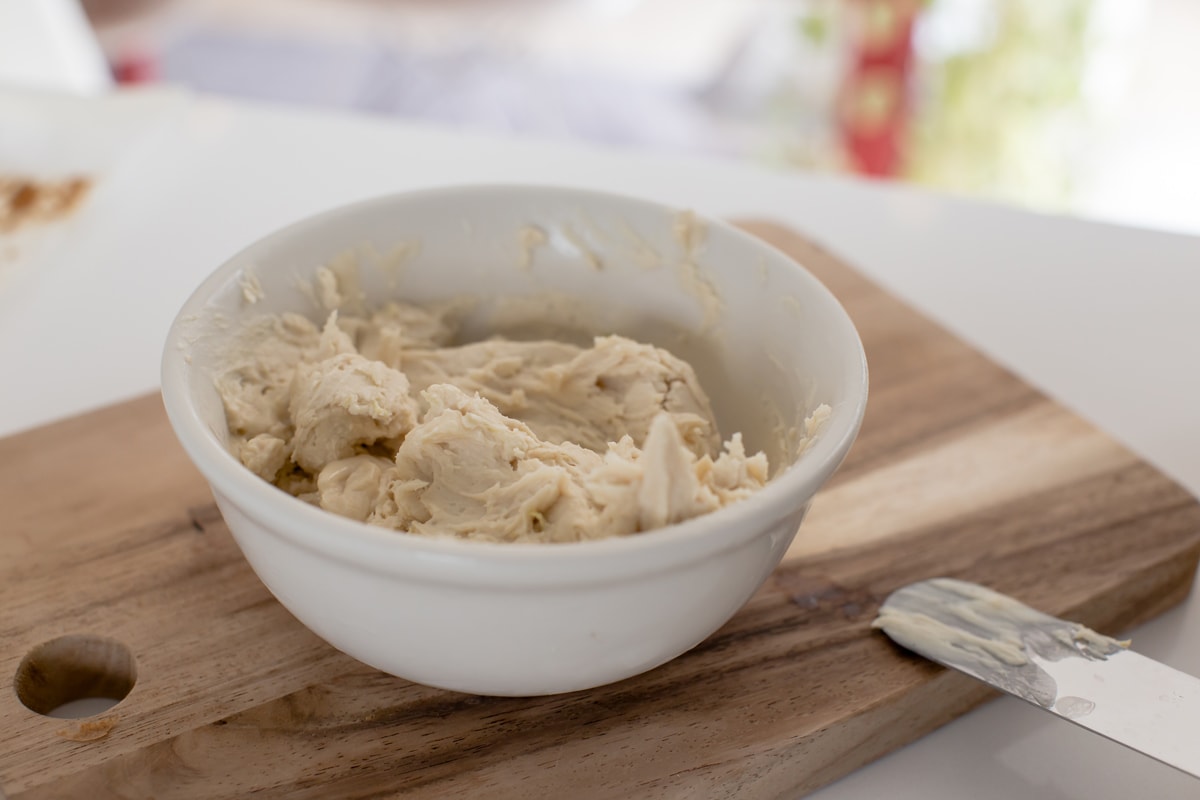 Hope you enjoy guys, this is one of the best feijoa recipes I've made, and one of the only ways Hubby will eat 'em.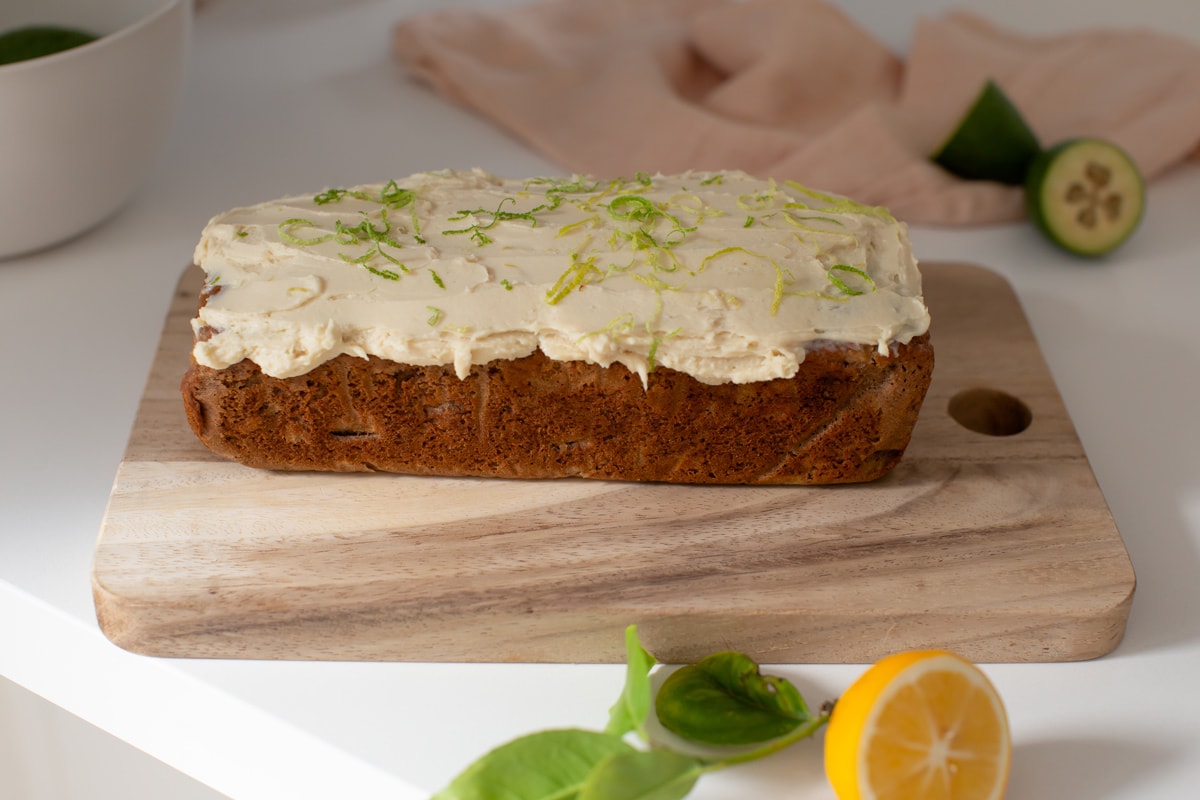 🍞Storage
Keep your freshly baked feijoa loaf in an airtight container at room temperature for several days, or in the fridge for up to a week. The fruit mixture does make it a little prone to mould if it sits out too long
If the loaf dries out while in the fridge, just toast a slice up before enjoying
🍂More recipes using feijoas
It's that time of year…
🌿Enjoyed this recipe? Leave a comment below, better yet - share a snap with me on instagram @ascensionkitchen. If you're after personalised health and nutrition advice, contact my clinic, I'd be happy to work with you.
📖Recipe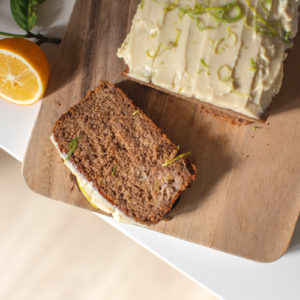 Easy Feijoa Loaf
This easy feijoa loaf is healthy and delicious, naturally gluten free and easily adapted to suit vegans.
Ingredients
Wet ingredients:
½

cup

mashed banana

about 1 medium-large banana

1

cup

mashed feijoa fruit pulp

from about 10 medium-sized feijoas

⅓

cup

oat milk

⅓

cup

honey, softened to a liquid

use up to ½ cup if you plan to skip the icing

¼

cup

extra-virgin olive oil

Juice

of half a lemon
Dry ingredients:
1½

cups

buckwheat flour

1

teaspoon

cinnamon powder

1

teaspoon

baking powder

¾

teaspoon

baking soda

¼

teaspoon

coarse sea salt
To finish:
Dusting

of powdered sugar - can use xylitol for a sugar-free option

Lemon

cashew icing - see notes for recipe link
Instructions
Pre-heat oven at 175˚C/350˚F, conventional bake setting. Line a loaf tin with baking paper, or lightly grease with oil.

Place feijoas and bananas (both mashed well) in a large bowl with olive oil, liquid honey, oat milk and lemon juice. Mix.

Sift all dry ingredients together in a second bowl, then add little by little to the wet ingredients, stirring to combine until there are no clumps of flour.

Pour into prepared tin, and place in the middle of the lower rack in the preheated oven. Bake for about 45 minutes, check the loaf at the 40-minute mark – just bake until a skewer comes out clean.

Once cooked, place on a cake rack and allow to thoroughly cool before either icing or serving.
Notes
You can sub a gluten free flour blend for the buckwheat – if you do this, I suggest reducing or even eliminating the baking powder, as most brands will already include some
Liquid coconut oil can be used in place of olive oil, but isn't as healthy an option (olive oil is packed with antioxidant-rich and anti-inflammatory biophenols – and yes they're active even once heated!)
I haven't made feijoa loaf without the honey, I'm going to assume a straight swap with coconut sugar or jaggery would work fine, no promises until I try it out next time! Yeah you could use rice malt syrup – perhaps go with ½ a cup instead of 1/3 cup as it's not as sweet as honey. I think maple syrup is too light and would make the loaf too moist/crummy
Trust me – no need for eggs, or any other vegan binders – the mashed fruit works just fine
You could easily sub the feijoas for apple puree, or turn this into a straight banana loaf
Recipe for the lemon cashew icing is here. When making the icing, I strongly recommend the inclusion of the organic soy lecithin, as this is what helps emulsify and thicken the mixture. Omit at your own peril!
If you have a food-grade pure lemon or lime essential oil, then you can add a couple of drops to the icing for extra flavour
Tip: cut with a serrated knife – less crumbs
The dimensions of the loaf pan I used were: 23cm length x 10.5cm width
Store your feijoa loaf in an airtight container at room temperature for a few days, the high fruit content does make it prone to mould after that point
Nutrition facts are an estimate only, and are based on one serve. One serve is one of 12 slices (does not include icing).
Nutrition
Serving:
1
slice
Calories:
146
kcal
Carbohydrates:
25
g
Protein:
2
g
Fat:
5.4
g
Saturated Fat:
0.6
g
Sodium:
142
mg
Fiber:
3.75
g
Sugar:
10.75
g
Iron:
0.65
mg