A raw beetroot salad with carrot, kale, fennel and fresh mint – made even more delicious with the addition of toasted pumpkin seeds, sultanas and antioxidant rich goji berries. Beets are an everyday superfood – rich in compounds that help promote production of nitric oxide in the body – a vasodilator that reduces blood pressure and promotes athletic performance.
To make this a balanced meal – serve as a 'Buddha bowl' – adding quinoa and edamame beans (protein) with avocado (healthy fat) and a side of pickles or kraut (gut loving bacteria).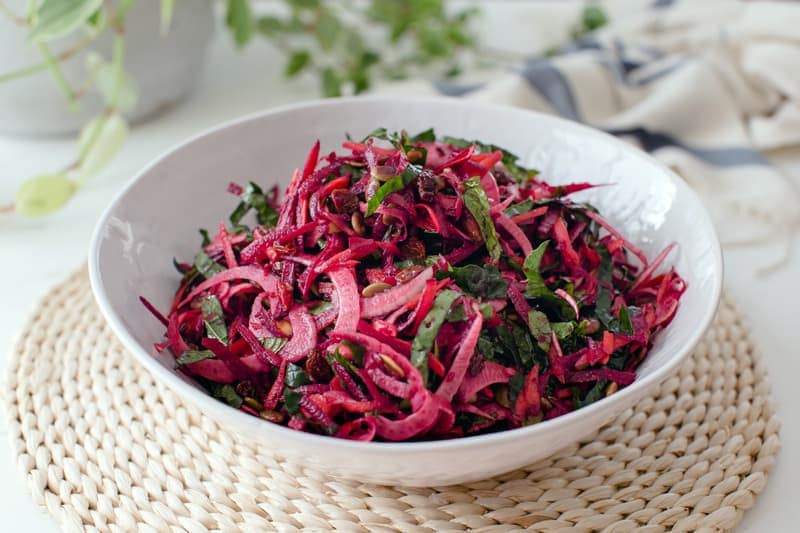 One of the recommendations I make to my clients is: aim to have something raw and colourful with every meal.
Why? Fresh, raw fruits and vegetables are packed full of vitamins, antioxidants and enzymes – many of which are heat sensitive, so are lost or compromised during cooking.
Today's raw beetroot salad is brimming with nutrients, it's incredibly easy to prepare and is a tasty addition to lunch or dinner.
[bctt tweet="Simple Raw Beetroot Salad with a delicious dressing - packed full of antioxidants. Recipe here!" username="laurenglucina"]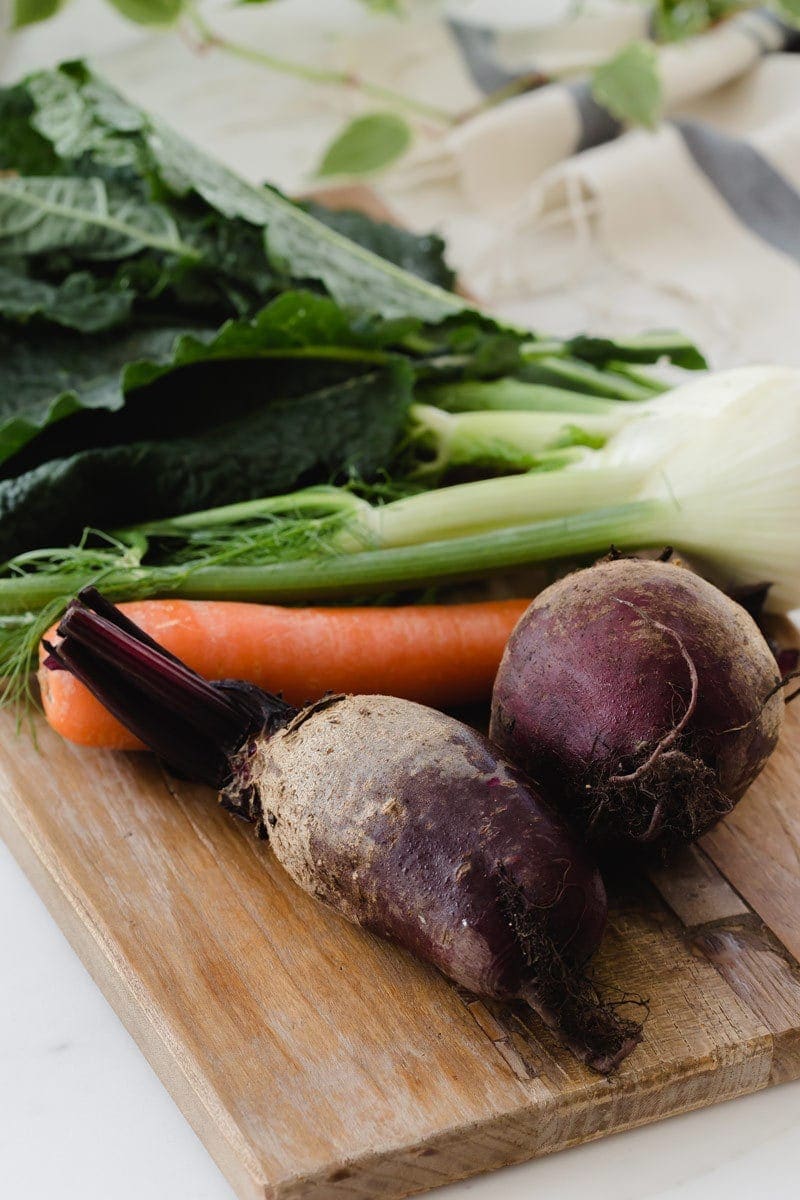 Health and Nutrition Benefits
Beets contain dietary nitrate, which has a number of beneficial vascular effects in the body. Dietary nitrates convert into a compound called nitric oxide, which causes the blood vessels to dilate, consequently reducing blood pressure.
It also inhibits platelet aggregation, improves endothelial dysfunction, and enhances athletic performance.
Dietary nitrates are found not only in beets (and their green tops), but in other leafy vegetables like spinach and rocket. Tip: beet greens are even more nutritious than the ruby red roots – save them to add to your morning smoothie!
Kale, like beets, feature in the top 20 list of the most nutrient-dense vegetables on the planet. As a member of the cruciferous family, kale provides sulfur compounds that are cancer-protective and supportive of liver detox pathways
Fennel is something I often add fresh to salads, it is incredibly calming to the gut – particularly the seeds, relieving gas and distention
Mint has similar calming effects on the digestive tract
Goji berries provided powerful antioxidants, and are traditionally added to meals to provide a bit of an energy boost.
Like carrots, they contain beta-carotene, a plant pigment that is protective of the skin and contributes to immune health
Both goji and sultanas add a little sweetness to the salad without being overpowering
Pumpkin seeds are a fabulous source of zinc – which is perhaps the most critical nutrient required for healthy immune function. Minerals (unlike vitamins) are not heat sensitive, and are not degraded during cooking
As a whole, this salad is a great source of dietary fibre, protein, and vitamin C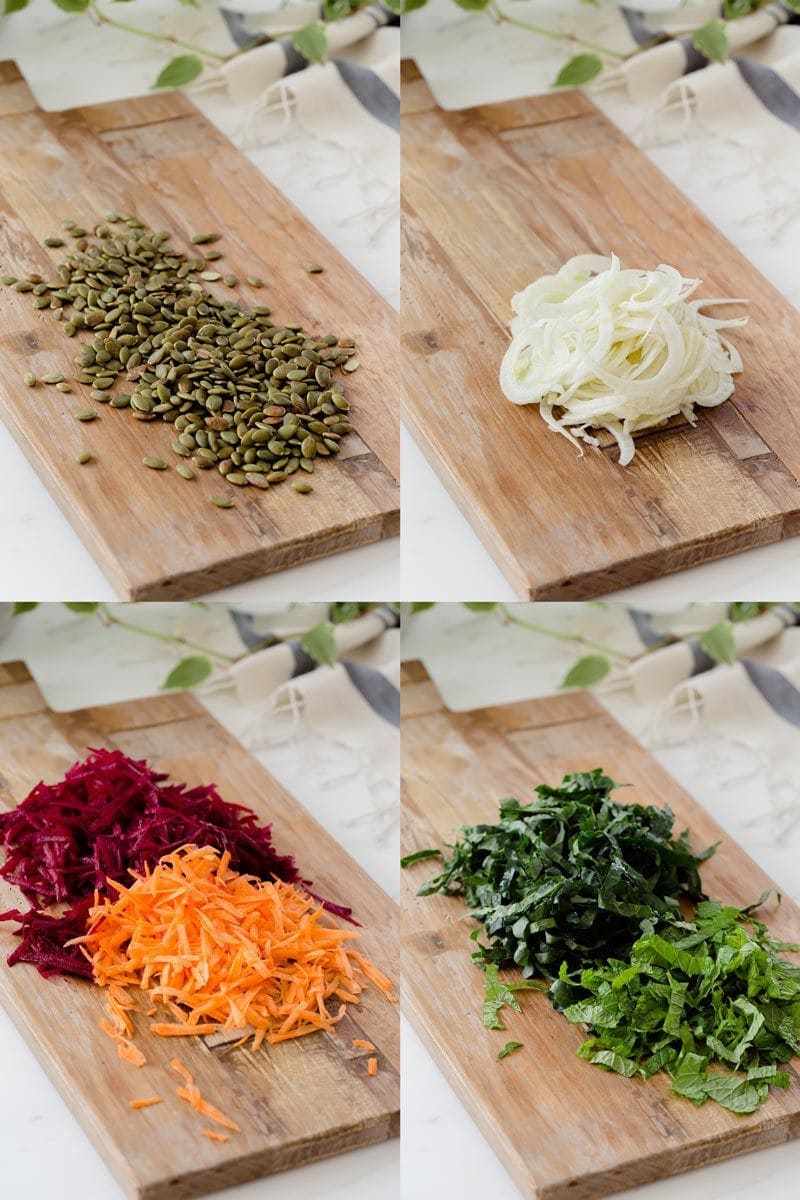 Beetroot Salad Recipe - Step by Step
First, dry toast your pumpkin seeds in a pan till slightly browned.
Use a mandolin to finely shred the fennel bulb – if you don't have one yet, they aren't expensive and make short work of prepping vegetables so I highly recommend them – quick and easy is the name of the game!
Grate the peeled beet and carrot, then remove the tough inner stems of the kale and finely shred. Tear or roughly chop the fresh mint.
Combine the vegetables, pumpkin seeds, goji berries and sultanas in a large bowl.
Top tip: although freshly grated zucchini would seem like a great addition, I prefer it without – from an aesthetic point of view it soaks in the red pigment from the beets, plus, it tends to make the salad a little soggy looking.
Beetroot Salad Dressing
To make the dressing, combine a good quality, extra virgin olive oil (full of anti-inflammatory polyphenols!) with balsamic vinegar, the juice of half a lemon, a few teaspoons of pure maple syrup (no added sugar), and a teaspoon of Dijon mustard.
Whisk it good, and pour over the beet salad, tossing to combine.
Make it a Balanced Meal
This nutritious salad will serve 4-6 depending on how you enjoy it. To make it a balanced meal, I served it as a Buddha Bowl with;
Quinoa cooked in vegetable broth – gluten free and source of plant protein
Steamed edamame beans – another great source of plant protein
Half an avocado – source of healthy monounsaturated fatty acids
A sprinkle of sesame seeds – yum (eaten in larger quantities or in the form of tahini, sesame seeds are good source of calcium)
A small side of pickles or kraut
More nutritious salads
A few other recipes that tick that box of having something raw and colourful with your meal:
That's all from me today guys, if you give this recipe a whirl I'd love to see it!
Lauren.
If you make and enjoy this recipe, please leave a rating below. And better yet – leave me a comment to tell me how you got on, or just say hi – I LOVE hearing from you. Follow me on Instagram, Facebook or Pinterest to see more of my everyday recipes and wellness tips.
Raw Beetroot Salad with Dressing
A raw beetroot salad with carrot, kale, fennel and fresh mint – made even more delicious with the addition of toasted pumpkin seeds, sultanas and antioxidant rich goji berries.
Ingredients
RAW BEET SALAD:
½

heaped cup

pumpkin seeds


approx. 100g

1

fennel bulb

1

large beet

approx. 200g

1

carrot


1

bunch

kale

flat leaf (approx. 50g with stalks removed)

1

handful

fresh mint leaves

approx. 15g

3

tablespoons

sultanas

2

tablespoons

goji berries
BEET SALAD DRESSING:
2

tablespoons

extra virgin olive oil

1

tablespoon

balsamic vinegar

juice

of half a lemon

2

teaspoons

pure maple syrup

1

teaspoon

Dijon mustard
Instructions
RAW BEET SALAD:
First, dry toast the pumpkin seeds in a pan then set aside.

Peel and grate the beet and carrot.

Use a mandolin to finely slice the fennel bulb (you can also use a knife).

Remove tough inner stalks from the kale, then roll leaves up and finely shred. Tear or roughly chop the fresh mint.

Add all ingredients including the goji berries and sultanas to a large salad bowl.
BEET SALAD DRESSING:
Whisk all ingredients together in a mug then pour over the fresh salad.

Toss well to combine and serve. You may like to further season with salt and pepper.
Notes
Kale can be a little bitter, if you massage the dressing into the salad this will soften it and take the edge off
Goji berries are optional
Nutrition panel is an estimate only
Nutrition
Calories:
316
kcal
Carbohydrates:
28
g
Protein:
11
g
Fat:
20
g
Sodium:
124
mg
Fiber:
7
g
Sugar:
14
g
Vitamin C:
32.2
mg
Calcium:
100
mg
Iron:
4.5
mg
Nutrition Facts
Raw Beetroot Salad with Dressing
Amount Per Serving
Calories 316
Calories from Fat 180
% Daily Value*
Fat 20g31%
Sodium 124mg5%
Carbohydrates 28g9%
Protein 11g22%
Vitamin C 32.2mg39%
Calcium 100mg10%
Iron 4.5mg25%
* Percent Daily Values are based on a 2000 calorie diet.