Feijoa chutney with apples, onions and raisins, and just the right amount of spice. It's rich and sticky, with a jammy texture and heavenly aroma. Coming to the Autumn tasting platter of your dreams!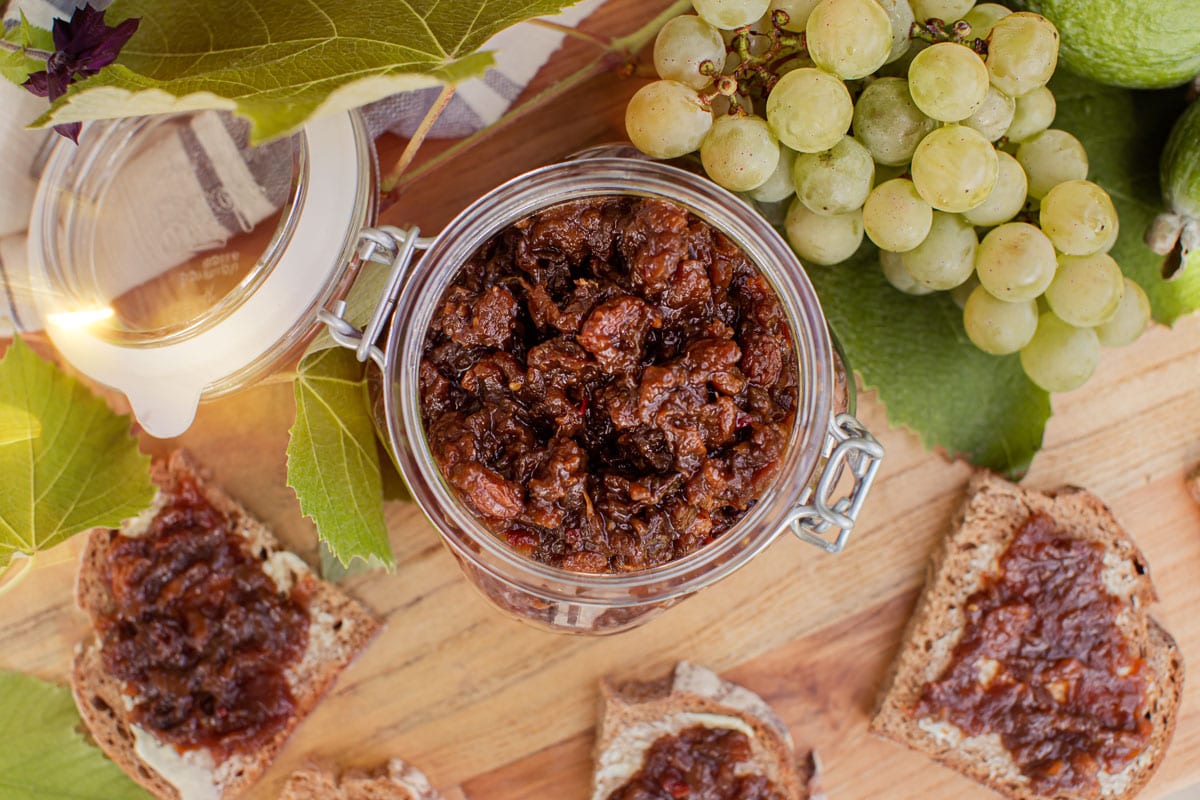 Celebrate feijoa season with this divine feijoa chutney recipe. Apples, onions, raisins, ginger, garlic, chilli and star anise all work to complement those soft, fragrant, aromatic and juicy little ovals we know and love as feijoas.
This chutney is rich and sticky – spread over a piece of rye sourdough with sweet organic grapes and walnut pieces for a flavoursome seasonal treat.
Since feijoas are on the menu right now here in NZ, you might also like to try this feijoa and walnut cake, fruity ginger-spiced muffins, lemon-iced feijoa loaf or classic feijoa and apple crumble.
Jump to: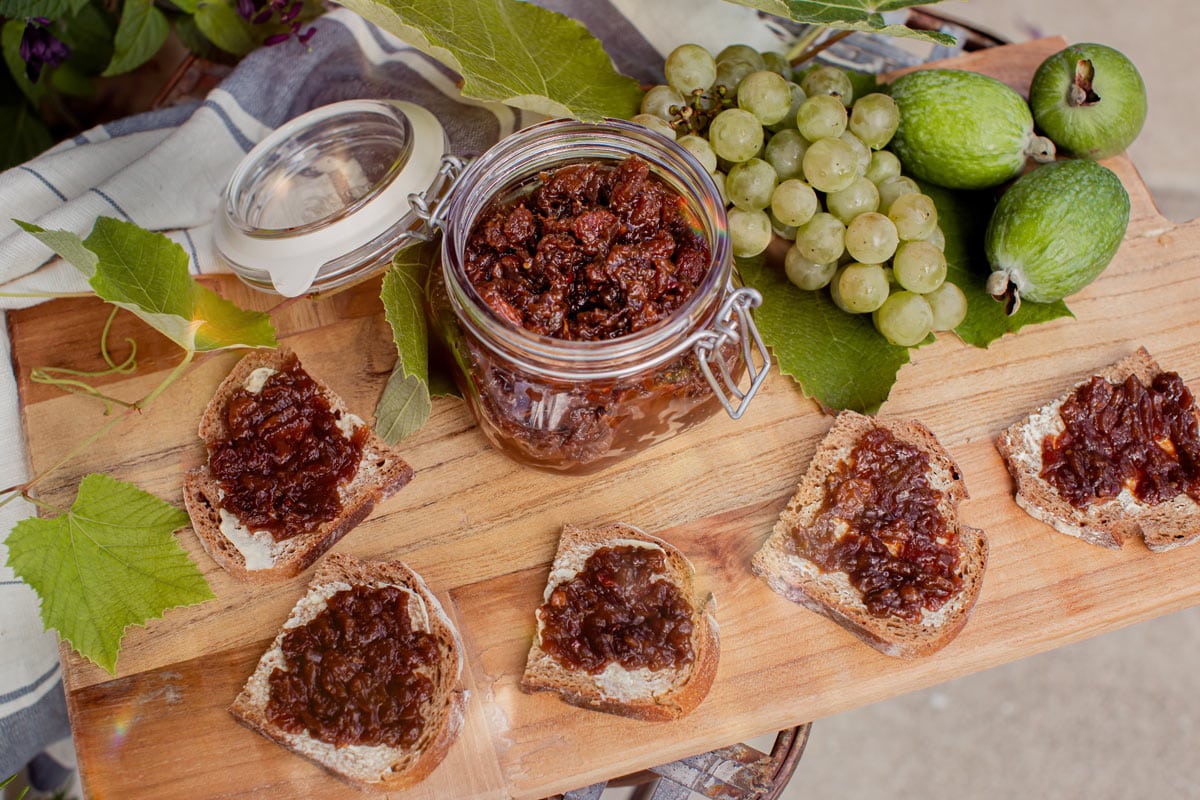 🍂Why you'll love this recipe
Rich, sweet and tangy with just the right amount of spice
Great way to use up excess fruit
Stores well so you can enjoy feijoas year long
Low sugar option
🍃Ingredients
Feijoas – the ruff and tumble, odd shaped, bumped and bruised ones from the grass under your tree will do perfect. Throw the over-ripe ones in the bottom of the fruit bowl in there too
Apple, red onions or shallots, raisins or sultanas – this trio is a fail-safe for great tasting chutney
Vinegar – I've gone with an organic apple cider, though red wine or malt vinegar will also work. Chutney connoisseurs will tell you an acidity over 6% is ideal
Sugar – a crucial ingredient alongside vinegar to help preserve the recipe. I've used powdered jaggery, which you can find at an Indian or specialty store. Jaggery is concentrated cane juice without the removal of the nutrient-rich molasses. You could also use coconut or brown sugar
Spices – ginger, garlic, chilli and star anise add heat and aromatics
🌶️ Make this feijoa chutney your own – other spices to play with that accompany the unique fragrant flavour of feijoa are cinnamon, ground cloves, curry powder and black pepper.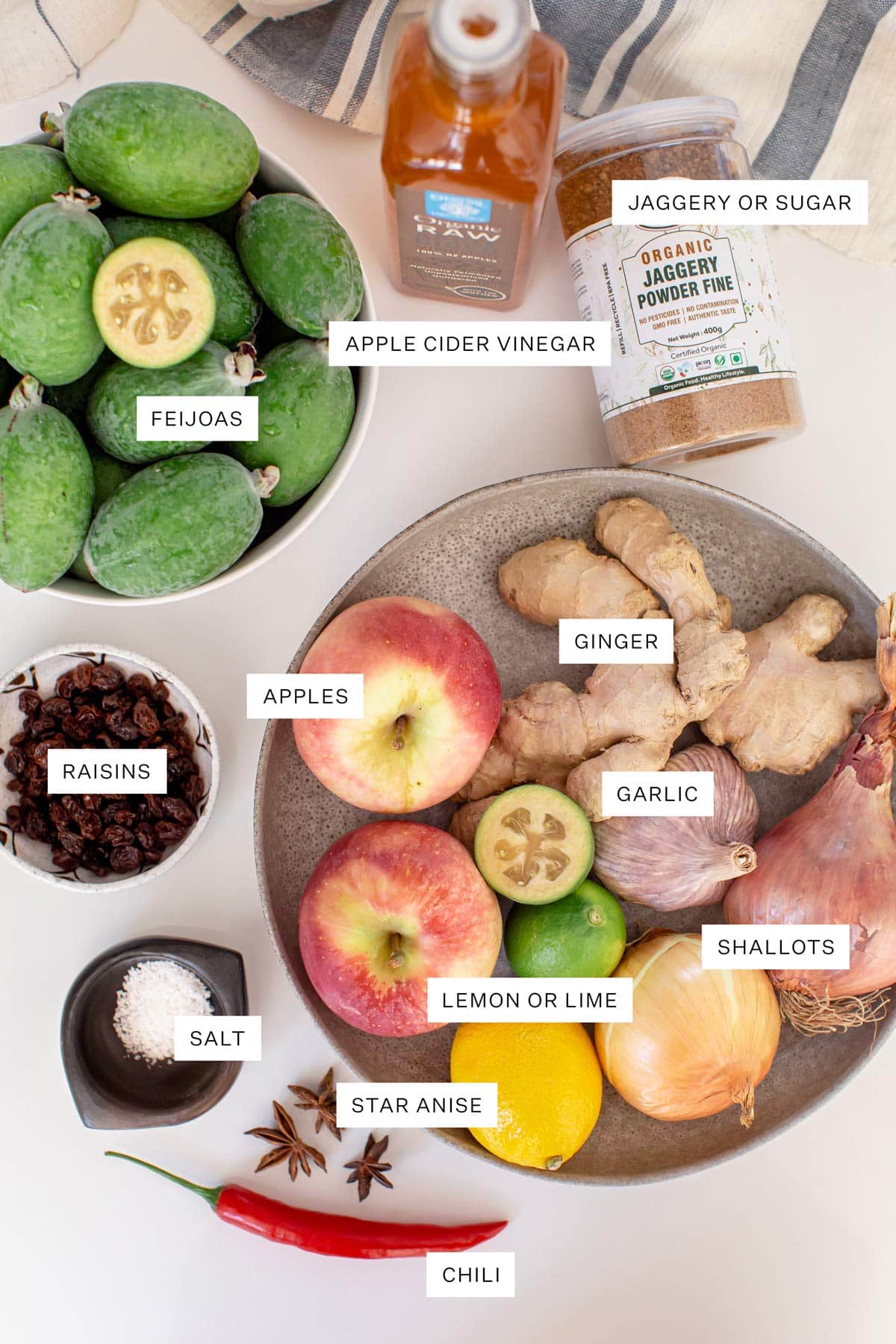 👩‍🍳Step-by-step instructions
This is a delightfully easy feijoa chutney recipe, let me show you how simple it is to make…
Step one. Start by frying very finely sliced onions or shallots with grated ginger, chilli and garlic, over medium heat in a large saucepan just for a minute or two.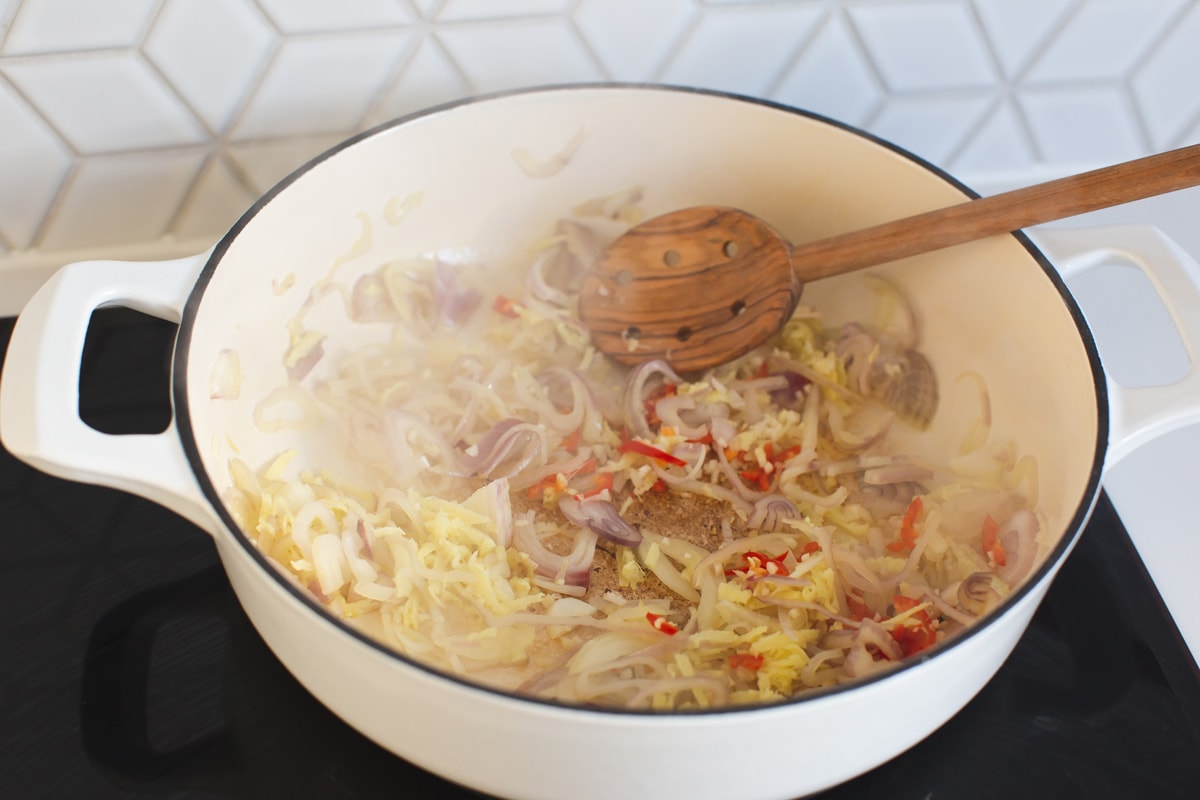 Step two. Once softened, add your scooped feijoa fruits with the rest of the ingredients.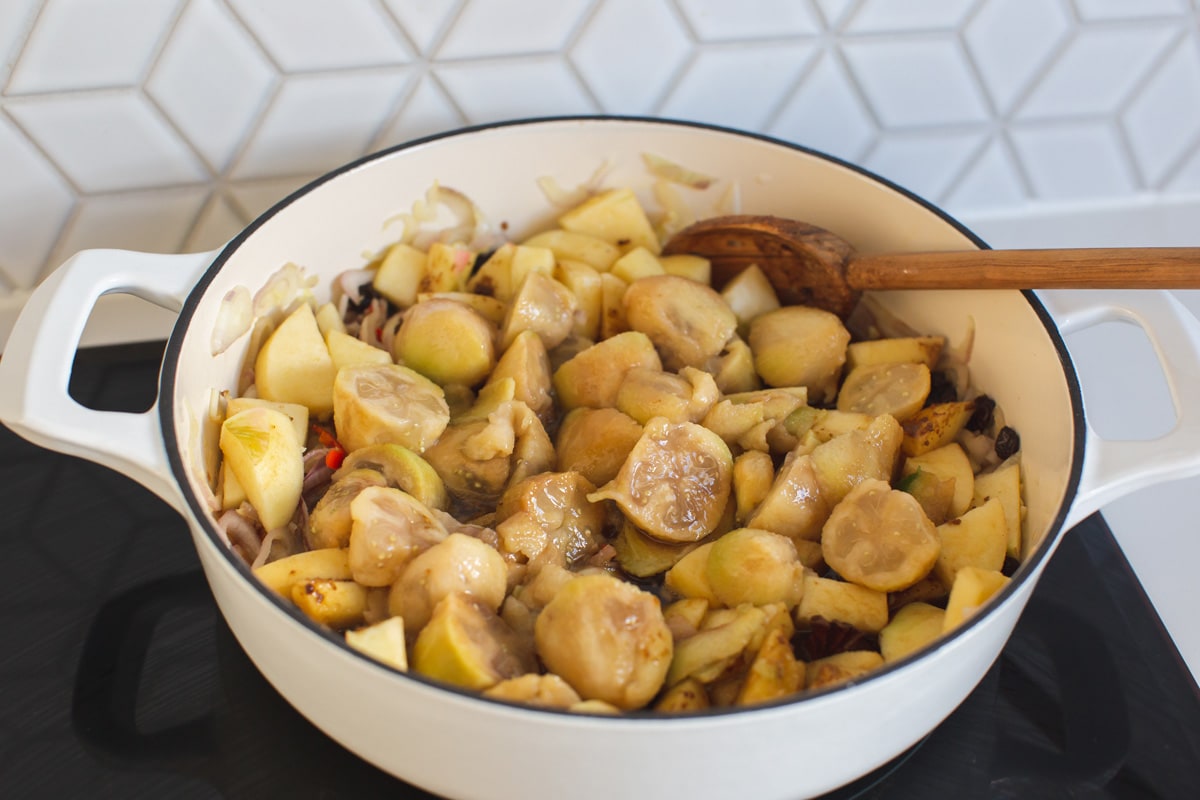 Step three. Cover the mixture and crank up the heat until it starts to boil, then remove the lid and reduce it to a simmer. Give the chutney a good stir every so often to avoid it sticking to the bottom of the pan.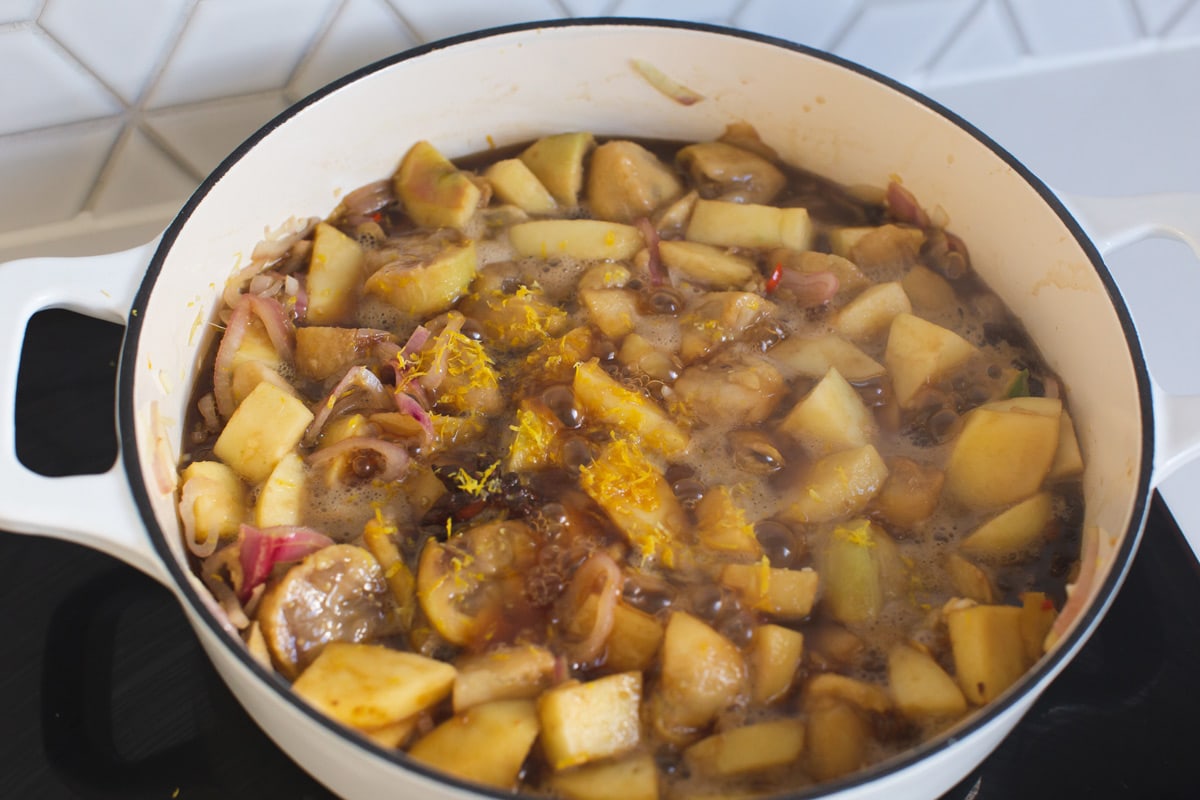 Step four. After about an hour, you can take a potato masher and break up the larger pieces of feijoa if they haven't yet broken down.
As soon as the liquid has evaporated off, and a wooden spoon leaves a channel on the bottom of the saucepan, your feijoa chutney is ready.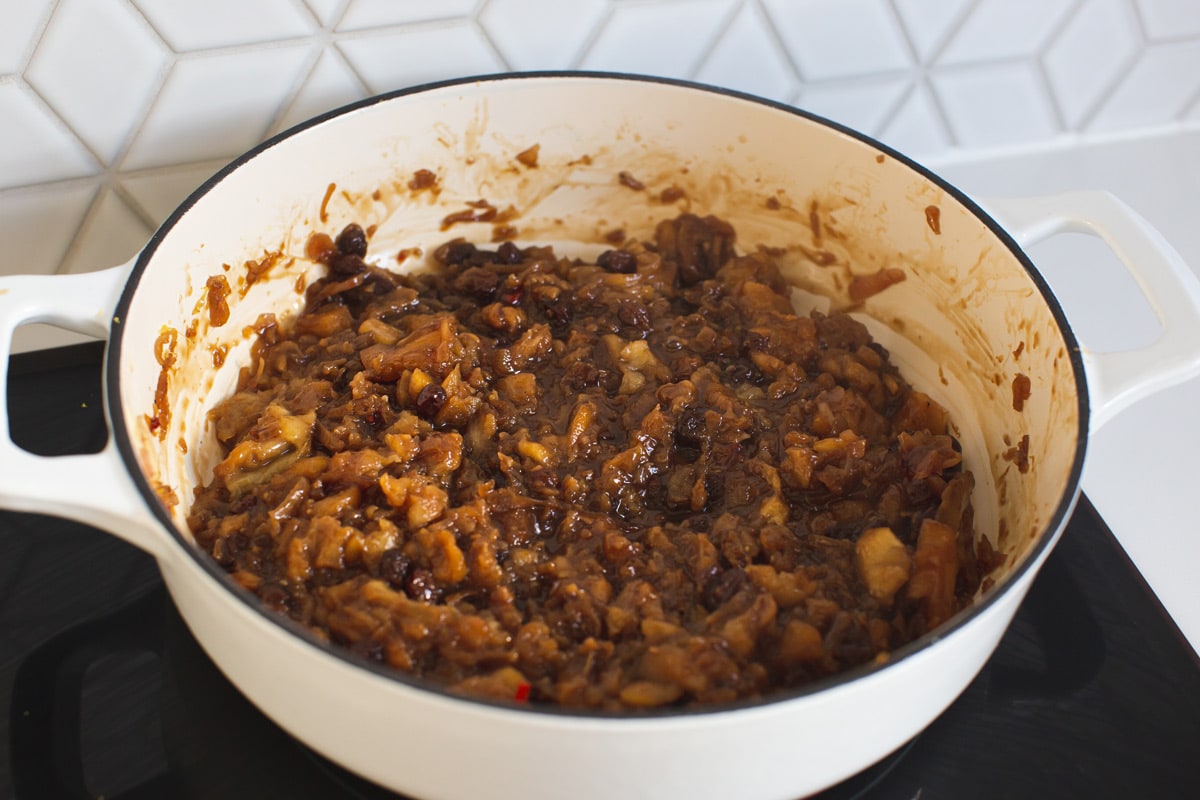 Note the rich brown colour – this is due to the jaggery, if you use white sugar it will look different to mine. Ah, that texture!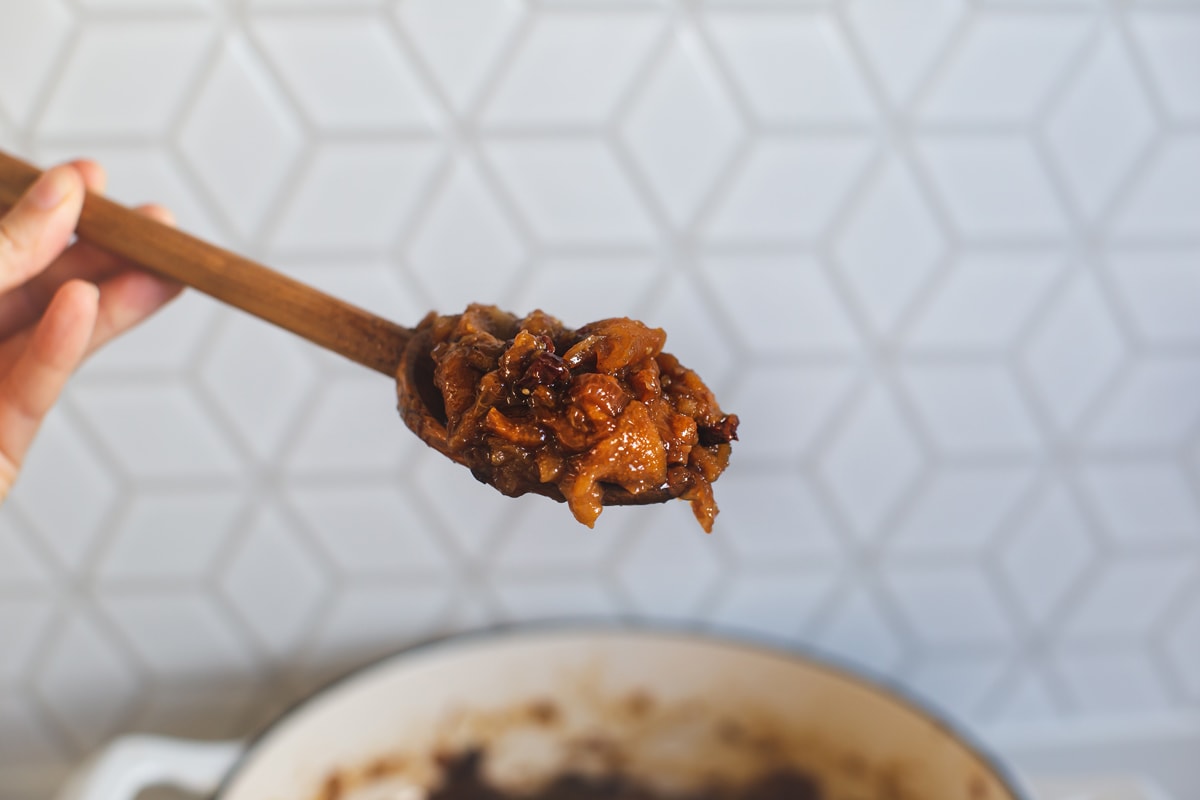 Step five. Time to spoon into a hot and freshly sterilised glass jar with a rubber seal. Don't forget to label and date.
You can keep your unopened feijoa chutney in a dark place at room temperature for up to a year, and refrigerate once opened.
🔥How to sterilise glass jars in the oven
Wash the jars and lids in hot soapy water
Place them upside down (and still wet) on a baking tray
Transfer to a pre-heated oven set to 130˚C
Heat for at least 15 minutes
Use tongs to remove and place on a wooden board
Immediately fill the hot jars, then cover or seal them right away
Remember to select a jar with a rubber seal, as the vinegar in the feijoa chutney will erode metal, however remove the seal before placing in the oven or it will crack.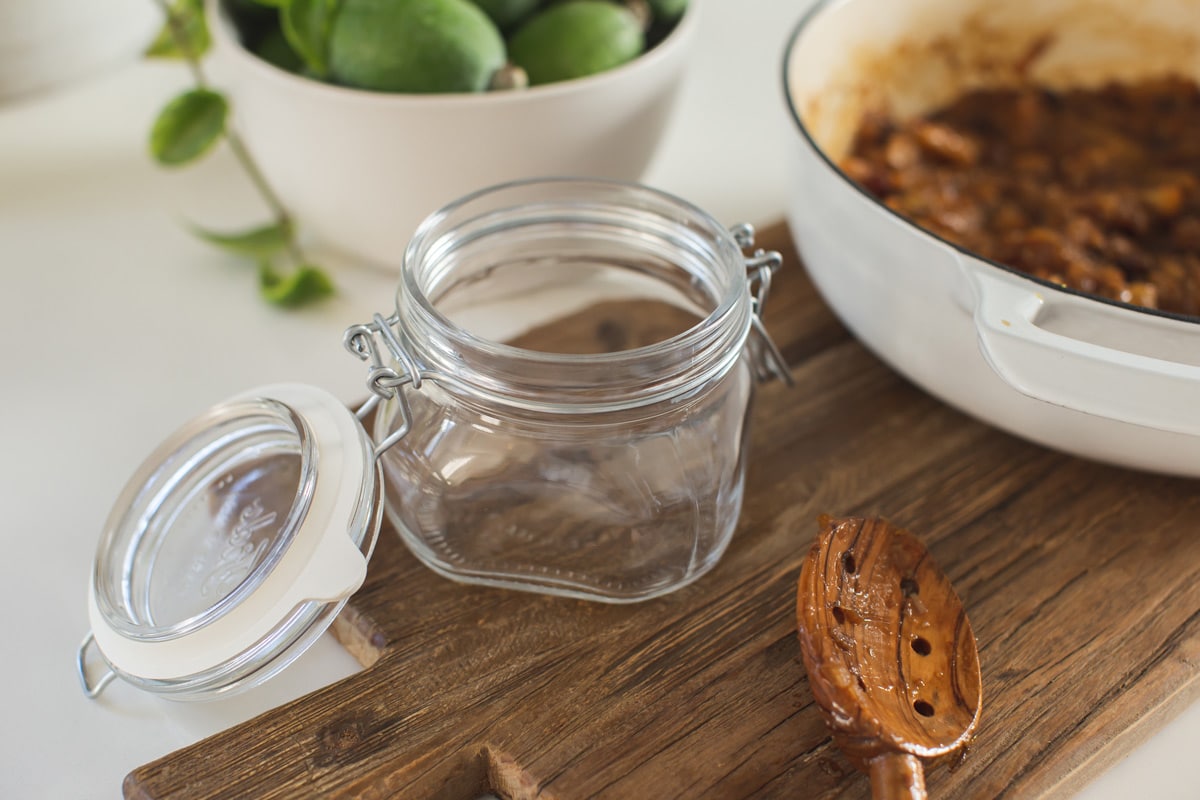 🍴Expert tips
I have found that in chutney making, a ratio of loosely 3 parts fruit to one part vinegar and half a part sugar is a good base to start with. My recipe isn't too far off this.
If you'd like to reduce the sugar content, my advice is to reduce both the vinegar and sugar together, as reducing the sugar without adjusting the vinegar will make for quite an acidic chutney.
If you go lower with the sugar, just be aware the shelf life won't be as robust, and it will absolutely need to be refrigerated.
🌳Best place to buy feijoas
If you, my poor friend, are one of the unlucky ones with no feijoa trees in your backyard, and no-one to pilfer from, the best place to get ample fruit to gorge on is Quinta Feijoas in the Matakana Coast.
Quinta are a family business run by a couple who are part of my own extended fam – Helen and Peter Lory.
Their certified organic orchard produces cultivars that ripen throughout the entire season, March through to June. And yes – can confirm they are fat, fragrant and delicious!
You can order a 5kg or 10kg carton and have it couriered to your door within a day or so depending where you live. And, if you want to scoff them out of season, you can also order frozen fruit at any time of the year – game changer!
The team also do their own wicked good feijoa chutney in addition to jams, jelly, and creamy sorbet.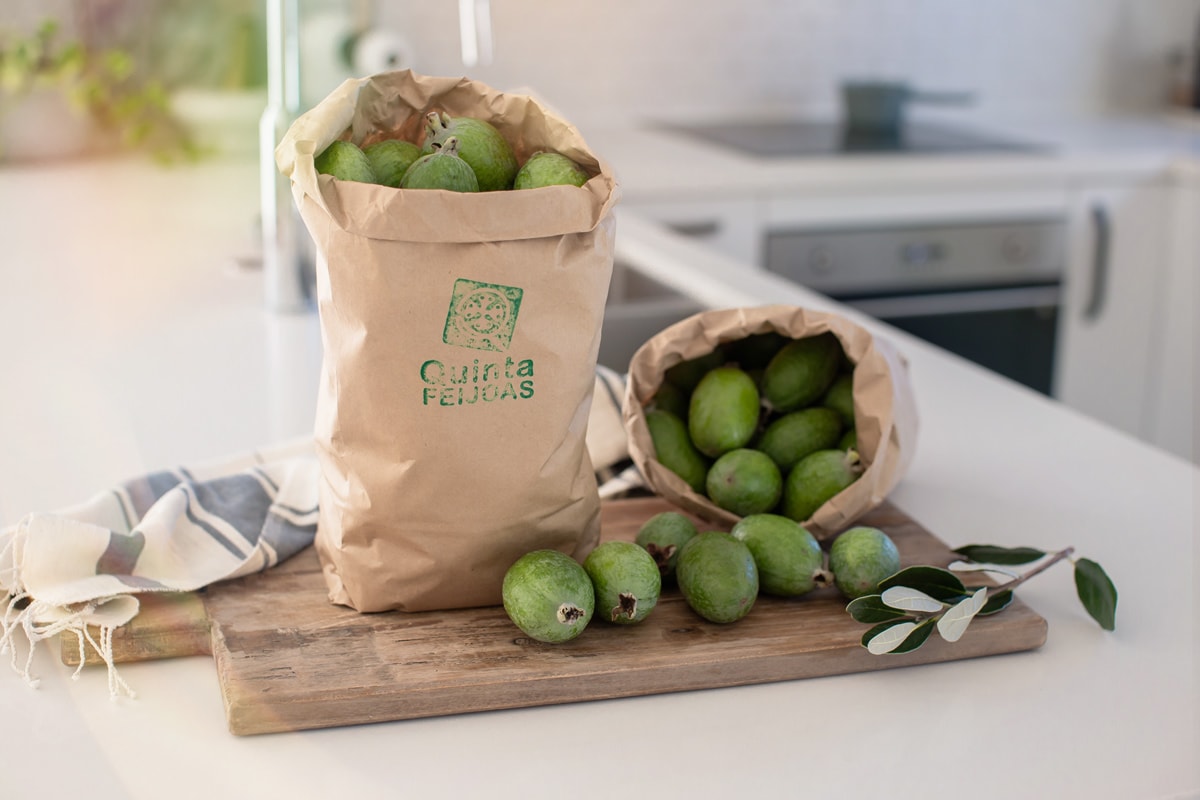 🙋FAQ's
Can you freeze feijoas?
Yes – peel the skin then place in a zip-lock bag or silicon pouch and freeze.
How long does chutney last?
Chutney made with an appropriate ratio of fruit:vinegar:sugar will last in a sealed and sterilised glass jar for up to a year, if unopened. Once opened, refrigerate and consume within a month.
🌿Enjoyed this recipe? Leave a comment below, better yet - share a snap with me on instagram @ascensionkitchen. If you're after personalised health and nutrition advice, contact my clinic, I'd be happy to work with you.
📖Recipe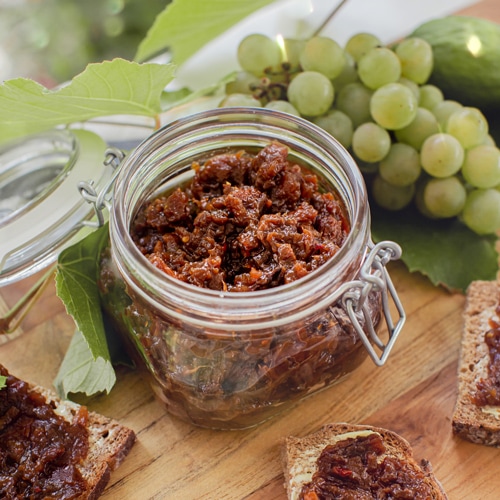 Heavenly Spiced Feijoa Chutney
Feijoa chutney with a sticky, jammy texture and heavenly aroma. Double the recipe if you have the fruit – this will get devoured! Yields 2 cups, or 96 serves at one teaspoon per.
Equipment
Large pot

Potato masher

500ml capacity glass jar with a rubber seal
Ingredients
500

g

scooped feijoa flesh

from about 13 large feijoas, or just over a kilo

250

g

apples

peeled and chopped - about two medium

50

g

raisins or sultanas

150

g

onions (red) or shallots

finely sliced or diced, about one medium onion or two shallots

250

ml

Apple Cider Vinegar, or Red Wine/Malt Vinegar

200

g

powdered jaggery or coconut/brown sugar

1

teaspoon

coarse/flakey sea salt

1

tablespoon

ginger root

peeled and grated

2

garlic cloves

peeled and minced

½

red chilli

de-seeded and sliced fine

1

whole

star anise

Zest

of one lemon
Instructions
Fry the onions with garlic, chilli and ginger for a minute or two in a large pot.

Add remaining ingredients, cover and bring to a boil.

Remove the lid, and simmer over low heat for up to an hour, stirring occasionally towards the end to avoid the mixture sticking to the bottom of the pot.

Mash the chutney, and remove from heat once all excess liquid has been cooked off and a wooden spoon leaves a channel at the bottom of the pot.

Spoon into sterile jar with a rubber seal while warm, then cap. Allow the flavours to develop over a couple of weeks before enjoying. Refrigerate the feijoa chutney once open.
Notes
Store homemade feijoa chutney in an airtight sterilised glass jar in the pantry, and refrigerate once opened.
To make a low sugar version, reduce both the vinegar and sugar together. I have tried a chutney with 185ml vinegar and 50g sugar – perhaps start there and add a little extra sugar to your liking.
Remember the vinegar and sugar act as preservatives, so this will need to be refrigerated right away, and perhaps stick to the recipe rather than doubling, as it won't last too long in the fridge.
Lastly – I haven't tried making this with the feijoa skin on, if you give that a whirl – comment and let me know how it turns out?
Nutrition panel is an estimate only, and is based on one serving (one teaspoon)
Nutrition
Serving:
1
teaspoon
Calories:
15
kcal
Carbohydrates:
4
g
Sodium:
8
mg
Fiber:
0.5
g
Sugar:
3
g