These allergy-friendly Zucchini and Corn fritters are gluten free and vegan, packed with fresh vegetables, herbs and spices. Chickpea flour, psyllium husk and vegan cheese combine to replace flour and eggs. These are even better enjoyed for lunch the next day.
Originally posted January 2018, updated June 2019.
When did it become so hard to have fun? This has been a really industrious month for me so far, not at all like my usual leisurely drift into the new year. I very nearly came up with an excuse not to go for an adventure to a beach out of Auckland yesterday, until I remembered that I answer to nobody but myself and that family and self-care are important, so pens down girlfriend! You need a break!
We day-tripped to Mangawhai heads which is a gem of a place – soft white sand and frothy blue seas, lined with a rugged coast. We climbed sand dunes and hunted for crabs with the nephews, and finished up at a local vineyard. It was nice to wake up this morning tired from sun and adventure – but not lack of sleep!
It's true, self-care is an art, something that needs practice and attention. But like good nutrition being critical for your physical health, self-care is critical for your mental and emotional wellbeing.
[bctt tweet="Easy Vegan Zucchini and Corn Fritters - these are even better the next day. Recipe here! " username="laurenglucina"]
Today's recipe is one I made my partner suffer through three nights in a row – in my quest to create the perfect vegan fritter! Hard life, huh?!
The challenge of course with this kind of recipe is finding a suitable substitute for the eggs.
I think I got there, although it isn't quite the type of fritter you would expect – it is crisp on the outside but soft on the inside – and this is because I've used vegan cheese (store-bought) – which melts as it cooks and gives it that lovely creamy texture when you bite into it.
Zucchini and Corn Fritters - Ingredients
Fritters are a fun way to sneak in extra vegetables – fresh summer sweet corn, zucchini and carrot.
To flavour, I used chilli, onion powder (this is different to onion salt – it adds a lovely sweet taste), fresh dill, and white pepper.
In lieu of eggs, as I mentioned, we have the vegan cheese (a great binder once it starts to melt), chickpea flour and psyllium husk.
I've tried out a few recipes for fritters that relied solely on the chickpea flour – which tends to make things turn out a bit on the dry side.
The psyllium husks are something I have on hand in bulk in the pantry at all times because they are so versatile. They swell and bind the ingredients together whilst adding in some dietary fibre (BIG tick!).
How to Make Zucchini and Corn Fritters
These are a piece of cake to make. Vino in hand, music on, and get the grater out to prep all the vegetables.
Because zucchini tend to hold quite a bit of water, I recommend wringing it out well in a clean tea towel. If you skip this step, I think you'll find the mixture far too wet to work with.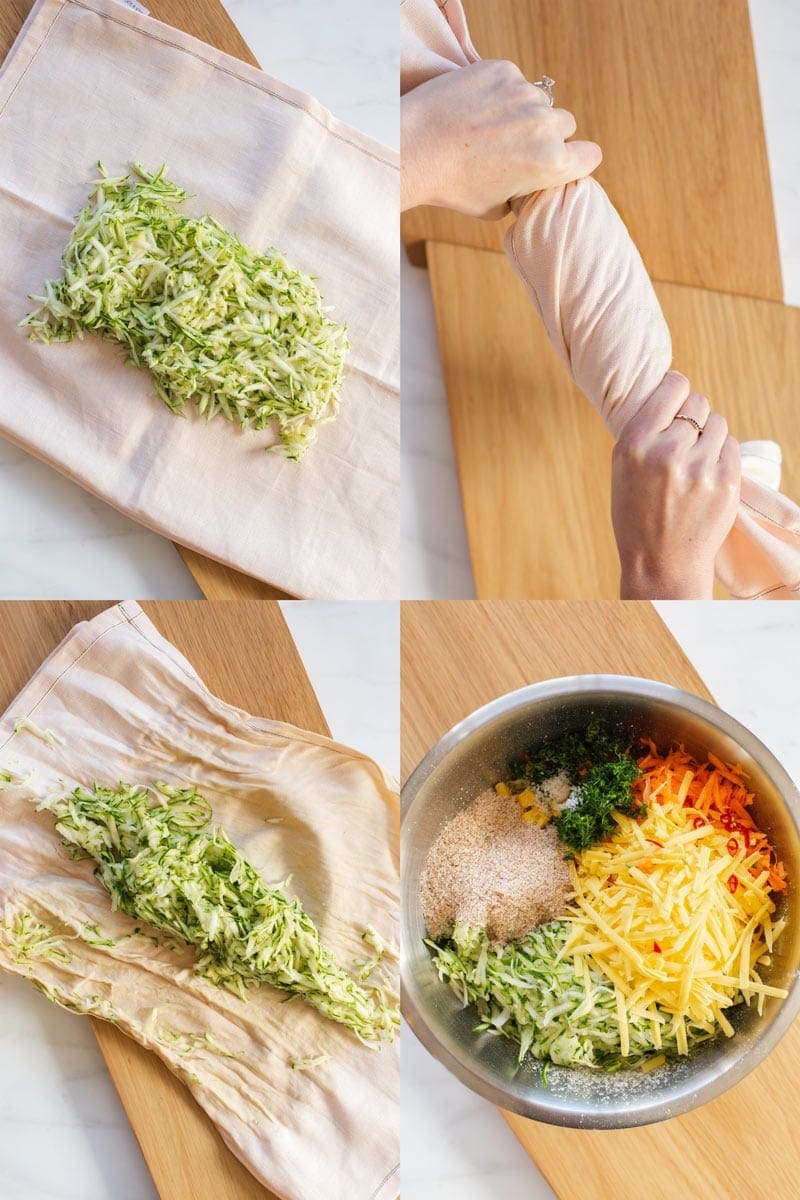 Combine everything in a large mixing bowl, then use your hands to get in there and mix it all together. Don't be shy!
Once combined, the mixture should hold when pressed together. If it feel too wet, let it rest for 10-15 minutes before you add any further liquid, as the psyllium husk will eventually swell and thicken.
If you still need to add liquid - just a tablespoon at a time.
To cook, heat a little olive oil in a pan, then turn the temperature down to a low-medium setting.
Use about two tablespoons of the mixture per fritter, cooking till golden on each side. Don't overcrowd the pan, and don't be tempted to crank the heat up - they'll burn and stick - fritter disaster!
Once cooked, transfer them over to a paper towel to blot up any excess oil.
Because these zucchini and sweetcorn fritters have the vegan cheese folded throughout, they will be, as mentioned, a bit softer than you would expect – though they firm up as they cool. In fact, they are a-mazing cold the next day for lunch if there are leftovers.
To make it a complete meal, just add an abundant garden salad with avocado, some toasted seeds and a simple olive oil and apple cider dressing.
Roast some tomatoes and add a spoon of raw, unpasteurised sauerkraut to give the gut a bit of love, and you're good to go!
Health + Nutrition Highlights
Our vegan fritters come with a few great health benefits.
Fresh, seasonal corn provides vitamin C, some B group vitamins and minerals such as magnesium and phosphorus
Chickpea flour is a great alternative to wheat flour and is a good source of plant protein
The psyllium husks provide added dietary fibre
Red chillies are a natural circulatory stimulant
Dill is an aromatic herb with carminative actions, meaning it is helpful for relieving digestive disturbances such as bloating and wind

More Quick and Healthy Dinner Ideas
If you make and enjoy this recipe, please leave a rating below. And better yet – leave me a comment to tell me how you got on, or just say hi – I LOVE hearing from you. Follow me on Instagram, Facebook or Pinterest to see more of my everyday recipes and wellness tips.
If you'd like to chat with me about essential oils, or book in a class, you can do that here. If you're after a Naturopathic consult, read more here.
Vegan Zucchini and Corn Fritters
These quick and easy fritters are naturally gluten free thanks to the chickpea flour. An allergy friendly recipe. Makes 14-16 bite-sized fritters (4 serves, as a side).
Ingredients
1

cup

corn kernels

if frozen, thaw and pat dry with a paper towel

1

cup

vegan cheese

grated

2

medium carrots

grated

2

medium zucchini

grated

4

spring onions

green parts, sliced fine


1/2

red chilli, de-seeded, sliced fine

2

tablespoons fresh dill, chopped


Generous sprinkle of red chilli powder for extra spice

optional

1½

tablespoons

onion powder - not onion salt! 


optional

¼

teaspoon

white pepper

optional

½

teaspoon

coarse sea salt

¼

cup

psyllium husks

2/3

cup

cup chickpea flour


1/2

cup

oat milk/other plant milk or water
Instructions
First, prepare the zucchini – place in a clean tea towel and wring out to remove excess water.

Combine all ingredients in a large mixing bowl and mix well to combine. The mixture may initially look very dry – but before adding any more liquid, give it a really good mix with your hands, there is a lot of moisture still in those vegetables and you'll find it comes together a bit like a dough. Remember the cheese will melt while cooking to moisten it up again. If you do need more liquid - add 1 teaspoon at a time.

Heat a little olive oil in a frying pan over medium heat, then turn it down to low to avoid burning as you cook.

Shape about 2 tablespoons worth of mixture into patties and cook 3-5 minutes on each side or till golden. It may be easier to wet your hands a little before you shape them.

Transfer to a paper towel to blot up excess oil, then serve and enjoy!
Notes
This recipe makes between 14 and 16 fritters – serving around 4. Halve the recipe if you only need the 2 servings to save on the prep with all that grating.
Because zucchini tend to hold quite a bit of water, I recommend wringing it out well in a clean tea towel. If you skip this step, I think you'll find the mixture far too wet to work with.
If the mixture feels too wet, leave it to rest for 10 minutes or so - the psyllium husk will swell and thicken it up.
If the mixture is too dry, add just a tablespoon of liquid at a time.

Remember these will be softer than a regular fritter – because they contain cheese! However they do firm up the next day having been in the fridge.

The brand of vegan cheese I used was the Zenzo Cheddar.

I like to enjoy these with a small spoon of coconut yoghurt – finely chop fresh dill and fold it through with some lemon zest and a pinch of sea salt.

To make it a complete meal, add a fresh salad with avocado and toasted pine nuts, roasted tomatoes and a tablespoon of raw, unpasteurised kraut for some friendly bacteria!
Nutrition
Calories:
257
kcal
Carbohydrates:
29
g
Protein:
7.75
g
Fat:
8
g
Saturated Fat:
2.25
g
Fiber:
9.75
g
Sugar:
8.25
g
Calcium:
822.5
mg
Iron:
0.3
mg