Cherry tomato confit is the most luxurious condiment, and the perfect way to use up an abundant summer tomato harvest. Slow cooked in herbs and spices until they literally burst with flavour!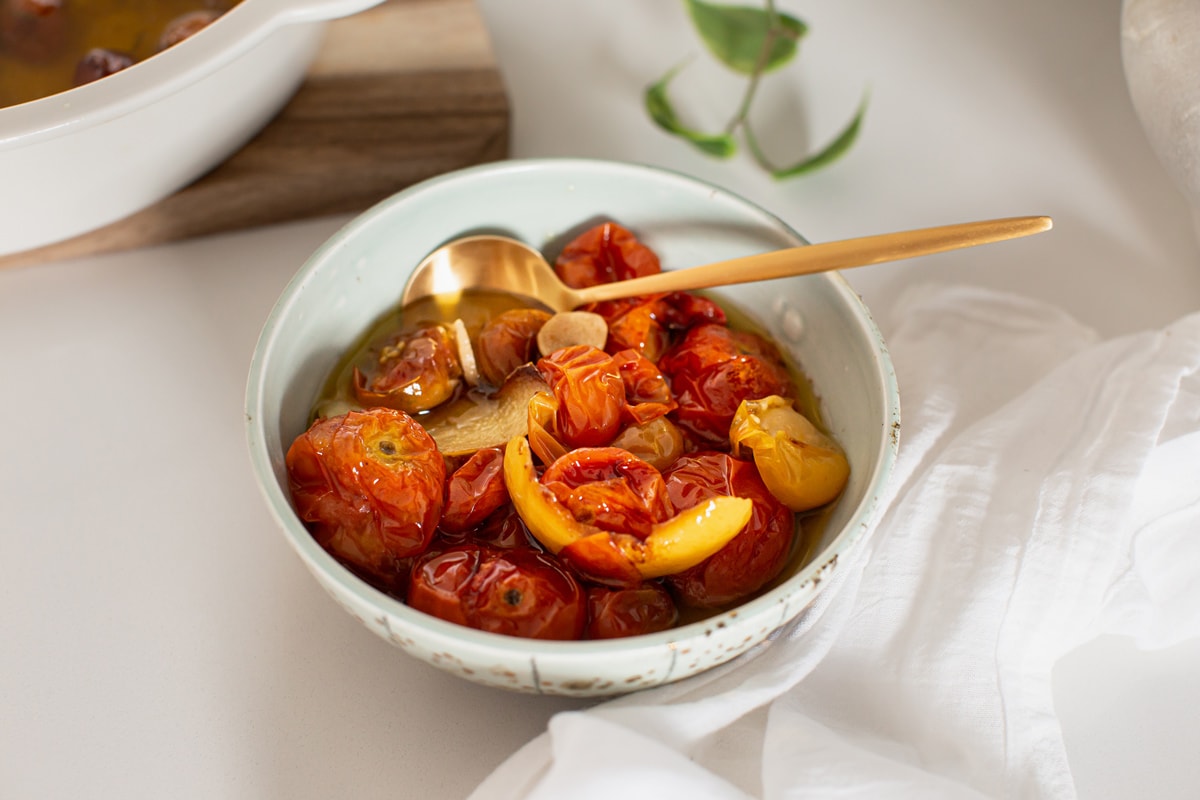 Tomato confit is one the simplest and most delicious kitchen staples ever.
It's a simple, tasty and luxurious condiment cooked long and low to really bring out the flavours. You'll want to smear this over bruschetta, smash it up through pasta, or pair with your Mediterranean style salads.
The leftover oil is equally as special - infused with the sweetness of tomatoes with fresh herbs, garlic and lemon. Bottle and save for salad dressings or drizzle over roasted vegetables.
Jump to:
🙋What is confit?
Confit (kon-fee), is a French cooking technique involving the slow cooking of an ingredient at a low temperature in oil or fat, as a preservation method.
In this case, we're talking cherry tomatoes cooked long and slow in a quality olive oil (we want all the beneficial biophenols!), seasoned with fresh herbs, lemon, garlic and honey.
They are literally bursting with flavour, and packed full of goodness!
💗Why you'll love this recipe
Great way to use up your Summer harvest
Keeps well in the fridge
A lovely accompaniment to a range of dishes, you can add cherry tomato confit to salads, sides, soups, bruschetta, pasta…
🍅Ingredients and benefits
Cherry tomatoes – any fresh, in season tomatoes you can find, home-grown or from your local farmer's market
Extra-virgin olive oil (EVOO) – ask a Chef, and they'll likely opt for a blend of olive with a milder tasting oil to let the cherry tomatoes shine (often, canola), but from a nutritional point of view, I'm after the brilliant health-protective biophenols in EVOO (heart-healthy, antioxidant-rich and anti-inflammatory – potent enough to favorably alter your gene expression!)
Seasonings: either follow my recipe, or get creative and combine herbs to your liking, such as fresh oregano, thyme, basil, rosemary, sage. Add a little honey and fresh lemon peel. Garlic is always a good idea, and red pepper flakes for heat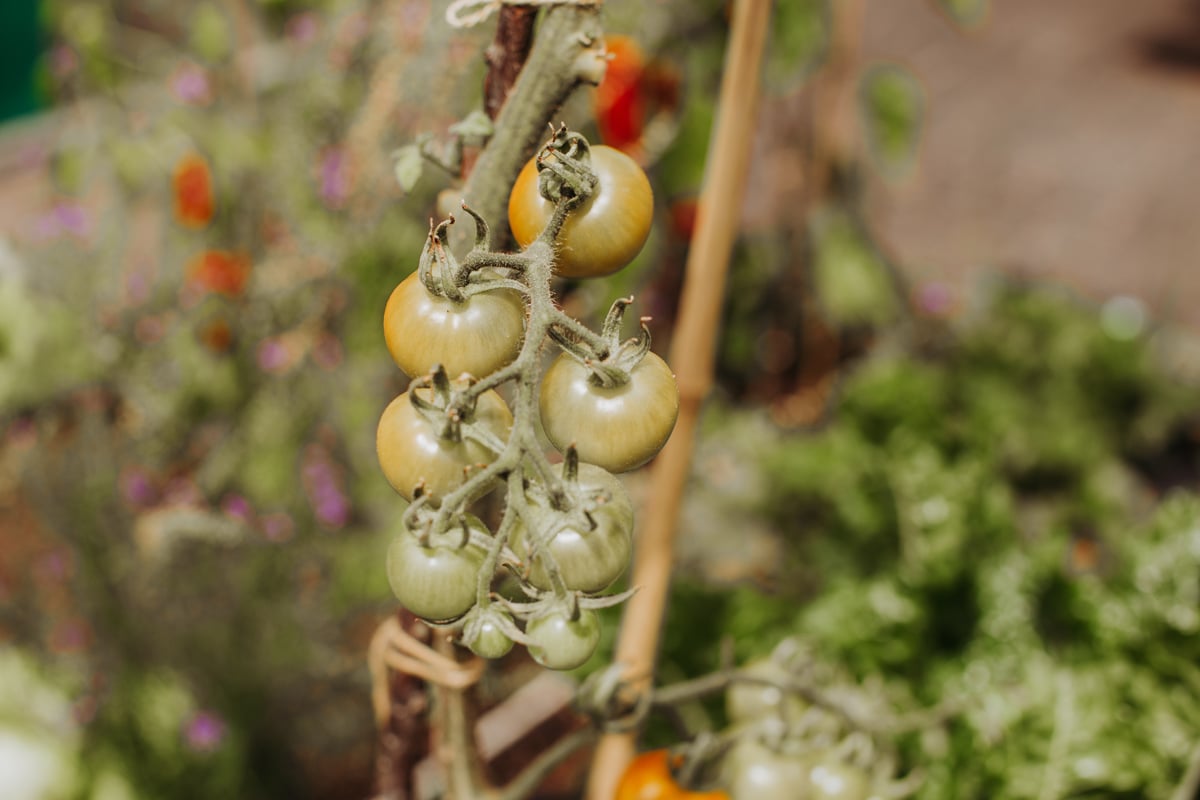 👩‍🍳Step by step instructions
Making cherry tomato confit is super simple, but it does require a little time in the oven.
To start, place washed and thoroughly dried cherry tomatoes in a saucepan, and cover with extra-virgin olive oil.
Add a couple of sliced garlic cloves, a sprig of fresh rosemary, fresh basil leaves, a few curls of lemon peel, and a teaspoon of honey. Be liberal with sea salt and freshly cracked black pepper, and add dried chili flakes if you like a little heat.
Get the temperature up but not to a boil, just until you see tiny bubbles at the surface, then leave for five minutes before transferring to a baking dish in a single layer (see below), or just put the saucepan straight into the oven.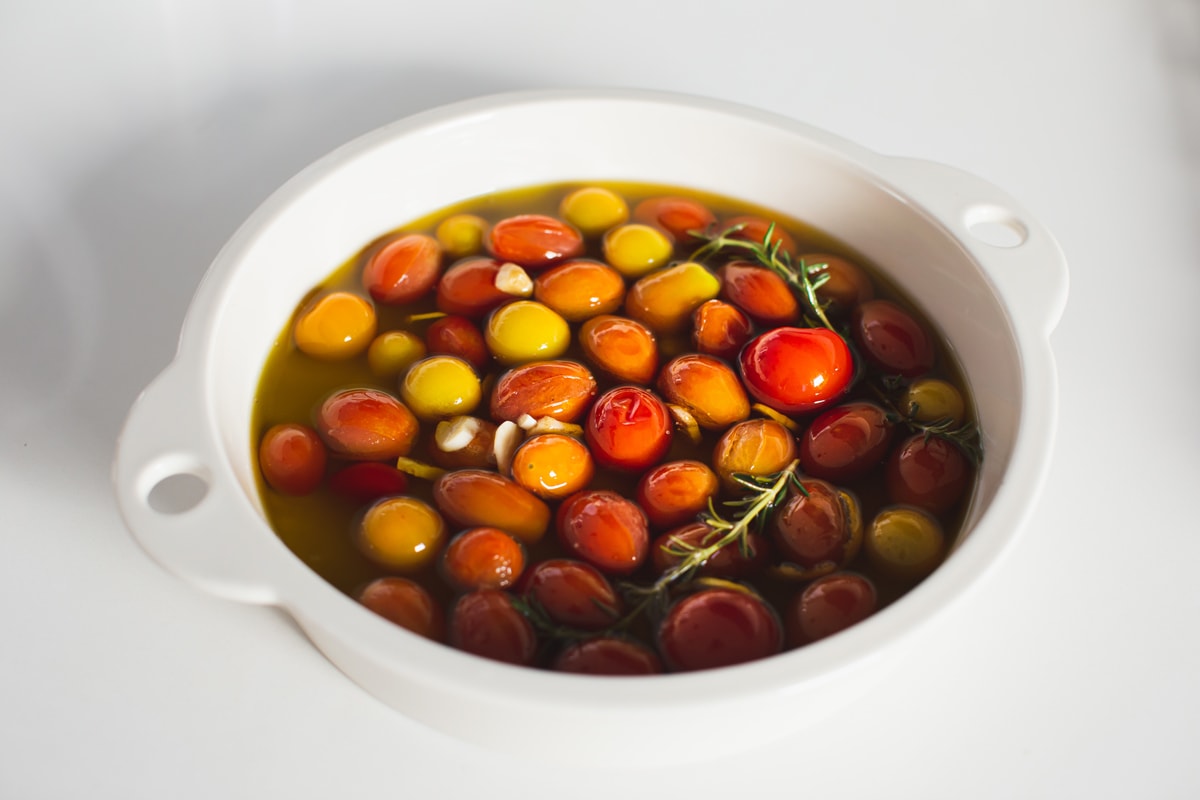 Bake at a low temperature - 150˚C/302˚F, for up to 3 hours until the tomatoes have just started to wrinkle and split. See below for the most perfect end result!
Now, from here, you can either use a slotted spoon to retrieve the confit tomatoes and use them right away, or, you can spoon them into a sterilized glass jar or airtight container, and cover with the remaining oil. Don't forget to label and date – you'll want to refrigerate these and consume within the week.
You might find you've got leftover olive oil – infused with fresh herbs, lemon and tomato (a subtle but dee-licious flavor). Decant carefully into a glass jar and save this for salad dressings, to season your cooked vegetables or to toss over freshly cooked pasta.
☀️Serving suggestions
There are so many ways to enjoy your cherry tomato confit, let me count but some of them.
Make a delicious cherry tomato pasta sauce – just smash the tomatoes with a spoon and toss with pasta, add fresh basil and sprinkle Brazil nut parmesan over the top
Make the above with perfectly cooked quinoa as an alternative (both are such easy meals!)
Serve drained tomatoes alongside this delicious tofu scramble
Serve, in the jar, on a colourful sharing platter
Reserve the leftover infused oil and use this to dress simple salads with Mediterranean flavours or drizzle over cooked vegetables
Make cherry tomato bruschetta – these are so divine, use a slotted spoon to remove the cherry tomatoes, and let drain on a paper towel. Transfer to a plate, smash lightly with a fork, add just a drizzle of good quality sticky balsamic vinegar, and smoosh over thin slices of toasted sourdough. A layer of avo never goes amiss, and of course, a few fresh basil leaves to finish
❄️Storage
Keep in a glass jar in the fridge, covered with oil, and consume within a week
Don't bother freezing – have tried and they're not great, a bit messy once thawed
🌿Enjoyed this recipe? Leave a comment below, better yet - share a snap with me on instagram @ascensionkitchen. If you're after personalised health and nutrition advice, contact my clinic, I'd be happy to work with you.
📖Recipe
Cherry Tomato Confit
Cherry tomato confit is my favorite way to make use of excess Summer tomatoes. A super simple recipe – slow cooked in a bath of olive oil with fresh herb sprigs and spices.
Equipment
Saucepan

Oven proof baking or casserole dish

Glass bottle to save excess confit oil
Ingredients
500

g

(1.1lb) cherry tomatoes

washed and dried

1-2

cups

extra virgin olive oil

enough to cover tomatoes in saucepan

Few

sprigs

fresh rosemary, thyme

Few

fresh basil leaves

2

cloves

of garlic

sliced

1

teaspoon

honey

¼

teaspoon

red pepper flakes

peel from ½ a small lemon

pinch

coarse sea salt

grind

black pepper
Instructions
Pre-heat oven at the lowest temperature setting, for example, 150˚C/302˚F.

Place tomatoes in a saucepan and cover with oil. Add fresh herbs, garlic, lemon peel, honey, sea salt and ample grinds of pepper.

Bring temperature up to a gentle heat for 5-10 minutes, not boiling – just a few bubbles at the surface. Transfer to a baking dish, arranged in a single layer of tomatoes.

Slow cook for up to 3 hours (potentially longer, depending on your oven settings), checking periodically. When the tomato skins have blistered and started to split, they are done.

Enjoy right away, or store in a glass jar, ensuring you cover the tomatoes entirely in oil. See notes for serving suggestions.
Notes
To serve, enjoy the drained tomatoes straight from the jar, smash them up and make a cherry tomato confit pasta, serve on a platter or alongside scrambled tofu, layer with avocado on sourdough
Reserve the leftover oil for use in salad dressings, or to drizzle over cooked vegetables
Refrigerate in a glass or airtight container, covered in oil, and enjoy within a week
Nutrition
Serving:
4
tomatoes
Calories:
52
kcal
Carbohydrates:
2
g
Protein:
1
g
Fat:
5
g
Fiber:
1
g