What to do with all these feijoas? Make this delicious apple and feijoa crumble, with a crunchy oat, coconut, and chia topping.
Autumn is my absolute favourite time of year, give me crisp air, cosy sweaters, hot drinks and golden leaves over stinking hot sun any day.
It's also feijoa season for us here in New Zealand – and apparently, due to the aforementioned stinking hot and very dry summer we've just endured, we're in for an absolute ripper.
Feijoas are the fruits from evergreen trees, originally from Brazil, though thriving here in New Zealand.
They have pink edible flowers and the sweetest, most fragrant fruit, similar to a guava (in fact, they're also known as pineapple guavas). They're in season mid-March to early June each year.
They're a bit of a Kiwi icon, the fruits fall to the ground when they're ready - and when that happens, it doesn't just rain, it pours! There's always enough to share abundantly with friends, neighbours and family, and they always get absolutely scoffed.
A mature plant can yield up to 30kg of fruit per season, so you can imagine, the frantic search for feijoa recipes begins – feijoa crumble, feijoa muffins, cake, wine, juice, booch, feijoa fizz, jam, chutney, salsa, fritters… no single fruit should go to waste!
Jump to: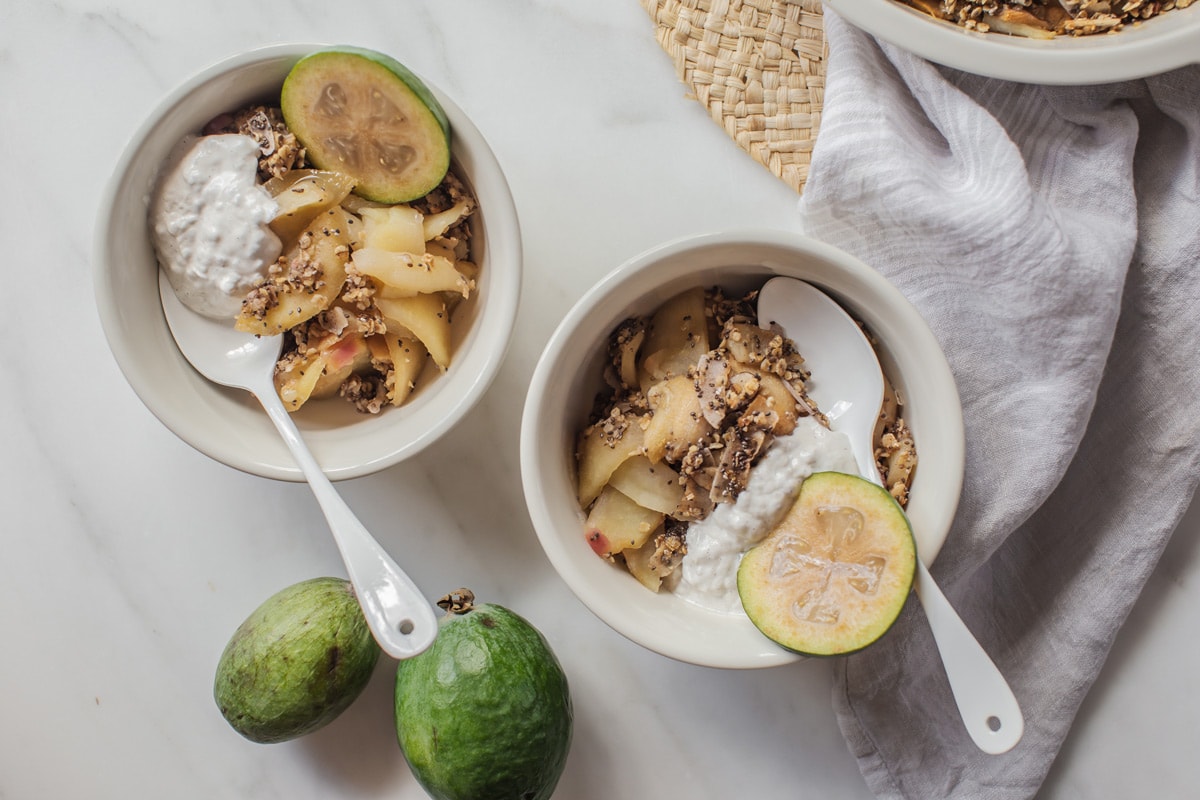 🍎Why you'll love this recipe
On the table in 30 minutes
Vegan
Super healthy, you can legitimately enjoy for breakfast
An absolutely delicious Autumn dessert
Fuss free, fool proof recipe the whole family will love
Perfect way to make use of your gazillions of homegrown feijoas
🌿Feijoa benefits
Feijoas not only taste heavenly, they're packed with nutrition:
5g dietary fibre, 8% of the RDI (more if you're one of the crazies that eats the skin)
25mg vitamin C, 64% of the RDI
Rich in phenolic compounds – secondary plant metabolites with antioxidant effects, such as catechin, epicatechin, gallic acid and ellagic acid – all of which are also found in green tea
Rich in aromatic compounds – again with antioxidant effects
Based off a serving size of two medium fruits [1, 2].
🥥Ingredients
This healthy sweet treat is made with whole foods – an apple and feijoa mix with an oaty topping. The crumble ingredients include;
Rolled oats – with quinoa flakes as a great celiac friendly alternative
Coconut chips and oil – a good source of medium chain fatty acids
Flaked almonds – for heart healthy monounsaturated fats (plus the crunch factor)
Chia seeds – rich in omega 3's and fibre for digestive health
Pure maple syrup to sweeten, though you could also use coconut sugar
Cinnamon – to warm and help balance blood glucose
10 minutes prep, 20 minutes in the oven, let's have a look at how to make it.
🥣Step-by-step
Pre-heat the oven at 180˚C, fan bake.
Peel your apples, then cut into thin slices. Steam them until *just* soft – I'd say a few minutes or so.
Meanwhile cut and scoop out the flesh from your feijoas. Roughly chop them or pulse them in a food processor. We're using a good 1kg of whole fruit here, and ideally the net weight should be at least 550g of feijoa pulp.
Place apples and feijoas to a ceramic oven proof dish, and toss to combine. I used a 25cm / 9.8 inch dish – perfect, but wouldn't go any bigger.
To prepare the crumble topping, combine all dry ingredients in a large bowl, add a few tablespoons of the maple syrup, then use your hands to mix well.
Sprinkle the crumble over the fruit and flatten out the surface. Then cover with tin foil and bake for 15 minutes. At this point, you can remove the foil and bake a further 5 minutes to crisp up the topping until golden brown.
Feijoa crumble done! Too easy!
We love it with a blob of vanilla coconut yoghurt and a drizzle of pure maple syrup. Divine.
🥄Recipe tips and tricks
Feijoas can be substituted for other fruits – apples, pears, berries – as a guide, 1 kilogram of feijoas yields about 550g of fruit
Steaming the apples is ideal so that the consistency of both fruits is the same in the final product
Granny smith apples are ideal for this recipe
To make this nut free, substitute the flaked almonds for more coconut, though I'd probably use desiccated
The foil is quite important – otherwise the topping will burn
This is a totally legitimate breakfast! We've actually been devouring a little over our morning oats
🥧Storing leftovers
Store in the fridge in an airtight container for about 4 days
Freezes well
🍂FAQ's
What can I do with feijoa skins?
Try making kombucha! Honestly, feijoa booch is just divine. Follow this guide to making kombucha, and use the skins in the second ferment.
Can I compost feijoa skins?
Yes absolutely.
🇳🇿 More healthy New Zealand treats
Enjoyed this recipe? Leave a comment below, better yet - share a snap with me on instagram @ascensionkitchen. If you're after personalised health and nutrition advice, contact my clinic, I'd be happy to work with you.
📖Recipe
Feijoa Crumble
The most cosy and delicious feijoa apple crumble - healthy enough for breakfast! Serves 6.
Equipment
25cm / 9.8 inch baking dish

Pot with steamer
Ingredients
550

g

scooped feijoas

about 8 large or 1kg worth, whole

3

apples

crisp Granny Smith or a sweet red variety

1

cup

rolled oats

fine

½

cup

coconut chips/flakes

40

g

flaked almonds

just under half a cup

¼

cup

chia seeds

½

teaspoon

cinnamon powder

2

tablespoons

pure maple syrup

2

tablespoons

coconut oil
Instructions
Prep:
Pre-heat the oven at 180˚C / 356˚F, fan bake.
Feijoa filling:
Peel and cut apples into thick slices, then steam until just soft.

Slice feijoas in half, scoop out the flesh and roughly chop.

Combine feijoas and apples and transfer to a baking dish.
Crumble topping:
Combine oats, coconut chips, flaked almonds, chia seeds, cinnamon, maple syrup and coconut oil in a bowl, and use your hands to mix together.

Spoon crumble mixture over the fruit, even out the surface, cover with tin foil, and bake for 15 minutes, middle rack. Remove the foil and bake a further 5 minutes or so to crisp up the topping.

Serve hot with a dollop of coconut yoghurt!
Notes
Feijoas can be substituted for other fruits – apples, pears, berries – as a guide, 1 kilogram of feijoas yields about 550g of fruit
Steaming the apples is ideal so that the consistency of both fruits is the same in the final product
You can try substituting oats for quinoa flakes if you need this to be celiac friendly
To make this nut free, substitute the flaked almonds for more coconut, though I'd probably use desiccated
The foil is quite important – otherwise the topping will burn
This is a totally legitimate breakfast! We've actually been devouring a little over our morning oats
Store leftovers in the fridge in an airtight container for about 4 days
Freezes well
Nutrition facts are an estimate, and are based on 1 serving size. Recipe yields 6 serves
Nutrition
Serving:
1
g
Calories:
365
kcal
Carbohydrates:
38
g
Protein:
9
g
Fat:
16
g
Saturated Fat:
7.5
g
Sodium:
7
mg
Fiber:
15
g
Sugar:
21
g
Calcium:
94
mg
Iron:
2.5
mg