Say hi to the perfect feijoa muffin recipe! They're soft and fruity, sweetened with coconut and spiced with ginger. An easy and delicious way to use up the abundance of feijoas - a favourite here in NZ though easily substituted.
Whip up a batch of these feijoa muffins friends, you won't be disappointed - they are soft, fruity, springy and outright delicious (not to mention totally healthy!).
For my non-New Zealand readers, feijoas, from the fruit of the feijoa tree (feijoa sellowiana), are highly fragrant oval fruits that taste like a cross between a guava, pineapple and pear (in fact, they're more commonly known abroad as pineapple guava). The flesh of the feijoas are somewhat gritty but with a softy jelly centre.
The fruit lends itself to baking nicely, which is a relief as once feijoa season kicks in, we literally have feijoas out the wazoo!
Some of the many feijoa health benefits include a wide array of phenolic compounds – such as catechin, epicatechin, gallic acid and ellagic acid – all of which are also found in green tea.
These have wonderful antioxidant, anti-inflammatory, anticarcinogenic and prebiotic effects.
All in all, a healthy, delicious, refreshing and versatile fruit that us folk here in NZ just adore.
Jump to:
👌Why this recipe works
One bowl, 10 minutes prep, 20 minutes in the oven
Soft, fluffy, with just the right amount of feijoa fruit
Gluten free, no dairy or eggs
The perfect afternoon snack
🌾Ingredients
These feijoa muffins combine coconut with ginger for a unique flavour profile. Here are some of the key ingredients and substitutions where applicable:
Feijoa fruit: which can of course be substituted easily enough for bananas or berries
A trio of gluten free flours: oat flour, white rice flour, and almond meal (combined, these best mimic plain flour)
Coconut milk (from the tin): to add depth and a hint of sweetness
Coconut sugar: which can be substituted for jaggery, or a sugar of your choice
You'll also need salt, ginger powder and baking soda, no vegetable oil required.
For flavour variants, you can try adding lemon zest or vanilla essence. Sorry – I haven't tried making feijoa muffins leaving the feijoa skins on, but if you give it a go, report back!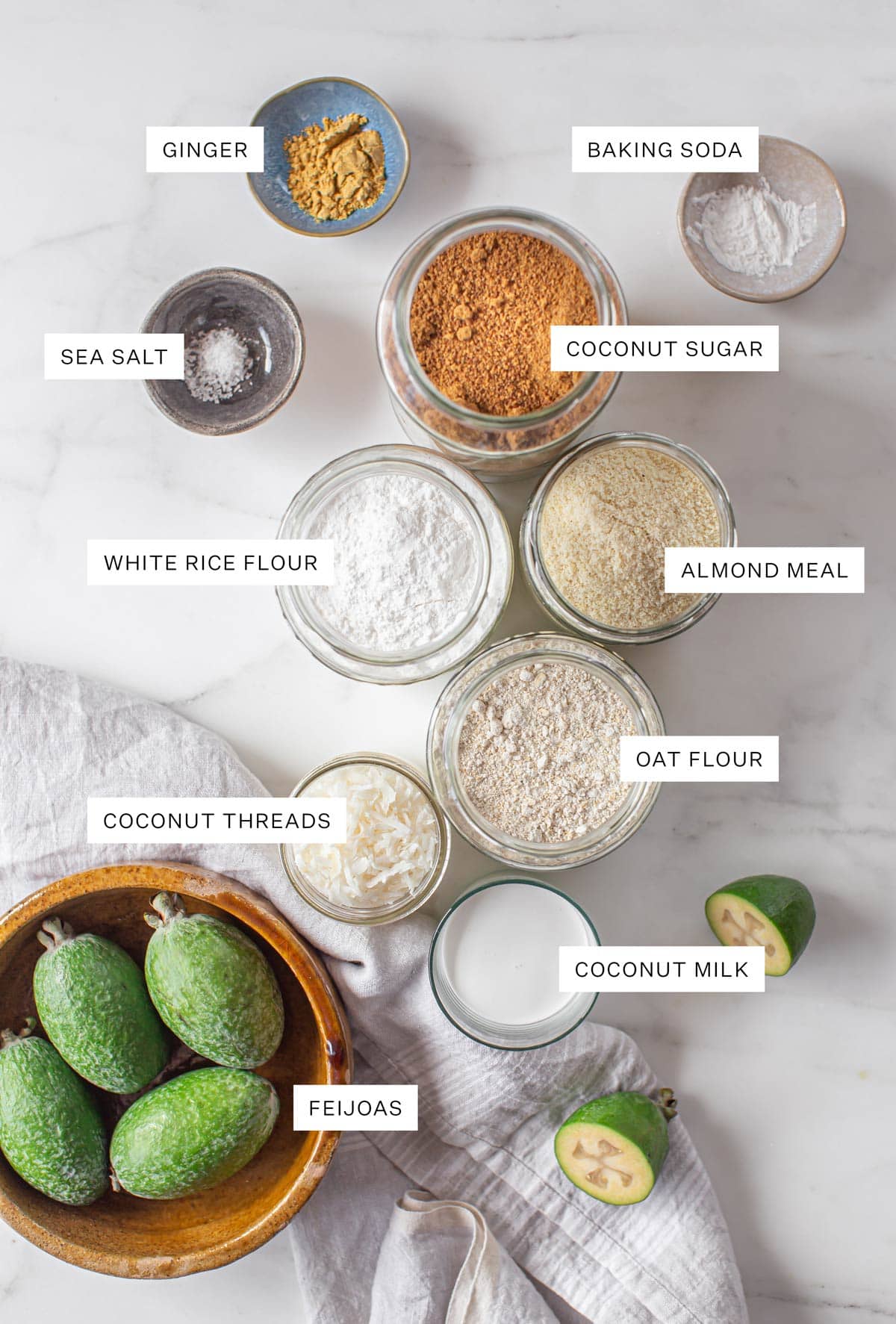 🧑‍🍳Feijoa muffins step by step
Step one. Set the oven to 180˚C / 356˚F, fan bake, with a wire rack in the middle, ready for your muffin tray.
Step two. Cut the feijoa fruit in half and scoop out the flesh, then roughly chop. We're after small-ish pieces, definitely not a purée – chunks of fruit are so much better in muffins, IMO.
Step three. Measure out all your dry ingredients, combine in a large bowl and stir well.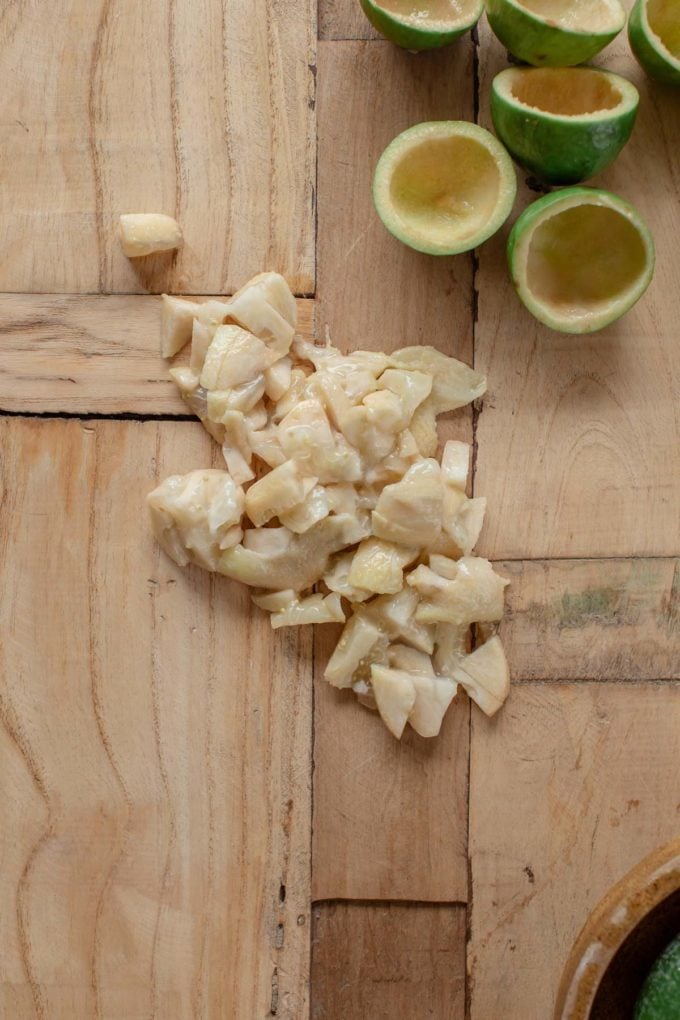 Step four. Pour over the coconut milk and mix together. I like to use canned, full fat coconut milk in my baking – it's sweeter and thicker in texture than the tetra pack milk (plus, environmentally friendly!). Add your chopped feijoas.
Step five. Fold the mixture together, taking care not to over-work it. If too much air gets in the batter, the muffins will sink in the oven, and that's not fun for anyone.
Step six. Fill your muffin tins or cavities up about three quarters full, allowing for a little rise. Then add a few coconut threads or chips to the top of each muffin for crunch, looks and flavor flav.
You can see in the photos I've only shown one silicon muffin tray – this recipe will yield 10, so you'll need a larger tray or two smaller ones. The Virgo in me couldn't bear to shoot the other tray (it didn't match!).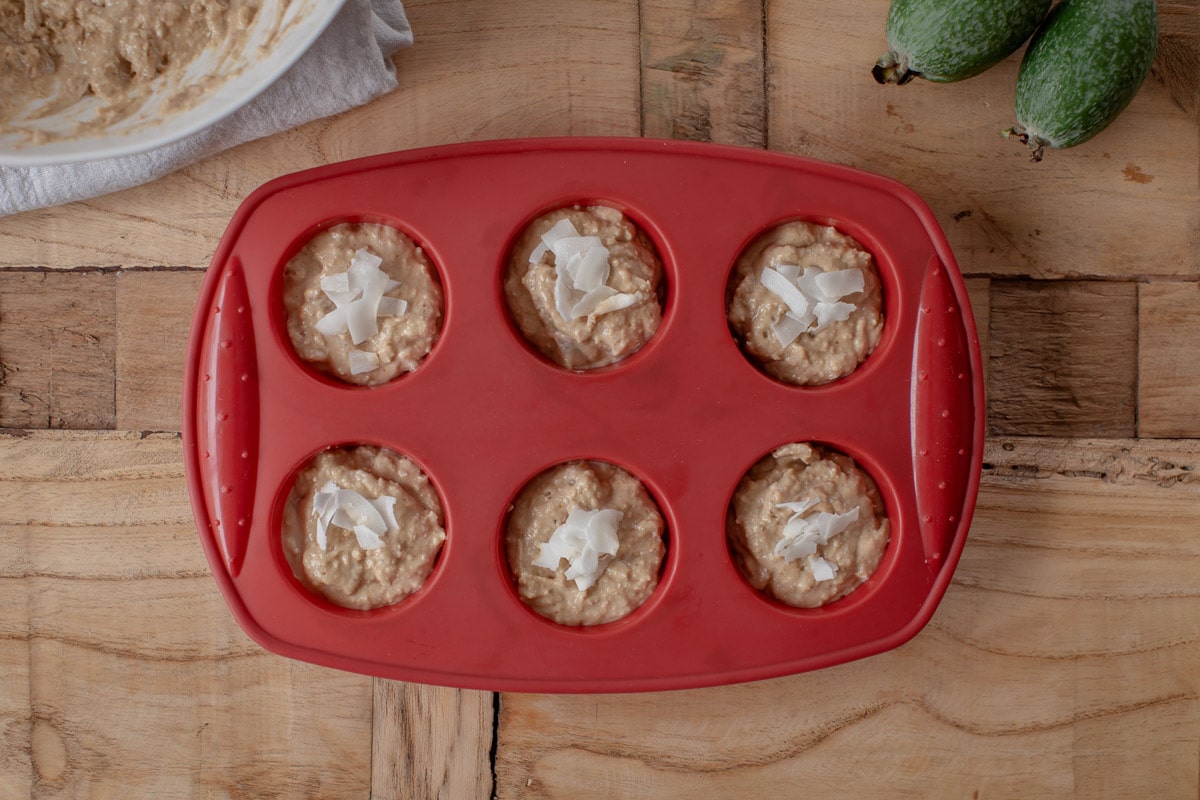 Step seven. Now cover with foil and pop them in the oven on a wire rack for ten minutes, at which point you can remove the foil and bake a further ten minutes to crisp up.
Do this quickly, don't faff, opening the oven door before your baking is ready can cause them to sink.
Done! Admire, breathe in the delicious scent of freshly baked feijoa muffins, and allow to cool.
If you want to make them look pretty, you can give them a dusting of icing sugar. I have a spice grinder, and ground up a tablespoon of erythritol – a sugar substitute.
🍓Recipe tips and tricks
A few hints on how to make these feijoa muffins perfectly every time:
No need to sift the flours
You can make your own oat flour by blending whole oats until fine
I prefer full fat, canned coconut milk to tetra pack – far creamier and slightly sweeter
If you prefer to use another plant milk with a thinner consistency, start with half a cup then add a tablespoon at a time
Feijoas can be substituted for fresh pear, apple, berry, banana. 1 cup of feijoa fruit is about equal to 200g
Use fresh baking soda and fresh ginger powder. Old baking soda won't give you the rise you're after, and old ginger powder will lose its flavour
Do use foil while cooking if you're going to sprinkle coconut chips over the top, to prevent them burning
🧁Storing leftovers
Store your feijoa muffins in an airtight container, room temperature. Enjoy within 2-3 days.
That's it my loves, go forth and bake, disconnect from the news for a time and find a moment of joy.
Lauren. X
🥣More feijoa baking recipes
When it's raining feijoas, make this simple feijoa crumble, this feijoa cake with toasted walnuts, or this insanely delicious recipe for a feijoa loaf with lemon icing.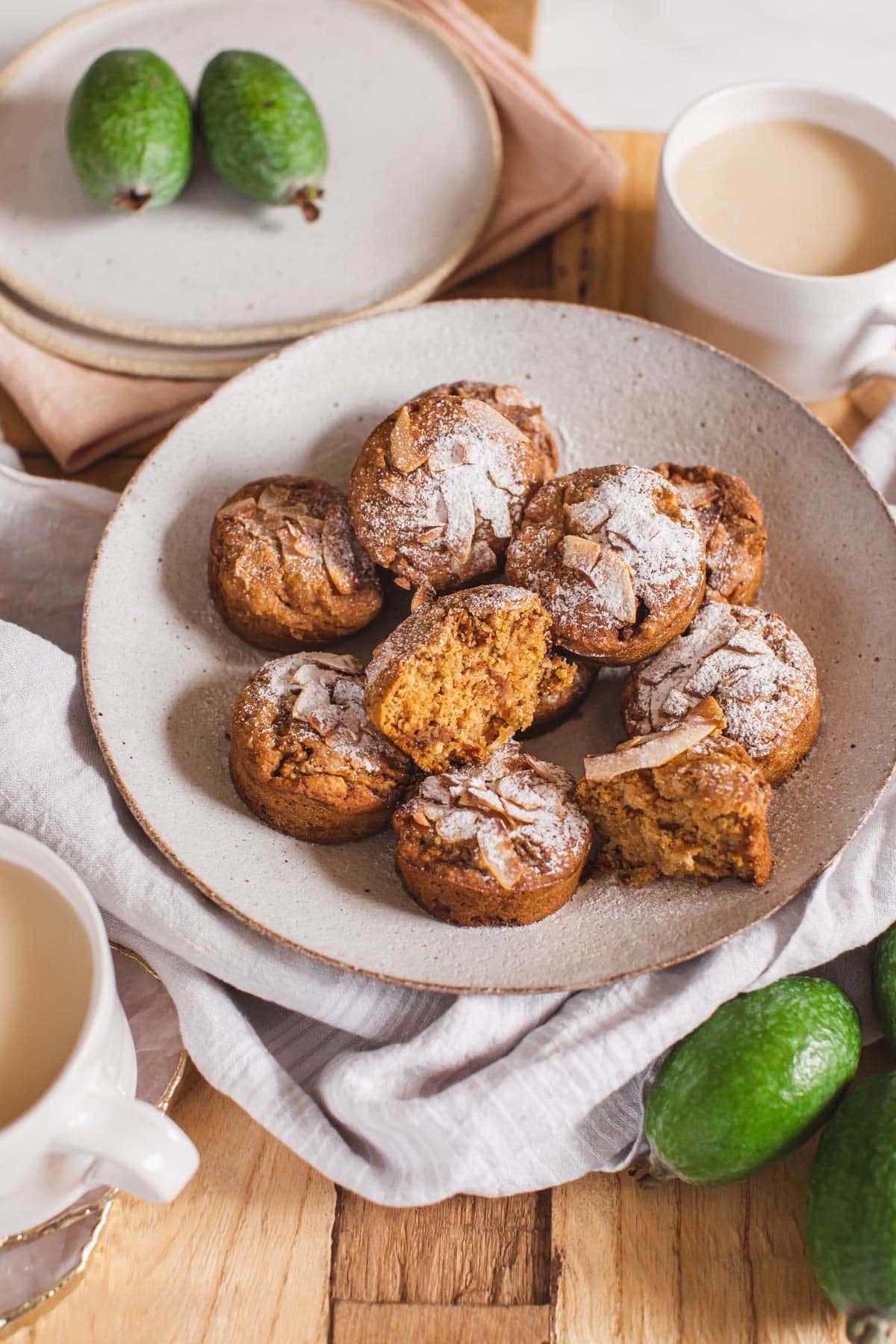 🌿Enjoyed this recipe? Leave a comment below, better yet - share a snap with me on instagram @ascensionkitchen. If you're after personalised health and nutrition advice, contact my clinic, I'd be happy to work with you.
📖Recipe
Easy Feijoa Muffins
These easy feijoa muffins are sweetened with coconut and spiced with ginger. Naturally gluten, dairy and egg free and a great way to use up excess feijoa fruit.
Equipment
Mixing bowl

Muffin tray (1x 12 cavity or 2x 6 cavity)
Ingredients
Dry ingredients:
½

cup

oat flour

½

cup

almond meal

fine, white

½

cup

white rice flour

½

cup

coconut threads

⅓

cup

coconut sugar

1

teaspoon

ginger powder

1

teaspoon

baking soda

¼

teaspoon

coarse sea salt
Wet ingredients:
1

cup

coconut milk

canned – full fat

4

medium sized

feijoas

net weight of peeled fruit - 200g
Instructions
Heat oven: 180˚C / 356˚F, fan bake, with a wire rack in the middle ready for the muffin tray.

Prepare the feijoas: Cut the feijoa fruit in half, scoop out the flesh, and roughly chop - aim for small-ish pieces, not a purée.

Combine dry ingredients: Transfer all dry ingredients to a bowl and mix to combine.

Add coconut milk: Pour coconut milk over the dry ingredients and mix together.

Add feijoas: Fold through, taking care not to over mix.

Spoon into muffin cavities: Spoon batter into muffin tray cavities, three quarters full. Sprinkle coconut chips over the top.

Bake: Cover with foil and bake for 10 minutes, then remove foil and bake a further 10 minutes to crisp up the top.

Let cool and dust with powdered sugar if desired, enjoy!
Notes
No need to sift the flours
You can make your own oat flour by blending whole oats until fine
To make these feijoa muffins celiac friendly, substitute the oat flour for buckwheat or sorghum
I prefer full fat, canned coconut milk to tetra pack – its creamier and slightly sweeter
If you prefer to use another plant milk with a thinner consistency, start with half a cup then add a tablespoon at a time
Feijoas can be substituted for fresh pear, apple, berry. 1 cup of feijoa fruit is about equal to 200g
Use fresh baking soda and fresh ginger powder. Old baking soda won't give you the rise you're after, and old ginger powder will lose its flavour
Do use foil while cooking if you're going to sprinkle coconut chips over the top, to prevent them burning
Nutrition facts are an estimate only, and are based on 1 muffin. Recipe yields 10
Nutrition
Serving:
1
muffin
Calories:
212
kcal
Carbohydrates:
23
g
Protein:
4
g
Fat:
12.7
g
Saturated Fat:
8.6
g
Sodium:
142
mg
Fiber:
3.7
g
Sugar:
8.6
g
Vitamin C:
7
mg
Iron:
1.5
mg