Ginger slice is an absolute Kiwi classic. This recipe has had a whole foods makeover, and is entirely raw and plant-based. No flour, butter or icing sugar.
Updated November 2019. First published July 2015.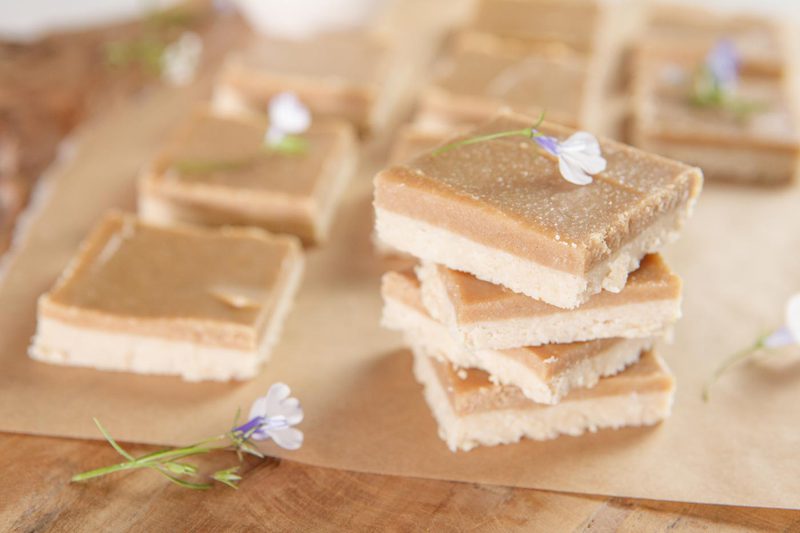 Good old Ginger Slice, aka Ginger Crunch, is as Kiwi as it gets. I grew up eating Nana's spicy, crunchy, sweet rendition, and was just thinking of her the other day.
She had a funny old habit of punching you hard in the arm while she talked. Famous in our family for her ginger slice, raisin squares, plum sauce, and pasta with gravy.
As soon as Nan and her baking came to mind, my mouth started to water so I knew I had to give her old recipe a bit of a once-over.
[bctt tweet="No-bake Ginger Slice – a Kiwi favourite with a healthy makeover. Spicy, crunchy and buttery – find it here." username="laurenglucina"]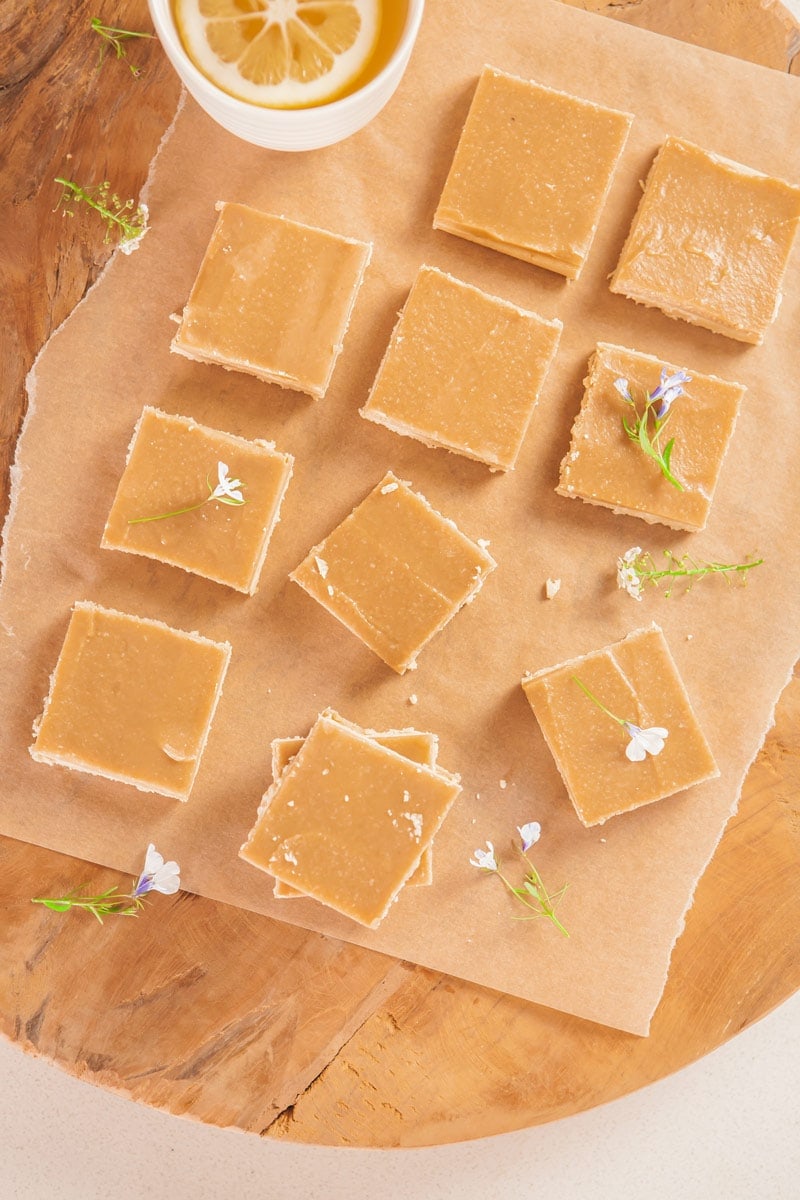 What is Ginger Slice?
Ginger slice, my global friends, is an absolute New Zealand icon! Squares of fudgy, spicy, buttery icing on a shortbread crust. It's up there with Louise slice, lolly cake, lamingtons and date scones.
It's still today sold in all good cafes and bakeries – and features in our world-famous in New Zealand Edmonds 'Sure to Rise' Cookery Book, which is no doubt where Nan got her recipe from. That book has been passed down through generations since it first was published in 1908! Jeepers.
Healthy Ginger Slice, My Way
Of course – time for a plant-based makeover. And might I say – I've knocked the freaking socks off this recipe, it's hand on heart as good as the OG – perhaps even better!
This raw ginger slice is made without any of the traditional ingredients, save for the ground ginger. That means no butter, white flour, refined sugar, icing sugar or the highly processed, sugar-laden golden syrup.
I'd say almost any recipe like this can easily be made over using more conscious and whole food ingredients.
Perhaps the easiest swap is the golden syrup for maple syrup. We used to love pouring sticky golden syrup over pancakes as kids, on special occasions.
It is terrible stuff though – made from refined sugar cane, sometimes with the addition of acid. Maple syrup is far less processed. It is tapped from the Maple tree, boiled down to a syrup, then the water is evaporated off.
Due to the minimal processing, the syrup is still left with a variety of nutritious minerals, notably manganese and zinc, and a small amount of iron, calcium and potassium.
Coconut nectar may be another nice alternative to maple syrup – however – I find that there is a huge taste variant between brands. Some only taste mildly sweet, whereas others have a distinct, caramel-toffee like flavour – it all depends on where the product has been harvested.
For this reason, and for a recipe that really depends on that strong sweetness, I think maple syrup is the more reliable option (by the way, when I can get it, my personal favourite of the coconut nectar brands is made by Loving Earth and harvested from Java, Indonesia).
This Raw Ginger Slice is still most definitely a 'sometimes' treat, but it tastes incredible!
Ginger – the Medicinal Spice in your Pantry
The reason I love this slice so much – is that it's packed full of ground ginger root powder, which has some pretty incredible therapeutic benefits.
Ginger has carminative effects (reduces gas and intestinal pain), is anti-emetic (fancy term for anti-nausea), a digestive and circulatory stimulant, anti-spasmodic, anti-inflammatory, and diaphoretic (induces sweating).
Ginger is helpful to…
Ease nausea and vomiting
Warm your body temperature and help break a fever (pair with yarrow and elderflower and take as a tea)
Reduce pain and inflammation
Ease indigestion, gas and spasms in the gut, while promoting gut motility
Ease painful periods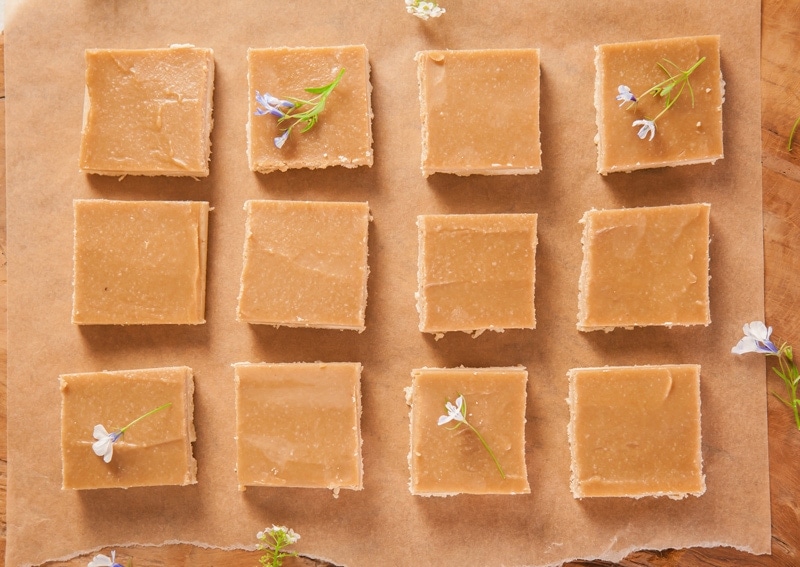 How to Make this Raw Ginger Crunch Recipe
Easy as mate.
To make the shortbread crust, pulse coconut flakes, cashews, softened coconut butter, pure maple syrup, ginger powder and sea salt in a food processor until well combined.
Press the mixture into a 9inch square cake tin lined with baking paper, and even out the surface (critical – we want nice layers!).
To make the fudgy ginger icing, blend softened coconut butter with maple syrup and ginger – then use a spatula to spread it evenly over the base.
Set in the freezer – then cut into cubes ready to enjoy!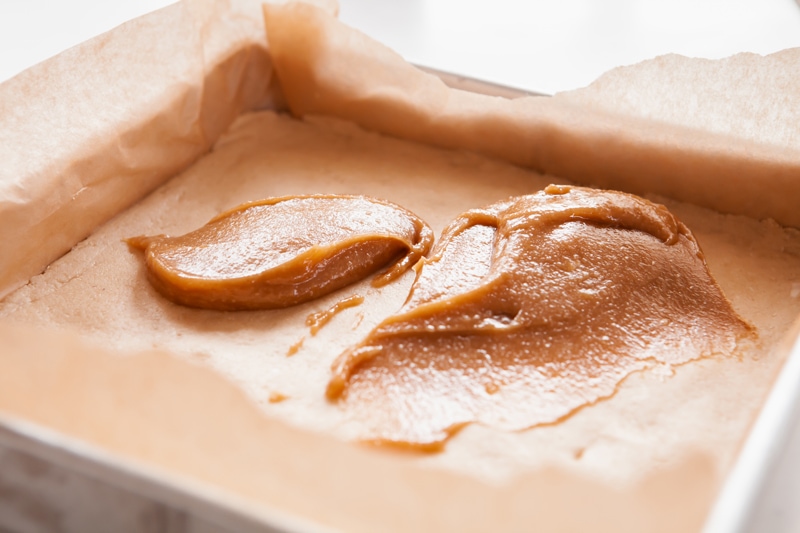 Ginger Crunch Perfection
A few hot tips to make sure this is truly the best ginger crunch recipe you'll ever try:
Be sure to use ginger powder, not fresh ginger. Fresh ginger obviously contains some water, so to ensure your recipe doesn't separate out, stick with dried
Check the expiry date on your ginger powder – if its old, it won't turn out (zero flavour)
You can add a drop or two (max) of doTERRA Ginger essential oil to really make the flavour pop
Crystalised ginger is probably not going to work – you want uniform flavour rather than small chunks / bursts of ginger
Coconut flakes or chips are preferable to desiccated or threaded coconut – I find them to be fresher, and crunchier. This helps the base achieve that biscuit-like, shortbread texture
There is no substitute for coconut butter sorry, though if you have time up your sleeve, you can make your own, by blending desiccated coconut for 10-15 minutes until completely smooth. Please don't try and use coconut oil instead – it will be a slushy oily mess
If your coconut butter is rock hard, stand the jar in a shallow pot filled with hot water to soften
You can keep this in an airtight container on the bench, or in the fridge/freezer
Update: I think this is perhaps my most shared recipe across social media - and I've seen so many renditions of it over on instagram - you really must try it!
If you make and enjoy this recipe, please leave a rating below. And better yet – leave me a comment to tell me how you got on, or just say hi – I LOVE hearing from you. Follow me on Instagram, Facebook or Pinterest to see more of my everyday recipes and wellness tips.
If you'd like to chat with me about essential oils, or book in a class, you can do that here. If you're after a Naturopathic consult, read more here.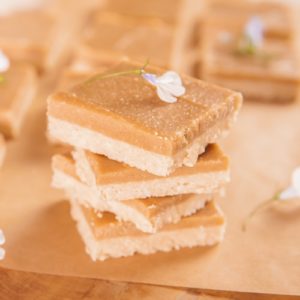 Raw Ginger Slice
Ginger slice is a Kiwi classic. This recipe has had a whole foods make over, and is entirely raw and plant-based. Gluten and refined sugar free. Makes 16 large or 32 small slices.
Ingredients
BASE:
2

cups

coconut flakes

1 ½

cups

cashews

¼

cup + 2 tablespoons

coconut butter

softened

2

tablespoons

100% pure maple syrup

1

teaspoon

ginger powder

ensure it is fresh

small pinch

fine sea salt
ICING:
2/3

cup

coconut butter

softened

½

cup

100% pure maple syrup

2

tablespoons

ginger powder
Instructions
BASE:
Place all ingredients in a food processor and whizz till very well combined.

Press the mixture into a 9 inch tin lined with baking paper and even out the surface.

ICING:
Blend all ingredients on high till smooth.

ASSEMBLY:
Spread the icing evenly over the base.

Set in the freezer.

Cut into small squares or bars to serve (these are lovely and rich, I'm sure you'll be happy with a smaller sized portion).
Notes
Be sure to use ginger powder, not fresh ginger. Fresh ginger obviously contains some water, so to ensure your recipe doesn't separate out, stick with dried
Check the expiry date on your ginger powder – if its old, it won't turn out (zero flavour)
You can add a drop or two (max) of doTERRA Ginger essential oil to really make the flavour pop
Crystalised ginger is probably not going to work – you want uniform flavor rather than small chunks / bursts of ginger
Coconut flakes or chips are preferable to desiccated or threaded coconut – I find them to be fresher, and crunchier. This helps the base achieve that biscuit-like, shortbread texture
There is no substitute for coconut butter sorry, though if you have time up your sleeve, you can make your own, by blending desiccated coconut for 10-15 minutes until completely smooth. Please don't try and use coconut oil instead – it will be a slushy oily mess
If your coconut butter is rock hard, stand the jar in a shallow pot filled with hot water to soften
You can keep this in an airtight container on the bench, or in the fridge/freezer
Nutrition panel is an estimate only
Nutrition
Calories:
280
kcal
Carbohydrates:
19
g
Protein:
4
g
Fat:
22
g
Saturated Fat:
15
g
Sodium:
5
mg
Fiber:
6
g
Sugar:
10
g