These healthy ANZAC biscuits are quick, easy to make, crunchy on the outside and delightfully chewy on the inside. They're easily Australia and New Zealand's most loved biscuit! Made with gluten free and vegan ingredients.
I love that these healthy ANZAC biscuits have a story to tell. With roots in World War 1, they were baked en masse to raise funds for the war effort.
The name ANZAC is an acronym for Australian and New Zealand Army Corps. ANZAC day is a national day of remembrance, marking the anniversary of the day the ANZAC troops landed on the shores of Gallipoli (now Turkey) on 25th April, 1915. Over 11,000 ANZACs died during this one campaign [1].
Over 100 years on, the biscuits are still baked and enjoyed to commemorate those who served and died in the war. Lest we forget. 🕊
Traditional ANZAC biscuits taste sweet with a caramelized, buttery flavour, thanks to the oats, coconut and golden syrup. They tend to be crunchy on the outer with a soft and chewy inner texture.
This recipe for ANZAC biscuits doesn't disappoint – it delivers on the taste front yet is gluten, dairy and refined sugar free. They're packed with nutrition and are fab lunch box fillers.
Easily a national favourite, alongside the likes of ginger crunch, caramel slice and afghans!
Jump to:
🎖ANZAC biscuits history and origin
The Australian and New Zealand Army Corps was established in 1914, with troupes deployed to the first world war to fight alongside Allied forces.
There is a popular myth circulating that ANZAC biscuits were sent to soldiers in Gallipoli. However, the truth is that ANZAC's relied on rock-hard, shelf-stable tooth-breaker's known as the Ship's biscuit, according to the National Army Museum (NZ) [2].
ANZAC biscuits in fact never left our shorelines. They were baked and sold at fetes, galas and other events to raise money for the war effort. This fundraising initiative alone raised over 6.5 billion pounds [3].
The classic recipe was originally made with basic ingredients – oats, flour, sugar and golden syrup.
💖Why you'll love this recipe
20 minutes prep, 20 minutes in the oven
Whole food ingredients that just happen to be vegan
Easy and delightfully chewy ANZAC biscuits
Kid-friendly – get those little hands involved!
🌾Ingredients
A traditional ANZAC biscuit is made from equal parts plain flour, oats and desiccated coconut, with refined sugar, golden syrup, butter and baking soda.
My healthy ANZAC biscuits taste just as good as the original but use plant-based, gluten and sugar free ingredients:
Whole rolled oats (not quick oats) – the key ingredient, however, look for 'uncontaminated oats' if you're sensitive to gluten as this means they haven't been cross-contaminated with gluten containing grains during production. If you are celiac, oats may not be suitable, but you can substitute for corn flakes. Place in a zip lock bag and smash them first to break them down
Brown rice flour and quinoa four/flakes – this combo replaces plain white four and both are gluten free. Brown rice flour has a neutral taste with a gritty texture while quinoa flour (or flakes – you can use either) has a distinct nutty flavour. Quinoa flour of course is also high in protein
Brown rice syrup – a healthier substitute for golden syrup in ANZAC biscuits. Rice syrup is a complex carbohydrate and releases energy slowly. It contains negligible fructose, a simple sugar. If you are sensitive to sugar spikes then this is the way to go
Coconut butter – a plant-based alternative to butter. Coconut butter of course contains beneficial medium-chain triglycerides and tastes beautifully sweet
You'll also need vanilla paste or extract (the paste will give you lovely flecks of vanilla through the biscuits), coconut oil, sea salt, baking soda, water, and apple cider vinegar (to activate the baking soda).
🌿Naturopath's notes: These are indeed gluten free ANZAC biscuits, however – while they are suitable for those with a gluten intolerance, they may not be suitable for those with Coeliac disease. Oats contain a protein called avenin, which is similar to the gluten-containing protein in wheat, gliadin. Some research has suggested that oat consumption is not problematic in those with Coeliac disease [4, 5, 6], while a subset of patients don't appear to tolerate them at all [7].
👩‍🍳How to make ANZAC biscuits
These healthy ANZAC biscuits are the perfect recipe as they're pretty forgiving and hard to mess up, get the kids involved and let's get stuck in…
Step one: Prep. Preheat oven to 160˚C, and line a baking sheet with parchment paper or a silicone baking mat.
Step two: Combine the dry ingredients. Into a large bowl, combine oats with the gluten free flours, desiccated coconut, bicarbonate of soda and a pinch of salt. Stir to combine and make a well in the centre.
Step three: Prepare the wet ingredients. Combine all wet ingredients in a Pyrex jug or similar – the rice syrup, coconut butter, vanilla, water and apple cider vinegar. Place this in a small saucepan of simmering water and allow to gently melt over low-medium heat.
Step four: Make the dough. Pour the melted mixture into the dry, mixing well until it comes together as a dough.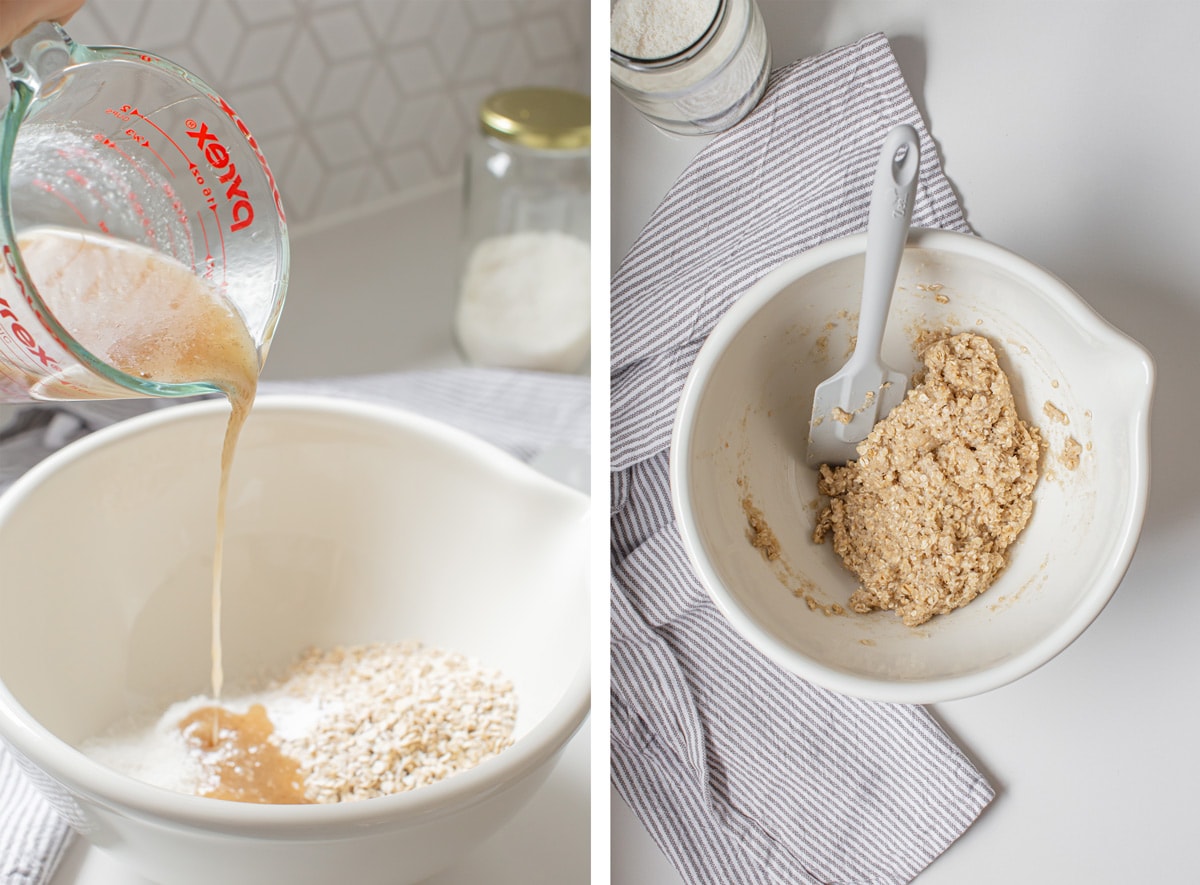 Step five: Prepare the biscuits. Roll one even tablespoon of the biscuit dough into a ball, then flatten with your fingers on the baking tray.
Repeat – allowing a safe distance between each biscuit as they will expand a little in the oven. You will have enough for 14-16 vegan ANZAC biscuits.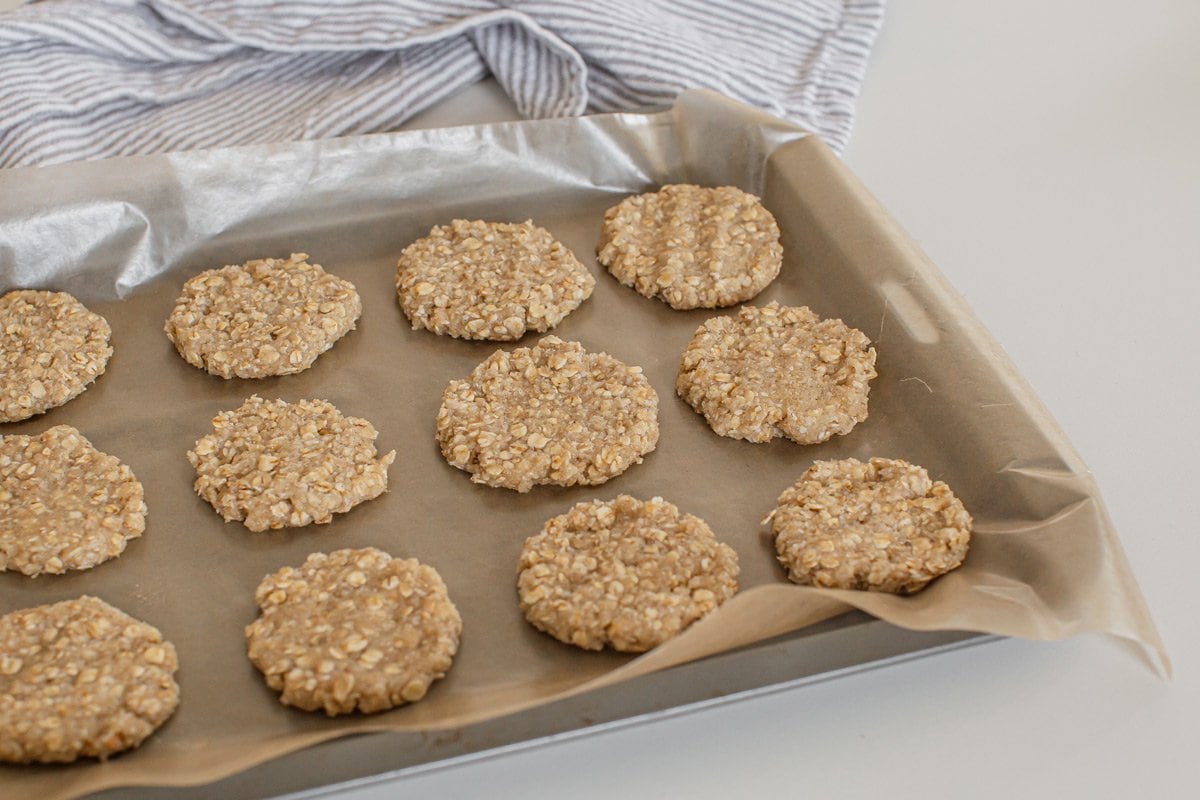 Step six: Bake. Bake for around 20 minutes or until golden brown.
Transfer the baked biscuits to a wire rack and allow to cool and harden, then enjoy with a cup of tea.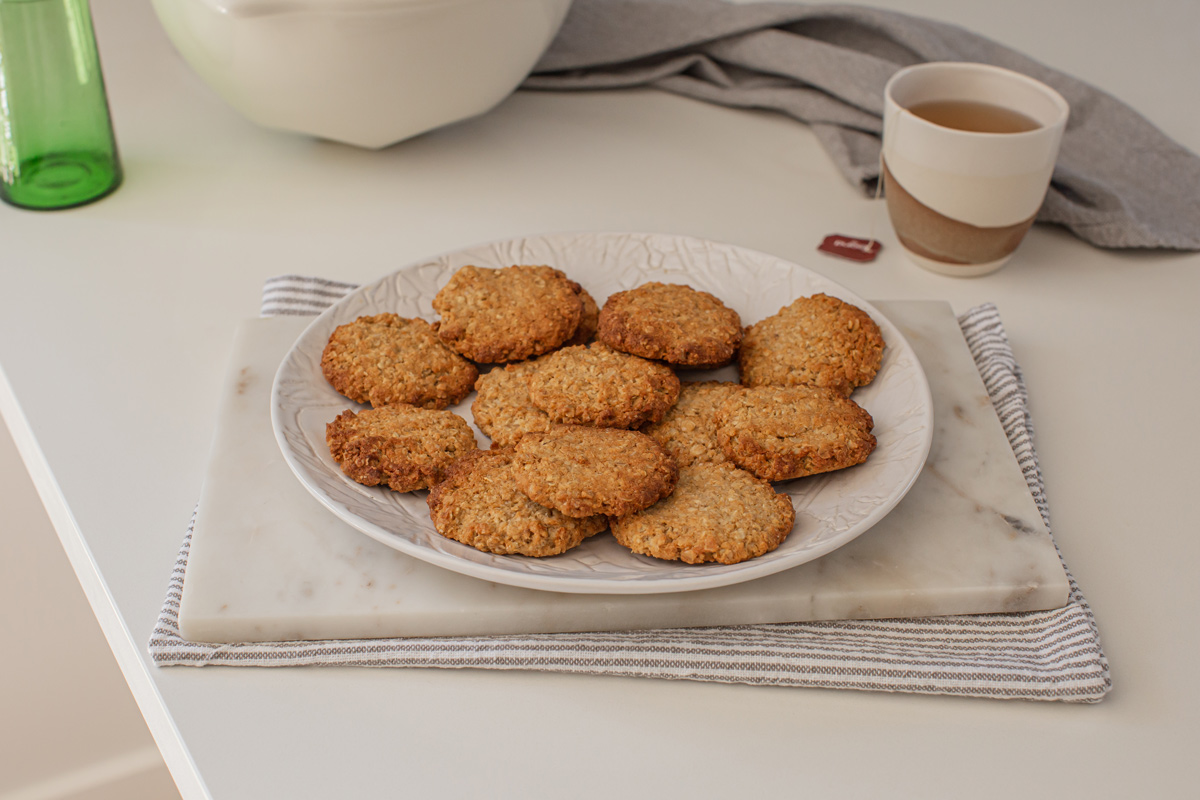 🍴Storage
These healthy ANZAC biscuits are best kept in an airtight container at room temperature. Enjoy within a week. If they soften up, pop them back in the oven for five minutes to crisp back up.
🍪Crunchy or chewy ANZAC biscuits?
Whether ANZAC biscuits should be crunchy or chewy is a hotly debated topic! It comes down to personal preference, but apparently in war time they were stored in Billy Tea tins in order to keep them crisp.
Generally speaking, cooking at a lower temperature (160˚C) for longer (20 minutes) will give chewier biscuits, while increasing the oven temperature to 180˚C and baking for only 12-15 minutes will give you crunchy ANZAC biscuits.
I am 1000% on team chewy ANZAC biscuits so if you're with me, you'll love this recipe as is!
🙋Tips for success
Use whole rolled oats as quick oats will turn to mush
Use corn flakes instead of oats if you need this to be Coeliac friendly
You can use a combination of maple syrup with coconut sugar in place of the rice syrup if need be, but rice syrup is the winner IMO
Wet your fingers before rolling the dough so they don't stick
Cook them shorter at a slightly higher temp for a crunchier texture
You can freeze ANZAC biscuits whole, or freeze the dough once rolled into individual balls
Enjoy guys! I may be biased but I really do think these are the best ANZAC biscuits ever! Leave a star rating if you agree…nom nom…
🌿Enjoyed this recipe? Leave a comment below, better yet - share a snap with me on instagram @ascensionkitchen. If you're after personalised health and nutrition advice, contact my clinic, I'd be happy to work with you.
📖Recipe