These Healthy ANZAC Biscuits are dairy and refined sugar free. Made with gluten free whole grain flours (brown rice and quinoa) and oats. Sweetened naturally with coconut and organic brown rice syrup.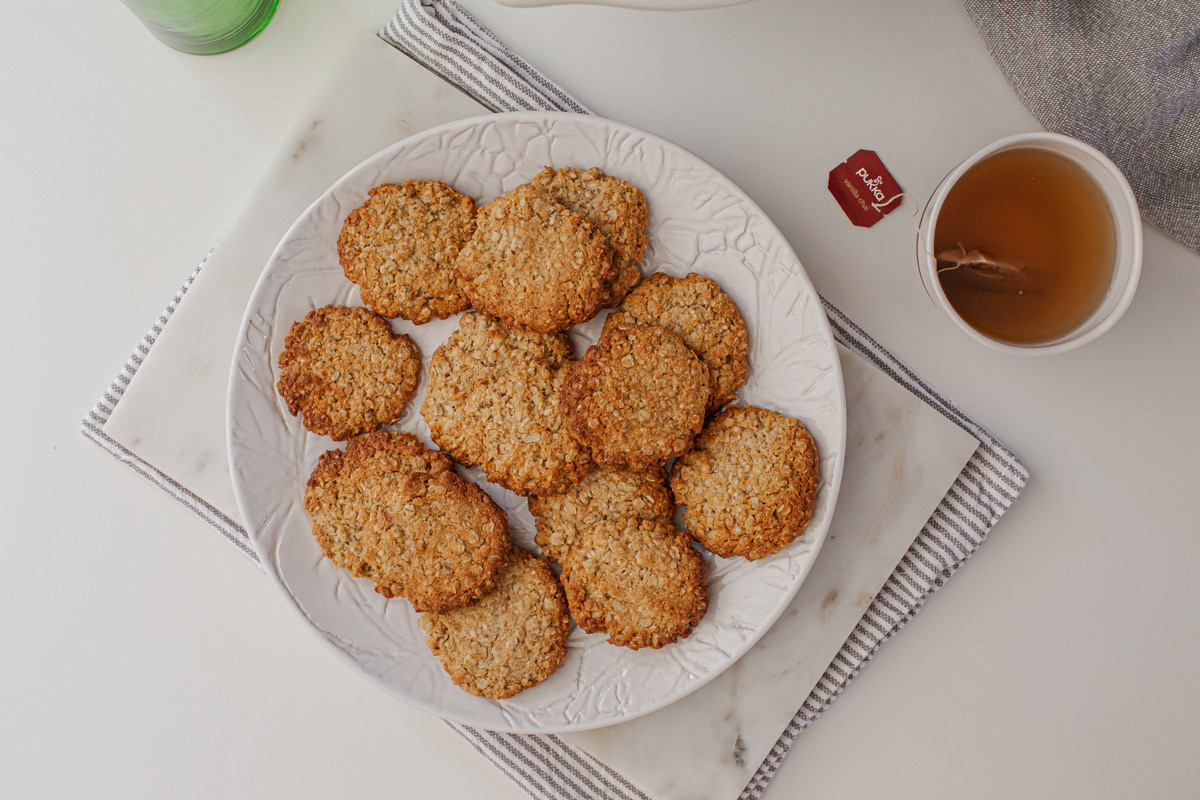 It seems fitting to make some yummy, healthy ANZAC biscuits for this year's ANZAC Centenary on April 25th. I'm hoping to make it to the Dawn service this year too, to pay respects to all our Kiwi and Aussie soldiers who fought and died in Gallipoli. I remember our dear old Uncle Reg, and all his dusty war medals displayed in old jewellery boxes. He was the most gentle soul, he never spoke about the war.
ANZAC biscuits weren't actually eaten by the ANZAC's themselves, they had a raw deal actually – a rock hard tooth breaker also called the Ship's Biscuit, according to the National Army Museum. They were in fact baked and sold back home, raising funds for the war effort.
The traditional recipe included basic ingredients – rolled oats, flour, sugar, butter, golden syrup. They became so popular and raised so much money that they became world famous in Australia and New Zealand, and they're still a favourite, 100 years later.
However – those basic ingredients can most definitely be improved on – or health-ified as I like to say.
[bctt tweet="Healthy ANZAC Biscuits - refined sugar free and dairy free. Try them here!"]
Brown Rice + Quinoa Flour
Instead of using white flour, I've used a mixture of whole grain, gluten free flours. Brown rice flour has a neutral taste, with a slight gritty texture, while quinoa flour has a quite distinct nutty flavour. Quinoa flour has the added benefit of being high in protein. Oats do contain gluten, however, it is a slightly different protein to the gliadin found in wheat. If you are celiac it is best to avoid them, but if it is just a sensitivity you have, you could try and source uncontaminated oats – that just means they haven't being contaminated with any gluten containing grains during production.
Brown Rice Syrup
Brown rice syrup is an alternative to using castor sugar like the traditional recipes do. Brown rice syrup is a complex carbohydrate and releases energy slowly. It contains negligible fructose, a simple sugar. Fructose can't enter the body's cells like glucose can, and instead, has to be metabolised by the liver. It then enters pathways that provide glycerol – the component that makes up the backbone of triglycerides – ie, fat. I don't see anything wrong with using other natural sweeteners (that do contain fructose – it occurs naturally in plants) in small amounts – but if you are sensitive to sugar then this is the way to go. As an alternative – try coconut sugar – although you may find it makes the biscuits brown very quickly.
Coconut Butter
Coconut butter is always my go-to when substituting regular butter in a recipe. It is full of healthy, plant based saturated fats, and is much more stable when heated at high temperatures. It also has a beautifully sweet taste.
Finally, a little bit of cooking chemistry here, apple cider vinegar is an acid – acetic acid – and when mixed with an alkaline or basic substance such as baking soda, it causes a chemical reaction. You'll notice gas and bubbles start to form when you combine them – this is what aerates the biscuits and helps them rise (just a little) and expand while they cook – hence you have to keep them a small distance apart on the baking tray.
Hope you enjoy these, I can promise you that they taste amazing! (Comment from the boys: can you please make these again, but triple the recipe?).
"I hope that people will finally come to realise that there is only one 'race' - the human race - and that we are all members of it."
- Margaret Atwood
If you make and enjoy this recipe, please leave a rating below. And better yet – leave me a comment to tell me how you got on, or just say hi – I LOVE hearing from you. Follow me on Instagram, Facebook or Pinterest to see more of my everyday recipes and wellness tips.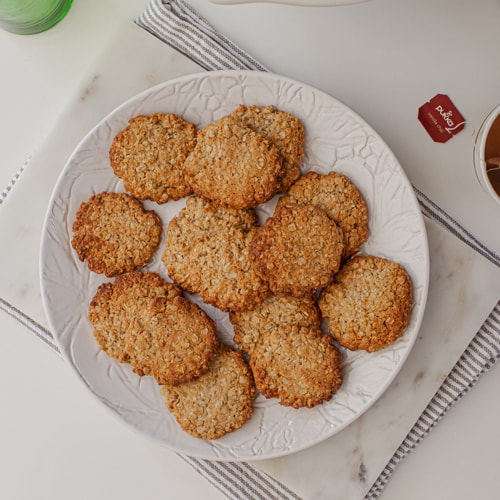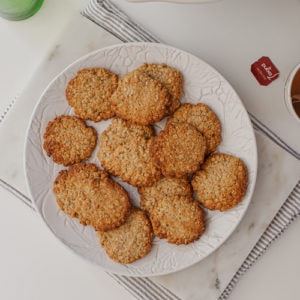 Healthy ANZAC Biscuits
These healthier ANZAC biscuits are made without refined sugar, butter or golden syrup. Gluten free. Makes 10 large or 20 small.
Ingredients
Dry:
¼

cup

brown rice flour (40g)

¼

cup

quinoa flour (35g)

1

cup

rolled oats (95g)

½

cup

coconut, desiccated (45g)

Pinch

of fine Himalayan rock salt
Wet:
80

g

coconut butter

1

tablespoon

coconut oil

5

tablespoons

rice malt syrup (90ml)

2

teaspoons

vanilla - I prefer vanilla paste over extract (10ml)

1

teaspoon

apple cider vinegar (5ml)

2

tablespoons

boiling water (30ml)

1

teaspoon

baking soda
Instructions
Preheat the oven to 160˚C and line a baking tray with non stick baking paper.

Combine the brown rice flour, quinoa flour, oats, coconut and salt in a mixing bowl, and make a well in the centre.

In a small pot, gently melt the rice malt syrup, coconut butter and coconut oil over a low heat.

Add the apple cider vinegar and vanilla.

Dissolve the baking soda in the 2 tablespoons of hot water then add to the wet mixture, stirring to combine.

Pour the wet mixture into the dry and mix till well combined.

Use 2 tablespoons of mixture if making large biscuits, or 1 tablespoon for smaller ones, roll into a ball then pat flat into a circle on the baking tray. Leave a gap between biscuits as they expand a little while cooking.

Bake for 15-20 minutes or until golden, then remove to a wire rack to cool. Be careful with the larger size biscuits when you transfer them straight from the oven, so they don't break or crack. Store in an airtight container.
Nutrition
Calories:
200
kcal
Carbohydrates:
22
g
Protein:
3
g
Fat:
10
g
Sodium:
190
mg
Fiber:
3
g
Sugar:
7
g
Iron:
0.5
mg
Nutrition Facts
Healthy ANZAC Biscuits
Amount Per Serving
Calories 200
Calories from Fat 90
% Daily Value*
Fat 10g15%
Sodium 190mg8%
Carbohydrates 22g7%
Protein 3g6%
Iron 0.5mg3%
* Percent Daily Values are based on a 2000 calorie diet.