Super quick stewed apples two ways, a beautifully simple recipe to support gut health.
Stewed apples are quick, simple and highly therapeutic. They're also a quintessentially New Zealand treat – our family had an orchard out in Oratia back in the day, so this bowl of comfort always provides some nostalgia.
Stewed apples have some wonderful health benefits, they're packed with soluble and insoluble fibre to help regulate the bowels, they're rich in polyphenols, promote the growth and diversity of friendly gut microflora, and lower both oxidative stress and inflammation in the digestive tract, making them an effective gut-healing food.
I'm going to share this recipe two ways – the first as your classic stewed apples, the second as an applesauce with added slippery elm powder for an even greater gut-soothing effect. Both are healthy, without added sugar.
A beautifully quick recipe for stewed apples to support digestive health. Find it here.
Click To Tweet
Benefits
Stewed apples are taken as a light breakfast in Ayurveda, often cooked with cloves or other aromatics, and are helpful to calm Vata dosha types.
They're also widely used in Naturopathic Medicine as an effective intervention for gastrointestinal healing.
Stewed apples are easy to cook, delicious and well tolerated
Apples contain two types of fibre – their insoluble fibre content adds bulk to stools, while the soluble fibre (pectin) attracts water. Together, this helps alleviate constipation
Pectin itself has some wonderful health benefits, ranging from cholesterol reduction to weight loss, cancer prevention and alleviating GERD [1]
Apples contain polyphenols – bulky antioxidants that aren't absorbed well via the intestinal lumen, yet act as a prebiotic for beneficial bacteria, promoting their growth and diversity
These polyphenols also help lower gastrointestinal inflammation
Quercetin, a type of polyphenol in apples, helps modulate the immune response and stabilise mast cells, lowering histamine levels
Aromatic spices like clove and cinnamon are often added to stewed apples. Both exert antioxidant effects, while the cinnamon improves insulin resistance and blood glucose levels [2]
Slippery elm powder, from the bark of the Ulmus rubra tree, contains mucilage – a jelly-like substance that coats the gastrointestinal tract, used to soothe the gut wall and ease conditions such as GERD, peptic ulcers, inflammatory bowel disease, haemorrhoids, sore throats and bladder infections.
What type of apples to use
Granny Smith are the best apples to stew – a crisp, tart, cooking apple. Being an older cultivar (1860's) – they have a much greater polyphenol content [3], even more so if you go organic [4].
Stewed apples recipe
Start by peeling your apples. The polyphenol content is most concentrated in the skins, so leaving a few on is beneficial.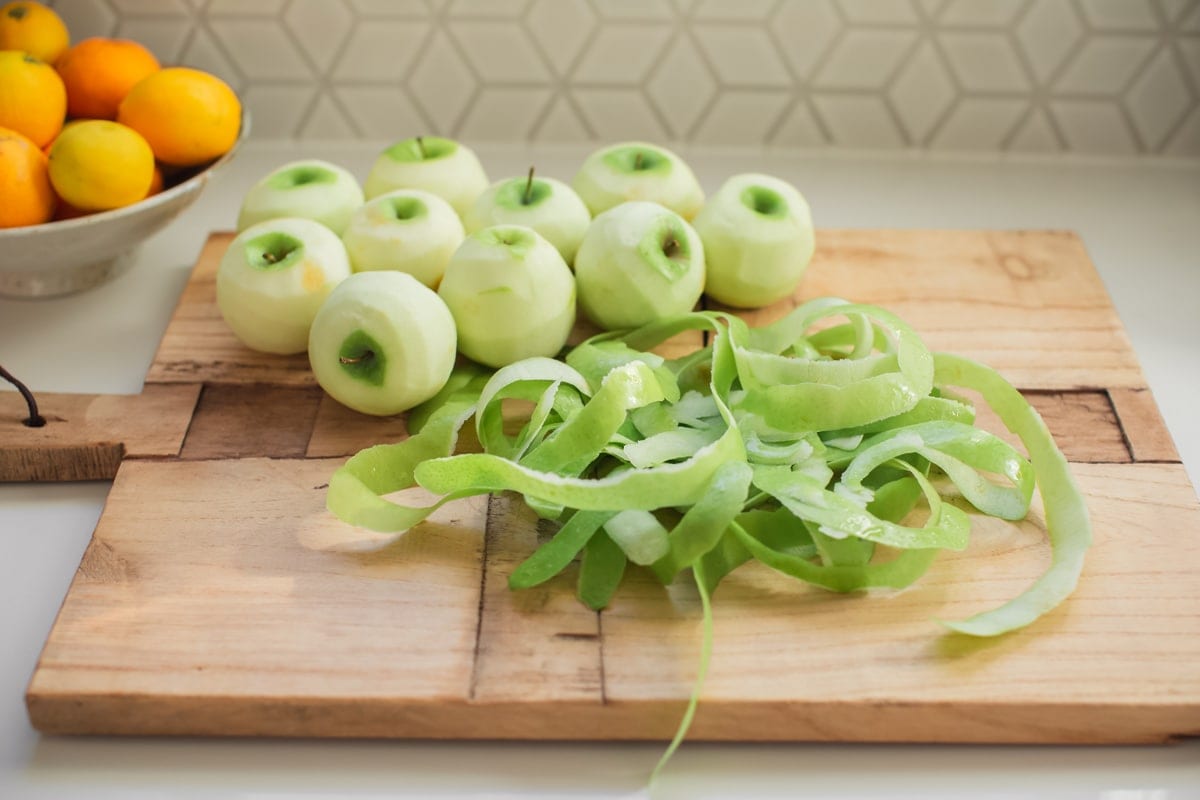 Use a corer if you have one, or just slice the apples into thick chunks.
Now, here's my number one hack – I don't stew apples, I steam them! Trust me – they turn out perfect every time this way. I'd say anywhere from 5-10 minutes in the steamer over a saucepan of boiling water is perfect – just cook to your liking.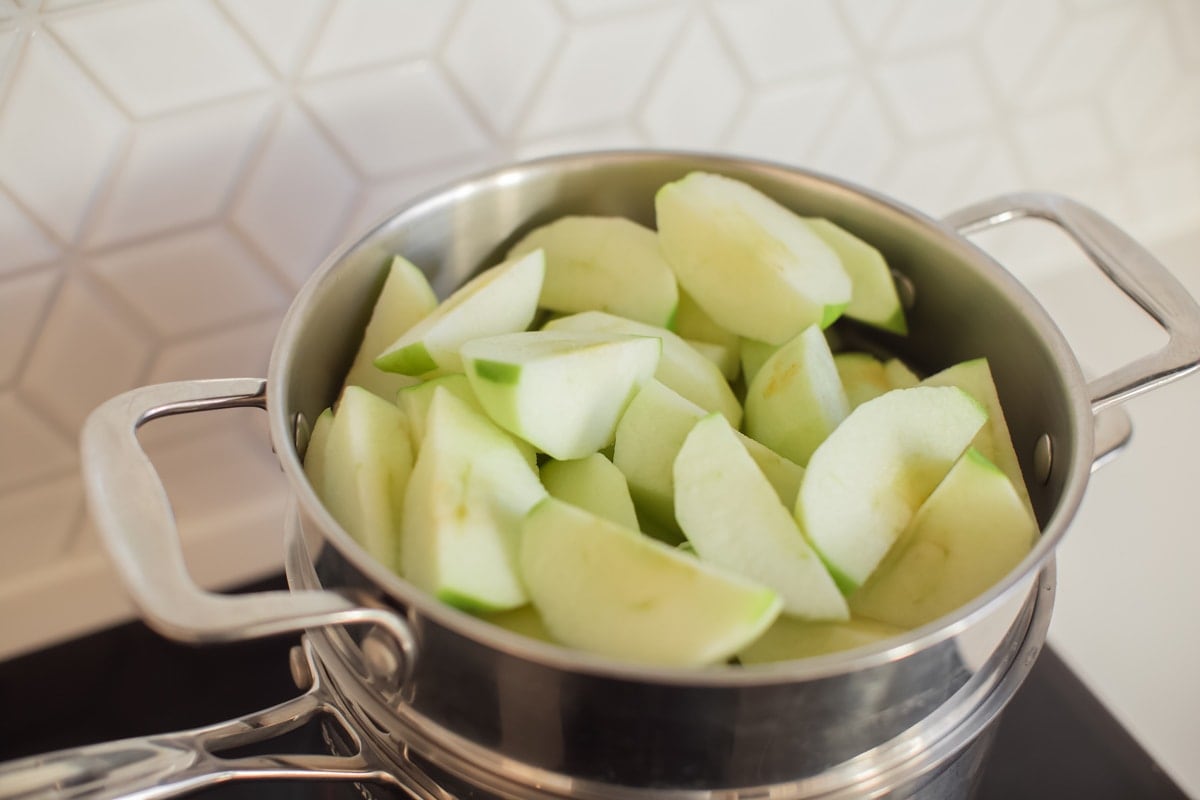 To serve – top with yoghurt, blueberries, slivered almonds, and a drizzle of pure maple syrup.
The second way to prepare them is to make an applesauce – just use a stick blender to puree, then stir in ½ - 1 teaspoon of slippery elm powder into your individual serve before enjoying.
Slippery elm has a mild taste but gritty texture, stirring the powder into applesauce greatly improves the palatability – thank goodness!
Can you freeze stewed apples?
Absolutely! They'll keep for several months.
Pin this image and save it for later! If you make and enjoy the recipe, please leave a rating below. And better yet – leave me a comment to tell me how you got on, or just say hi – I LOVE hearing from you. Follow me on Instagram, Facebook or Pinterest to see more of my everyday recipes and wellness tips.
Lastly, if you'd like to learn about essential oils, reach out to me. If you need support with your health, book a Naturopathic consultation or a discovery call to see how I can help you.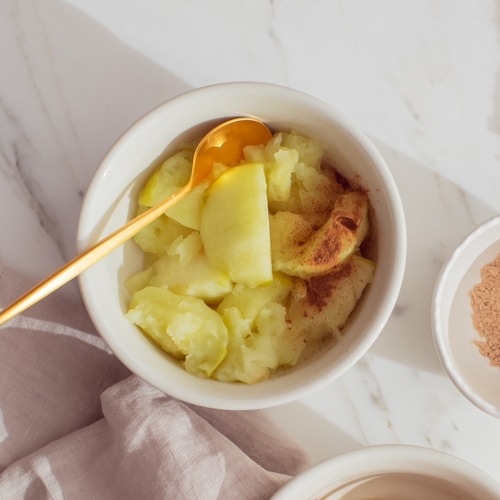 Stewed apples recipe - two ways
Quick, delicious, gut-healing stewed apples - whole or as applesauce.
Equipment
Saucepan with steamer attachment and lid

Stick blender (if making applesauce)
Ingredients
10

Granny Smith apples

½ - 1

teaspoon

slippery elm powder per serve

optional, please see notes re safety
Serving suggestions
coconut yoghurt

cinnamon powder

drizzle of pure maple syrup

blueberries

slivered almonds
Instructions
Peel the apples, core and slice into thick chunks.

Bring water to a boil in a saucepan, add apples to the steamer attachment, cover, cook for 5-10 minutes until softened.

Remove from heat and serve as is, or, to make applesauce, use a stick blender to make a puree.

If you'd like to add slippery elm powder for further gut-soothing effects, stir in ½ - 1 teaspoon to individual portions.

Top with yoghurt, cinnamon, fruits and nuts as desired.
Notes
If apples aren't tolerated, you can sub for pears
If you can't find Granny Smith apples, Bramley will sub nicely
Leave a little of the peel on the fruit for extra polyphenol content
Choose organic apples as their polyphenol and antioxidant capacity is greater than conventional
If using slippery elm powder, take at least two hours away from prescribed medications - it theoretically may impair their absorption. If in doubt, please consult with your healthcare provider first
Freeze in an airtight container, will last for several months
Recipe serves 4-6, 4 if enjoying for breakfast, 6 if enjoying a little as a treat after dinner
Nutrition facts are an estimate only, based on one of six serves for plain stewed apples. It does not include the optional toppings (yoghurt/berries/nuts). 
Nutrition
Calories:
94.2
kcal
Carbohydrates:
20.9
g
Protein:
0.8
g
Fat:
0.7
g
Saturated Fat:
0.23
g
Fiber:
5.7
g
Sugar:
20.2
g