Date scones are an old favourite and giving them a healthy, gluten free makeover was a challenge but I'm more than happy with the result. Serve with coconut whipped cream and a quick chia berry jam.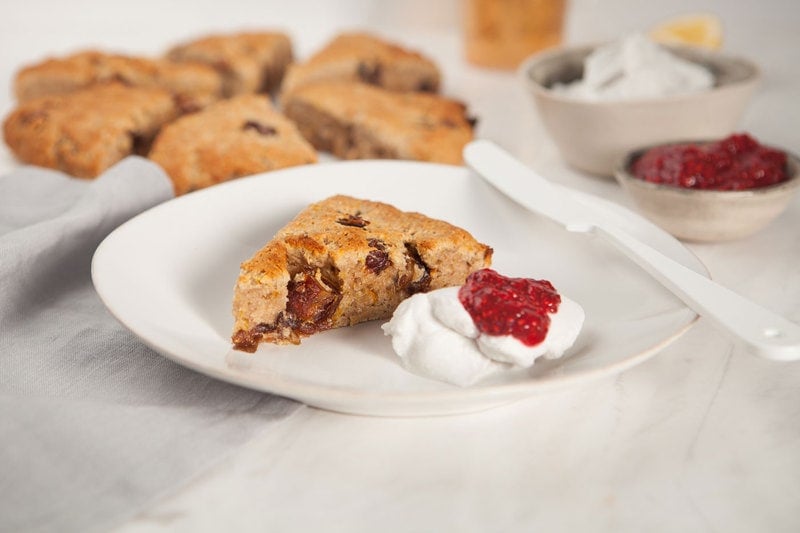 We all need a classic date scone recipe, especially in the cooler months, and especially over long weekends, don't you think? It took me a few goes to get this recipe where I wanted it, as playing with gluten free flours is sometimes quite a challenge – especially when you're omitting eggs as a binder.
In the end, I went with a blend of buckwheat, almond meal and potato starch (tapioca is an alternative for potato), using xantham gum as the 'gluten' replacer to stop it from crumbling. I've used measurements for these in grams rather than cups, as I wanted to use approximately 70% protein rich flours/meals to 30% starches.
[bctt tweet="Gluten Free and Vegan Date Scones with raspberry chia jam and whipped coconut cream. This way!"]
The buckwheat and almond are both naturally high in protein so they work well here, the almond giving it a slightly softer texture than if you were to use another whole grain flour (quinoa, millet, sorghum).
The potato starch is used in baked goods to give a soft and fluffy texture. I don't mind at all to use it either as it has a few great health benefits – namely that it travels all the way down to the large bowel largely undigested, where it is then fermented by bacteria providing food for the cells of the colon in the form of short chain fatty acids and butyrate. Ie., it is a great prebiotic food!
In terms of an egg replacement, I found that a combination of psyllium husks and apple purée worked a treat. Psyllium husks can be found at most health stores, they're sold primarily as a bulk laxative – they swell up in water and help things 'move along'. When you combine the wet ingredients in this recipe with the psyllium husks, they do the same thing. The only caveat – you need to let your dough sit and rest a bit to give it a chance to do so.
It's totally worth the wait – remember, that unless you are having fresh eggs laid from your own chicken, the baby boy chicks in commercial farms are culled, since they will never grow up to lay eggs and make a profit.
Now, in terms of flavouring, squishy Medjool dates with generous amounts of fresh orange zest and mixed spice make for a delicious combination.
Finally – we couldn't possibly have an authentic date scone experience without jam and cream. A far healthier (and more compassionate!) alternative come in the form of whipped coconut cream and a fresh, homemade raspberry chia jam. They are super simple recipes that only take a few minutes each to prepare.
Special shout out today to mum (hi mum!) for being my recipe taste-test-guinea-pig this week – she literally popped round twice to sample works of progress.
Hope you enjoy these bad boys!
Lx.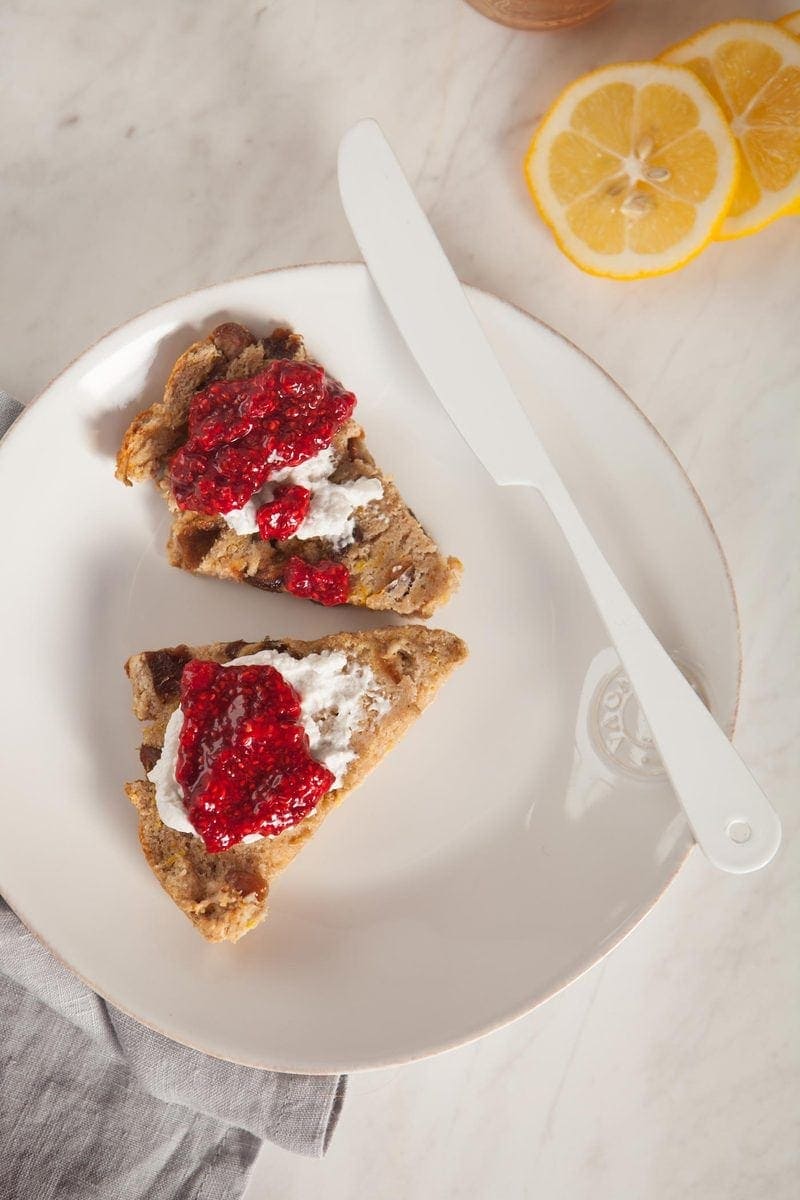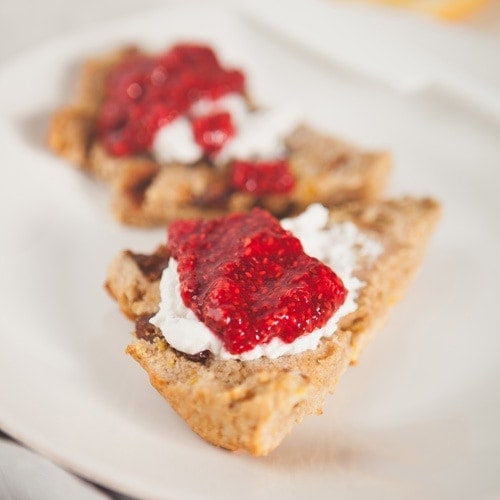 Gluten Free Vegan Date Scones
Gluten Free, Vegan Date Scones. These are soft and fluffy and best served with whipped coconut cream and raspberry jam straight out of the oven. Please note active prep time excludes the 20 minutes needed for dough to rest.
Ingredients
DRY:
100

g

buckwheat flour

80

g

almond meal

80

g

potato starch

or tapioca flour

2

teaspoons

baking powder

GF

½

teaspoon

baking soda

2

teaspoons

xantham gum

1

tablespoon

coconut sugar

1

tablespoon

psyllium husks

2

pinches

coarse sea salt

2

or more pinches mixed spice
WET:
½

cup

oat milk

room temperature

¼

cup

coconut oil

liquefied

2

tablespoons

apple purée/sauce
TO MIX IN:
1

cup

dates

pitted and chopped

2

generous teaspoons orange zest
Instructions
Sift all dry ingredients into a large mixing bowl – except the psyllium husks – add these last as they are too large to sieve. Use a whisk to lightly mix up the flour blend and evenly distribute all ingredients.


In a small bowl, combine all liquid ingredients and whisk together. Make a well in the dry ingredients and pour wet mixture in. Use a spoon to fold the two together to combine, then add the dates and zest.


Keep folding the mixture together – it will become a very sticky dough. This is totally fine. Once it has combined into a ball, leave it to rest for 20 minutes while you heat up your oven (220˚C), allowing the psyllium husks time to swell and bind with the liquids.


After 20 minutes, the dough should be a lot more workable. Transfer to a baking tray lined with baking paper, and pat it into a round shape. Cut the dough into 8 pieces then fan bake for 10-12 minutes or until done. In my oven, ten minutes is perfect.


Serve with raspberry chia jam and whipped coconut cream, recipe below.
Nutrition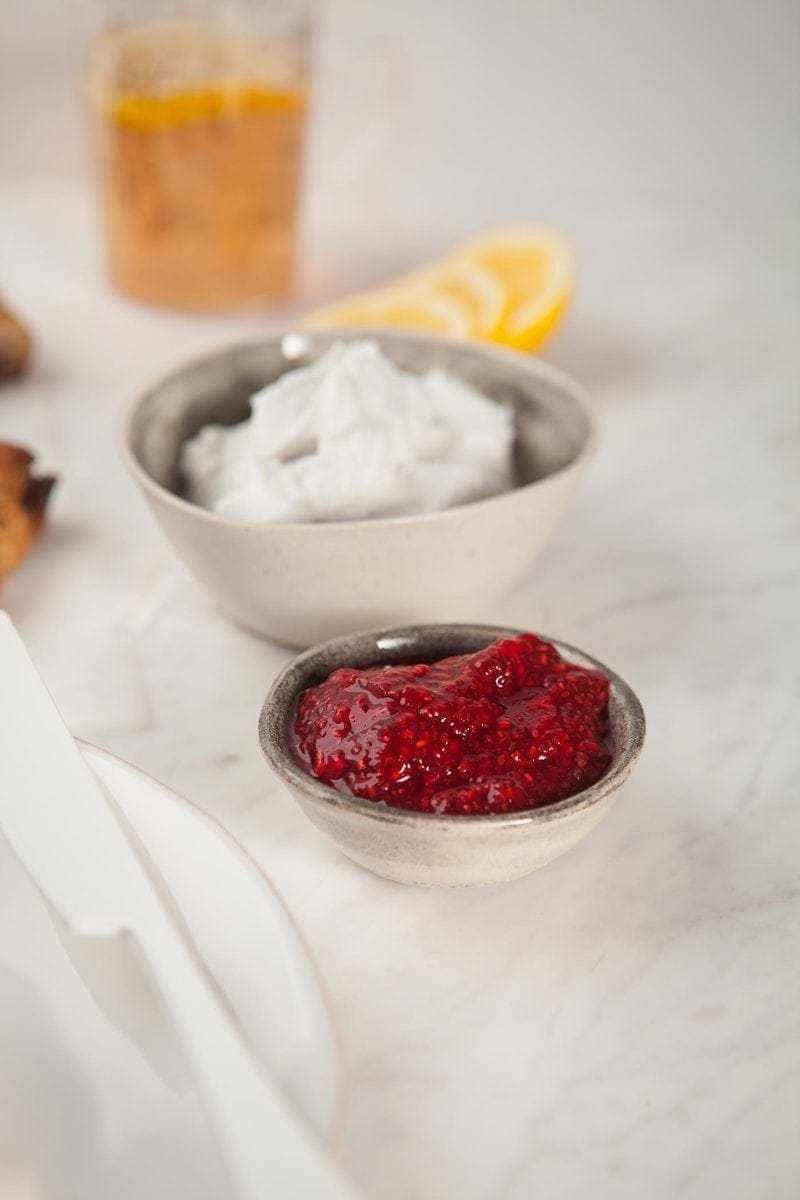 Raspberry Chia Jam and Whipped Coconut Cream
These make for the most delicious toppings over freshly baked scones.
Ingredients
CHIA JAM:
2

cups

raspberries

if frozen, thaw out

2

tablespoons

pure maple syrup/rice malt syrup/coconut nectar

2

tablespoons

chia seeds

1

teaspoon

vanilla extract
COCONUT CREAM:
2

tins 100% full fat coconut cream

if it contains gums/emulsifiers, this will not work

Powdered sugar-free icing sugar to taste

eg, xylitol
Instructions
CHIA JAM:
Pulse all ingredients in a food processor till just combined.


Transfer mixture into a glass jar and let set before use (about 15 minutes). Store in the fridge.

COCONUT CREAM:
Place tinned coconut cream in the fridge overnight to chill and separate. In the morning, open them up and scrape off the thick cream into a chilled cake mixer bowl.


Beat the cream for about 30 seconds on high, adding alternative sweetener such as powdered xylitol to taste (a teaspoon or two will do). Beat another minute, then serve.
Nutrition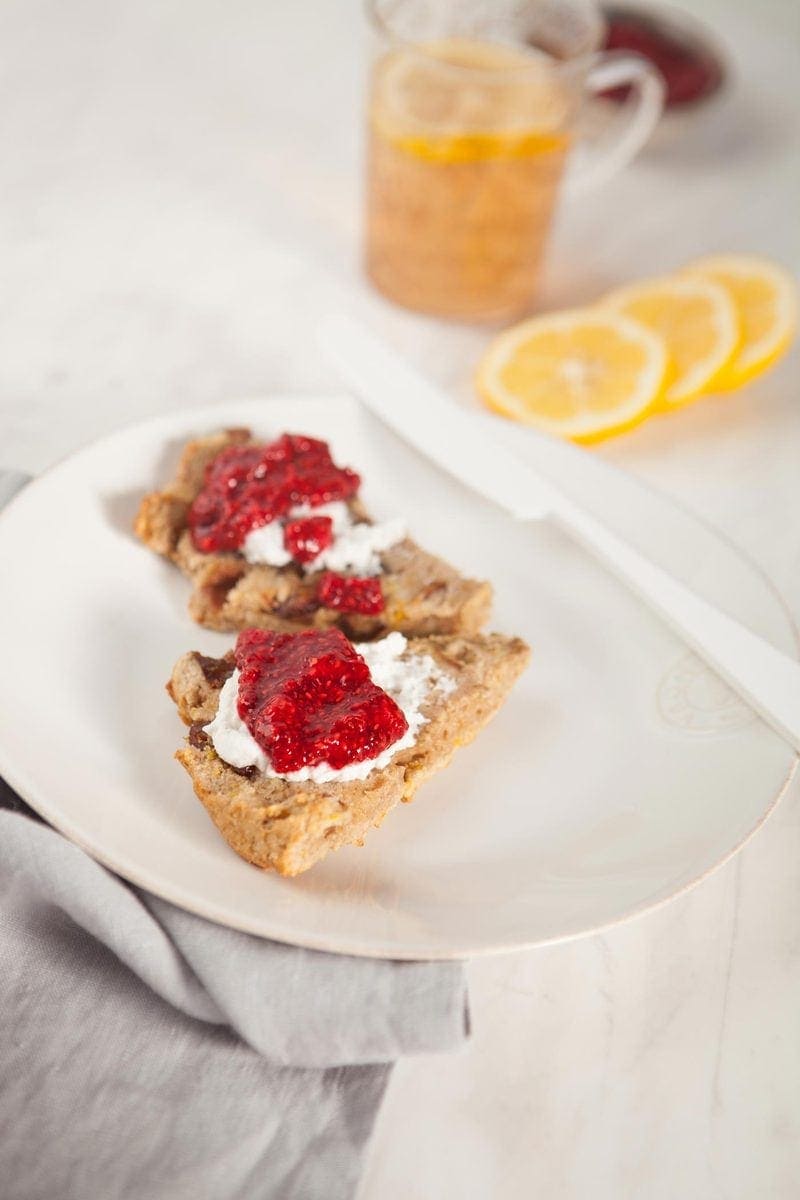 I'd love you to follow me on Instagram,
tag me @ascensionkitchen so I can see your creations!