Ginger Sesame Maple Marinated Tempeh: this baked, marinated tempeh is tangy, salty, sweet and delicious. No more tough old, un-seasoned strips of tempeh for you!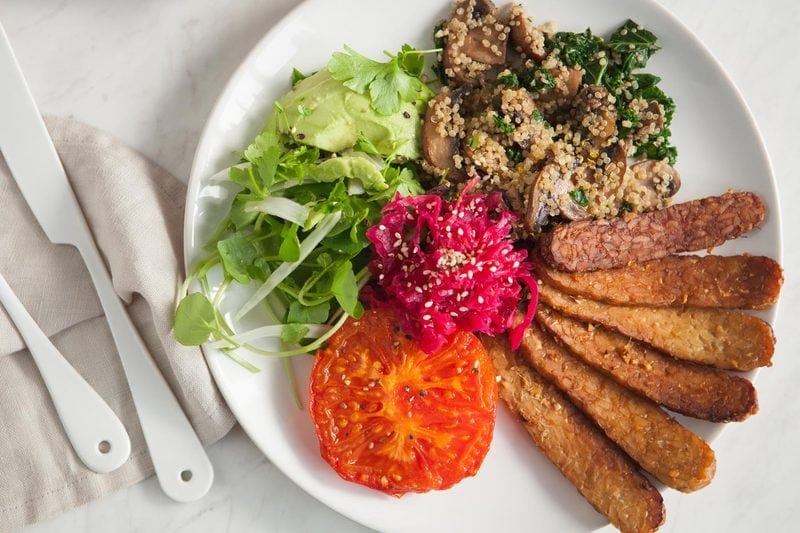 Today I'm going to show you how to cook tempeh like a Boss. Because, it can tend to be incredibly bland, and that's a real shame, considering all the health benefits it imparts if you do consume it on a regular basis.
Although there are many ways to prepare it, marinating and baking is my favourite. Tempeh has a great texture – it's substantial and filling, slightly nutty and absorbs sauces and spices very easily. After a bit of experimentation, I have found that marinating over the course of a day is best, as it really allows the tempeh to take on some pretty delicious flavours.
Today's recipe uses freshly minced garlic, ginger and lemongrass, with sesame oil, tamari, pure maple syrup and the juice of a lime. The end result is a tangy, salt, sweet taste explosion.
[bctt tweet="How to cook tempeh like a Boss. Marinated in garlic, ginger, lemongrass, sesame, maple + lime."]
As part of a nutritionally balanced meal, I usually serve it with a tablespoon of sauerkraut (or other ferment), some kind of whole grain, salad and/or vegetables.
In the photos you'll see I've paired it with a lemony mushroom, kale and quinoa salad, some fresh watercress, fennel and avocado, kraut and a sprinkle of my favourite seaweed and sesame salt gomashio to season. The quinoa is such a great, protein rich meal in itself, and I'll be sharing the recipe for that next week.
This recipe makes 2-3 servings; I always seem to have just enough leftovers to make a sandwich with the next day. Before we get to the recipe, here is a bit about the nutritional goodies and health benefits this traditional food has to offer.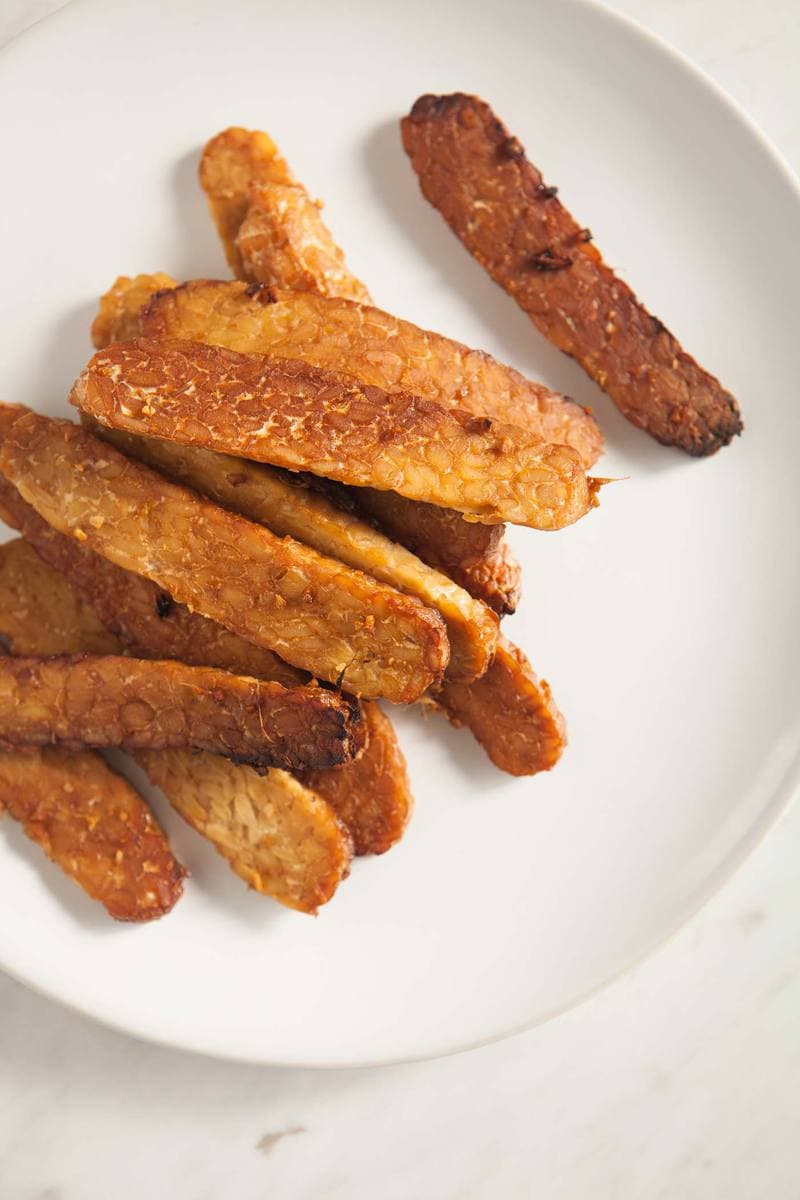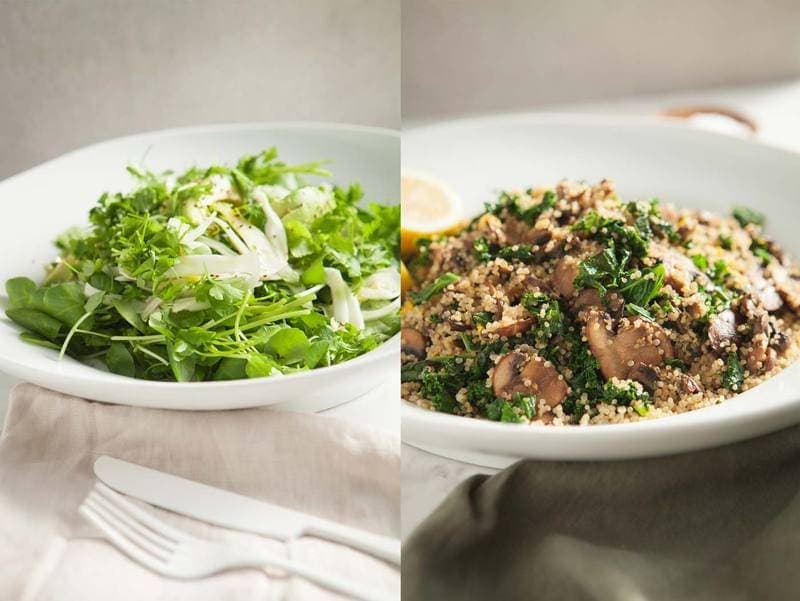 Tempeh Nutritional highlights
Tempeh is a naturally fermented soy bean product originally from Central Java in Indonesia. It is used extensively in Indonesian cooking, and consequently, their soy intake is one of the highest known, globally.
There are many health benefits that come with eating tempeh, notably, improved gut health, protection against cardiovascular disease, certain cancers (such as breast cancer), menopausal and bone health [1].
Tempeh is cultured with a mould (Rhizopus sp.) which pre-digests the beans and binds them together into a solid cake, greatly reducing the cooking time [2].
The biochemical changes that occur during this fermentation process result in an increase of the nutritional values of some of the nutrients, and the synthesis of vitamins, phytochemicals and antioxidants – all good stuff!
During fermentation:
The soluble protein content (and quality of protein) in tempeh as compared to unfermented soy beans greatly increases
The lipid (fat) content decreases, as the mould culture uses free fatty acids as a fuel source
Trace minerals such as iron and calcium, that are usually bound to proteins, are released and become more soluble (bioavailable). In fact, a recent study found calcium in tempeh to be just as well absorbed as calcium in milk

[3]

All B vitamins, excluding thiamine (B1), increase
Vitamin B12 is produced by bacteria
Tocopherol (vitamin E, a potent antioxidant) content increases (excluding alpha-tocopherol)
Phytic acid is reduced by 65% (an anti-nutrient that prevents absorption of minerals)
Complex carbohydrates are broken down into readily digestible sugars
Isoflavone content increases (isoflavones have weak oestrogenic effects in the body, with many purported health benefits)
Superoxide dismutase, an enzyme with powerful antioxidant actions, is produced during fermentation, though eventually decreases as the mould growth stops
[1].

Health benefits of tempeh
Tempeh has shown to have a positive effect on cholesterol. It contains constituents that inhibit the enzyme that synthesises cholesterol in the body, and prevents the oxidation of the 'bad' low-density lipoproteins (LDL) [1].
Soy isoflavones (a constituent of tempeh) have further been shown to favourably alter lipid profiles, lowering LDL cholesterol without any change on the beneficial HDL cholesterol [4].
Studies have shown that women in countries with high soy consumption (such as Indonesia, Japan, China and Korea) experience less menopausal symptoms [1].
The evidence is a bit unclear at this stage in regards to whether soy isoflavones are effective in reducing hot flushes [5].
Soy isoflavones may also have a favourable effect on bone mineral density, though results from clinical trials have been inconsistent [6].
It is also worth considering that tempeh has a highly bioavailable source of calcium, which is a key nutrient needed for bone health.
No studies have been conducted on tempeh and cancer risk, however, Asian countries have among the lowest rates of common cancers globally (breast, prostate and colon)[1].
Finally, in terms of gut health, tempeh is a fermented food, and as such, is pre-digested and gentle on the digestive system. It is also a great source of probiotics, though these are no longer viable once the tempeh is cooked.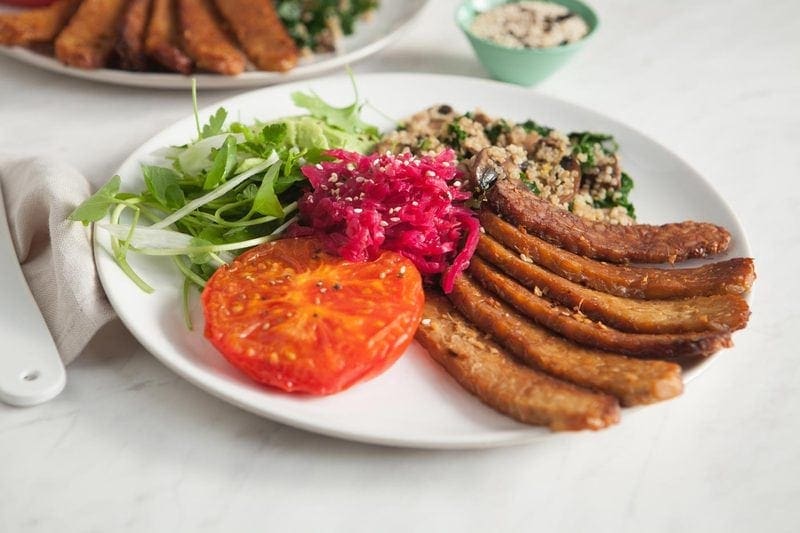 If you make and enjoy this recipe, please leave a rating below. And better yet – leave me a comment to tell me how you got on, or just say hi – I LOVE hearing from you. Follow me on Instagram, Facebook or Pinterest to see more of my everyday recipes and wellness tips.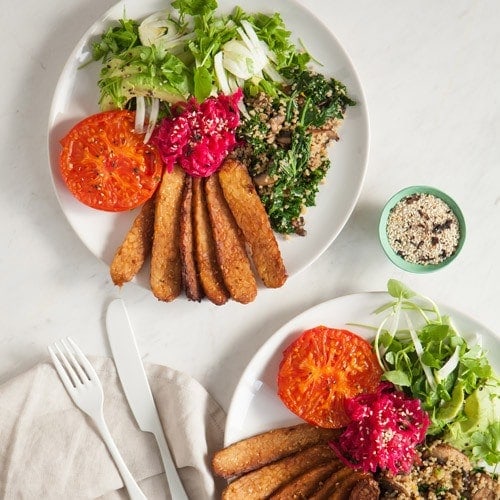 Ginger Sesame Maple Marinated Tempeh
This baked and marinated tempeh is just delicious. A great plant based source of protein.
Serves 2-3. Note prep time is 15 minutes but this excludes the 2 hours for marinating.
Ingredients
1

block of tempeh

250g

Juice of 1 lime

2

tablespoons

tamari

2

tablespoons

sesame oil

2

tablespoons

100% pure maple syrup

2

cloves

of garlic

minced

1

heaped tablespoon of ginger root

peeled and minced

Stalk of one lemongrass

white part only, finely chopped
Instructions
Slice tempeh and place in oven proof dish with a lid.

Combine all other ingredients in a small bowl and whisk together.

Pour over tempeh, cover with lid, and place in fridge to marinate from 2 to 8 hours.

When you're ready to cook, place covered dish in a pre-heated oven (fan bake, 180˚C/350˚F) and bake for 20 minutes. Remove lid, toss tempeh to coat all sides, then bake another 15 to 20 minutes.

Serve as a balanced meal with fresh salad and avocado, quinoa or other whole grain, sauerkraut or other fermented food, and half a roasted tomato. Yum!
Notes
Sometimes I add a splash of umeboshi vinegar for a lovely tangy taste.
Worse case scenario, the tempeh is still nice (though not as rich) if you skip the marinating time.
Coconut nectar would make a good alternative to maple syrup.
Nutrition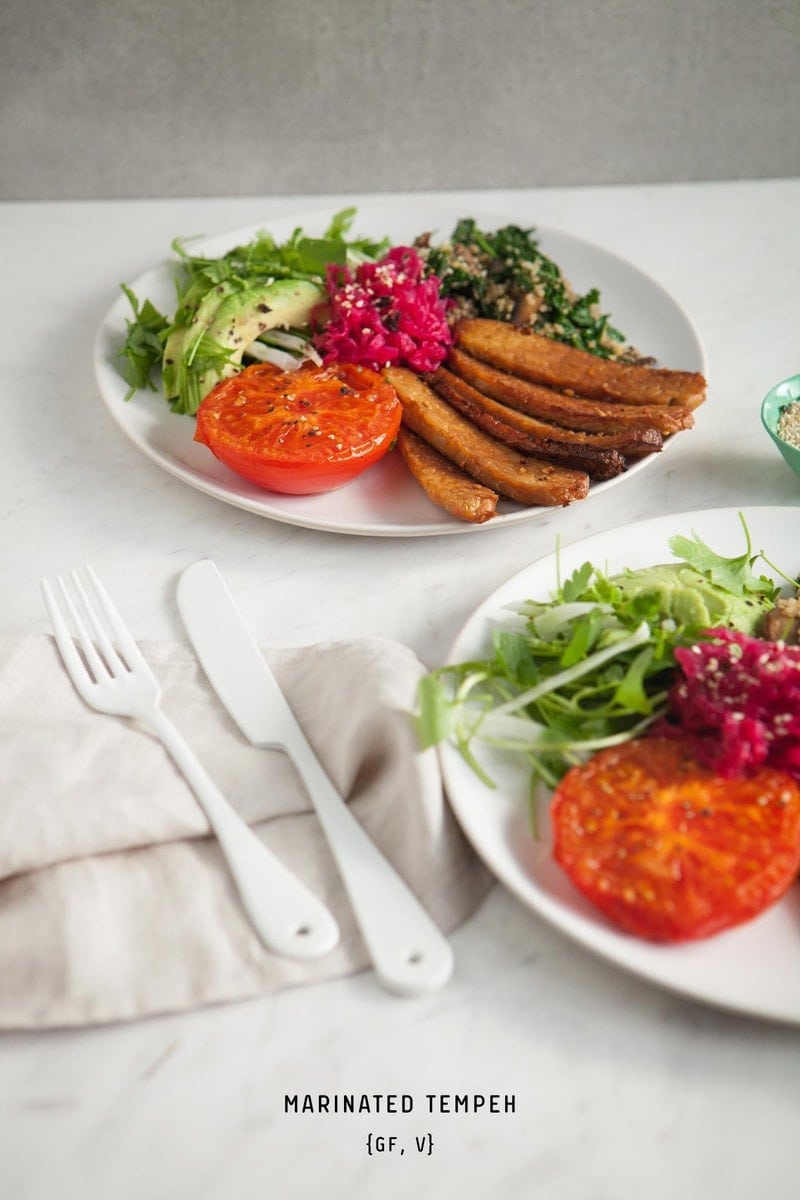 REFERENCES:
ASTUTI, M., MELIALA, A., DALAIS, F.S., & WAHLQVIST, M.L. (2000). TEMPE, A NUTRITIOUS AND HEALTHY FOOD FROM INDONESIA. Asia Pacific Journal of Clinical Nutrition, 9(4), 322-325. RETRIEVED FROM HTTP://APJCN.NHRI.ORG.TW/SERVER/APJCN/9/4/322.PDF

KATZ, S.E. (2012). The art of fermentation: An in-depth exploration of essential concepts and processes from around the world. WHITE RIVER JUNCTION, VM: CHELSEA GREEN PUBLISHING

HARON, H., SHAHAR, S., O'BRIEN, K., ISMAIL, A., KAMARUDDIN, N., & RAHMAN, S.A. (2010). ABSORPTION OF CALCIUM FROM MILK AND TEMPEH CONSUMED BY POSTMENOPAUSAL MALAY WOMEN USING THE DUAL STABLE ISOTOPE TECHNIQUE. International Journal of Food Sciences and Nutrition, 61(2), 125-137.

TAKU, K., UMEGAKI, K., SATO, Y., TAKI, Y., ENDOH, K., & WATANABLE, S. (2007). SOY ISOFLAVONES LOWER SERUM TOTAL AND LDL CHOLESTEROL IN HUMANS: A META-ANALYSIS OF 11 RANDOMIZED CONTROLLED TRIALS 1'2'3. The American Journal of Clinical Nutrition, 85(4), 1148-1156. RETRIEVED FROM HTTP://AJCN.NUTRITION.ORG/CONTENT/85/4/1148.LONG

BRAUN, L, & COHEN, M. (2015). Herbs & natural supplements. An evidence-based guide (4TH ED., VOL. 2). SYDNEY, AUSTRALIA: CHURCHILL LIVINGSTONE