Gut-loving, Spring Asparagus Salad with peas and broad beans, tossed in a maple Dijon dressing – don't you feel healthier just looking at it?!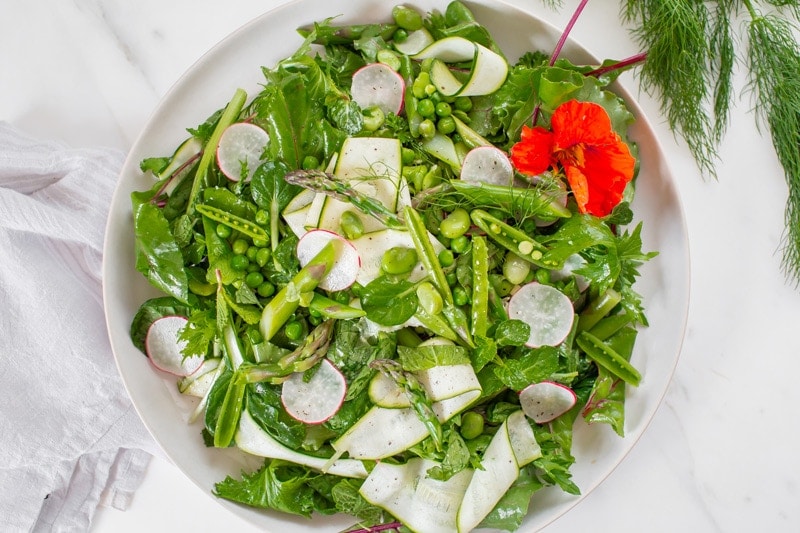 This is a simple yet stunning, healthy and delicious salad you can whip up in 25 minutes. I love the different textures, the colours – the green with the pop of red from the radish – and streaks of orange if you're lucky enough to find salad greens with nasturtium or calendula leaves (or simply have them in your garden ready to pick!).
To make this a complete meal – pile half a plate full of vibrant asparagus salad, and serve with quinoa, brown or wild rice (B vitamins + fibre), cooked and cooled potatoes (a form of resistant starch for the gut microbes), and if you're fancy – a tablespoon of kraut, a blob of herby pesto, or a drizzle of cashew aioli over the potatoes if you have it on hand.
Hot Tips
Seek out awesome quality salad greens. Try your local Farmers' markets – we don't just want a bag of boring old spinach. Find something with a real mix of goodies in there: baby beet leaves, baby kales leaves, sprouts, rocket/arugula, dandelion greens, plantain, nasturtium leaves, calendula petals, mint
Make sure all your components are dry before bringing them together, no-one likes a wet, limp salad
To the above point – invest in a salad spinner, they're not expensive – you can thank me later
Yes, you have to individually peel your broad beans. Welcome to slow food! Trust me – so worth it, they're delicious and a great source of protein to boot
Making Asparagus Salad
Boil your broad beans for just a few minutes, then drain and rinse under cool water. Peel the outer skins off carefully, one by one.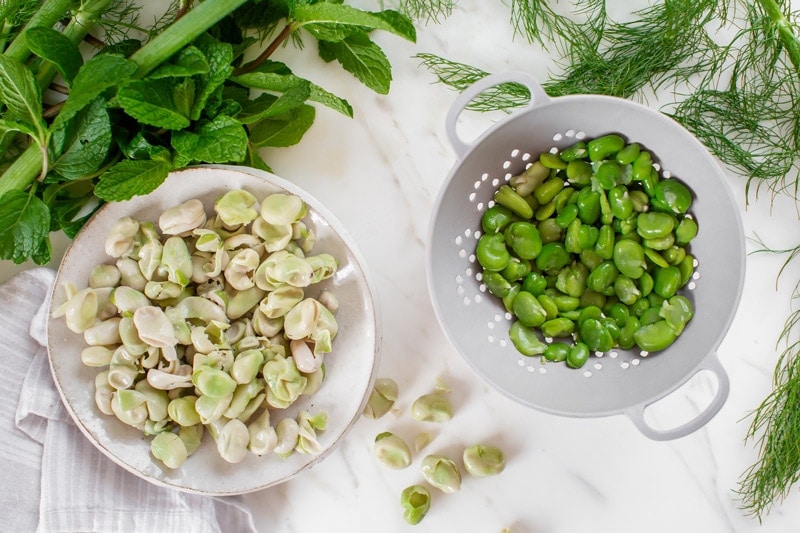 Trim the woody ends off your asparagus, then slice into thirds – on the diagonal looks best. Steam with the peas for a couple of minutes - don't overcook! Drain, rinse under cool water, let cool.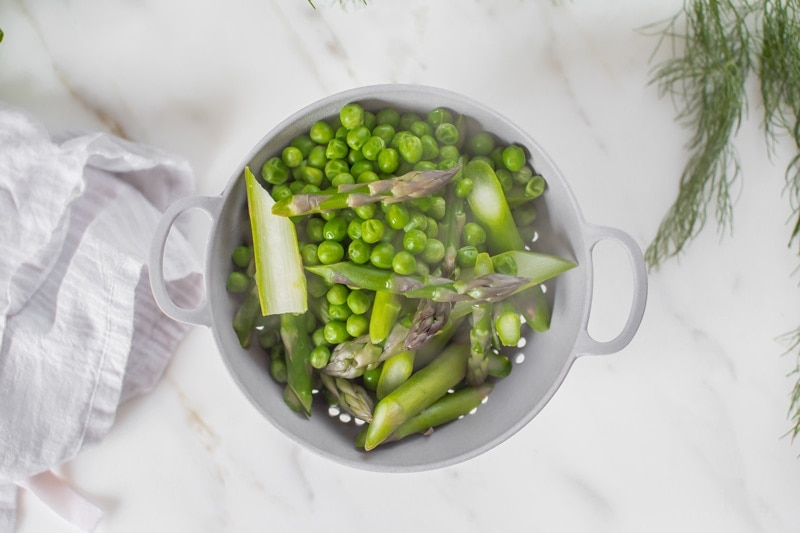 Finely slice a medium zucchini (thinner is better – the fatties make ribbons that tend to break), and a red radish, and set aside. A mandolin is best for this.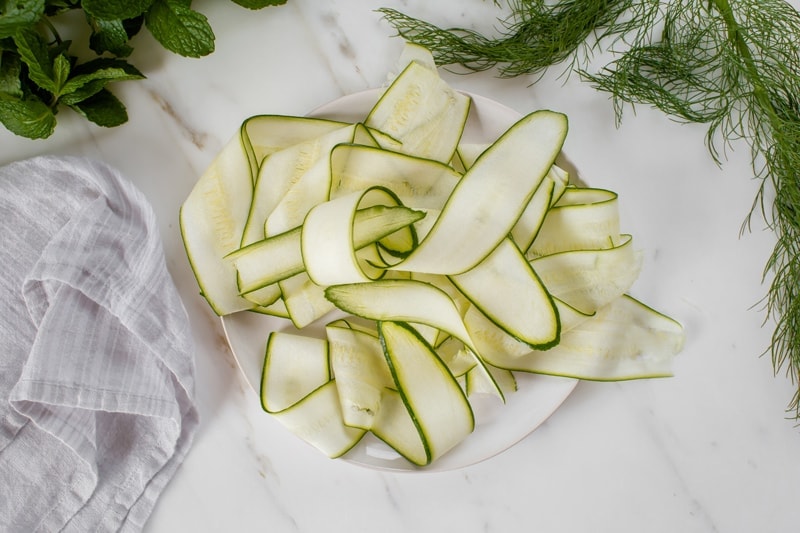 Trim off the tough ends of a handful of sugar snaps, then slice down the middle to reveal the peas inside. Cute!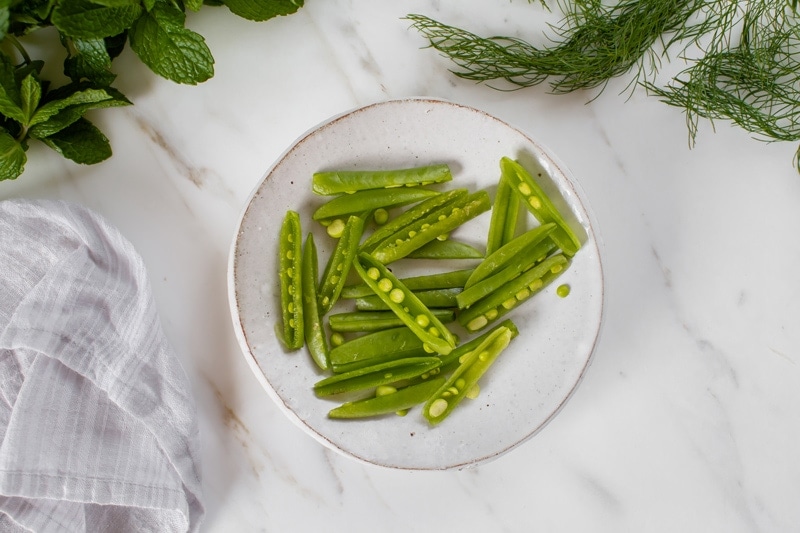 Wash and spin dry your salad greens, roughly chop some fresh mint, then combine all your salad ingredients and mix together. Lastly – whisk up your dressing and pour liberally over the top.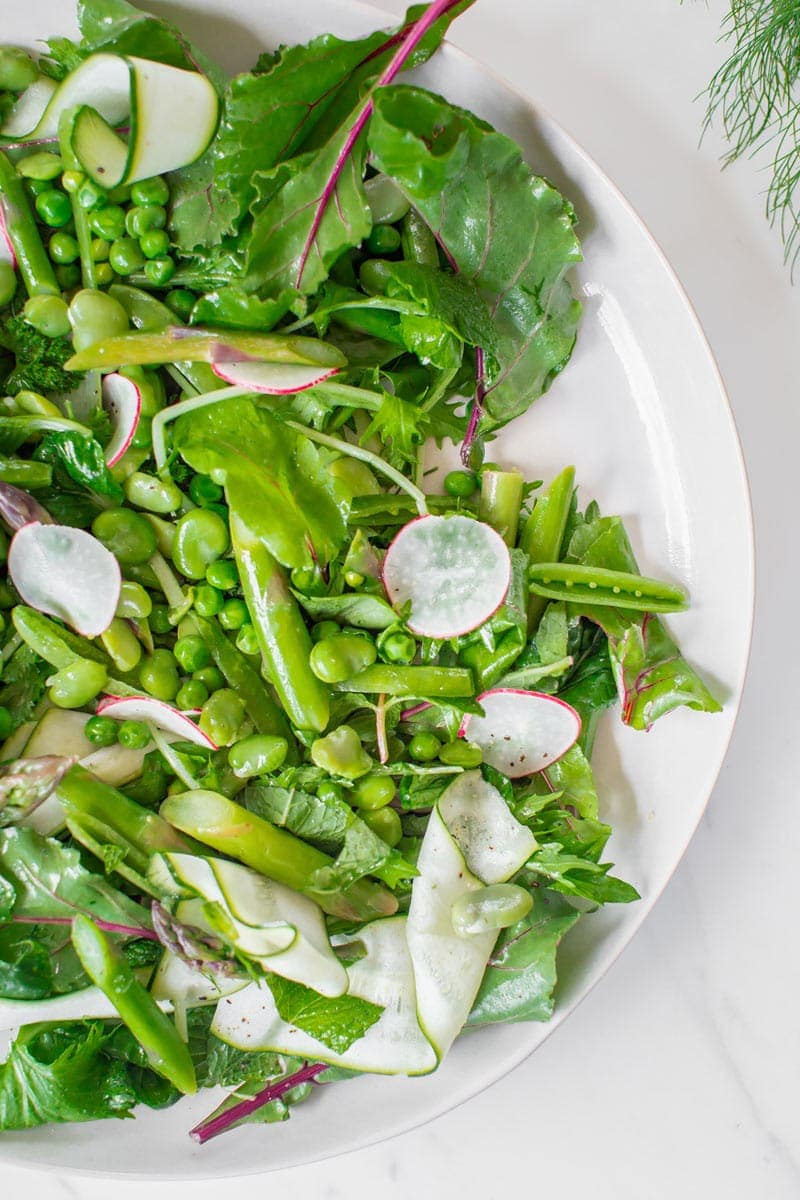 Take a moment to enjoy the beauty of the dish. Easy, wasn't it?
More Gorgeous Salads
In the name of branching out from boring old spinach or cos…
If you make and enjoy this recipe, please leave a rating below. And better yet – leave me a comment to tell me how you got on, or just say hi – I LOVE hearing from you. Follow me on Instagram, Facebook or Pinterest to see more of my everyday recipes and wellness tips.
If you'd like to chat with me about essential oils, or book in a class, you can do that here. If you're after a Naturopathic consult, read more here.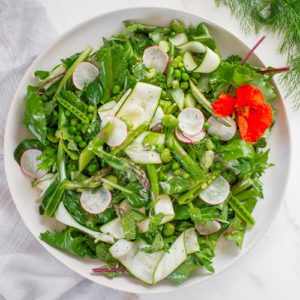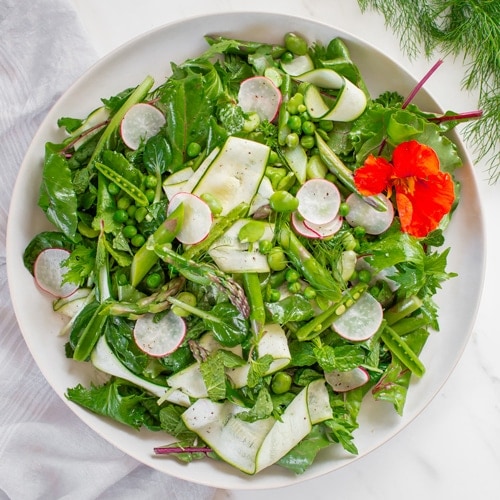 Asparagus Salad with Maple and Mustard Dressing
A simple, gorgeous spring Asparagus Salad with crunchy sugar snaps, peas, broad beans, tossed in a maple and mustard dressing - delicious!
Ingredients
1

bunch

asparagus

200g

50

g

snow peas or sugar snaps

1

cup

peas

frozen

1 ½

cups

broad beans

frozen

1

zucchini

medium

1

red radish

or half a red onion

120

g

mixed salad greens

½

cup

mint

fresh
Maple and Mustard Dressing
2

tablespoons

extra virgin olive oil

4

teaspoons

Chardonnay wine vinegar

2

teaspoons

Dijon mustard

smooth

2

teaspoons

pure maple syrup

ample

black pepper

freshly ground
Instructions
Wash salad greens, then spin dry and set aside in a large bowl.

Boil the frozen broad beans for 3 minutes, then drain and rinse. Peel the outer skins off – tedious but worth it.

Wash and trim the woody ends off the asparagus, then cut each stalk into 3 or 4 pieces, on the diagonal.

Add asparagus and frozen peas to a steamer, and steam for about 3 minutes until the asparagus is just tender – do not over cook! Drain and rinse under cool water, set aside.

Finely slice the zucchini and radish on a mandolin.

Roughly chop the mint leaves.

Remove the tips from the sugar snaps/snow peas, then slice down the middle.

Combine all salad ingredients.

To make the dressing, whisk all ingredients together well. Pour over the salad – you may not need the entire dressing. Toss to combine and enjoy.
Notes
Most important: the key to this salad is to make sure salad greens and all vegetables have been patted dry before combing – you don't want a watery salad!
Try and source super fresh, organic salad greens – I visit the Farmer's markets for mine, they come mixed with nasturtium, baby kale, mint, dandelion greens, baby beet leaves, sprouts, calendula petals.
I highly recommend a salad spinner if you don't have one yet – they're cheap, and SO great. They'll get your salad greens nice and dry in a cinch.
Sugar snaps and snow peas can be used interchangeably.
Visually, asparagus looks nicer if you can find slightly thinner stalks.
It's best to wait until the asparagus and peas have cooled before combining with the salad greens, to avoid them wilting.
Red radish and red onion can be used interchangeably. Radish looks prettier – red onion adds a bit of sharpness which I quite like.
If you're making this dish for two people, make the entire salad up without the dressing, then pop half in the refrigerator for the next day, dressing it before you serve to keep it fresh.
The peas and broad beans provide protein – yay!
Nutrition