The perfect summer picnic salad: Lentil Asparagus Salad Nicoise – made without egg or tuna, with a creamy mustard, caper, seaweed and black salt dressing. Vegan and gluten free.
In anticipation of Summer holidays, I have a delicious Lentil and Asparagus Salad Nicoise to share today, that also happens to be free from both tuna and egg – however the 'Sea & Sulphur Dressing' cleverly lends a hint of both flavours.
[bctt tweet="Summer Salad: Lentil & Asparagus Salad Nicoise - made without egg or tuna, find it here."]
Sometimes it's hard to eat healthy, particularly when you're flat out busy. With two weeks left of my degree (oh my gosh - YES!) life has been fairly manic lately.
On occasion, when it looks like it will be another late night with college work, my partner springs to the rescue and makes dinner for us.
The only problem is, his culinary skills are somewhat limited, although I suspect this is purely because he would hate to make preparing dinner a regular thing!
So, due to my dire need of quick but nutritionally balanced meals for those nights when I'm just too time poor to make anything fussy, I have been playing around with some new Summer salad recipes.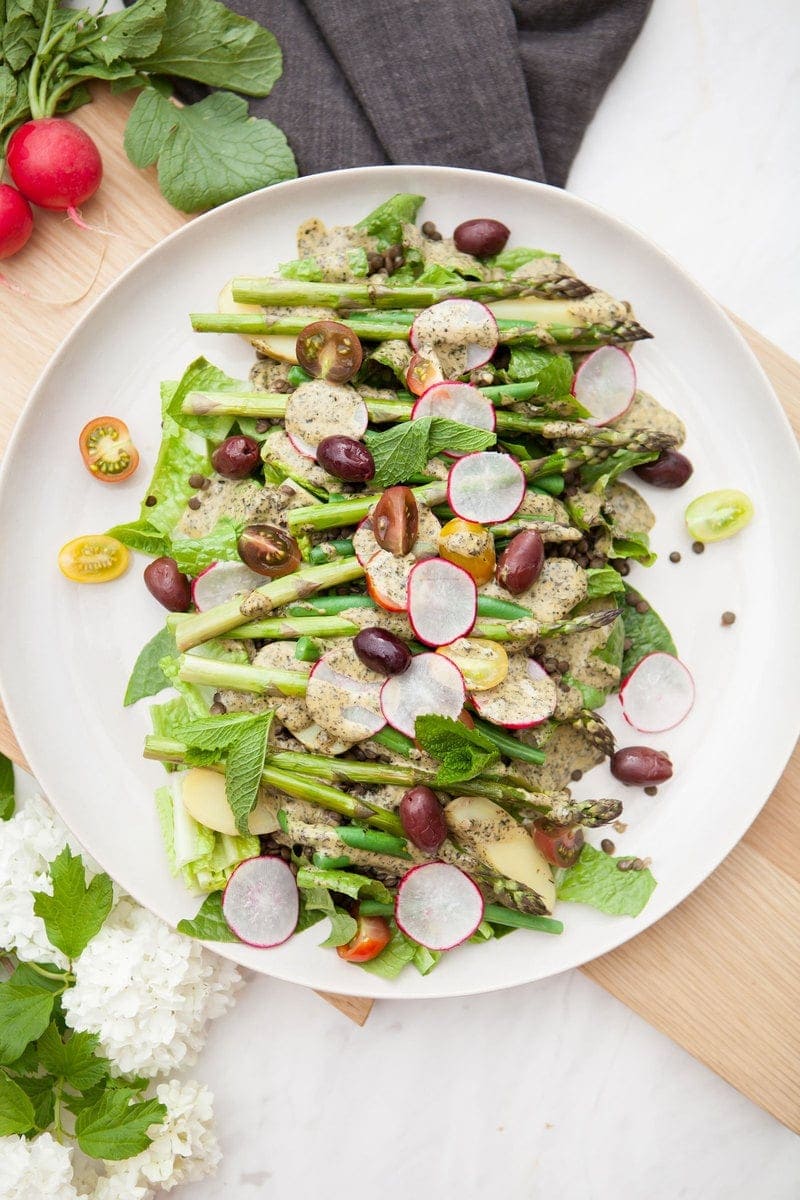 Lentil Asparagus Salad Nicoise
Your classic nicoise salad recipe seemed a good place to start, and replacing the tuna with lentils took care of the protein side of things (I wanted this to be entirely plant-based).
If you can get in the habit of popping your lentils on to soak in water first thing in the morning, you will cut down on the cooking time and make them that much more digestible. Winning.
Green beans, baby potatoes, cherry tomatoes, olives and cos lettuce make up the rest of the dish – pretty standard – except for the addition of a big bunch of asparagus – because they are in season, beneficial to the kidneys, and just so delicious.
[bctt tweet="Tip: to keep asparagus fresh, wrap ends in a damp paper towel and refrigerate."]
I know you're going ask about the eggs next – so let me introduce you to my clever Sea and Sulphur Dressing…
Nicoise Salad Dressing
AKA my 'Sea and Sulphur Dressing'! This dressing is in lieu of both the tuna and eggs. The base is a blend of olive oil, mustard and apple cider vinegar, with a touch of Himalayan volcanic black salt. If you haven't heard of or tried black salt before, you're in for a treat.
Unrefined Himalayan Volcanic Black Salt
Black salt is an Indian volcanic rock salt. It has a distinctive sulphuric quality that mimics the taste of egg in vegan dishes such as frittatas.
I was first introduced to it during my Raw Chef training in Bali – I've mentioned this before, but the instructors were alchemists in the kitchen – together we made Raw Eggs Benedict (yes really!) using soft coconut flesh as the poached egg white, and cashews blended with turmeric (for the yellow) and black salt (for the sulphur) to recreate the yolk.
It was absolutely insane – particularly when served with the 'happy hollandaise' sauce and a slice or two or marinated and dehydrated eggplant 'bacon'.
RAW EGGS BENEDICT MADE WITH COCONUT FLESH, CASHEWS, TURMERIC AND BLACK SALT
Back to the salt. It is actually a smoky pink colour, turning black when you mix it with water. Apparently, this is due to the presence of beneficial bacteria and decomposed plant matter.
It tastes sulphuric and a bit like hard boiled eggs, and contains a wide array of minerals and trace elements. I bought a small bag from a local specialty food store, though I'm sure you would find it at an Indian supermarket.
I used only a small amount to flavour the dressing, then added a sheet of toasted nori and a teaspoon of karengo (New Zealand nori, though dulse would also work) to bring in some flavours of the sea. This might sound like quite a bizarre combination, but trust me – it works!
The key is to add the seaweeds in there last, and blend till just combined. This will give you a beautiful speckled texture that looks divine once you dress the salad. So there you have it – Sea and Sulphur Dressing!
Quick and healthy dinner – tick!
Righto – now we have our flavoursome, creamy dressing, we're good to go. Our salads' complete with protein, heathy fats (thanks olives and olive oil) and plenty of fresh vegetables.
The most time consuming part of this dish is cooking those lentils (approximately 20 minutes), but aside from that, the vegetables can be prepared in one pot (boil the potatoes and steam the beans and asparagus over the top) with the remaining ingredients simply needing arranging on a plate. Boom.
I've been making smaller portions of this for myself and my partner through the week, interchanging black lentils with French – both work. However, today I've made this recipe to serve 4 - generous enough to take to a summer party.
More Healthy Vegan Salad Recipes you might like...
That's all from me today, enjoy, thank you for reading and see you next week.
Lauren.
If you make and enjoy this recipe, please leave a rating below. And better yet – leave me a comment to tell me how you got on, or just say hi – I LOVE hearing from you. Follow me on Instagram, Facebook or Pinterest to see more of my everyday recipes and wellness tips.
Lentil Asparagus Salad Nicoise
A creative take on the classic - entirely vegan with no tuna or eggs. Prep time is around 30 minutes. Note: 8 hours of soak time required for the lentils.
Ingredients
1

baby cos lettuce

about 3-4 cups, chopped

6-8

baby potatoes

Large handful of green beans

ends trimmed

Large handful of asparagus

ends trimmed

1

red radish

¼

cup

Kalamata olives

pitted

½

cup

cherry tomatoes

halved

¾

cup

lentils, dry

black or French both worked well for me
SEA AND SULPHUR DRESSING:
2

tablespoons

water

¼

cup

olive oil

1

tablespoon

mustard

1

tablespoon

apple cider vinegar

1

teaspoon

100% pure maple syrup

1

clove

garlic

peeled and minced

A few good grinds of black pepper

¼

teaspoon

black salt

2

tablespoons

nutritional yeast

2

scant teaspoons capers

optional

1

sheet toasted nori

1

teaspoon

karengo/dulse flakes
Instructions
Ideally, soak the lentils in water for 8 hours prior to cooking, then drain, add to a pot with 1½ cups water, bring to the boil and reduce heat, cooking for about 20 minutes or until soft but not mushy. Once done, drain and run under cold water to stop them cooking.

Meanwhile, boil the potatoes and steam the beans and asparagus – as an alternative, you may like to roast the asparagus with a drizzle of olive oil. Once the potatoes are cooked, rinse under cold water then cut into halves.

To prepare the salad, cut the baby cos width-ways into strips, rinse well and drain till completely dry (or use a salad spinner). Slice the radish thinly using a mandolin.

Arrange cos on a large platter, spoon the cooked and cooled lentils over the top, then layer the rest of the ingredients.

To make the dressing, blend all but the nori and karengo/dulse on high for 30 seconds. Add both the seaweeds lasts and blend till just combined. Pour over salad, sprinkle fresh mint over the top and serve.
Notes
Nutrition panel is an estimate only.
Nutrition
Calories:
391
kcal
Carbohydrates:
43
g
Protein:
15
g
Fat:
17
g
Saturated Fat:
2
g
Sodium:
450
mg
Fiber:
15
g
Sugar:
3
g
Vitamin C:
17.3
mg
Calcium:
70
mg
Iron:
7.4
mg
Nutrition Facts
Lentil Asparagus Salad Nicoise
Amount Per Serving
Calories 391
Calories from Fat 153
% Daily Value*
Fat 17g26%
Sodium 450mg20%
Carbohydrates 43g14%
Protein 15g30%
Vitamin C 17.3mg21%
Calcium 70mg7%
Iron 7.4mg41%
* Percent Daily Values are based on a 2000 calorie diet.