The perfect Festive salad: Rocket and Roasted Kabocha with Maple Spiced Pecans – finished with an extra virgin olive oil, balsamic, lemon and maple dressing. Quick, healthy, delicious, and a feast for the eyes!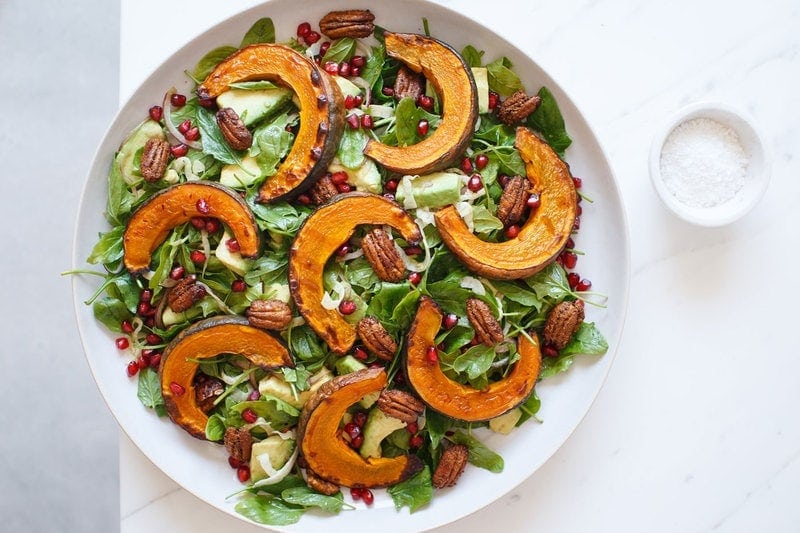 Back with another festive recipe today. Speaking of which, we had a family dinner last night, and came up with a new tradition to start on Christmas day. Rather than buying a cheap present for the lucky dip we've been doing each year, we've decided to draw a name out of a hat and then draw a portrait of that person's face.
Sounds simple enough, but if you knew the varied levels of creativity in the fam you'd know just how hilarious this could turn out (I'm betting Mum will break out the art easel and the charcoal, dad will grab a biro, Valentina (13 months) will no doubt add a scribble, my partner will probably sketch a caricature, and I'm going all in on a collage!). The idea is to guess who the portrait is of and who drew it, then collect them in a scrapbook over the years. A zero waste Christmas! Love it.
Roasted Kabocha Salad with Maple Spiced Pecans - find the recipe here!
Click To Tweet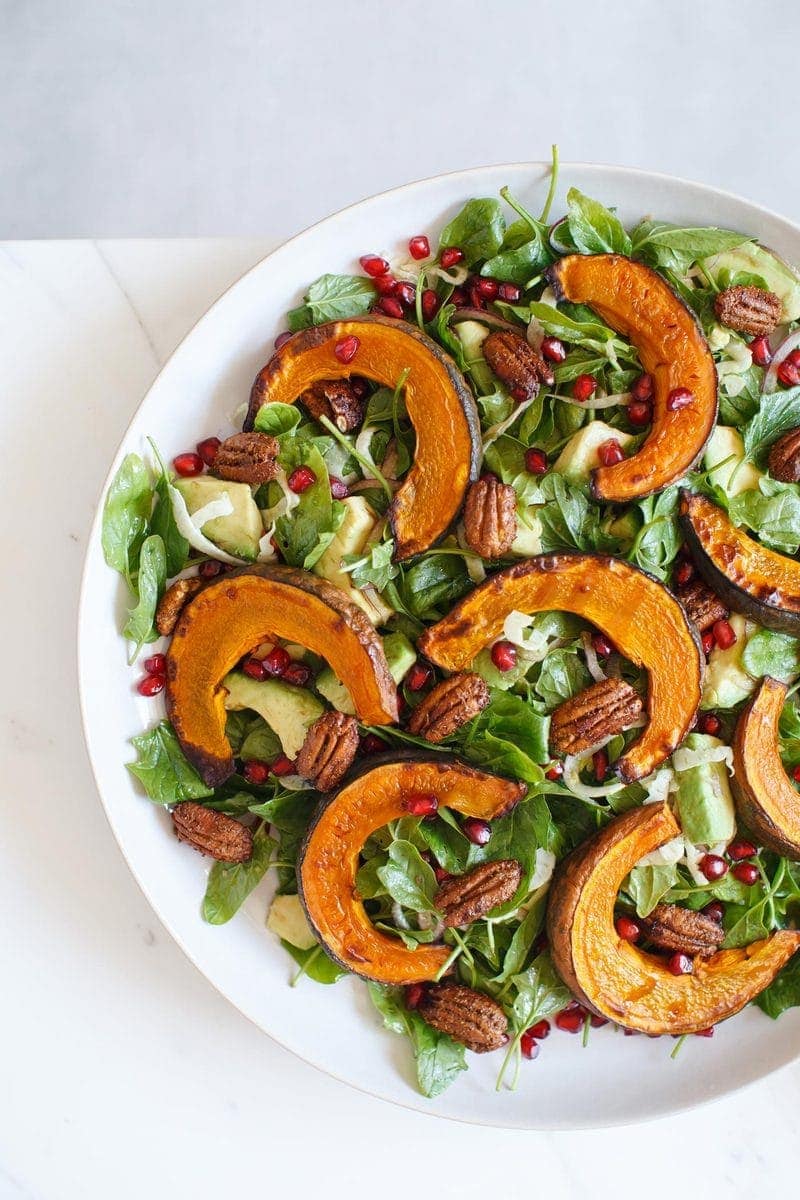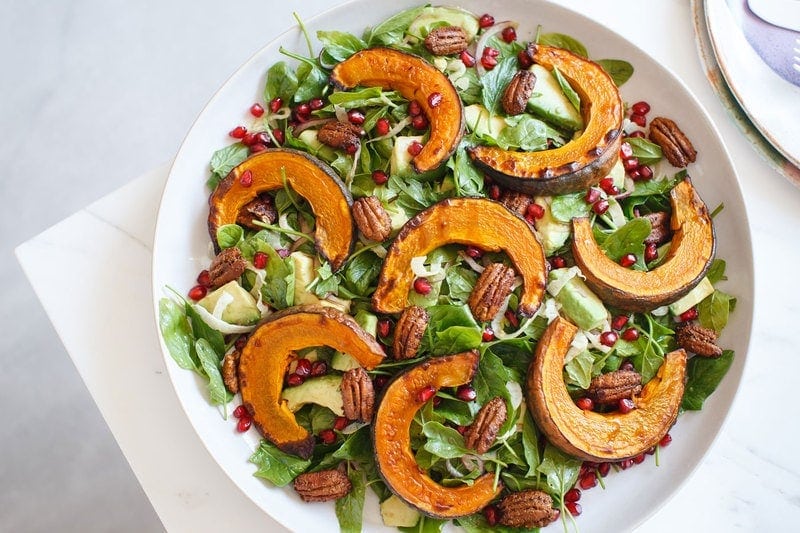 Kabocha Salad with Maple Spiced Pecans
Back to the salad. I love the combination of colours just as much as the flavours – the bright green and orange of the rocket and the kabocha squash with pops of red from the pomegranate arils.
My favourite part however is without a doubt the crunchy pecans. These are quick as a flash to make, using a bit of an unusual combo of spices. Pure maple syrup, cinnamon, turmeric powder, garlic and onion powder, sea salt and pepper. I'm not quite sure what made me add the onion and garlic powder to the mix, but they turned out delicious, so let's just run with it.
Nutrition highlights:
Rocket is a bitter green, stimulating digestive juices to help break down your meal. It is also incredibly alkalising, rich in vitamin C and folate, and, as a member of the cruciferous family (which include broccoli, cauliflower, kale and Brussels sprouts), it contains sulphur compounds that help protect against cancer. Rocket is one of the top 20 most nutrient-dense vegetables on the planet

[1]

Kabocha squash (Japanese pumpkin) is a great source of betacarotene, the precursor to vitamin A – think skin and immune health
Pomegranate is a rich source of vitamin C, and contains polyphenols that are potent antioxidants and exert prebiotic-like effects in the gut, selectively stimulating growth of beneficial bacteria
Hope you enjoy this one! Lauren.
Print Recipe
Roasted Kabocha Salad with Maple Spiced Pecans
A rocket and roasted kabocha salad with maple spiced pecans, and a light olive oil, balsamic + maple dressing. Perfect Christmas salad.
Ingredients
Maple Spiced Pecans
2

cups

pecans

2.5

tablepsoons

pure maple syrup

2

teaspoons

cinnamon powder

1.5

teaspoons

onion powder

1/2

teaspoon

garlic powder

1/2

teaspoon

turmeric powder

1/2

teaspoon

coarse sea salt

1/4

teaspoon

ground black pepper
Roasted Kabocha Salad
120

g

rocket (arugula) or baby spinach

1

medium

fennel bulb

1

large

avocado

1/2

small

red onion

1/3

cup

pomegranate arils

1/2

large

kabocha squash (or butternut)
Dressing
3

tablepsoons

extra virgin olive oil

2

teaspoons

balsamic vinegar

2

teaspoons

pure maple syrup

1

tablespoon

lemon juice (about half a medium lemon)

1/2

teaspoon

onion powder
Instructions
Maple Spiced Pecans
Add all ingredients to a bowl and toss to coat.

Spread evenly over a tray lined with baking paper, and bake for 8 minutes at 180˚C, tossing frequently.
Roasted Kabocha Salad
Cut the kabocha squash into half moons (10-12 slices), arrange on tray lined with baking paper, coat lightly in olive oil, and bake for 15-20 minutes at 180˚C.

Whisk the salad dressing together. Wash the rocket/spinach and spin dry. Slice the fennel bulb and red onion thin on a mandolin, and slice avocado. Toss together with rocket and salad dressing (you'll only need about 3 tablespoons of the dressing).

Sprinkle pomegranate tendrils over the top, add a good handful of maple spiced pecans, then arrange the kabocha slices over the top. Serve and enjoy!
Nutrition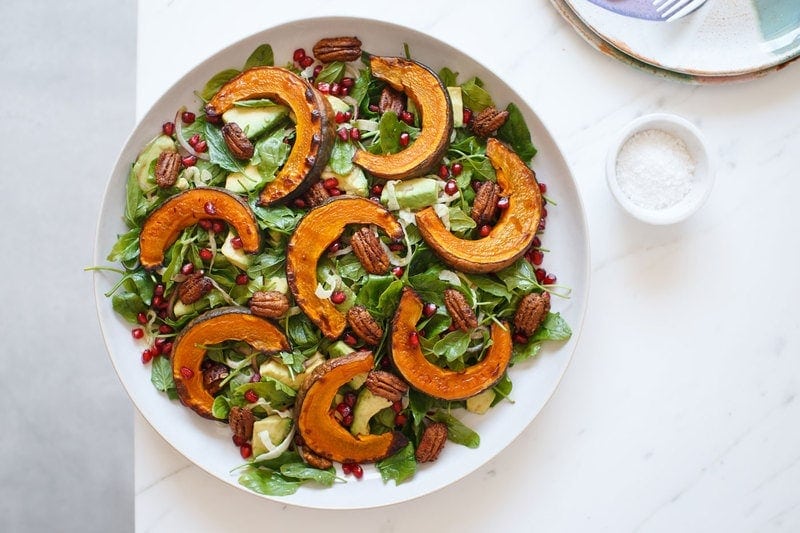 I'd love you to follow me on Instagram, 
tag me @ascensionkitchen so I can see your creations! 
DI NOIA, J. (2014). DEFINING POWERHOUSE FRUITS AND VEGETABLES: A NUTRIENT DENSITY APPROACH. Centers for Disease Control and Prevention, 11, 130390.