A quick Vegan Pho made with an aromatic broth, spicy tofu, immune-supportive shiitake mushrooms and fresh herbs. Done in 30 minutes making it a nutritious mid-week meal. Pure, slurpy soul food!
Pho is a Vietnamese noodle soup. Traditionally, a clear, fragrant broth is made from scratch, which first involves charring ginger and onions over an open flame, to add a sweet but smoky flavour. Then beef bones (along with the marrow, connective tissue, muscle, fat) are boiled and simmered for up to ten hours, with the blackened ginger and onion, toasted aromatics and vegetables.
The strained broth is added to bowls with cooked rice noodles, along with a myriad of fresh greens and herbs – bean sprouts, basil, mint, coriander.
To serve, a squeeze of fresh lime, and a squirt of sriracha and hoisin sauce for an extra layer of heat and salt.
Well, make no bones about it (sorry!), my version is nothing like the above! In fact, I desperately wanted to call this recipe, Lauren's Magical Golden Pho, but settled on a more sensible title in the hope people may stumble across it when searching our old friend Google.
[bctt tweet="Quick Vegan Pho - an aromatic broth with spicy tofu, shiitake and fresh herbs. Find it here!" username="laurenglucina"]
The Herbalist in me wanted to add all kinds of nutritious extras in there – and obviously, make a few omissions (the animal protein). So I did. Let's take a look at each of the components:
Vegan Broth
Whilst it is always a good idea to make a broth from scratch, allowing it to simmer for hours to infuse and become so flavoursome, I know that this just isn't realistic during a busy working week.
Instead, I opted for an organic powdered vegetable stock, adding a teaspoon to ample water, and allowing to simmer for 25 minutes with a few key ingredients:
The classic trio of aromatic spices - star anise, clove and cinnamon. The best way to prepare them is to dry roast them in the stock pot to help release their essential oils. It smells AMAZING. More on these below – they bring so much therapeutic goodness to the table
Goji berries – considered a tonic herb in Traditional Chinese Medicine, it is the water-soluble Lycium barbarum polysaccharides (LBPs) that are the pharmacologically active constituents. LBPs are potent antioxidants that may (according to animal studies) enhance immune function, exert neuroprotective effects, and normalise blood lipids and glucose. Besides these potential benefits, they add a bit of sweetness to the broth
Kombu seaweed – a type of mineral-rich kelp that is often used in Japanese broths and soups to add flavour. It is thick and rubbery, so is discarded after use
Nutritional yeast – yeast flakes grown on the top of molasses. Nutritional yeast, like kombu, has an umami flavour – so both are great in vegan broths. The nutritional yeast does contain B vitamins but these will be lost during cooking
Turmeric powder (or fresh, sliced root) – adding some anti-inflammatory properties to the broth, it also makes it a fabulous golden colour. A decent glug of olive oil helps to facilitate its absorption
Sliced ginger and onion – straight in the pot – no charring – purely to save time
Tamari (gluten free soy sauce) and fresh lime juice to finish
The goji, kombu and turmeric are optional – but I wouldn't skip the nutritional yeast.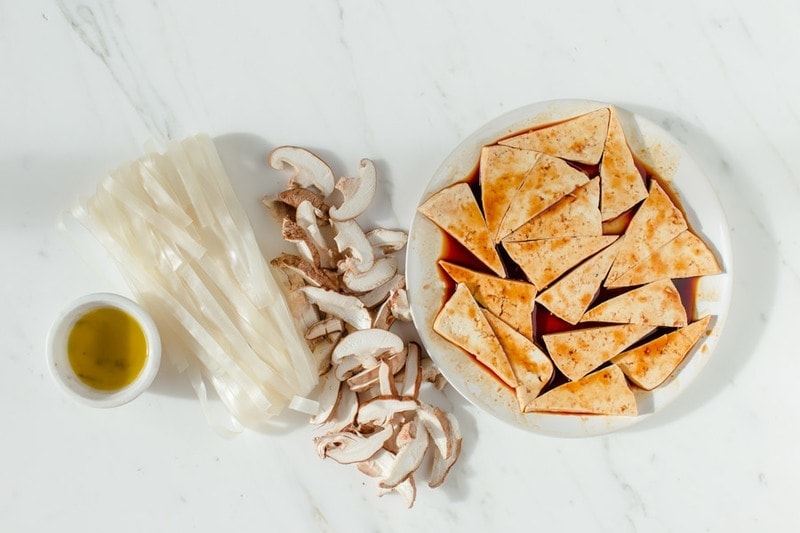 The filling
Now that we have a beautifully spiced, salty, tangy, umami broth as a base, we add:
Thick rice noodles – because, yum
Shiitake mushrooms – the 'meatier' of all the 'shrooms! Full of immune-supportive beta-glucans
Tofu – to add a protein source to the meal. Firm tofu marinated in tamari and sriracha sauce, then lightly pan-fried
And to top it all off
We'll keep with tradition and add as much fresh, raw goodness as we can;
Savoy cabbage
Bean sprouts
Green beans (you may like to steam these or cook for a few mins with the shiitake)
Spring onions
Fresh red chilli
Fresh mint and basil
Another squeeze of lime
Now our vegan pho is really coming together!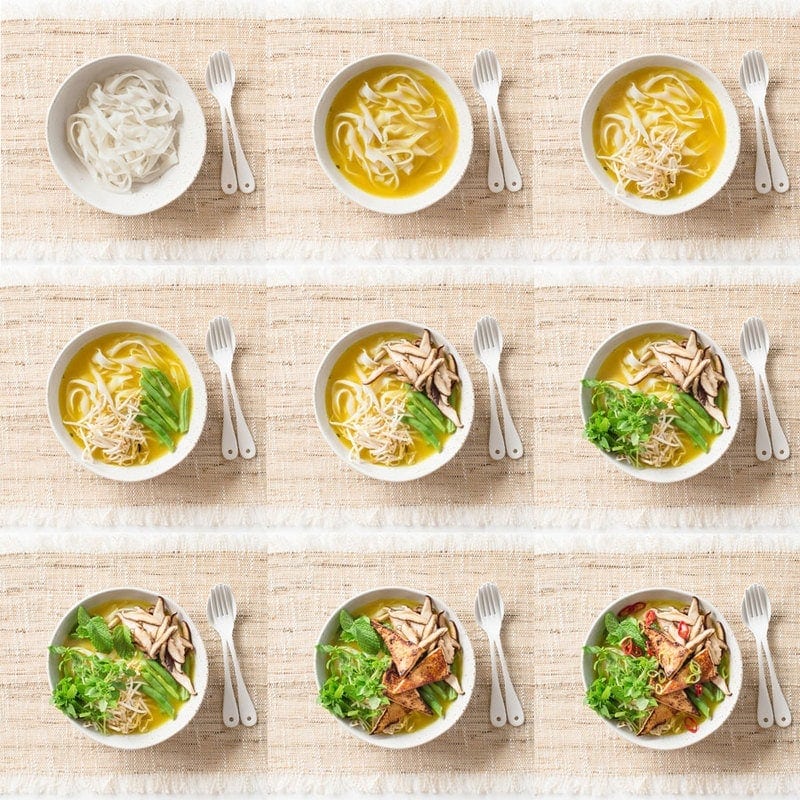 More on the aromatic spices
Aromatics are herbs that have strong aromas due to their beautiful volatile essential oils. As a class, they tend to work on the gut, lungs and nervous system – but also – your spirit and mental wellbeing.
For example, it is the aromatics that are used in ritual and ceremony. Think of incense, burnt as a sacred offering, or to aid in prayer or meditation. In the Catholic church, it is a symbol of the prayers of the faithful rising to heaven – the swinging of that little golden orb sending wafts of frankincense over the congregation.
But that is aromatics to a T – they bring movement, shift stagnation, disperse energy and bring lightness. They are traditionally used for both digestive and respiratory congestion due to their spasmolytic and carminative actions.
For example, they help to ease spasms in the smooth muscle of the digestive tract, as in colic and irritable bowel syndrome, and to relieve bloating and flatulence (think chamomile, fennel, peppermint, lemon balm, cinnamon, anise, cardamom).
They also help relax the lungs in asthma and bronchitis, soothe a chesty cough, and clear mucous (think ginger, thyme and fennel).
In addition to the above, aromatics also serve as tonics to the nervous system. They are uplifting and shift stagnation – used traditionally for anxiety and low mood (think lavender and lemon balm).
Most of these are things you'll have in your pantry, spice rack or garden – make the most of them!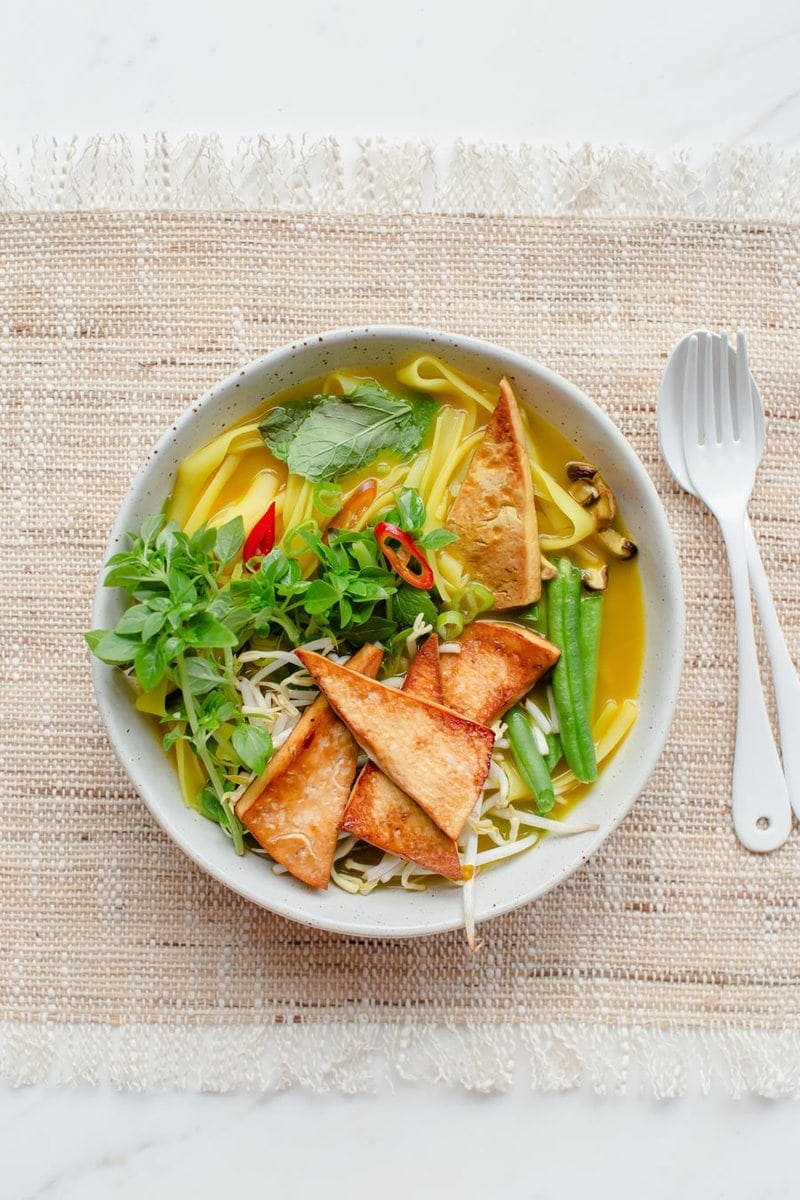 Right, time for you to enjoy a nourishing bowl of vegan pho for yourself now! It's the ultimate soul food. Thanks for reading and see you next week,
Lauren.
More healthy recipes using tofu
If you make and enjoy this recipe, please leave a rating below. And better yet – leave me a comment to tell me how you got on, or just say hi – I LOVE hearing from you. Follow me on Instagram, Facebook or Pinterest to see more of my everyday recipes and wellness tips.
If you'd like to chat with me about essential oils, or book in a class, you can do that here. If you're after a Naturopathic consult, read more here.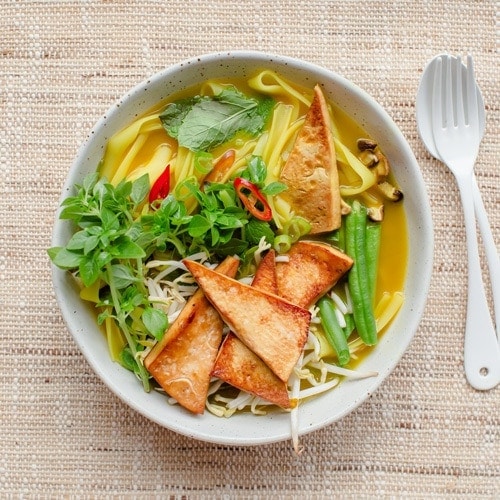 Quick Vegan Pho
A bowl of nourishing vegan broth filled with rice noodles, shiitake, tofu and fresh herbs. You will need a cheesecloth or a nut milk/sprouting bag to strain the broth once cooked.
Ingredients
BROTH:
1-2

star anise

1

cinnamon stick

2-3

cloves

¼

cup

nutritional yeast

3

inch

piece of fresh ginger root

sliced

1

yellow onion

quartered


6

cups

water

1

teaspoon

organic vegetable stock powder

1

tablespoon

olive oil

Dash of tamari

Juice of one lime
OPTIONAL:
1

tablespoon

goji berries, heaped

1

stick

kombu seaweed


1

teaspoon

turmeric powder
FILLING:
100

g

thick rice noodles

300

g

firm tofu

1 block

6

shiitake mushrooms

1

tablespoon

tamari

1

teaspoon

sriracha

Olive oil to cook
TOPPING:
½

cup

shredded savoy cabbage

½

cup

bean sprouts

Small handful green beans

1

spring onion

scallion, finely sliced

1-2

inches

red chilli

sliced, de-seeded

Large handful of fresh herbs: mint and basil

Squeeze of lime
Instructions
BROTH:
Add spices to a large stock pot and dry roast till they release their aroma - just don't let them burn. Add nutritional yeast, ginger, onion, olive oil, stock powder and water – and goji, kombu and turmeric if using. Bring to a boil, reduce to a simmer (uncovered), and cook for 25 minutes, reducing it down to about 3 cups.
FILLING:
Slice tofu into triangles – the whole block – you won't need it all but may as well cook and enjoy leftovers. Marinate in tamari and srirachi for as long as you're able, then lightly pan-fry both sides in olive oil. Set aside.

Slice shiitake fine, lightly pan-fry, set aside.

Cook rice noodles in boiling water for a few minutes till soften, then drain and rinse. Divide into two and place in serving bowls.
ASSEMBLY:
Once broth has cooked, strain all ingredients through a fine mesh bag – a cheesecloth or a nut milk/sprouting bag is ideal. Discard all the ingredients. Add a dash of tamari and juice of 1 lime to finish.

Divide broth between the bowls, add all fresh toppings, shiitake and tofu. Enjoy!
Notes
You can use liquid stock if you like – perhaps 2 cups stock and 4 cups water.
Make it IBS/SIBO friendly – omit the yellow onion, cabbage, beans and bean sprouts – add in finely julienned carrot and more herbs instead.
If you are a messy eater (me!) – have a napkin handy – the broth is bright yellow and may stain clothes if it splatters.
Nutrition