A nutritious, Broccoli Pasta with fresh pesto, made with protein-rich legume penne. The dairy free pesto is a real treat - made with fresh basil, nutritional yeast, hemp oil and cashews. On the table in 30 minutes.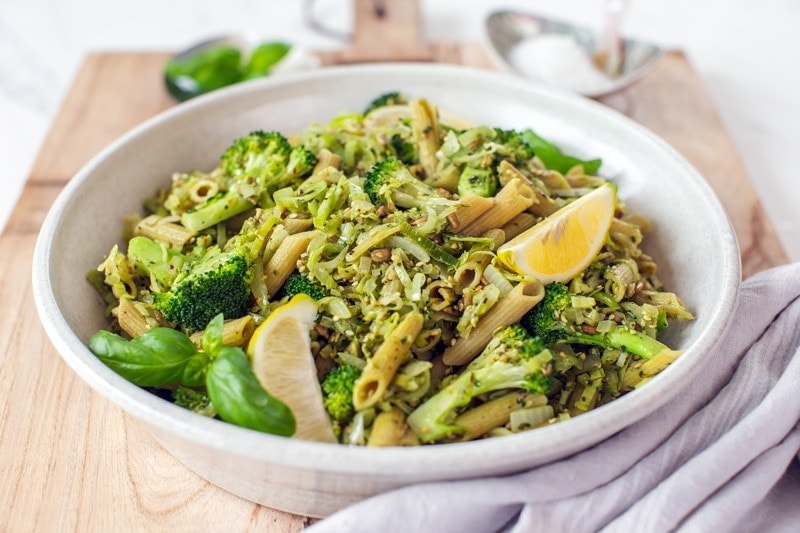 Originally posted July 2017, updated June 2019.
Herby, lemony Broccoli pasta with a homemade basil pesto and toasted seeds - speedy mid-week meals don't get any better!
Quick has been the name of the game Chez Glucina this week. I feel a little like the master juggler, lots of balls up in the air – time with clients, self-study, recipe development, giving LIVELY™ Desserts some loving, prepping for my demo's this weekend at the Food Show (will I see you there?!), and a little a side of housework.
I can't complain because firstly, I LOVE what I do, but secondly, my poor man is doing it tough in terms of long hours at the moment.
He has single handedly set up (and runs) our LIVELY™ Desserts production facility, so is up at the first peep of dawn and home after I've already got a good episode or so of Ozark under my belt.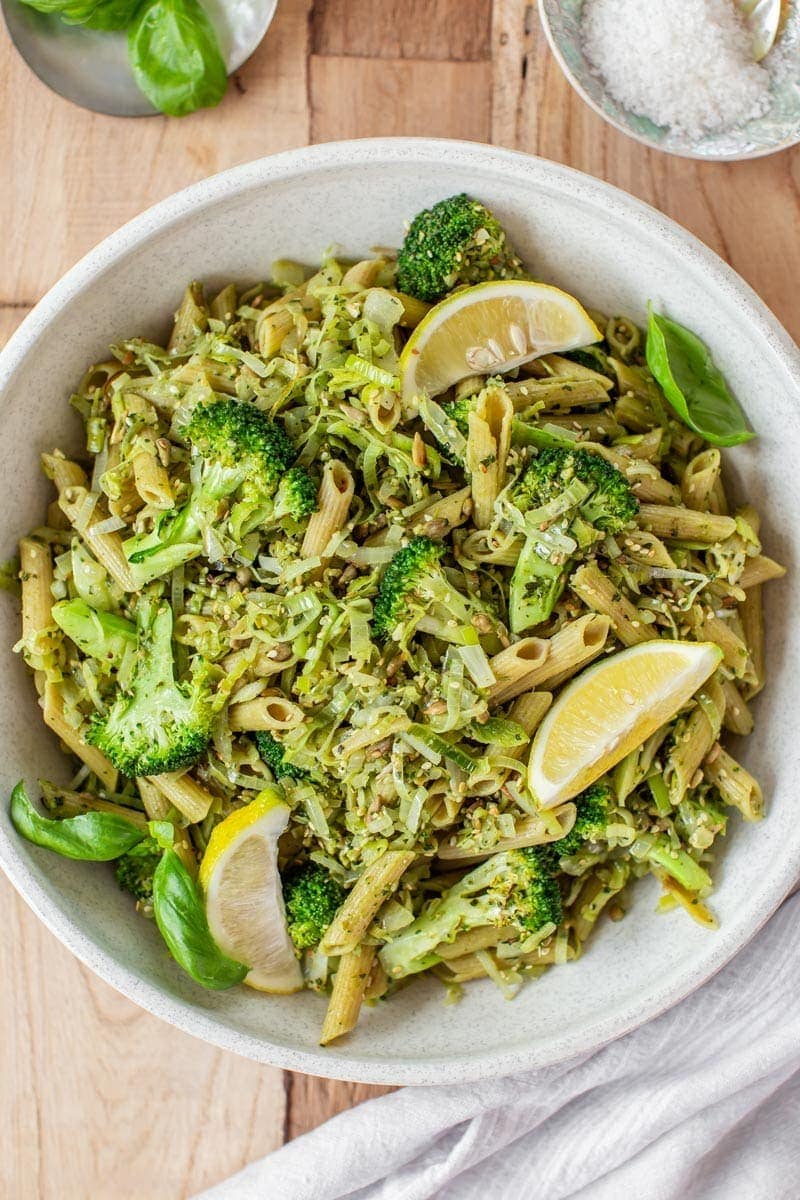 When he gets home, he is ravenous. His eyes gloss straight past me and scan the kitchen bench, looking for his plate of food.
Last week, he thought he was getting soup from me one evening, because he seemed a little sniffly. I changed my mind and made this Broccoli Pasta. When he came in the door, his eyes literally lit up.
He ate two meal's worth straight out of the big serving bowl. Inhaled. Feeding frenzy. Gone in sixty seconds. Licked clean. I tell you, it's quite a spectacle to watch from the safety of the couch.
Anyway, let's talk about the nutritional benefits of our lovely green bowl of speedy comfort food shall we?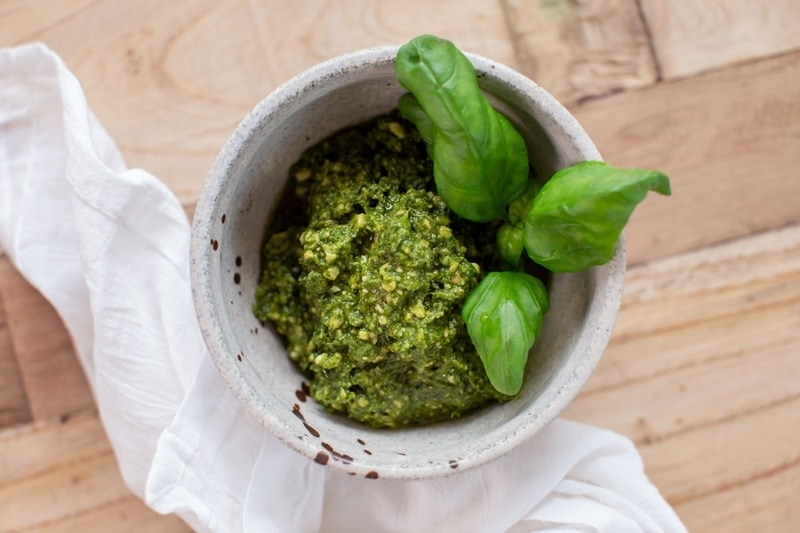 Homemade Basil Pesto
Transform your broccoli pasta with this epic pesto sauce! This homemade pesto is a fabulous basic to have on hand, and I will post it as an individual recipe for easy searching at some point in time.
Classic basil is my all time favourite, though you can go crazy with whatever herbs or greens you desire.
Nutritional yeast is the dairy free answer to parmesan, and a blend of cashews with pine nuts give it a nice amount of creaminess.
To mix it up, I chose hemp over olive oil, which I love because it has the perfect balance of your three essential fatty acids (3, 6 and 9).
Protein-rich Gluten Free Pasta
My newest culinary addiction is without a doubt the ever expanding range of legume pastas that have hit the shelf.
Enter legume penne! Seriously, you would easily mistake this for a regular wheat based pasta, it truly is that good, perhaps just a little bit chewier if you're eating it cold.
I've used several brands with similar ingredients - look for one made with any or all of the following: red lentils, chickpeas, peas, beans. The more lentils and beans, and the less gluten free grains, the better.
I love legume pasta because not only is it naturally gluten free, it also packs a pretty impressive protein punch (depending on the brand, approximately 12g per serve). They also provide a good amount of dietary fibre.
Packed with vegetables
Onions, leek, a whole head of broccoli and ample fresh basil are folded throughout, providing extra nutritional benefits.
Leeks are a great source of prebiotic fibre, providing you avoid over-cooking and caramelising them.
Prebiotic fibre provides a food source for the good bacteria (i.e., probiotics) that live in the colon.
Broccoli, a cruciferous vegetable, is rich in cancer protective compounds, it is a source of folate, vitamin K (required for healthy bones), vitamin C and fibre.
How to Make Broccoli Pasta
There are a few elements that need to come together here, though they're simple enough - and you will be done in under 30 minutes - yay!
The first thing I like to do is dry-toast a large handful of seeds - sunflower and sesame work beautifully in this recipe. Because I use toasted seeds to jazz up our salads on the regular, I actually have a large jar on hand in the pantry.
Regardless - if you're making from scratch - it just takes a minute to do this, then set them aside and clean the pan out.
The next cab off the rank is our basil pesto - an incredibly simple recipe - you simply combine all ingredients in a food processor and pulse to combine.
There are some fabulous new vegan pestos on the market now, so if you're short on time - just buy a container.
Now we want to get the broccoli underway - wash and dry a large head, then cut into very small florets. Arrange them over a baking tray, drizzle with olive oil, and bake at 180˚C (356˚F) for ten mins or so until slightly crispy (you could cook these in a pan - but I LOVE my broccoli this way - fresh and crisp - not soggy!).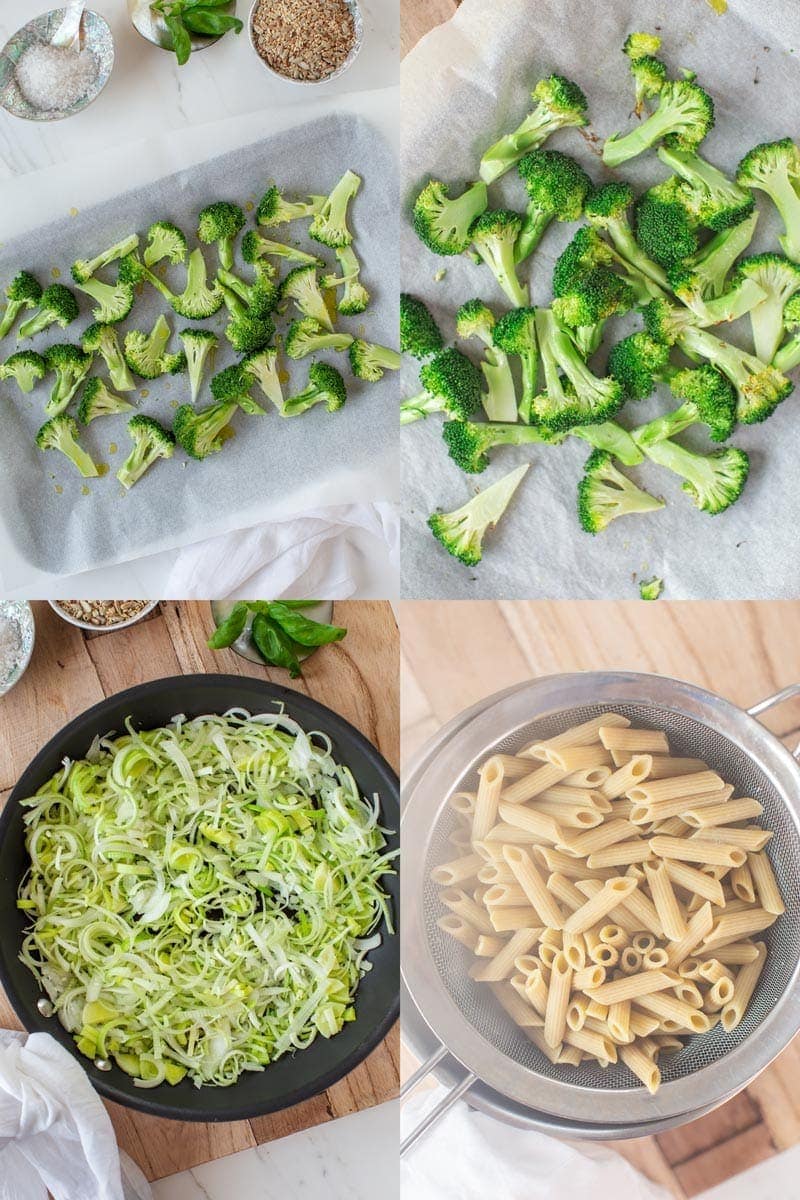 While the pasta is cooking as per the package instructions, finely slice an onion and the white portion of one leek. Cook in a saucepan with a glug of olive oil until soft and wilted down.
This while process (cooking the broccoli, the leeks, the pasta simultaneously) will only take about ten minutes - super fast.
When the pasta is soft - drain and add it back to the pot, then add all other ingredients and toss well to combine.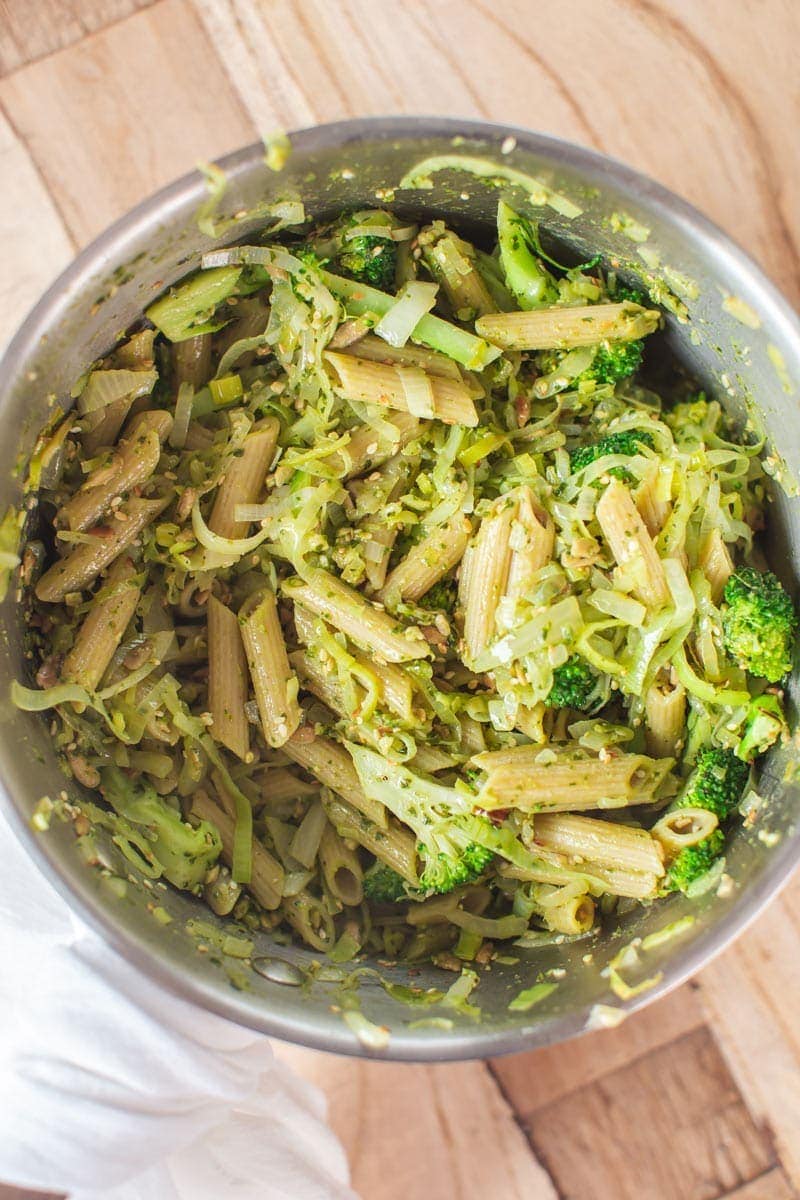 Doesn't that look delicious!
Serve with a few lemon wedges and fresh basil leaves to decorate.
If you're feeling fancy - you may like a sprinkle of this divine Brazil Nut Parmesan - this is another recipe I keep made up in a glass jar - it's a total kitchen staple around here - yum yum!
That's it guys - enjoy!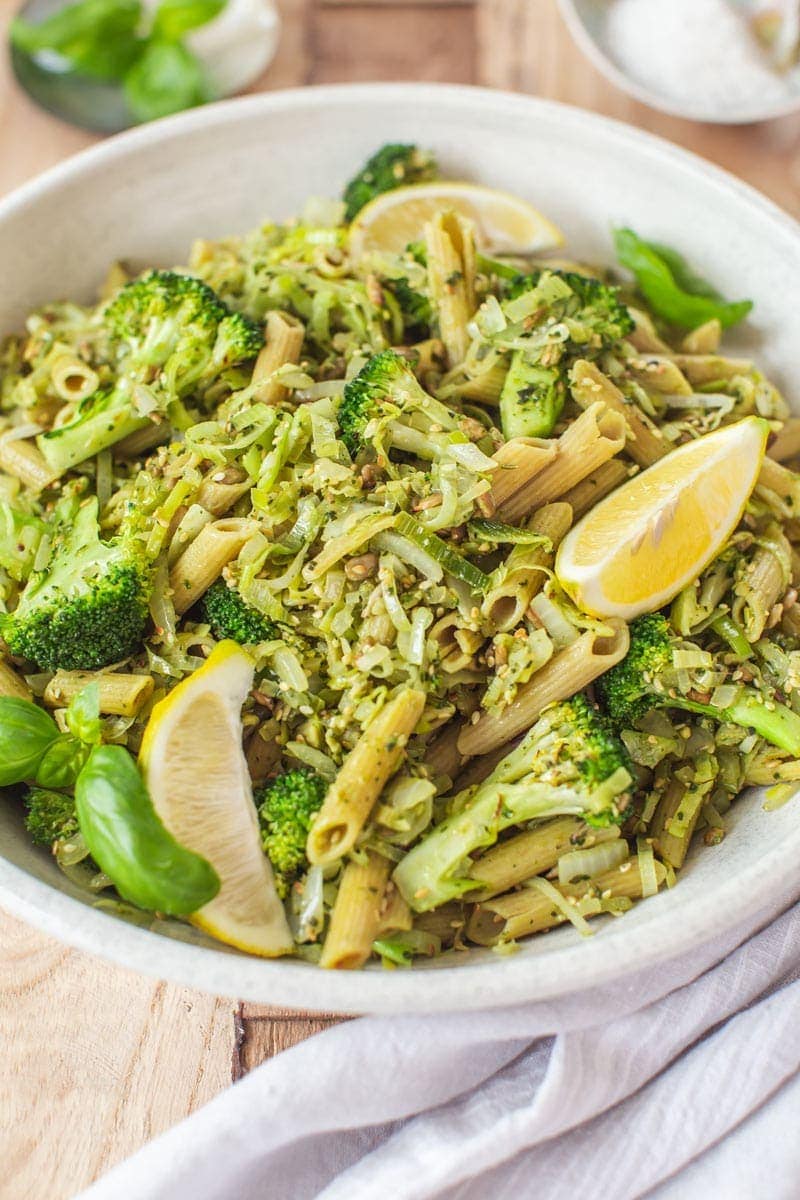 More Healthy Dinner Ideas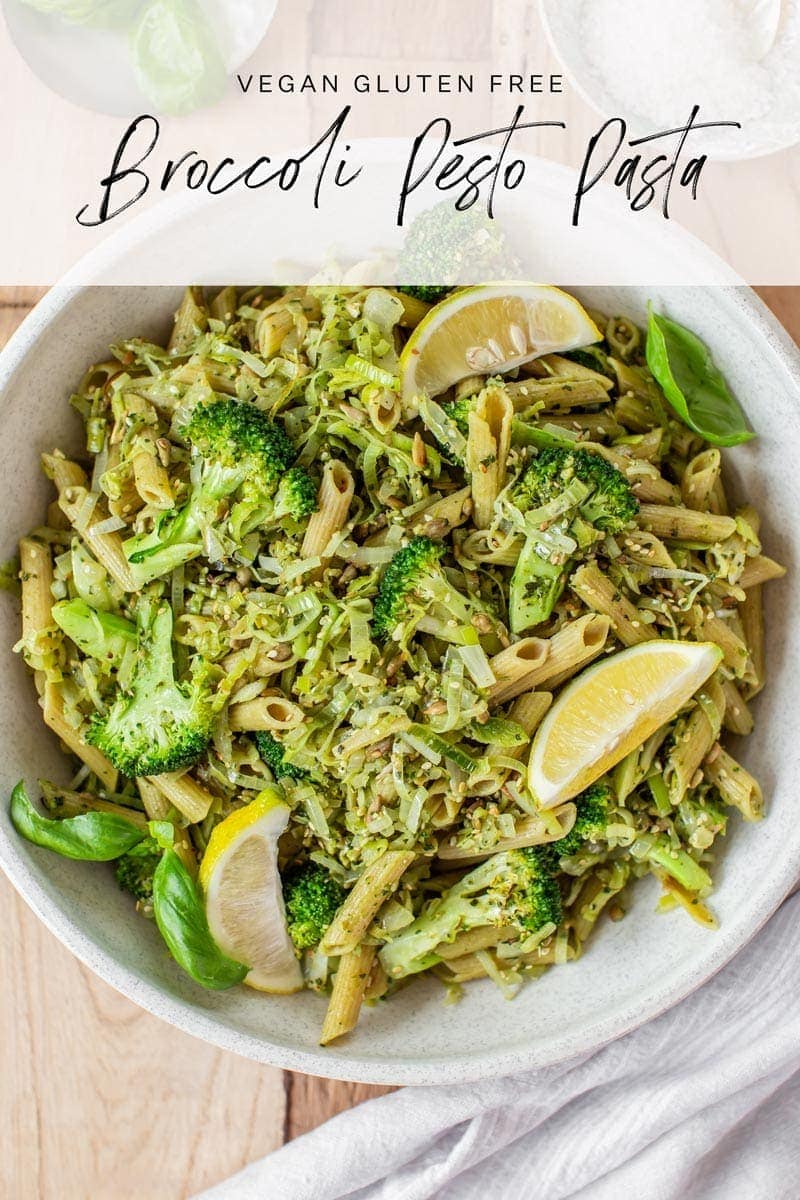 If you make and enjoy this recipe, please leave a rating below. And better yet – leave me a comment to tell me how you got on, or just say hi – I LOVE hearing from you. Follow me on Instagram, Facebook or Pinterest to see more of my everyday recipes and wellness tips.
If you'd like to chat with me about essential oils, or book in a class, you can do that here. If you're after a Naturopathic consult, read more here.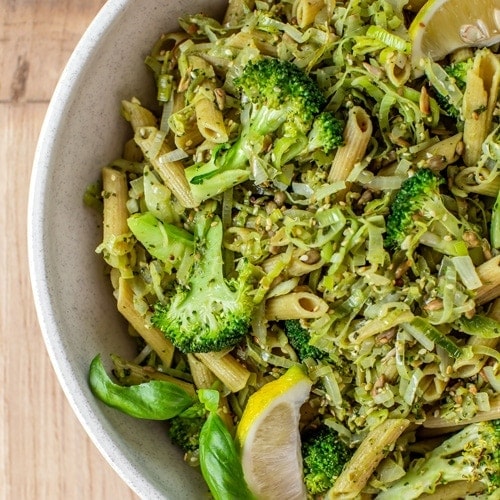 Protein-Rich Broccoli Pasta with Fresh Pesto
Broccoli Pasta, packed with greens, made with gluten free legume pasta, and a homemade basil pesto.
Ingredients
PESTO:
2

cups

fresh basil

tightly packed

4

tablespoons

nutritional yeast

2

tablespoons

cashews

2

tablespoons

pine nuts

1

clove

garlic

peeled and minced

juice of

½ a lemon

¼

teaspoon

coarse sea salt

ample

black pepper

freshly ground

5

tablespoons

hemp or olive oil

both are equally as nice
PASTA:
1/4

cup

sunflower seeds

2

tablespoons

sesame seeds

250

grams

legume pasta

I used the San Remo 'Pulse Pasta'

1

broccoli

onion

white

1

leek

white part only

1-2

tablespoons

olive oil
Instructions
PESTO:
Wash the basil leaves and let dry or use a salad spinner (genius inventions those!). Place all ingredients in a food processor and blitz till almost smooth. Transfer to a large pasta bowl. Note: this recipe will yield about 1 cup pesto.

PASTA:
Dry-toast the seeds in a pan for a minute or two until golden, then set aside and wipe the pan clean.

Prep vegetables: wash and dry broccoli, remove stalk, and cut the florets into very small pieces. Finely slice the white part of the leek. Peel and slice the onion.

Put the pasta on to cook as per packet instructions.

Arrange broccoli florets on a baking tray, drizzle with olive oil, and bake for ten minutes or until just crisp, at 180˚C (356˚F).

Meanwhile, heat oil in fry pan, medium heat. Cook onion and leek till softened.

Once pasta has cooked (about 10 minutes) drain and rinse very quickly under cold water. Add back to the pot, add all other ingredients and toss to combine.

Serve with lemon wedges and fresh basil leaves!
Notes
You might like to toast a larger quantity of seeds in advance, and store them in a glass jar in the pantry. Super handy to sprinkle over salads to dress them up!
The pesto is another component of the recipe you can either make in advance or purchase if you are super short on time - there are some lovely vegan brands on the market now
The type of pasta matters - I've found the best gluten free brands are made with little or no grains, and a whole lot of legume
When you re-heat leftovers, sprinkle a little water over the pasta to re-hydrate, it will be a bit dryer than regular pasta
Sun-dried tomatoes a nice addition for variety
A sprinkle of my Raw Brazil Nut Parmesan (again - I have large batches of this made in advance) is just delicious
Nutritional info is an estimate only
Nutrition
Calories:
572
kcal
Carbohydrates:
62
g
Protein:
23
g
Fat:
29
g
Saturated Fat:
4
g
Sodium:
154
mg
Fiber:
13
g
Sugar:
9
g
Calcium:
170
mg
Iron:
6.3
mg
Nutrition Facts
Protein-Rich Broccoli Pasta with Fresh Pesto
Amount Per Serving
Calories 572
Calories from Fat 261
% Daily Value*
Fat 29g45%
Sodium 154mg7%
Carbohydrates 62g21%
Protein 23g46%
Calcium 170mg17%
Iron 6.3mg35%
* Percent Daily Values are based on a 2000 calorie diet.