Your answer to vegan parmesan! Oddly, creamy Brazil nuts combine with nutritional yeast and a little sea salt to make a particularly addictive 'cheese' sprinkle!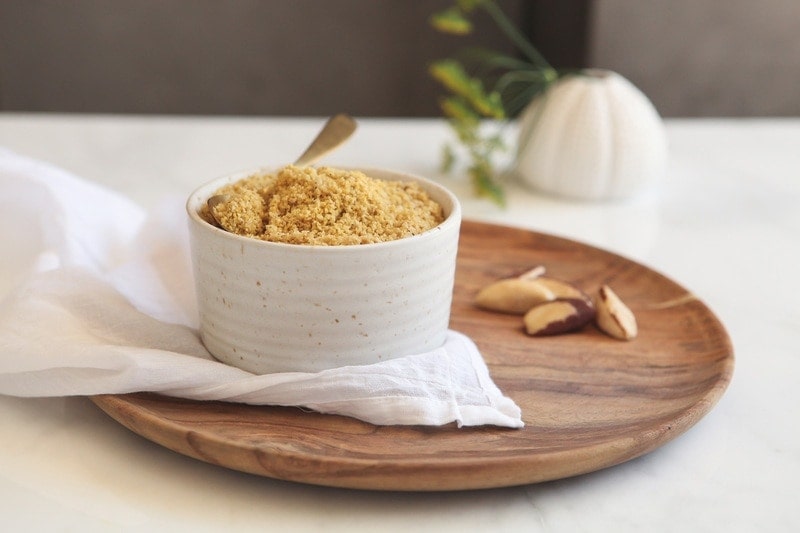 This Raw Vegan Parmesan is a fun little recipe for what is actually a ridiculously tasty 'cheese' sprinkle. It takes just a minute or two to make, can be kept in the fridge for quite a bit, and tastes amazing sprinkled over salads, lightly steamed vegetables, and even over a cauliflower-base pizza….ooohh….fancy!
There are only three ingredients used in this simple recipe: Nutritional yeast, Brazil nuts and Himalayan rock salt. Nutritional yeast is, as the name suggests, an inactivate yeast grown on the top of molasses. It has a yellow, flaky appearance and has a very strong 'cheesy' taste. This of course is what lends the authentic taste to this Raw Vegan Parmesan.
[bctt tweet="Three ingredient raw Brazil Nut Parmesan! Vegan + done in two minutes. Find it here!" username="laurenglucina"]
It is a surprisingly great source of plant protein, with approximately 8g protein per 2 tablespoons. It is also commonly enriched with vitamin B12, which is notoriously difficult to obtain in a plant-based diet, as the main sources are animal products; particularly in lamb's liver, sardines, oysters, egg yolk, fish, beef, cheese and milk [1]. Nutritional yeast is different to brewers yeast (an active yeast), so make sure you read the label carefully before purchasing.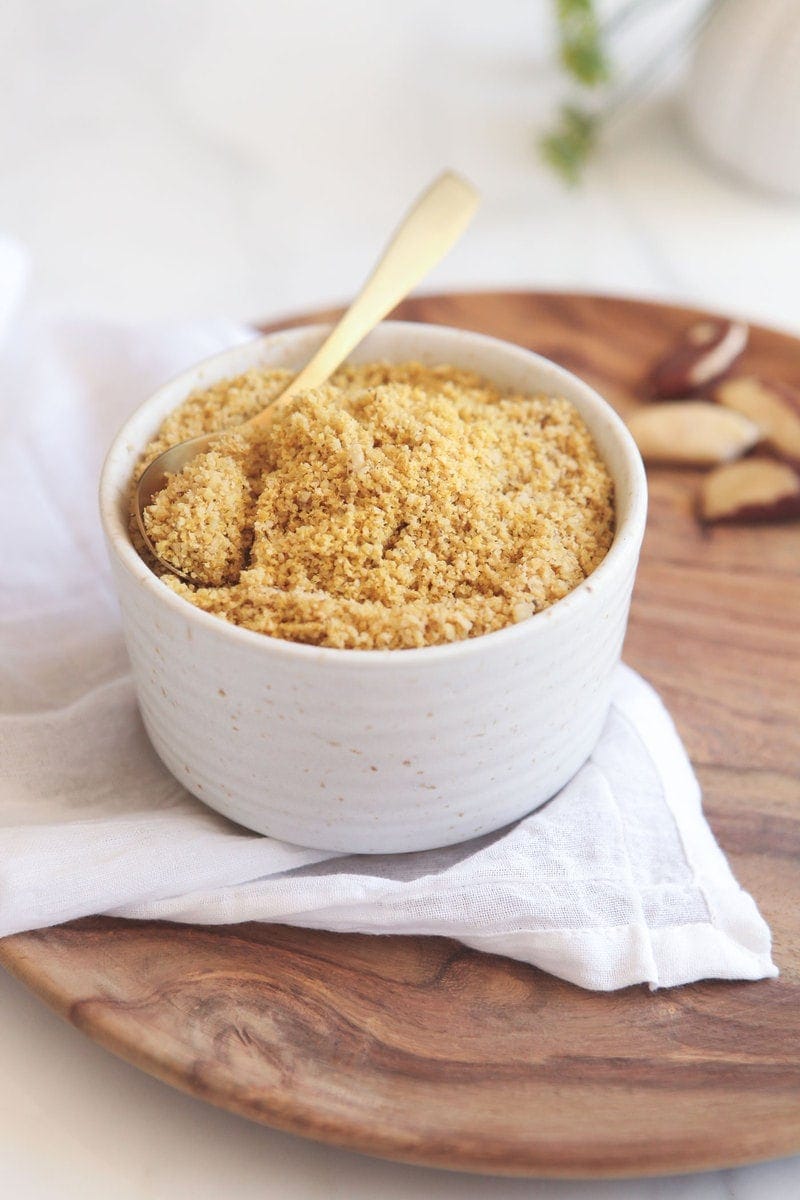 The other important ingredient is the Brazil nuts, which have a creamy taste and are a super rich source of the mineral selenium. You could substitute Brazil nuts for cashews, and perhaps even macadamia nuts, however, I personally prefer the taste of them in this recipe over other nuts.
Selenium:
A potent antioxidant
Immune system protective
Works with vitamin E to protect the heart and liver (a deficiency is associated with heart disease)
Regulates the thyroid hormone
May protect against some types of cancer
Improves cognitive function
Selenium is only needed in small amounts in the diet, but here in New Zealand our soil is lacking in this mineral, so our nutrient intake is lower than other countries. This recipe is a nice way to add some into your diet - assuming of course that the soil the Brazil nuts were grown in is replete - these are the challenges we sadly face in today's world [2,3].
Other sources:
Broccoli
Dulse
Kelp
Garlic
Molasses
Whole grains
Onions
Hope you enjoy the recipe - I recommend a liberal sprinkle over dishes such as: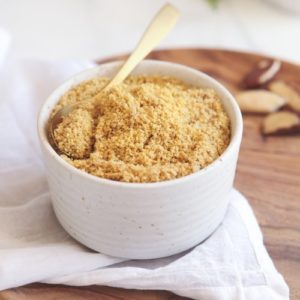 Super Quick Raw Vegan Parmesan
A super quick raw Vegan Parmesan made with brazil nuts, protein packed nutritional yeast and sea salt. Yields about 1.5 cups (24 tablespoons).

Ingredients
1

cup

brazil nuts

6

heaped tablespoons nutritional yeast

4

pinches of fine Himalayan Rock Salt (add more to taste - it should actually be a little on the salty side)
Instructions
Whizz and whizz and whizz all three ingredients in a food processor till nice and crumbly.

Store in an airtight container.

Easy right?!
Notes
This recipe is best made at the given quantities - if you halve it, it becomes tricky to grind to a fine meal in the food processor. Larger batches for the win!
Nutrition
If you make and enjoy this recipe, please leave a rating!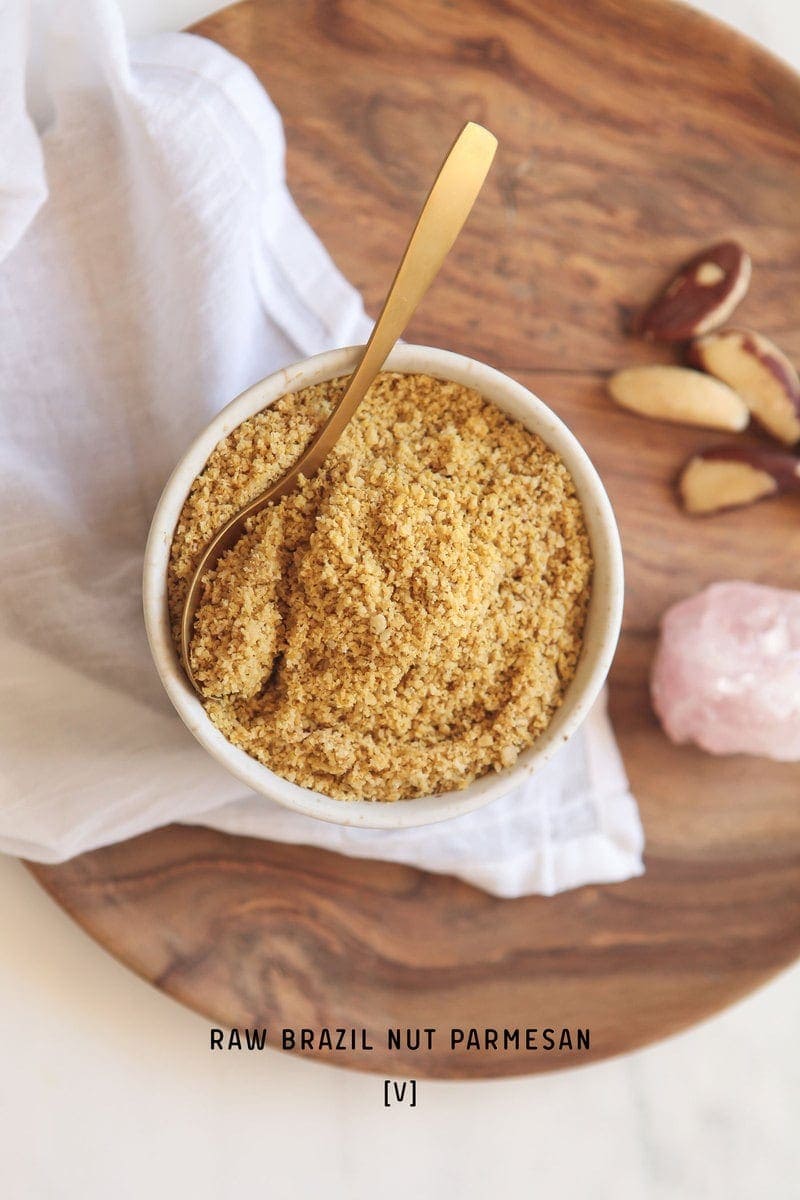 I'd love you to follow me on Instagram,
tag me @ascensionkitchen so I can see your creations!
REFERENCES:
1. BRAUN, L, & COHEN, M. (2015). HERBS & NATURAL SUPPLEMENTS. AN EVIDENCE-BASED GUIDE (4TH ED., VOL. 2). SYDNEY, AUSTRALIA: CHURCHILL LIVINGSTONE
2. WHITNEY, E., ROLFES, S., CROWE, T., CAMERON-SMITH, D., WALSH, A. (2014). UNDERSTANDING NUTRITION. AUSTRALIA AND NEW ZEALAND EDITION (2ND ED.). MELBOURNE, VICTORIA: CENGAGE LEARNING
3.BALCH, P.A. (2010). PRESCRIPTION FOR NUTRITIONAL HEALING (5TH ED.). NEW YORK: AVERY