How to Make a Vegan Platter
10 December 2017
|
0 comments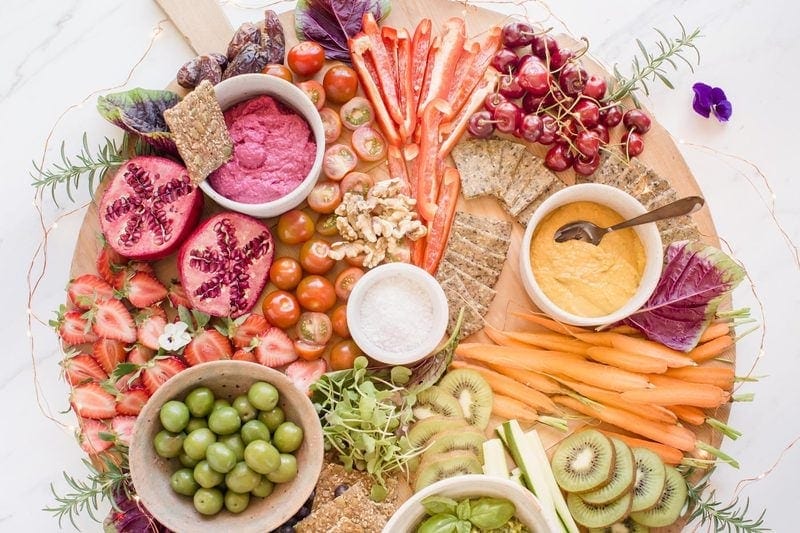 A simple guide on how to make a vegan platter – a colourful, lush and abundant one at that! Rainbow fruits and vegetables, olives, home-made dips, crackers and nut cheeses.
This will be the last recipe in my latest series of posts which have all been healthy, plant-based Christmas themed. The round up post is coming next!
So, all things platters today. And Christmas day isn't really Christmas day, without one, is it?!  I mean, they're always at the heart of good conversation. Our family loves nothing more than to sip on Dad's home brew, and pick leisurely at such a platter, lounging on comfy cushions in the shade. So dreamy!  
This post is a bit of how-to guide, and I'll link to a bunch of recipes that have already been posted here on the blog. I'm keeping it plant-based, but feel free to add your favourites in there.
How to make a vegan platter! Colourful, lush and abundant. Find the how-to here.
Click To Tweet
What you'll need
A large wooden board (let's segue for a moment so I can share a funny story. Many years ago, while we were living in Sydney, I stumbled across the coolest homeware store in Double Bay – if you know Sydney, you'll already be thinking $$$! I found the most dreamy vintage Turkish bread board – almost a meter in length and with the perfect worn patina. I bought it on the spot, and laid it proudly over the dining table. When my partner got home, he wasn't impressed with the 'second hand bit of wood' I'd just acquired, so I lied and said it was a bargain and only $30, to which he scoffed and said it was worth half that. He still doesn't know how expensive it was – he thinks I'm frivolous enough as it is with all the random little props and ceramics I've collected over the years!)
Some cute, small ceramic bowls to hold the dips
3 great tasting, colourful dips/spreads
2 different types of crunchy crackers
A rainbow of fresh, crunchy vegetables
A rainbow of fresh fruits
Quality chocolate (although I've not used any here)
A plant-based cheese (again, have not used one here, but I'll link to a recipe)
A handful of nuts and dried fruits
Olives! I love the large, green Sicilian olives
A few sprigs of rosemary or other interesting looking plants/edible flowers to decorate
Before you start
Plan a trip to your local Farmer's Markets – you'll get the best produce here, and have a better range to choose from. You'll also likely be able to source quality olives (in my humble opinion, the cornerstone of any sharing platter worth its weight in goodies). You may even score a lovely wooden board there!
Choose dips that are contrasting in colour and flavour
If you're making the dips or crackers from scratch, do that the day before to save you time
Assembling the platter
Add the dips first, and place them haphazardly around the board
Lay the ingredients out in clusters – grouping colours together, moving in a circle to get a rainbow effect
Fill any gaps with nuts and dark chocolate pieces
And voila! Party platter done!
The recipes
I have a few fabulous recipes here now that will take your platter to the next level – you can totally buy ready-made dips, spreads, crackers and cheese, but if you're on holiday with time to indulge in a bit of kitchen alchemy, then why not make them yourself?!
Dips/spreads
Radical Roasted Beet Hummus with Sumac and Lime  (pictured)
Chargrilled Capsicum Hummus with Cashews & Miso (pictured)
Greenilicious Hemp Seed Basil Pesto (pictured)
Crackers
Speedy Super Seed Crackers (pictured)
Sun Dried Tomato Flax Crackers (needs dehydrating)
Raw Rosemary and Thyme Flax Bread (needs dehydrating)
Plant-based Cheese
Macadamia 'Mozzarella'
Raw Macadamia Cashew Cheese
(Both these require a few days to make as they are cultured)
Chocolate
Lip Smackin' Raw Chocolate Base

That's it guys, hope you enjoy. I really wish I had chocolate on this platter – I didn't realise I'd eaten my stash! Piggy! And figs – they're nowhere to be found at the moment, but if you can get them, these are a must.
Thanks for reading, enjoy and see you next week!
LIKE THIS POST?
Sign up to my newsletter list below for weekly healthy, plant-based recipes and nutrition articles. And if you want to give back and really make my day, leave a comment below, I'd love to hear from you!
Finally, you can share this recipe on facebook or via Instagram, or pin it for later. If you try it out, make sure you tag me @ascensionkitchen and #ascensionkitchen so I can see your creations. Thank you!