There are plenty of ways to make raw chocolate. This is just one way, but its a goodie. I love to use coconut palm sugar (not a raw product, but it's a great healthy low GI sweetener that has been minimally processed) for its caramel like taste and texture, and maple syrup (also not raw, but again, a lovely, natural, minimally processed sweetener) for a smooth and rich flavour.
[bctt tweet="Classic Raw Chocolate base recipe: packed with antioxidants and magnesium. Find it here."]
The trick in chocolate making is to not get ANY water in it, not even a drop! So don't drool! It will seize up if you do. If it does this, don't throw it out - it will still taste yummy, even if it does look all lumpy and weird.
Read all about the amazing health benefits of truly raw cacao here.
This base is great for plain chocolates - throw a handful of super foods in there at the end if you like - hemp seeds, goji, mulberries...and some activated nuts...mmm.
One more time...DON'T DROOL! And have fun!
L.
Lip Smackin' Raw Chocolate Base
Lip Smackin' Chocolate Base
RAW • DAIRY FREE • GLUTEN FREE
SOY FREE • REFINED SUGAR FREE

Ingredients
1

cup

raw cacao butter

liquefied (you will need about 230gm solid)

1

cup

raw cacao powder

¼

cup

coconut palm sugar

ground into a powder using a spice grinder (or, replace with pure maple syrup for a silky smooth chocolate - sometimes you get a bit of texture with coconut sugar)

¼

cup

100% pure maple syrup

¼

teaspoon

coarse sea salt

1

vanilla bean

scrapped
Instructions
To get liquefied cacao butter, gently melt in a metal bowl standing in a larger bowl filled with hot water.

Add the coconut palm sugar (if using), maple syrup, salt and vanilla and whisk well, keep the bowl over the hot water to help the coconut sugar dissolve.

Sift in the cacao powder.

Give it a good whisk.

Stop here (pour into moulds, set in fridge), or temper your batch so that it stays firm at room temperature.

TO TEMPER:
Using a thermometer, gently warm your chocolate batch over a bowl or saucepan of very hot water to 45˚C (113˚F).

Now, you will literally have to have a saucepan filled with iced water handy, to rest your bowl in to bring the temp back down, to 27˚C (80˚F).

Finally, move your bowl back over the hot water to reach 31˚C (88˚F).

Your chocolate is now ready to pour into moulds. Set them in the freezer. They will now stay firm at room temperature.
Notes
To avoid your raw chocolate seizing:
You need to have all ingredients at a constant temperature. For example, cold maple syrup straight from the fridge mixed with warm, melted cacao butter will cause the mixture to seize and go lumpy.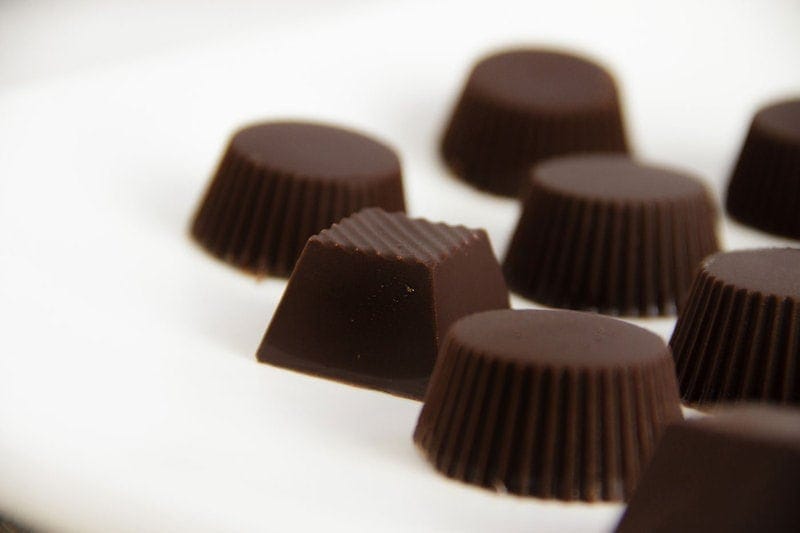 I'd love you to follow me on Instagram,
tag me @ascensionkitchen so I can see your creations!