It's Easter Sunday today, so first of all, I'd like to wish you all a very magical love-filled day. I was doing an Oracle card reading this morning (if I haven't told you before, I adore my cards – I have several decks and always do readings with my sister whenever we're together – so much fun!), and saw a card called Ostara. I thought it was timely that that particular card popped into my awareness, since Ostara is the Goddess of fertility, and of giving birth to new ideas, projects or conditions. We've just celebrated the Autumn equinox here down under, but in Europe it's the Spring equinox energy. Easter gets its name from Ostara, who is also known as Eastre. She is associated with the rising of the sun in the east, and the increase in daylight during the spring. Eggs and bunnies are naturally associated with spring festivities in her name. So there you go, a little old magic to start the day.
This morning I am excited to share a recipe and new cooking segment filmed for The Hype on E! TV Au/NZ. It seems that raw foods are coming more and more into the mainstream lately, so I was delighted to demonstrate a healthy Easter recipe for one very sceptic host. We had a great afternoon filming in my parent's beautiful kitchen and talked at length about the benefits of a whole foods, plant based diet, and particularly of raw desserts as a healthy alternative to conventional and commercial desserts. And, I have to admit I was a wee bit nervous, but nothing a double dose of Rescue Remedy couldn't fix!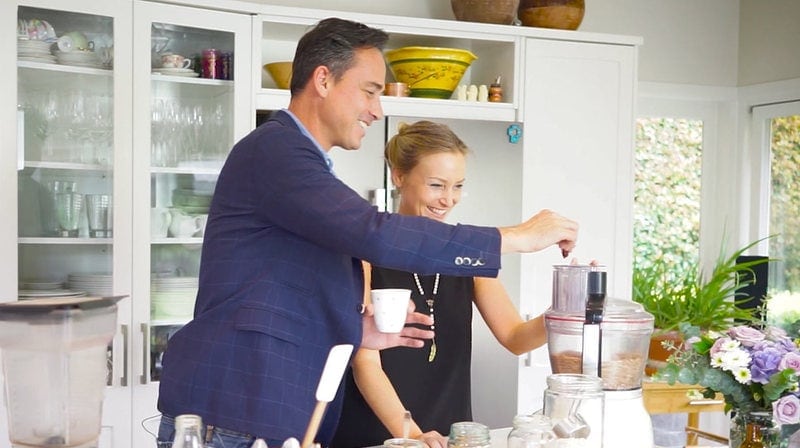 The recipe I prepared were these decadent, Raw Chocolate Hazelnuts Cakes, which we creatively named 'Easter Egg Nests' – I guess if you squint your eyes the hazelnuts and chocolate sauce on top look like chocolate eggs!
Have a wee peak below.
[vimeo width="500" height="290"]https://vimeo.com/160429151[/vimeo]
We also had some great discussions about the benefits of raw vs. cooked chocolate, which didn't quite make it into the segment. But in a nutshell, cooked cacao is sold as cocoa (or chocolate), and undergoes significant heat treatments, causing a huge loss in antioxidant flavonoid content. Many commercial chocolates also undergo a step called Dutch processing, in which an alkalising agent is added to decrease the bitterness of the cacao powder and make it less acidic and more mild tasting. Raw cacao products (cacao powder, beans, nibs, liquor/paste and butter) are kept under 48˚C along each step of the manufacturing process – from drying, to fermentation (yes – chocolate is a fermented food!), to dehydrating (rather than roasting). Finally, commercial chocolate is often made with emulsifiers such as soy lecithin, which are more than likely to be genetically modified. Of course, they are also laden with refined cane sugar, and have added milk or milk solids.
So whilst raw treats like this are still indulgent – you can see how they are naturally better for you.
[bctt tweet="Healthy Raw Chocolate Hazelnut Cakes - a bit like Nutella x Ice Cream - recipe here!"]
Ok let's get into this recipe shall we?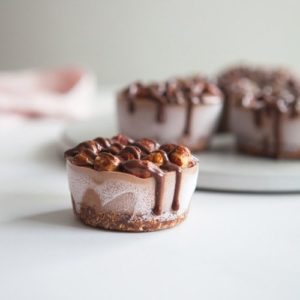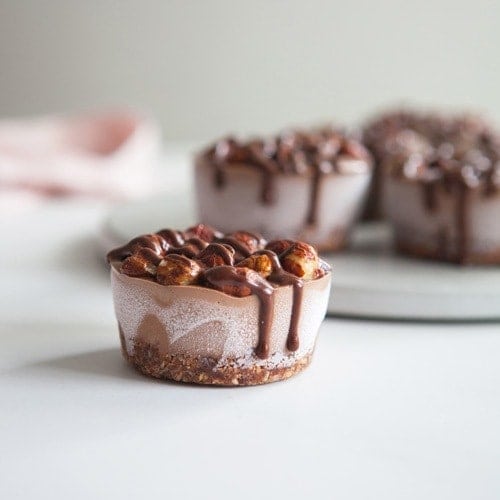 Raw Chocolate Hazelnut Cakes
These mini chocolate hazelnut cakes taste a bit like nutella crossed with ice cream, though they're entirely raw and made without any dairy, eggs, flour or refined sugar. You will need a silicon muffin tray with 12 cavities for this recipe. The chocolate sauce will yield a generous full cup and serve 24 (two teaspoons per serve). Note prep time is 20 minutes but you may need to soften your coconut oil and cacao butter prior.



Ingredients
BASE:
1½

cups

coconut flakes/chips

½

cup

rolled oats

fine

1

tablespoon

raw cacao powder

100

g

of Medjool dates

pitted (about 6)

Pinch

of coarse sea salt
FILLING:
1¼

cups

hazelnuts

1¼

cups

almond milk

or oat milk/coconut milk

1/3

cup

100% pure maple syrup

¼

raw cacao butter

liquefied*

1/3

cup

raw cacao powder

2

teaspoons

vanilla extract

2

tablespoons

coconut sugar

Large pinch of coarse sea salt
CHOCOLATE SAUCE:
1/2

cup

100% pure maple syrup

½

cup

raw cacao powder

2

tablespoons

coconut oil

melted

½

teaspoon

vanilla extract

2

pinches

coarse sea salt
*To liquefy cacao butter, shave it with a knife and place in a glass jug, stand in hot water till it melts.
Instructions
BASE:
Place oats and coconut in a food processor and blitz for 30 seconds.

Add cacao powder and salt and blend again.

Add dates last, one at a time, and blend till the mixture holds together when pressed. If it is on the dry side, add a tablespoon of coconut oil.

Press mixture evenly into the base of silicon muffin moulds (about 1 heaped tablespoon per cavity, there is enough to fill 12 cavities).

FILLING:
Place hazelnuts and almond milk in a high-speed blender, and whiz till smooth (about 1 minute).

Add all other ingredients and blend for another 1 minute. Stop and scrape the sides down as needed.

Pour filling into the muffin moulds, but don't fill right to the top – leave about a 5mm gap.

Gently press a small handful of whole hazelnuts into the tops.

Transfer to the freezer to set (will take a few hours).

CHOCOLATE SAUCE:
Place all ingredients in blender and blend till smooth.

Pour into a squeeze-bottle, and drizzle over frozen cakes.

TO SERVE:
Remove from freezer 15-30 minutes before serving, to soften.
Nutrition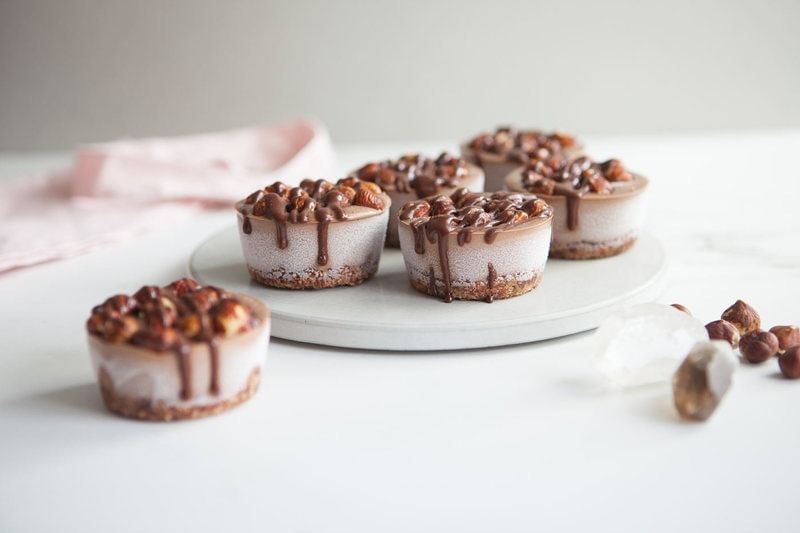 Hope you enjoy these – the crew devoured them and took them home – none left for me! I also hope you had (raw) chocolate for breakfast. It's compulsory after all on Easter Sunday is it not?
Lx.
I'd love you to follow me on Instagram,
tag me @ascensionkitchen so I can see your creations!