An easy Chargrilled Capsicum (Bell Pepper) Hummus with Cashews and Miso. Spiced with paprika, and served with crisp raw vegetables.
We're back to my favourite time of the year you guys. Autumn is just the best. Less intensity, crisp mornings, longer shadows and comfy leggings. The Autumnal Equinox is here on Monday, night and day are balanced before the slow descent into Winter. It's also a time for harvest, and the best fruits and vegetables are ripe and ready to be enjoyed. Passionfruit, feijoas, tamarillos, figs, grapes, persimmons, coloured root vegetables and mushrooms.
None of which I have in today's recipe, mind, but it is packed with Autumn colours, so I guess that's something!
Ok, before I get all spacey and Vata on you, I'll tell you a bit about what's in the recipe today.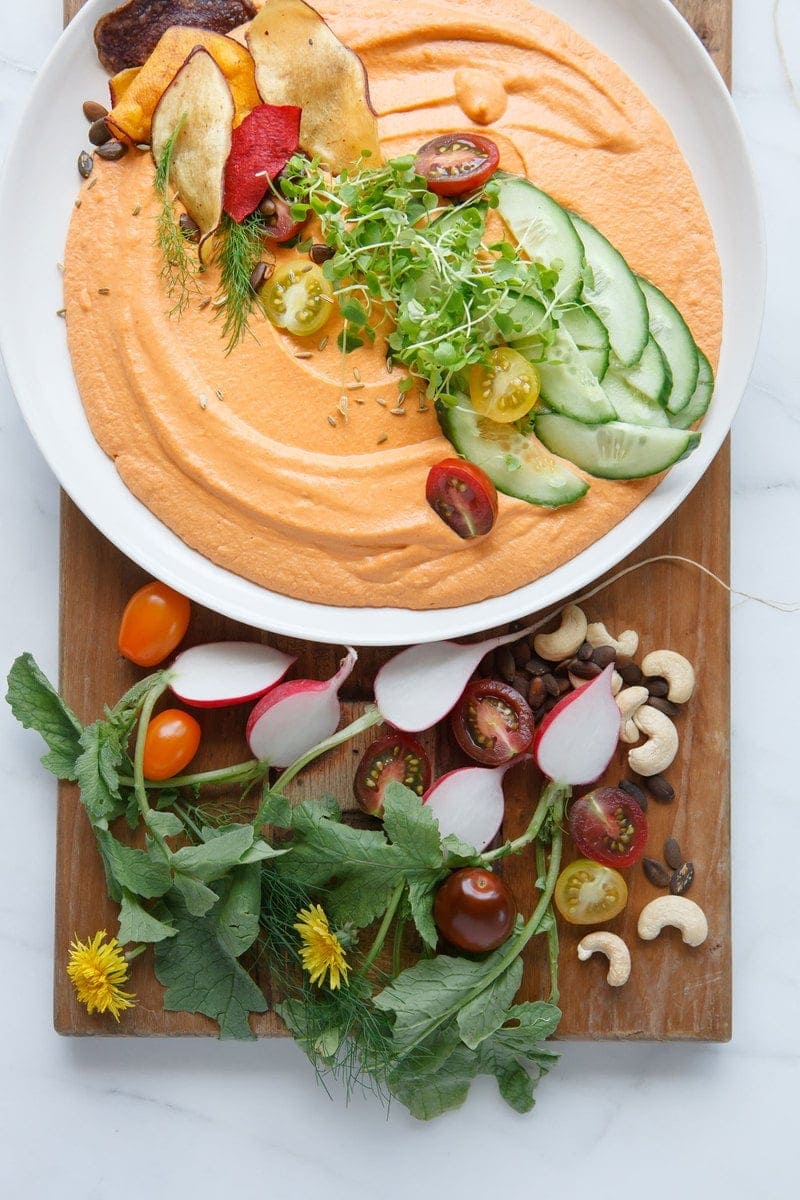 Ingredient notes
Brilliant red capsicum (bell peppers) from the Farmer's Markets are the star ingredient. I like to choose organic when buying capsicum as they unfortunately feature on the infamous 'Dirty Dozen' – the Environmental Working Group's list of the most pesticide ridden produce on the market. Capsicum are rich in vitamin C and promote good circulation.
Garlic is at its most therapeutic when taken raw. Although there is only a single clove in here, it still adds some pungency. With the change of season now, you could try making a garlic infused honey – you simply peel and chop up ample cloves of garlic, then layer in a small jar with quality raw and ethically harvested Manuka honey.
After a period of time, the honey transforms the garlic and it softens. By the time winter arrives, you'll have a medicinal tonic of sorts that you can take by the teaspoon if you start to feel run down.
Garlic and Manuka honey both have renowned antimicrobial properties. Back to the recipe – a sneaky tip – the fennel seeds sprinkled over the finished hummus have a purpose – they help freshen the breath and take away that garlicky odour.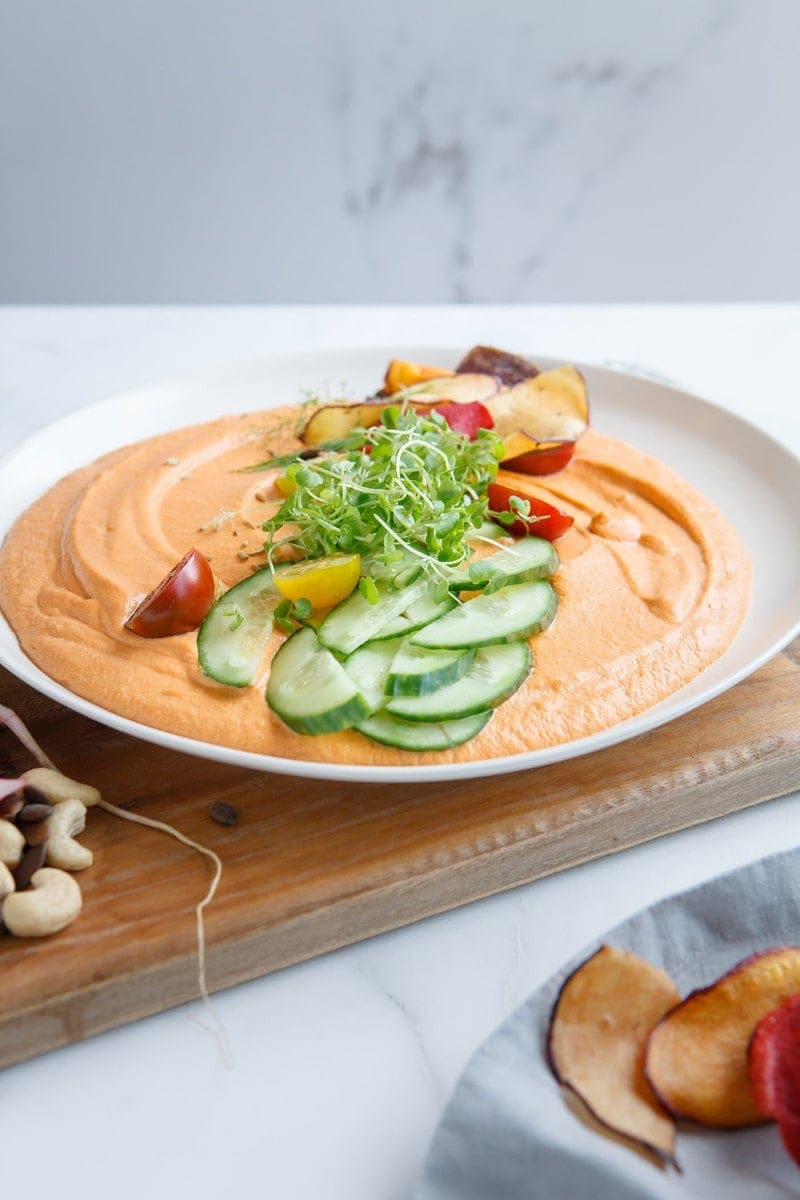 White miso provides some subtle sweet-but-salty tones, and of course, brings beneficial bacteria as it is a fermented food. As a guide, the lighter the miso the milder and sweeter it is, the darker the colour the richer and 'meatier' the flavour.
Tahini adds creaminess and provides some calcium, while cashews give us heart-protective mono-unsaturated fats.
Finally, as it is a hummus, chickpeas make up the base – I have used tinned chickpeas for ease but by all means, soak and cook from scratch.
I am actually taking this to family dinner tonight – and have a lovely large platter of fresh raw vegetables to accompany it. Mircogreens and soft feathery fennel from the garden dress it up.
I also have some natural sweet potato and beet chips to enjoy – courtesy of Tika Chips. A sometimes food, as they are still chips, but I quite like them as a treat. Plus, chips and hummus, obviously.
That's all from me today, I hope you love the recipe. It is simple enough to take to a lunch or dinner when you surround it with a big abundant platter of seasonal vegetables.
L.
More insanely delicious vegan dips
🌿Enjoyed this recipe? Leave a comment below, better yet - share a snap with me on instagram @ascensionkitchen. If you're after personalised health and nutrition advice, contact my clinic, I'd be happy to work with you.
Roasted Red Pepper Hummus
An easy roasted red pepper hummus recipe with cashews and miso. Spiced with paprika, and served with crisp raw vegetables.
Ingredients
2

large red capsicum

whole (approx. 300g)

1

tin chickpeas

400g, choose organic and BPA free if possible

2

generous tablespoons tahini

hulled

1

large clove garlic

peeled and chopped

1/3

cup

cashews

raw

¼

cup

lemon juice

Zest of one lemon

1

heaped teaspoon white miso

1

teaspoon

paprika powder

¼

teaspoon

fine sea salt

¼

cup

olive oil
TO SERVE:
Sprinkle of fennel seeds

Fresh fennel

Microgreens

I used watercress

Radish

Baby tomatoes

Toasted pumpkin seeds

Natural sweet potato chips

pita chips, kale chips etc
Instructions
Pre-heat the oven on the highest setting, and have a roasting pan ready in the top 1/3 or ¼ of the oven.

Wash and dry the capsicum, then place on roasting tray. Let blacken, and use tongs to turn so that the entire surface is black and blistered. Once done, remove from oven, let cool completely, then slip the skin off. Slice open, discard seeds, and roughly chop the flesh.

In a blender, add all hummus ingredients except the lemon zest and blend till smooth and creamy.

Fold through zest at the end and serve with fresh raw vegetables, sweet potato chips, kale chips or pita bread.
Nutrition