Here is a recipe for a basic raw, vegan, macadamia and cashew cheese, that does need a little lovin' to make, but is so well worth it. It tastes soft and rich, and is fantastic crumbled through salads, spread on wraps or just simply spooned on top of fresh sliced tomato. Experiment and see for yourself!
[bctt tweet="Classic Raw Macadamia and Cashew Cheese recipe here! Full flavour, without the dairy." username="laurenglucina"]
Serve with:
Gluten Free Buckwheat and Millet Bread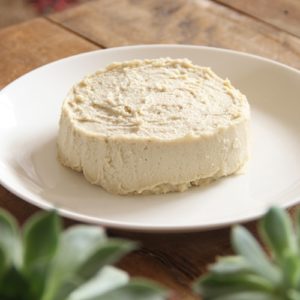 Vegan Cashew Cheese
A creamy, raw vegan cashew and macadamia cheese. A kitchen staple around my place! Note: this recipe requires soaking nuts in advance overnight, a short prep time, a 12 hour culture, and two weeks to set/harden in the fridge.
Equipment
Dehydrator

Sieve

Nut milk bag or cheesecloth

Small ring mould (optional)
Ingredients
1½

cups

organic cashew nuts

1½

cups

organic macadamia nuts

1

cup

filtered water

½

teaspoon

dairy free probiotic powder

2

tablespoons

nutritional yeast

½

teaspoon

onion powder

½

teaspoon

coarse sea salt
Instructions
Soak the nuts: Soak all of your nuts together in a big bowl of filtered water, ideally over night. This will neutralise the taste of the nuts, as well as making them nice and soft for culturing.

Blend the nuts: After at least 8 hours of soaking, drain the water, rinse, and pop in the blender with ½ a teaspoon of probiotic powder. You may need to add up to a whole cup of filtered water here, to blend the nuts to a nice and creamy consistency.

Culture the nuts: Now we need to culture the nuts and turn them into cheese. To do this, pour the mixture into a nut milk bag, or cheesecloth, and place in a sieve over a bowl with a weight on top. The weight should be just heavy enough to press out any liquid and let it drain through the sieve into the bowl. Pop a tea towel over the bowl and leave in a warm place for at least 12 hours but no more than 48. I like to leave mine on top of my dehydrator.

Taste test: Have a wee taste at the 12 hour mark. It should start to taste a little tangy.

Add the flavourings: Once the culturing is complete, scrape the cheese into a bowl and stir in the nutritional yeast, onion powder and salt. The nutritional yeast will give it that beautiful soft cheesy flavour.

Set the nut cheese: Transfer the mixture to a small ring mould and pop in the fridge to set. You can leave it like this to harden for a few weeks. Or, if you prefer, you could set the cheese first, then remove the ring mould and dehydrate (at 105F) for 12 hours to create a rind. It's perfectly fine to put it back in the fridge afterwards.
Nutrition
Calories:
256
kcal
Carbohydrates:
8
g
Protein:
5
g
Fat:
23
g
Fiber:
3.8
g
Calcium:
30
mg
Iron:
1.8
mg