Summer calls for Radical Roasted Beetroot Hummus with Sumac and Lime, and if you're adventurous, a dash of tangy pomegranate molasses. A nutrient dense dip loaded with antioxidant and anti-inflammatory compounds, protein and gut-loving prebiotic fibre.
We celebrated my little-big-brother's 30th birthday last week. His gorgeous partner planned a birthday picnic.
But in typical Auckland fashion, fantasies of us being sprawled out on woollen rugs, weighted down by rustic platters filled with an array of tasty delights, in the dappled light of the park's century-old ginkgo trees, were dashed in an instant as the elements decided to throw a tantrum and give us gale force winds all day.
So we had an indoor picnic. And it was amazing.
Home-made burgers. Fruit-skewers. Chocolate cake. Wine. A round of Taboo. Indoor-picnic game strong.
My contribution was this Radical Roasted Beet Hummus. Named so, because the colour is simply unreal. Beets are incredibly nutrient-dense, packed full of compounds that fight inflammation, work as antioxidants and support liver detox pathways.
[bctt tweet="Radical Roasted Beet Hummus with Sumac + Lime! Step this way."]
There has been some recent research into the potential prebiotic effect of the arabino-oligosaccharide content in beetroot [1], and of course, we already know that chickpeas contain galacto-oligosaccharides, more on that here.
These are both types of fibres that selectively stimulate the growth of beneficial bacteria in the gut.
What I love about this recipe though is that it really is the cheat's way of cooking beets. Because, you know, they're as messy as they are beautiful.
So rather than peeling, chopping then roasting, you wrap the whole beet up snuggly in foil and bake as is – then voila – an hour in the oven and the skin just slides right off.
To add to the ease of the recipe, I used canned chickpeas (gasp!) – not something I usually opt for simply because of the anti-nutrient content of legumes that haven't been soaked before cooking.
I'm also not a fan of using canned anything really: the lining of the tins typically contain a chemical called Bisphenol A (BPA). BPA is an estrogen-like petrochemcial and a potential endocrine (hormone) disruptor. Used to toughen up plastics and resins, it is unfortunately quite unstable and readily leaches into any food or liquid it comes in contact with.
In animal studies it has been shown to have a raft of harmful effects: reproductive problems, diminished intellectual capacity, asthma, obesity and diabetes amongst them [2].
However, some companies (such as Ceres) are offering some canned products that are BPA-free – so when convenience calls – try and source one that is clearly labeled as such.
There are a few other ingredients I added to the hummus to make it a little different –
the Middle Eastern spice sumac – for its tangy lemon flavour
lime-infused avocado oil – a gift from my Mum actually, but beet and lime work so nicely together. You could source a lime-infused oil yourself, or simply replace the lemon juice with lime juice
pomegranate molasses – I was running with the Middle Eastern theme here – holy wow – you only need a scant teaspoon – two at the absolute most – try it, you'll be rewarded with a delicious sweet-yet-tangy note to the hummus, divine
All of the above are optional of course, but highly recommended.
Lastly – a wee tip – I made the hummus in my blender, not my food processor. It makes for a far creamier texture.
To dress, I drizzled a little extra oil over the top, then sprinkled with shredded mint leaves from the garden, toasted pine nuts and sesame seeds.
I served these with a variant of my home made Curly Curry Kale Chips. It would also be delish spread over this Raw Onion Bread, or on a slice of freshly baked Gluten Free Buckwheat and Millet Bread.
Enjoy!
More healthy + delicious vegan dips
If you make and enjoy this recipe, please leave a rating below. And better yet – leave me a comment to tell me how you got on, or just say hi – I LOVE hearing from you. Follow me on Instagram, Facebook or Pinterest to see more of my everyday recipes and wellness tips.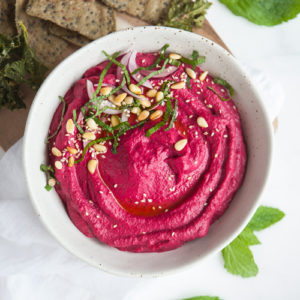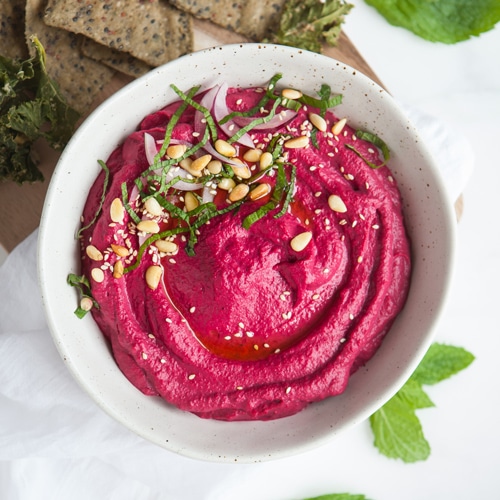 Radical Roasted Beet Hummus
Radical Roasted Beet Hummus with sumac and lime, and if you're adventurous, a dash of tangy pomegranate molasses. This healthy hummus is a great source of phytonutrients, protein and prebiotic fibre.
Equipment
Blender or food processor
Ingredients
1

medium-large beetroot

mine was 200g peeled

1x

400g

tin of chickpeas

organic, BPA free lining

2

tablespoons

hulled tahini

⅓

cup

oil

I used a blend of lime-infused avocado oil with extra virgin olive oil

1-2

cloves

raw garlic

Zest of one lemon

¼

cup

lemon juice

lime also works

2

teaspoons

sumac

½

teaspoon

coarse sea salt

Pepper to taste
OPTIONAL:
1-2

teaspoons

pomegranate molasses

if you used lime – then do this!
TO SERVE:
Fresh mint leaves

Toasted pine nuts and sesame seeds

Kale chips / vegetable chips
Instructions
Pre-heat oven at 200˚C (390˚F). Wrap the entire beetroot in tin foil – skin, root and all. Bake for an hour, remove from foil, let cool, then slip the skin off and discard the root. Chop into small pieces and add to a blender.

Drain the chickpeas then add all ingredients to the blender with the beet. Blend till creamy – stopping to scrape the sides as you go.

Sprinkle shredded fresh mint leaves and toasted pine nuts + sesame seeds over the top to finish, with an extra drizzle of oil.

Serve with kale chips and/or natural vegetable chips.
Nutrition
Calories:
262
kcal
Carbohydrates:
20
g
Protein:
7
g
Fat:
18
g
Saturated Fat:
2.5
g
Sodium:
208
mg
Fiber:
6
g
Sugar:
6
g
Vitamin C:
6
mg
Calcium:
35
mg
Iron:
1
mg

References:
Vigsnaes, L.K., Holck, J., Meyer, A.S., & Licht, T.R. (2011). In vitro fermentation of sugar beet arabino-oligosaccharides by fecal microbiotia obtained from patients with ulcerative colitis to selectively stimulate the growth of Bifidobacterium spp. And Lactobaccillus spp. Applied and Environmental Microbiology, 83(2), 8336-8344.