Healthy hot cross buns - entirely plant-based and made without gluten or refined sugars. These are jam packed full of fruit and spices and are delicious slathered in coconut butter.
Holy sheeshkabob. Gluten free, dairy free, egg free, refined sugar free healthy hot cross buns.
I don't normally eat bread, mostly because there are far healthier options (gluten free whole grains like quinoa, cooked simply in a little vege stock – yum!). But it's Easter. And there are buns galore. And I want one.
So, disclaimer – as you can see – these buns ain't no oil painting, they cracked a little on the surface, and, they only taste good the next day if you slice them and toast them up, but they smell like heaven and they taste pretty damn amazing considering they aren't made with any of your usual suspects.
[bctt tweet="Healthy Hot Cross Buns: gluten free, dairy free, egg free, refined sugar free. Try it here!"]
It took four goes to get these to a good place. Four. The first time I made it, I started with a standard vegan hot cross bun recipe from the internet and subbed out the regular flour for a store bought all purpose plain GF flour mix.
They were so terrible – hard as rocks.
The boys sampled them – laughed at me – then shouted 'more raisins!'.
Round two I changed a few things around and used quite a bit of apple sauce in place of eggs, an old favourite trick when you're after a plant-based alternative in baking. But, they were also terrible – doughy as all hell and wouldn't set.
The boys sampled them again and still kept shouting 'more fruit!'.
Round three was made predominantly with quinoa flour. I thought I was getting all cool adding in a whole grain, protein rich flour. Again, terrible. Quinoa has a really strong earthy/nutty flavour that just didn't do the recipe any favours.
And yes, still the boys still wanted more fruit.
Round four, I made my own gluten free flour mix – a mixture of brown and white rice flour with tapioca starch. I'm not making a song and dance about the white rice or the tapioca flour as they are refined, but in the context of making a yummy tasting treat I think they're ok.
I also cut way back on the apple sauce and went crazy with the amount of spices. The boys were happy this time, no words, just scoffing. That's a good sign.
We're up to a whole cup of raisins now, so if you want to go easy on the sugars cut it down to half or even ¾ cup.
If I had time I'd make this once more – the recipe is absolutely delish – especially with a lashing of soft coconut butter – but I think next time I will experiment with a leavening agent – I just didn't have any aluminium free baking powder in the cupboard on hand this time round.
Enjoy the fruits of my labours these last few days!
More freakin' delish Easter recipes
If you make and enjoy this recipe, please leave a rating below. And better yet – leave me a comment to tell me how you got on, or just say hi – I LOVE hearing from you. Follow me on Instagram, Facebook or Pinterest to see more of my everyday recipes and wellness tips.
If you'd like to chat with me about essential oils, or book in a 101 class, you can do that here. If you're after a Naturopathic consult, read more here.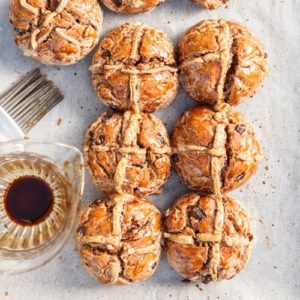 Healthy Hot Cross Buns
Gluten Free, Vegan Hot Cross Buns. Packed full of fruit and spice. Makes 10 buns. Please note the active prep time excludes the hour required for buns to rise prior to baking.
Ingredients
BUNS:
200

g

brown rice flour

150

g

white rice flour

150

g

tapioca starch

1

cup

warm nut milk

almond/cashew, hemp or oat milk

½

cup

pure maple syrup

or honey

1

tablespoon

active dry gluten free yeast

equivalent to 1x 7g sachet

2/3

cup

applesauce

¼

cup

coconut oil

melted

2

tablespoons

cinnamon

1

teaspoon

ginger powder

1

teaspoon

mixed spice

½

teaspoon

nutmeg

¼

teaspoon

clove powder

½

teaspoon

coarse sea salt

Zest of one orange and one lemon

1

cup

raisins
CROSS:
2

tablespoons

of the brown or white rice flour and enough warm water to mix into a paste
GLAZE:
1

heaped tablespoon coconut sugar dissolved in boiling water
Instructions
Pre heat oven to 180˚C (356˚F).

Mix the warm nut milk (body temperature is warm enough), maple syrup and yeast in a bowl and leave for five minutes.

In a large bowl, combine apple sauce and coconut oil. Then add the yeast mixture and whisk well.

Add the flour mix, spices, zest and raisins.

Kneed into a dough, adding a little water or flour if needed.

Dust a board with gluten free flour.

Pat dough into a rectangle then divide into 10 equal portions.

Shape them further into a bun and arrange them close together in a rectangle again.

Cover with a tea towel. Let sit to rise for at least an hour, although, to be honest, there wasn't a lot of rising action happening (perhaps with a leavening agent?).

Mix up the paste for the cross then pipe over the buns.

Bake for 15 to 20 mins.

Once cooked, brush with the glaze.
Notes
Update: I've since made these again (and again), and have discovered that those sachets of active yeast are just rubbish - they're never fresh - and old yeast won't give you a good rise. Look for the jars of dry active yeast for baking in the supermarket, and check the expiry date.
When you combine the yeast with the maple and warmed nut milk, it should, over the course of ten minutes, foam up considerably. If it hasn't - again - the yeast is old.
It's also important that the buns have a warm environment in order to rise. If your house is cold, try warming a heat pack (not piping hot), then place the buns (on a tray) on top.
Enjoy!
Nutrition