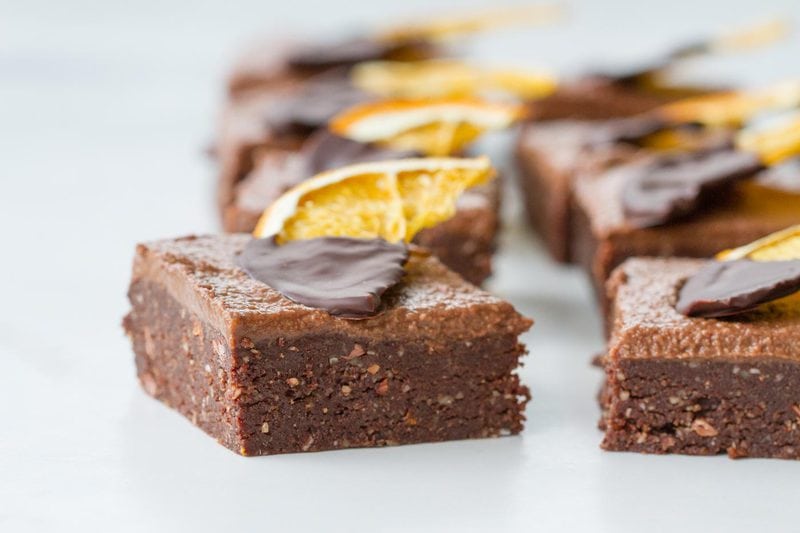 I know I know – big claim. But seriously, this was such a treat. Raw brownies have always been one of my favourite raw sweet treats, they are so simple to make and holy wowzers they're just amazing. I made these 'for my partner' but really, I think I devoured them all on my own. He went to seek one out the other day, and only found crumbs. Well, survival of the fittest, as I like to say! He snoozes, he loses!
I usually use walnuts in brownies because I find they pair so magically with cacao, but the pecans are soft and buttery and taste a bit lighter. I have a bit of a thing for orange so threw in the zest of an entire one – and although I had picked a fresh bunch of thyme I forgot to add it in – but I promise you that if you're feeling adventurous, orange, chocolate and thyme are a dream combo – do it!
Make sure you take care to not over blend the pecans at the start, they will crumble very quickly and you don't want a nut butter. Also – add the cacao nibs right at the end and you'll get a really good crunch factor in there.
The coconut frosting was a happy experiment, it's really light and fluffy. And lastly – take some time to slice and dehydrate some orange pieces, then dunk them in raw or melted dark chocolate. Amaze.
If you make these over the weekend, take a snap and tag me @ascensionkitchen
so I can share them on instagram.
Lx
More healthy treat recipes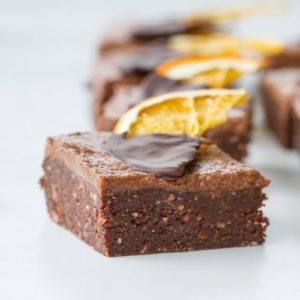 The Best Raw Brownies. Ever.
Yep, big call. But these really are. Walnuts and cacao powder are the perfect match. If you have any fresh thyme - try adding some in - I didn't have any on hand but orange with thyme is such a great combo. Please note the active prep time excludes the time required to dehydrate the orange slices to garnish the brownies.
Ingredients
BROWNIE:
3

cups

pecans

3/4

cup

coconut threads

1/4

cup

cacao powder

1/4

cup

almond meal

18

medjool dates

approx. 320g

1/4

teaspoon

coarse sea salt

1/4

cup

cacao nibs

Zest of one orange
FROSTING:
1

cup

coconut threads

1/2

cup

coconut water

1/4

cup100% pure maple syrup

4

dates

soaked and pitted

2

tablespoons

cacao powder

Pinch

of fine sea salt
Instructions
BROWNIE:
Pulse the pecans in a food processor for about 10 seconds.

Add the coconut threads and pulse again for another 10 seconds.

Add the cacao powder, almond meal and salt and pulse once more.

While the motor is running, add the dates one by one till a dough has formed.

Add the cacao nibs and orange zest last and pulse just to combine – you want to keep the nibs nice and crunchy.

Transfer to an 8 inch lined cake tin and pat down evenly.

FROSTING:
Add the coconut threads to a high powered blender and blitz till they become nice and powdery.

Add all other ingredients and blend till very smooth and creamy (this may take up to a minute or more).

Smooth over the brownie base and set in the freezer.

DEHYDRATED ORANGE:
Slice an orange very finely then cut each round into halves. Dehydrate at 115˚F till dry.

Melt some dark chocolate gently and dunk each piece of dried orange in halfway.

Rest them on baking paper and pop in fridge to set.

Once you've cut you're brownie up, add a piece of orange to each square and serve.
Nutrition
Calories:
387
kcal
Carbohydrates:
32.9
g
Protein:
4.9
g
Fat:
28.2
g
Saturated Fat:
13.3
g
Sugar:
22.8
g
If you make and enjoy this recipe, please leave a rating!
I'd love you to follow me on Instagram,
tag me @ascensionkitchen so I can see your creations!