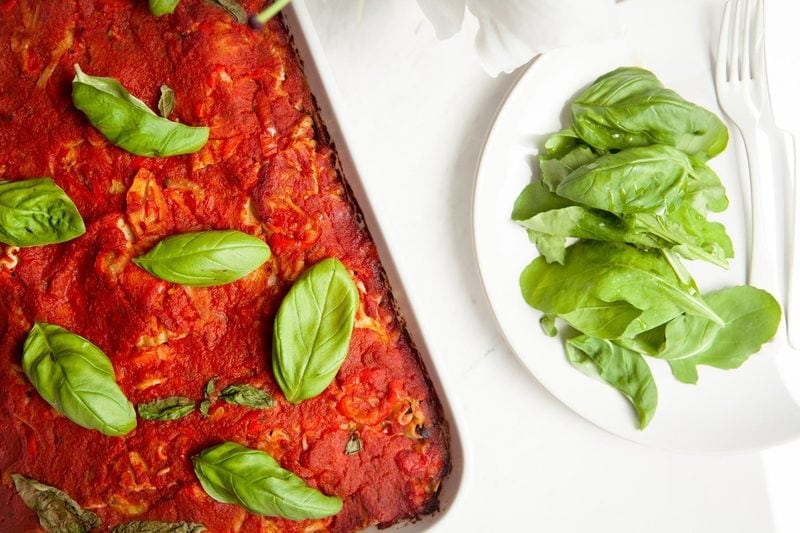 This lasagna has a wee bit of a story behind it.
In our household, it has long been a family tradition that you get to pick your birthday dinner, and Mum will make it for tea. A stellar idea – because Mum is a phenomenal cook – so no matter what dish you chose, you really can't lose, it always turns out delicious (apart from the time white sugar ended up in the gravy, post a tipple of home brew).
The only downside to this arrangement, is that whatever meal is chosen, the whole family have to eat it. There is always a rivalry between me and my brother, as he always asks for the same thing every year (macaroni cheese with gravy – yes, gravy as in meat gravy – an odd combo but one popularised by Nana Gladys. Thanks Nan).
Well – blah to that! Favouring a plant based diet myself, I suffered through these yearly meals of macaroni-cheese-gravy as a child, and nowadays, my brother's birthday dinner means I'm cooking myself something separate!
Conversely however, he has to endure my yearly requests, which of course, do not feature meat, cheese or gravy!
Well this year, I asked Mum to surprise me. I couldn't really think of anything particular so she went and planned something special.
The ensuing week, the boys of the family started to get their grizzle on. They knew it was vego-Sunday thanks to me, and they all assumed they would be feasting on mere twigs.
Cue Mum blowing everyone's socks off. She had secretly been busy planning the most epic gluten free, meat and dairy free lasagne I've ever tried. It took her a week of planning and recipe research, trying to re-create that soft, cheesy white sauce.
[bctt tweet="Holy Moly Lasagna! A delicious gluten free and plant-based recipe."]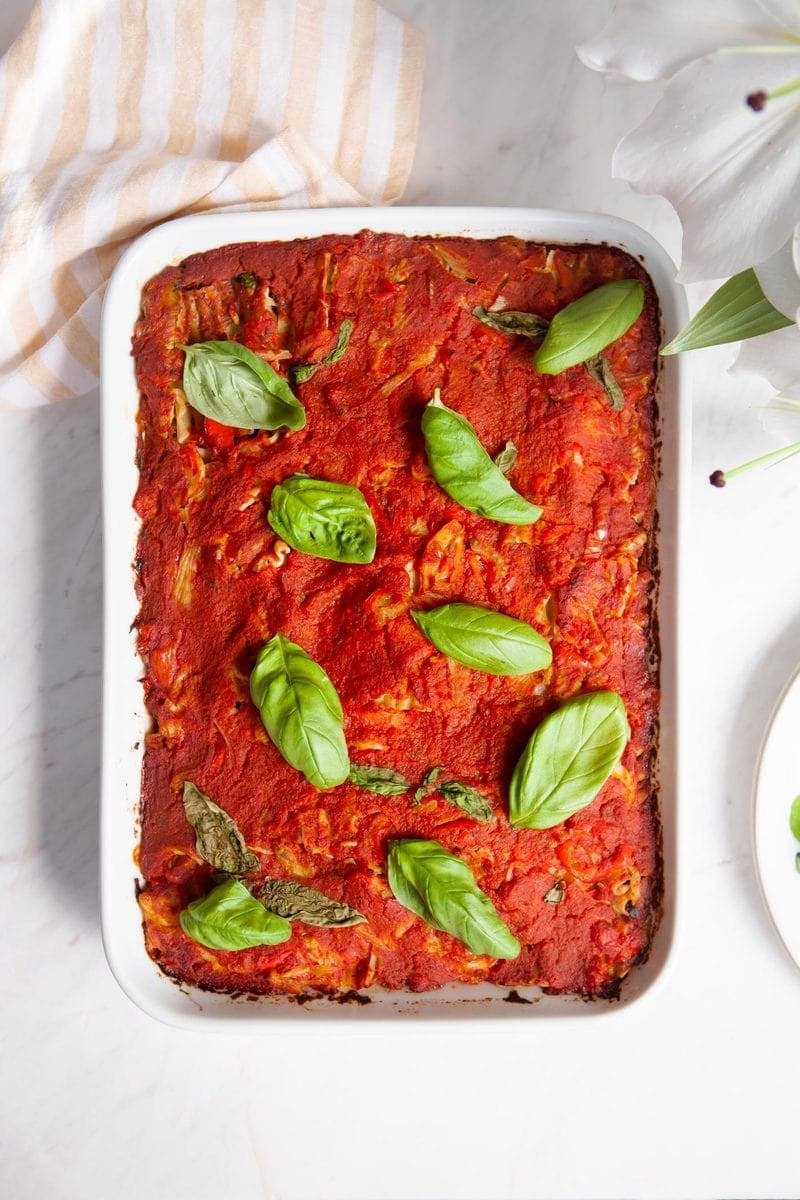 The end result was incredible – it was absolutely perfect – and devoured in silence by all (the hallmark of a good meal).
I can't even remember what else was served with it – it all faded into the background when compared with the Holy Moly Lasagna (the most logical name for this creation here on in).
Lucky for you all, I managed to persuade her to re-make the dish so I could photograph and share. I have to say, the original was ever so slightly tastier – I have a feeling that this was simply because there was so much love infused in the making of it.
Mum used the Orgran brand of gluten free lasagne sheets, and a bottle of passata she bought at the Farmer's Market. I have a great recipe for a homemade roasted tomato sauce which would be equally as nice – although I suspect the addition of a few red peppers in the roasting pan while it cooks would take it to the next level.
Hope you enjoy!
Lasagna Nutrition highlights:
Tomatoes are a rich source of the antioxidant lycopene
Eggplant contains many protective phytochemicals such as anthocyanins, concentrated in the pigment of its dark skin
Spinach provides ample minerals, particularly magnesium
HOLY MOLY LASAGNA!
The most delicious gluten free and vegan lasagna you'll ever try. Serves a generous 8 or more. This freezes and thaws well making for an easy mid-week meal when you're short on time.
Ingredients
Approx 1 kilo tomato passata

store bought, or make an extra large batch of my homemade tomato sauce recipe and perhaps add some red capsicums whilst roasting

150 - 200

gm gluten free pasta sheets

such as Orgran gluten free lasagna mini sheets

3

tbspn

olive oil

1

large eggplant

Big Handful of basil leaves

4

red sweet Spanish peppers

the long ones

2

good sized fennel bulbs

1

red chilli

1

clove

garlic

300

gm baby spinach

3

blocks firm tofu

organic

3

heaped tablespoons nutritional yeast

not brewer's yeast, though this is also called savoury yeast

1

tsp

onion powder

1

tsp

garlic powder

Zest one lemon

Himalayan salt
Instructions
Wash spinach and cook in a steamer till just wilted.

Set aside to drain in colander. When cool squeeze out excess moisture.

Finely slice peppers, fennel, chilli and garlic and pan fry in a little oil till softened and slightly caramelised. When done set aside.

In a food processor, blitz the three blocks of tofu with the nutritional yeast, onion and garlic powder and lemon zest.

Finely slice the eggplant length-wise, brush slices with a bit of olive oil and gently pan fry till has a little colour, when done set aside on paper towels to blot up excess oil.
TO ASSEMBLE :
Spread half the tomato passata on the bottom of dish (our dish was 35 x 25cm).

Layer on the pasta sheets, turn them to coat.

Next, layer over the eggplant slices. Scatter with basil leaves. Then spread over the tofu mixture with a large fork or spatula.

Next layer over the spinach and gently spread out and sprinkle with a little Himalayan salt.

Then another layer of pasta sheets.

Next spread over the cooked peppers and fennel.

Finally spread over the remaining tomato passata.

Bake in oven at 180˙C (350˙F) for 45 minutes. You can cover with foil if you wish.

Serve hot with fresh basil leaves on the top and a rocket salad or eat as is on its own.
Notes
This recipe will give you lasagna for days! I ended up freezing individual serves. You could easily halve the recipe or perhaps use a bit less tofu.
If you find the lasagna sheets are a bit hard when you take them out of the oven, it's likely there wasn't enough passata / tomato sauce. Just spread a bit more over the top to moisten and cook for another 10 minutes.
As an update, Mum has made this multiple times now and we love it most with less tofu and a sprinkle of vegan cheese. Winner!
Nutrition
I'd love you to follow me on Instagram,
tag me @ascensionkitchen so I can see your creations!