This 3-ingredient, natural DIY all-purpose cleaner is quick and cost effective – smells divine and really works.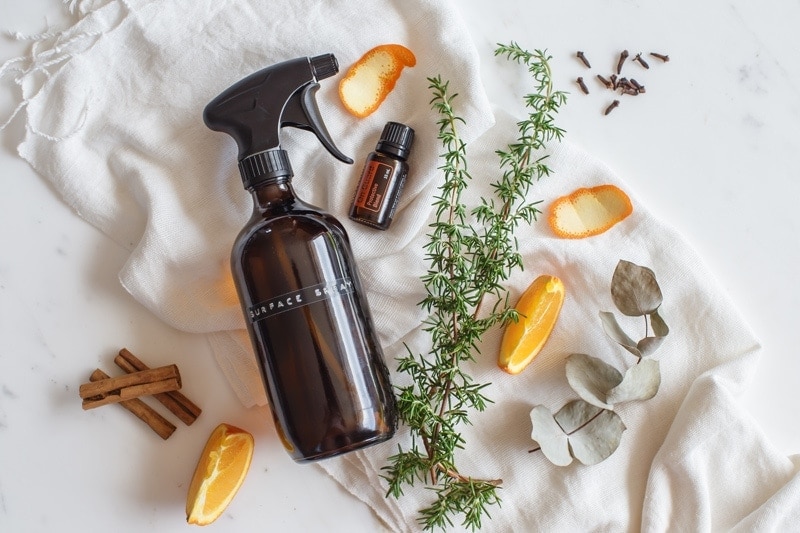 Welcome to my first post of 2019! I've decided to start a new series on the blog to cover a range of non-toxic, DIY cleaning recipes. In fact, you'll notice from here on in that the topics I cover are going to extend beyond food and nutrition, because health is so much more than what you eat.
(Plus, to be honest, it's coming up to my 7-year blogging anniversary, and I am feeling the creative pull to branch out!).
So our first little natural gem, is this ridiculously quick, cheap and easy DIY all-purpose cleaner made with vinegar and essential oils.
[bctt tweet="DIY natural all-purpose cleaner - just three ingredients - find the recipe here!" username="laurenglucina"]
Jump to:
♻️ Why make your own natural cleaners?
One of the biggest threats to our overall health is exposure to chemicals widely used in our cleaning products, cosmetics, personal care products, fragrances, office equipment (eg inks and adhesives), cookware, clothing, furniture, toys and more (the latter few might surprise you – but just think flame retardants, wood varnishes and lacquers and you'll start to see what I mean).
These chemicals make their way into your bloodstream, and are associated with everything from asthma, allergies, irritations and headaches to reproductive and developmental toxicity, and cancer.
The Environmental Working Group are an organisation worth following. Their guide to healthy cleaning provides an analysis of over 2,000 household cleaning products, and more than 1000 ingredients.
You can search a product in their database, and receive details on the ingredients used, any health, environment, and disclosure concerns, and finally – a rating from A to F.
The ratings provide information on cleaning product ingredients from published literature, and indicate the relative level of concern posed by exposure to the ingredients in the product.
For example, Ajax Multi-Purpose Cleaner (a common household brand/product), is rated an F, with some concern over potential asthma and respiratory health related effects, skin allergies, irritation, and reproductive + developmental toxicity, and moderate concern in regards to cancer risk.
It's not all doom and gloom, because with just a few simple ingredients, and a few up-cycled bottles and jars, you can replace your entire array of cleaning products with greener solutions.
It's a no brainer, isn't it?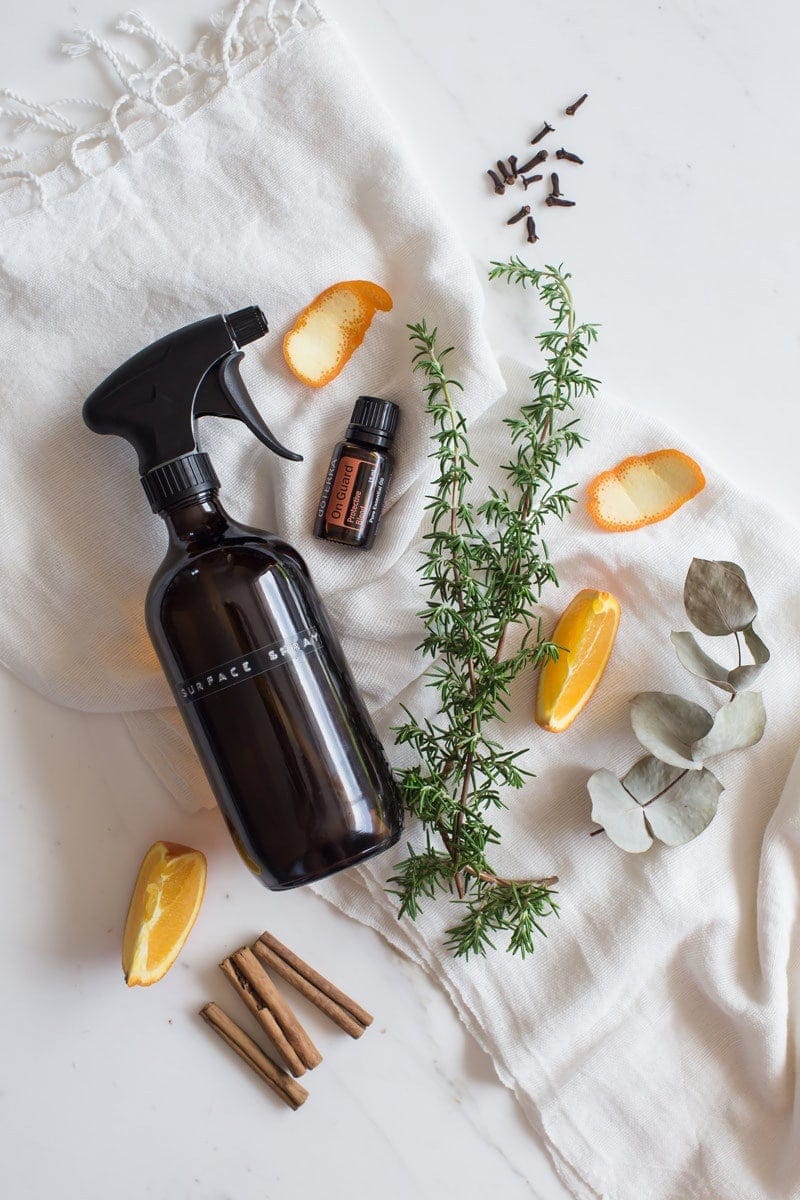 🧴 Ingredients
Today we'll be using three simple ingredients;
Distilled or boiled and cooled water: remember water is a medium for bacterial growth, so you will need to ensure you use distilled water or boil and cool your own for use in your natural cleaning products.
White vinegar: acidic with a pH of 2, it is ideal for most all-purpose cleaning. White vinegar is a great disinfectant, and can inhibit growth of bacteria. Effective at breaking down mould and grease, it can also break down mineral deposits in the kitchen and bathroom. You can use white vinegar on virtually any surface – wood floors, windows, kitchen benches – just avoid marble as it can erode the surface.
Essential oils: powerful and effective at cleansing and purifying thanks to their antimicrobial, anti-fungal, antiseptic and deodorising properties.
I've chosen to use the doTERRA OnGuard essential oil blend (cinnamon, clove, rosemary, eucalyptus, wild orange), but you can use any combination you like from the list below.
💧Best essential oils for cleaning
Arborvitae
Basil
Bergamot
Cassia
Cedarwood
Cilantro
Cinnamon bark
Clove
Coriander
Cypress
Eucalptus
Lemon
Lime
Siberian fir
Tea tree (aka Melaleuca)
Thyme
Wild orange
💵 Cost
Here's a quick costing so you get an idea of just how affordable it is to make your own homemade kitchen cleaner – all in New Zealand dollars.
250ml white vinegar: $0.80
Water: $0
25 drops OnGuard essential oil blend: $4.75
Total: $5.55 for 500ml – entirely free of toxins!
You may already have a glass trigger bottle – I purchased one for $7.
🧽 More DIY cleaning recipes
🌸 Purchasing essential oils
I use doTERRA essential oils because they are 100% the best quality therapeutic grade oils on the market.
When you open a wholesale account through me, you get 25% off wholesale prices via your own access to their online store, with the potential to receive even greater discounts when you take month in their loyalty rewards programme.
Are you ready to join me in living a toxin free life?!
To join, follow my instructions here, or book a Skype chat if you'd like to know more.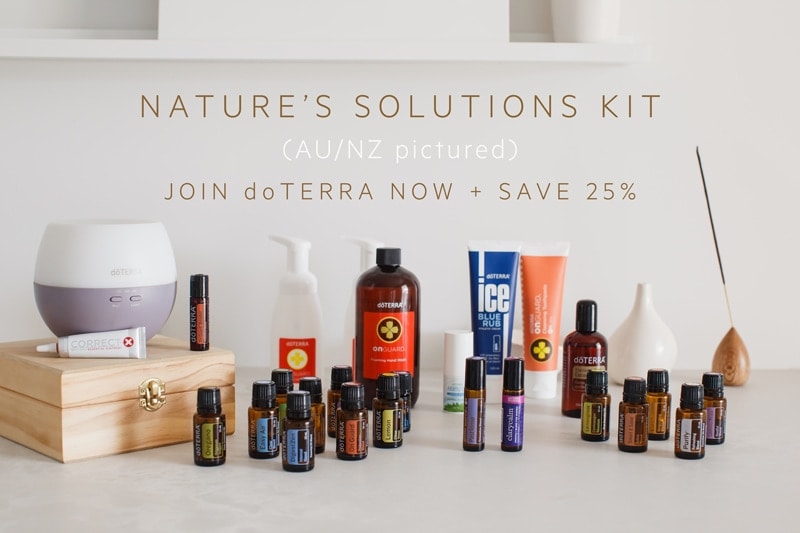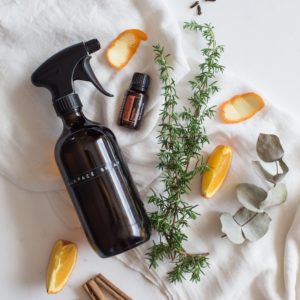 DIY All-Purpose Cleaner with Essential Oils
This 3-ingredient, natural all-purpose cleaner is quick and cost effective – smells divine and really works.
Equipment
500ml (16 oz) glass trigger bottle
Ingredients
1½

cup

distilled water (or boiled and cooled water)

½

cup

white vinegar

25

drops

essential oils suited for cleaning

I used doTERRA OnGuard
Instructions
Add all ingredients to your glass trigger bottle, screw on the lid, shake well before use.
Notes
Water must be distilled, or boiled and cooled to avoid bacteria growth
Sterilise your glass jar before use (just fill with boiling water, let cool then drain)
Avoid using plastic bottles
Do not add essential oils to hot water
Avoid using this on marble as the vinegar could erode the surface