A simple, homemade face mask for acne using just four ingredients – to support red, inflamed, problem skin.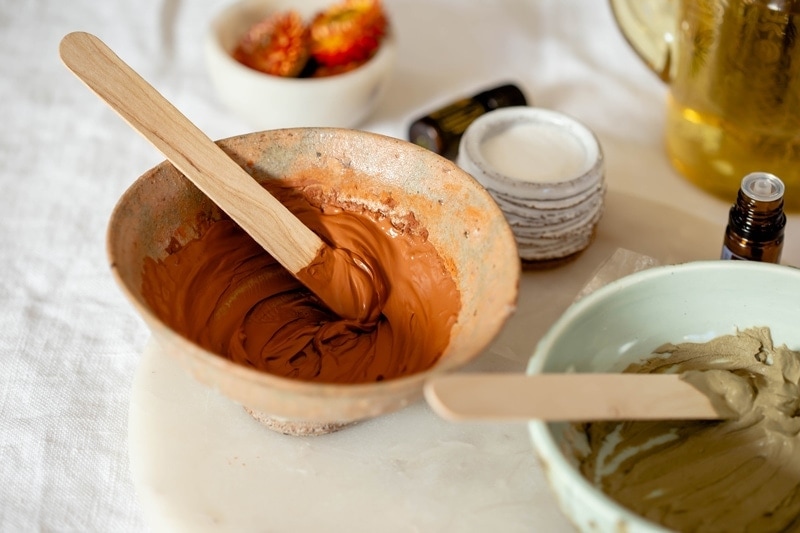 I'm really loving mixing up all these DIY potions, creams and tonics lately – so I hope you're enjoying the recipes!
Today we're making what I think is the best face mask for acne – using all natural, simple ingredients your skin will love.
I'll also share some top Naturopathic tips for treating acne right at the end.
Let's get started!
[bctt tweet="Homemade Face Mask for Acne - using mineral rich clay, calming chamomile, vitamin C and cleansing essential oils." username="laurenglucina"]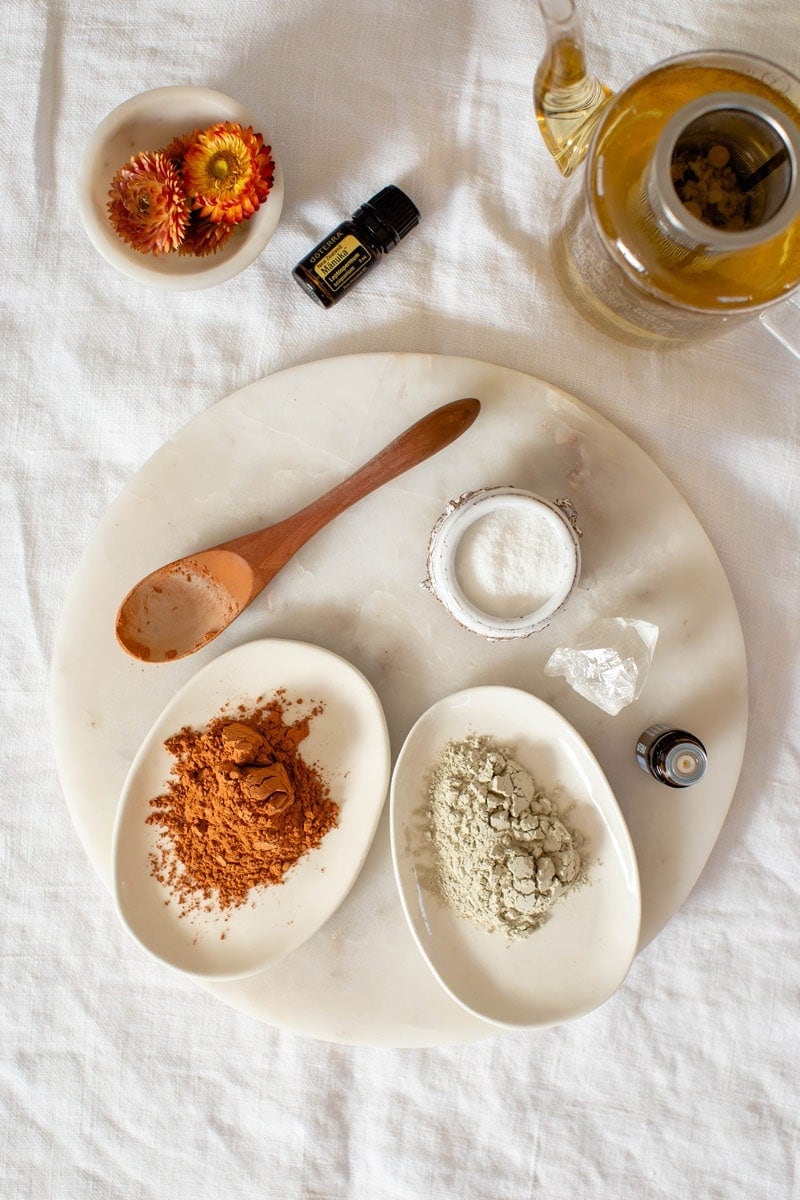 Homemade face mask for acne: Ingredients
We're using natural clay as the base for this recipe. Clay masks are excellent topical treatments for acne – the clay itself is cleansing and detoxifying, and it provides the perfect medium to add other active ingredients. Plus – you have to admit – it totally makes you feel like you're at a fancy day spa!
Red Clay
Oilier than green clay, and ideal for red, inflamed skin. Red clay in high in iron oxide, so may be helpful for reducing signs of broken capillaries.
Green Clay
Dryer than red clay, green clay detoxifies the skin, so is more suited to active acne breakouts and blackheads.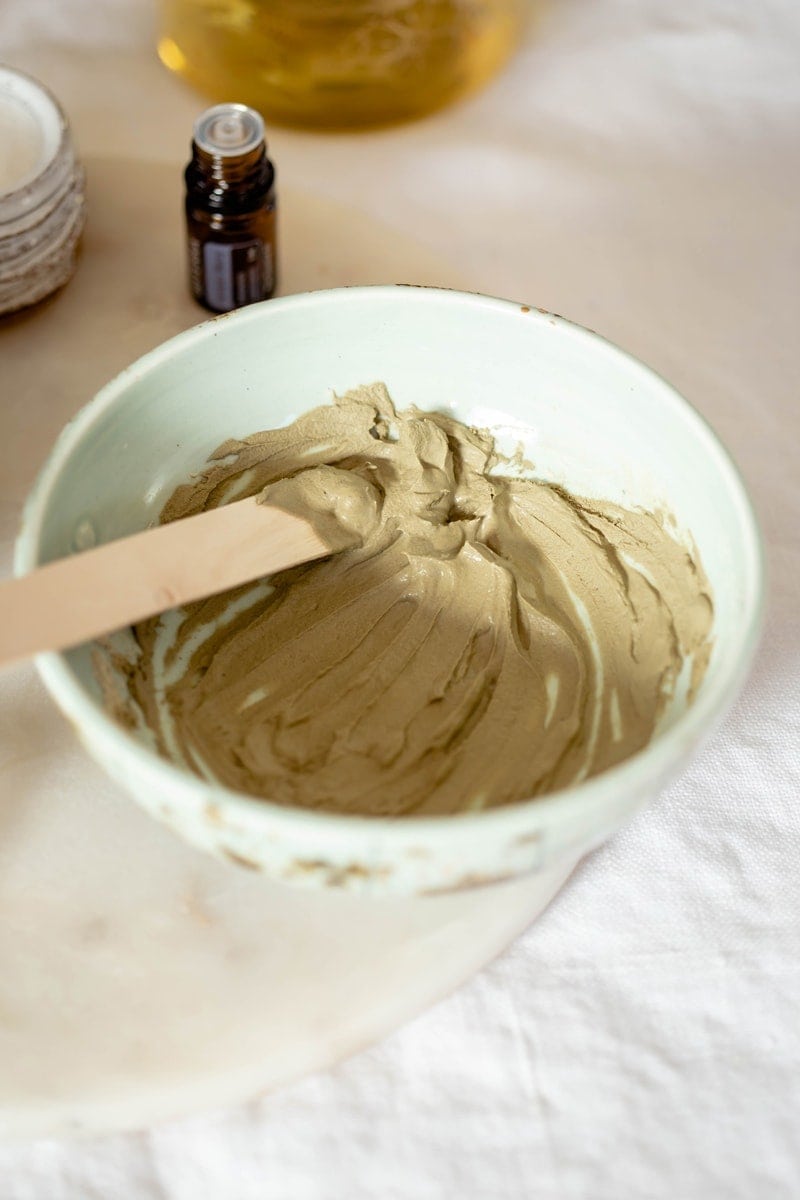 Chamomile tea
You could use distilled water if you like, but chamomile is a wonderfully calming herb to the skin. It soothes and reduces inflammation.
Vitamin C powder
Vitamin C (ascorbic acid) is a natural antioxidant, it hydrates dry skin, reduces the appearance of fine lines and wrinkles, protects against oxidative damage induced by sun, pollution and smoke, and, importantly - is used in collagen synthesis.
Typically you use 2-5% of vitamin C in your topical skin care formulations. Check the usage guidelines from your skincare ingredient supplier. If we're using 25g of clay (about two tablespoons), that equates to 0.5-1.25g.
Essential oils
Essential oils smell lovely and further support the skin. My top picks are,
Tea Tree: cleansing and rejuvenating to skin
Manuka (cousin to Tea Tree): promotes the appearance of smooth, healthy skin
Juniper berry: acts as a natural skin toner, reduces appearance of skin blemishes, promotes a clear complexion
Essential oils must be diluted appropriately before use – I've used them at 1%.
How to make clay masks
Firstly, I've found you really need to start with a decent amount of clay, otherwise it's near impossible to mix up a nice paste. You'll also want to use a wooden, glass or ceramic utensil – as metal can react with the minerals in the clay.
Measure out a couple of tablespoons of clay, into a glass or ceramic dish
Make a cup of chamomile tea – then pour the tiniest amount over the clay at a time, mixing until you reach your desired consistency
Add the vitamin C powder and essential oils, to the appropriate dilutions
Mix again, ready to apply!
How to use a clay mask properly
Clean your skin first, and tie your hair back off your face. If you're wanting the full day spa experience – use a herbal facial steam to help soften the skin and open the pores, otherwise – a hot face towel will do.
Apply the clay over your face, avoiding your eyes, lids and lashes. A thick consistency is ideal for efficacy.
While the clay is still damp, your skin will be absorbing all the nutrients and minerals from the mask. As the clay starts to dry, it will increase blood flow to the skin, and start to draw out impurities.
Leave the mask on for about fifteen minutes, just as it feels it's beginning to tighten. You want to remove it before it completely dries out, otherwise it can cause dehydration, irritation and dryness.
Rinse well to remove.
What if I have some left?
Good question! Transfer your clay to a glass jar, then cover with distilled (not tap) water – remember – regular old tap water is the perfect medium for bacteria growth.
Screw the lid on the jar and keep it for a maximum of two weeks. When you're ready to use it again, just pour off the water and give it a mix.
Can I make large batches?
Probably. I haven't bothered to try since it only takes a minute to whip it up fresh. Because it contains water, you'd need to add a preservative if you were to keep it long term.
What to apply after the mask
Your skin will feel soft, toned, less puffy, but perhaps just a little on the dry side – so an oil-based facial serum will be lapped up. Trust me – divine!
How often can I use it?
Once a week, friends.
Naturopathic tips for treating acne
Acne vulgaris is a chronic inflammatory skin disease of sebaceous follicles. It is characterized by the presence of skin lesions such as nodules, papules, pustules, and open and closed comedones.
There are a number of factors responsible for the development of acne – these include an increase in circulating androgens (such as testosterone) and consequent excessive development of keratin in hair follicles and increased sebum production, oxidative stress and inflammation, and proliferation of the bacterium Propionibacterium acnes.
Further, topical agents (ie, what you're putting on your skin), some medications and, headgear (such as helmets) and sweat may be aggravating factors.
Here a few helpful tips to consider for holistic support;
Avoid refined carbohydrates, sugar and sweetened foods. A high sugar diet can lead to insulin resistance, which then promotes an increase in levels of insulin growth factor and androgens. These hormones cause an increase in proliferation of skin cells and sebum production, leading to acne.
Balancing blood glucose should therefore be a key goal. Opt for a high fibre, low-glyceamic diet, with inclusion of complex carbohydrates such as brown rice, quinoa and buckwheat. Ensure adequate protein and fat with every meal.
Eliminate foods that aggravate acne. Dairy (high in growth hormones), saturated fats and trans fats (pro-inflammatory), in addition to excess sugar, as mentioned above, are the main culprits, however there may be additional dietary triggers such as chocolate, coffee, spicy foods, alcohol and other high histamine foods (particularly, fermented foods).
Increase dietary omega-3 essential fatty acids. Omega-3 fatty acids help counteract inflammation by lowering pro-inflammatory cytokines. Plant-based sources are hard to come by, while nuts and seeds are good choices, they are also high in omega-6.
A marine algae supplement is an option. If you eat fish, a couple of serves of oily fish such as salmon, herring or mackerel will be beneficial. If you are worried about heavy metals and microplastics in seafood, consider a quality fish oil supplement.
Increase dietary consumption of key vitamins for skin health. Vitamins A, C, and E all contribute to skin healing.
Vitamin A's main role is to promote collagen synthesis and healing of skin lesions. Studies have found lower levels of vitamin A in those with acne. Adequate zinc is required for the absorption and utilization of vitamin A.
Since very little beta-carotene is converted to vitamin A, those on a plant-based diet may need to supplement. It is otherwise found in butter, egg yolk and fish liver oils.
Vitamin C is an antioxidant with anti-inflammatory effects. Like vitamin A, it is used in collagen synthesis.
Vitamin E is also an antioxidant, shown to decrease pro-inflammatory cytokines. It is also helpful in minimizing scarring. Plant-based sources include nuts and seeds, leafy green vegetables and wheat germ.
Increase dietary consumption of key minerals for skin health. Zinc is perhaps the key nutrient for acne. It has antioxidant and anti-inflammatory effects, has an antimicrobial effect against the acnes bacterium, and promotes wound healing.
Plant-based sources of zinc are detailed here, though oral supplementation may give you better results.Selenium is the other key mineral to include.
Selenium is an important co-factor in the synthesis of glutathione-peroxidase, your body's most potent antioxidant. Brazil nuts are the richest plant-based dietary source. It is also found in whole grain cereals, eggs, fish and meat.
Investigate and address digestive health. Leaky gut and dysbiotic flora can contribute to acne. Naturopathic care can assist you here – we have some wonderful herbs (such as licorice and marshmallow), powdered supplements (such as glutamine and slippery elm) and probiotics (such as saccharomyces boulardii) that can help seal the tight junctions in the gut wall.
If there is dysbiotic flora, antimicrobial herbs may be used.
Support detox pathways. Naturopathic care can also help support your detox pathways. Herbs (such as Globe artichoke, Rosemary, Milk thistle and Turmeric) can help aid the liver clearance of hormones.
Increasing your water intake can support the kidneys, and an increase in fibre (try 1-2 tablespoons flaxseeds daily) can help clearance via the bowel.
Look at topical antimicrobial support. Topical use of essential oils are helpful at reducing acne lesions (as I've included them in the masks above). Further, a simple face wash made from green tea may be helpful.
Manage both psychological and environmental stress. Acne will typically flare during episodes of stress. Try regular mediation or breathing techniques. You can also use essential oils for further stress support.
Sleep better. Studies show chronic lack of sleep invokes persistent chronic, low-grade inflammation and immunodeficiency. Ensure you have good sleep hygiene – you may like to consider essential oils for sleep support too.
As with all suggestions here on the blog – I can't tell you if the herbal and nutritional suggestions are right for your individual case! Your natural health practitioner can tailor make a safe and effective programme to meet your own needs, taking into consideration your health history, current age, weight, medications and constitution.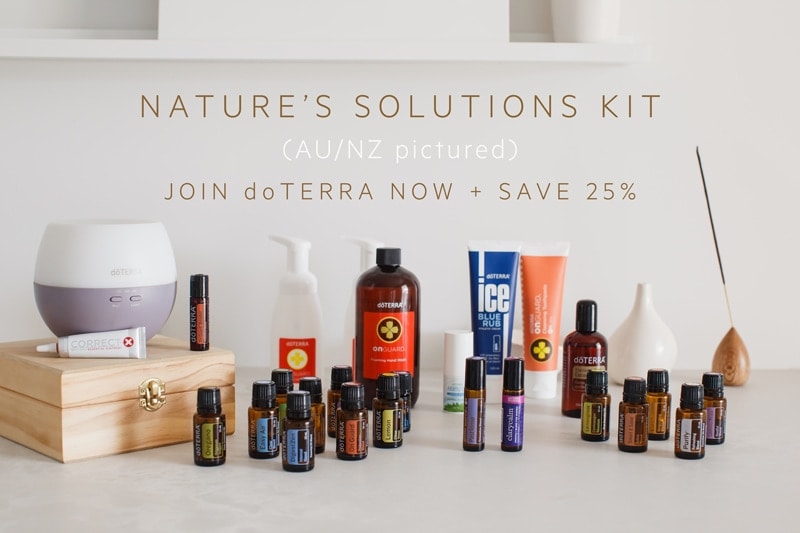 Sourcing essential oils
The fun part! I bet you're dying to get started!
The essential oils I use and recommend are doTERRA. They are safe and effective when used properly. You can open a wholesale account today, to receive 25% off retail pricing, and have them delivered to your door.
The best-value way to go about this, is to join with a starter kit, which waives the membership fee and lets you take advantage of a significant cost savings.
My fave kit is called the Nature's Solutions Kit (Aus, NZ), aka the Natural Solutions Kit in the US.
It contains literally everything you need to start living a toxin free life, with oils to support stress, sleep, energy, hormones, gut health, immunity and more.
Follow my instructions here if you're ready to purchase, then keep an eye out for a welcome email from me with some great resources and an invite to book your complimentary wellness consult with, so we can discuss your needs in greater detail.
More homemade skin care recipes
Ok my friends – enjoy and feel free to take a pic of your face masks in action, tag me @ascensionkitchen so I can come and admire!
If you make and enjoy this recipe, please leave a rating below. And better yet – leave me a comment to tell me how you got on, or just say hi – I LOVE hearing from you. Follow me on Instagram, Facebook or Pinterest to see more of my everyday recipes and wellness tips.
If you'd like to chat with me about essential oils, or book in a 101 class, you can do that here. If you're after a Naturopathic consult, read more here.
Homemade Face Mask for Acne
This Naturopath-designed face mask helps reduce inflammation, provide antioxidants and draw out impurities from acne prone skin.
Equipment
Small non-metallic dish to mix ingredients in (ceramic, glass)
Ingredients
2

tablespoons

red or green clay

approx. 25g

chamomile tea – freshly brewed

enough to create a paste

1

g

vitamin c powder

ascorbic acid

7

drops essential oil total

Manuka, Tea Tree, Juniper berry
Instructions
Wash your face and cover with a warm face towel for a few minutes to open the pores.

Using a glass, wood or ceramic spoon, measure out the clay and add to a ceramic dish.

Add a teaspoon at a time of chamomile tea to the clay and mix to create a thick paste.

Add vitamin C powder and essential oils and mix to combine.

Apply mixture evenly over the face, avoiding the eyes.

Leave the mask on for about 15 minutes, or until it starts to tighten and dry.

Rinse off with warm water and apply a light facial cream or serum to finish.