4 ingredient, non-streak DIY glass cleaner with essential oils - and it smells divine!
Did you know that there are some genetic snyps that can impair your body's ability to detox xenobiotics?
If this is you - you'll likely have a hypersensitivity to chemicals - with symptoms like congestion, watery eyes and runny nose, sneezing, headaches, migraines, rashes/skin break outs, brain fog, fatigue, irritability, digestive troubles, inflammation and even weight gain.⠀⠀
Petrol fumes might induce a headache, you might taste someone's perfume in the back of your throat, fly spray might be enough to start a coughing fit, your hands might burn after handling store bought cleaners...
We have a few sensitive peeps in our family! If I use a chemical-based product to clean the showers – my partner knows about it! His feet burn and turn visibly red, even after I've taken care to rinse, and rinse, and rinse.
If you are one of the sensitive types like him, then the good news is, you may notice a BIG difference after switching out all your cleaning products for gentle, natural alternatives. Cool right?
Jump to:
🏠Homemade glass cleaner – ingredients
Distilled water (or boiled and cooled): remember – water is the perfect medium for bacteria growth
White vinegar: acidic, disinfectant, breaks down mineral deposits
Rubbing alcohol (isopropyl alcohol): this is what makes our glass cleaner streak free – it will evaporate almost instantly without leaving any marks. Great sanitiser.
Essential oils: peppermint and lemon – which together are cleansing and refreshing. Feel free to get creative, but I suggest picking from a list I put together here
✋Any precautions?
Because alcohol is flammable, you will need to store your DIY glass cleaner somewhere cool, ie not in direct sunlight, on top of an appliance or in a hot water cupboard
Clearly label and keep away from children and pets
Make this recipe up fresh in a brand-new glass bottle. If you re-use another cleaning bottle, you run the risk of potentially harmful chemical reactions
Don't keep your rubbing alcohol in the kitchen – you don't want to be mistaking it for regular alcohol
👛Cost effective
A quick costing in New Zealand dollars, excluding the cost of the glass trigger bottle because of course, you'll be re-using it (mine was $7).
Water: $0
125ml (1/2 cup) white vinegar: $0.40
187ml (3/4 cup) rubbing alcohol: $2.60
5 drops peppermint essential oil: $0.56
5 drops lemon essential oil: $0.32
Total: $3.88 for just over 500ml.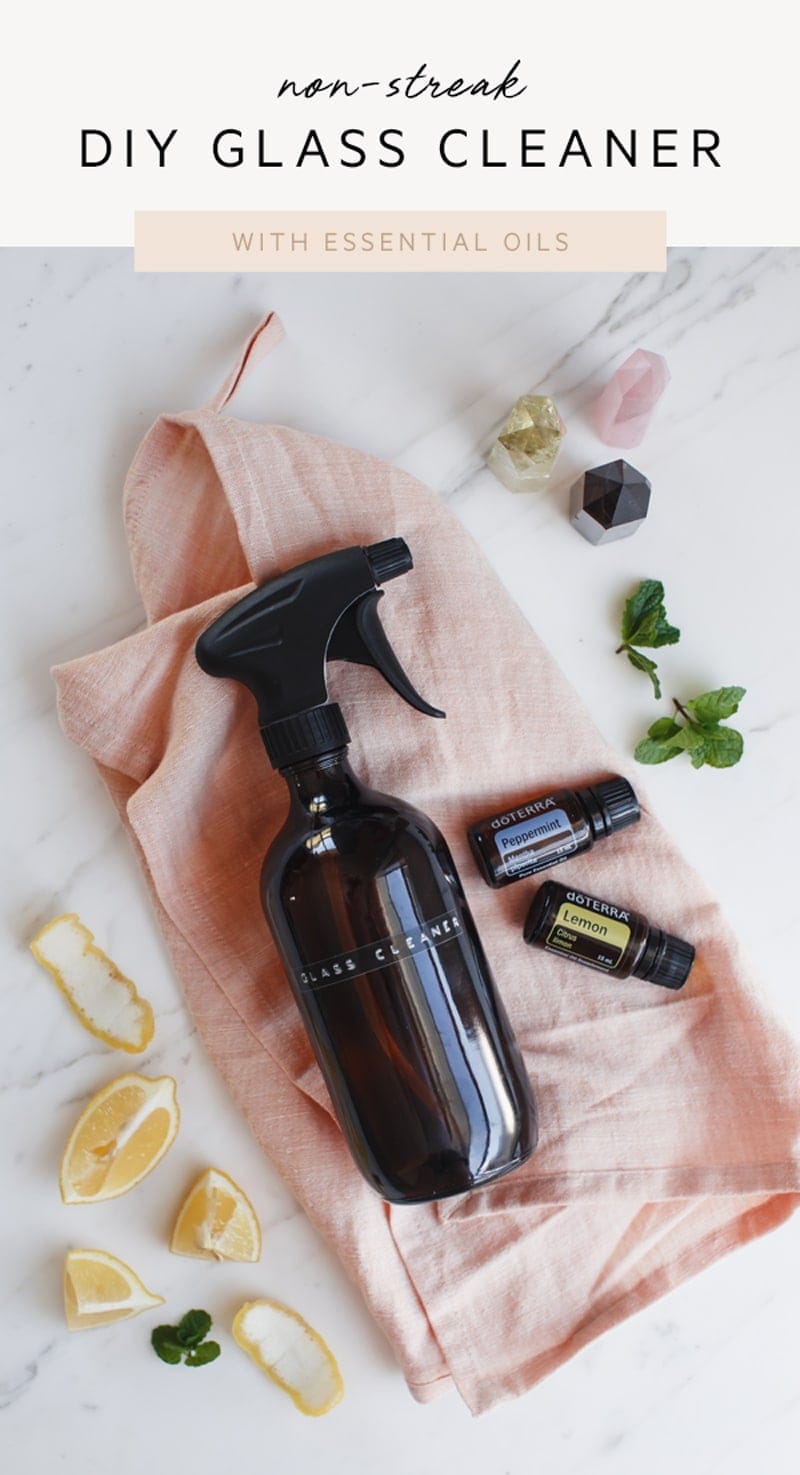 🌿Enjoyed this recipe? Leave a comment below, better yet - share a snap with me on instagram @ascensionkitchen. If you're after personalised health and nutrition advice, contact my clinic, I'd be happy to work with you.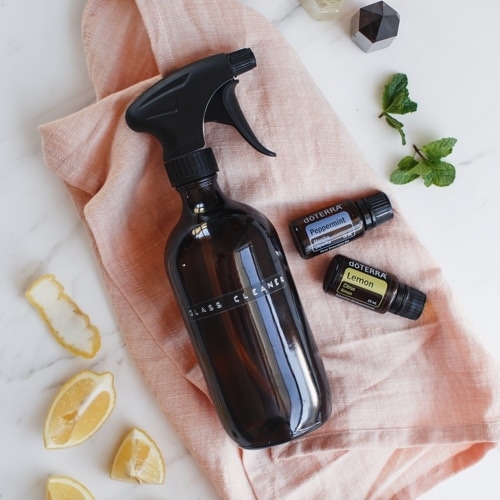 DIY Glass Cleaner
4 ingredient, non-streak DIY Glass Cleaner with essential oils – and it smells divine!
Equipment
500ml (16oz) glass trigger bottle
Ingredients
1

cup

distilled water

(or boiled and cooled water)

3/4

cup

rubbing alcohol

Isopropyl alcohol

1/2

cup

white vinegar

5

drops

peppermint essential oil

5

drops

lemon essential oil
Instructions
Add all ingredients to your glass trigger bottle (a funnel may come in handy), screw on the lid, shake well.

Spray over glass surfaces and wipe off with a microfibre cloth.
Notes
Alcohol is flammable - store somewhere cool, away from heat

Clearly label and keep away from children and pets

Make this recipe up fresh in a brand-new glass bottle. If you re-use another cleaning bottle, you run the risk of potentially harmful chemical reactions

Don't keep your rubbing alcohol in the kitchen – you don't want to be mistaking it for regular alcohol