DIY reed diffuser using all-natural ingredients to scent your home without the toxic chemicals.
Reed diffusers look gorgeous in the home but unfortunately they often contain a cocktail of chemicals – from solvents to volatile organic compounds to synthetic fragrance.
In fact, the term 'fragrance' is a bit of a loophole – a catch-all phrase companies can legally use without having to disclose what exactly the ingredients are.
The average 'fragrance' contains over a dozen unlisted ingredients, which may include chemicals that irritate the skin and respiratory system, and likely harm the environment [1].
Not acceptable. So, we make our own, all-natural, essential oil reed diffuser instead! And might I add - the smell! Divine!
[bctt tweet="DIY Reed Diffuser with Lemongrass + Ginger – all-natural recipe here." username="laurenglucina"]
Making the Reed Diffuser Base
We'll be using a combination of a carrier oil with alcohol to create a natural, chemical-free base.
My oil of choice is fractionated coconut oil – coconut oil that is liquid at room temperature, having had the saturated fatty acids removed. It has a lighter viscosity that other oils, is clear, and has no scent.
Imagine if we used castor oil – it's so thick and syrupy – the essential oils would never make it out of the bottle!
To this we add just a little amount of alcohol (ethanol), to further thin the oil and increase the scent's throw.
Reed Diffuser Essential Oil Blends
And now we create a gorgeous blend. If you're going to be using this in your bathroom (recommended), then I think citrus, woods, spices and herbs are great scents to use.
Here is a Lemongrass and Ginger blend I created, which I absolutely love:
12 drops doTERRA Lemongrass
12 drops doTERRA Lime
24 drops doTERRA Coriander
6 drops doTERRA Ginger
6 drops doTERRA Patchouli
Total: 60 drops.
You can freestyle and blend whichever oils together you like, or follow my guide to creating an essential oil perfume here (this post shows you how to use complimentary oil categories, and how to balance the top, middle and base notes).
Some other essential oils blends as a bit of inspo…
Grapefruit + coriander
Wild orange + rosemary
Jasmine + lime + bergamot
Lime + green mandarin
Green mandarin + peppermint + basil (just *one* drop of basil! It's pretty potent)
Lavender + eucalyptus
If you're wondering where to source your oils from - I can help you with that.
Choosing Bottles and Reeds
When you're choosing your diffuser bottle – source one with a narrow neck – this slows the rate of evaporation so the scent lasts longer. Beakers and mason jars may look pretty, but they're not functional.
Proper diffuser bottles should come with a plastic cap, which is great because you can fill it up with your base and essential oil blend, cap it, and gift it with a set of reeds.
The diffuser reeds I've found come in two different diameters – 3mm or 5mm. I reckon the 5mm look way cooler, and, you need less of them. Purchase a decent sized bundle – so you have plenty of replacements.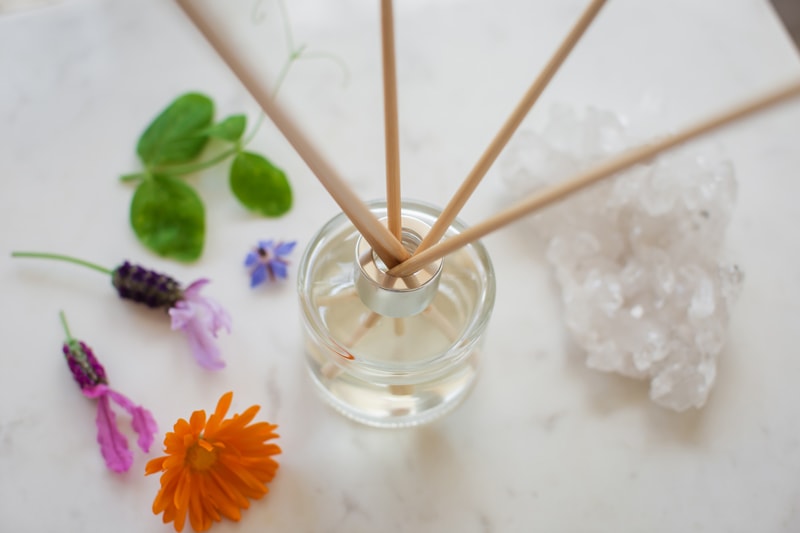 How to make a Reed Diffuser
Source a 125ml glass diffuser bottle with a narrow neck
Combine 100ml fractionated coconut oil with 10ml ethanol in a small jar / beaker
Add essential oils to your liking, approximately 60 drops
Pour the mixture into the diffuser bottle
Add 5 natural reed sticks, 5mm in diameter, or 10 reeds at 3mm in diameter
Allow a few days for the scent to travel up the reeds, at which point you can flip them over to intensify the scent.
Using your diffuser
Reed diffusers aren't as potent as electric diffusers, whether they be nebulising, ultrasonic, heat, or evaporative.
I find they're best suited to smaller spaces – the bathroom or laundry are ideal.
The base mixture does have some viscosity to it, so allow a few days for the scent to travel up the reeds. Once the aroma gets going, flip the reeds over to give it a little boost.
You can do this once a week to keep the potency high, though after a while, the essential oils will naturally evaporate and you'll need to top them up and replace the reeds.
Obviously – if it's placed on a shelf or ledge in direct sun – it's not going to last as long.
That's it! DIY reed diffuser done! Pure aromatic magic without the chemicals.
Enjoy – and please feel free to share your blends in the comments if you make something delicious!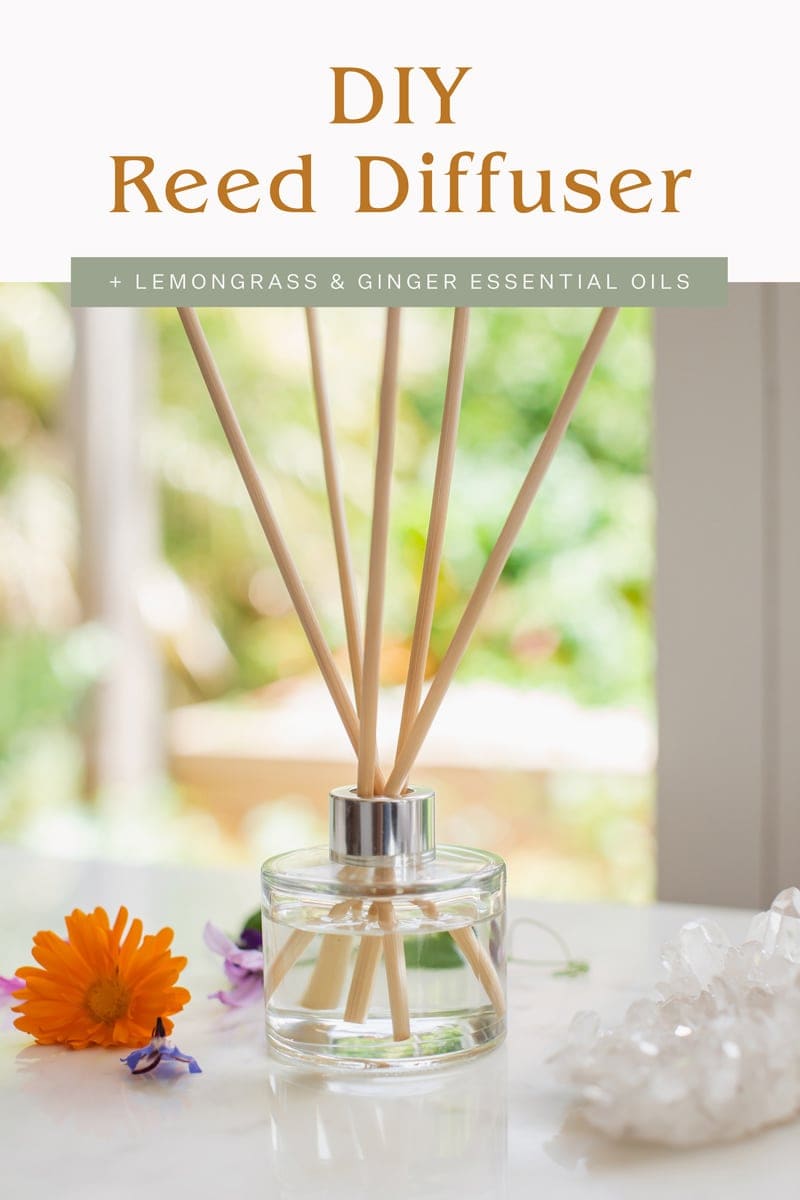 If you make and enjoy this recipe, please leave a rating below. And better yet – leave me a comment to tell me how you got on, or just say hi – I LOVE hearing from you. Follow me on Instagram, Facebook or Pinterest to see more of my everyday recipes and wellness tips.
If you'd like to chat with me about essential oils, or book in a class, you can do that here. If you're after a Naturopathic consult, read more here.
DIY Reed Diffuser with Lemongrass and Ginger
A beautifully scented homemade reed diffuser using pure essential oils.
Equipment
125ml glass reed diffuser bottle

5 natural reeds, 5mm in diameter, or 10 reeds 3mm in diameter
Ingredients
100

ml

fractionated coconut oil

10

ml

ethanol

12

drops

lemongrass essential oil

12

drops

lime essential oil

24

drops

coriander essential oil

6

drops

ginger essential oil

6

drops

patchouli essential oil
Instructions
Combine 100ml fractionated coconut oil with 10ml ethanol in a small jar / beaker.


Add essential oils, if blending your own, use approximately 60 drops.

Pour the mixture into the diffuser bottle, insert the reeds.

Allow a few days for the scent to travel up the reeds, at which point you can flip them over to intensify the scent.