3pm Bliss Balls are the ultimate plant-powered snack, with juicy Medjool dates, cacao nibs, mint and spirulina.
Updated 16 November 2019. Originally posted February 2013.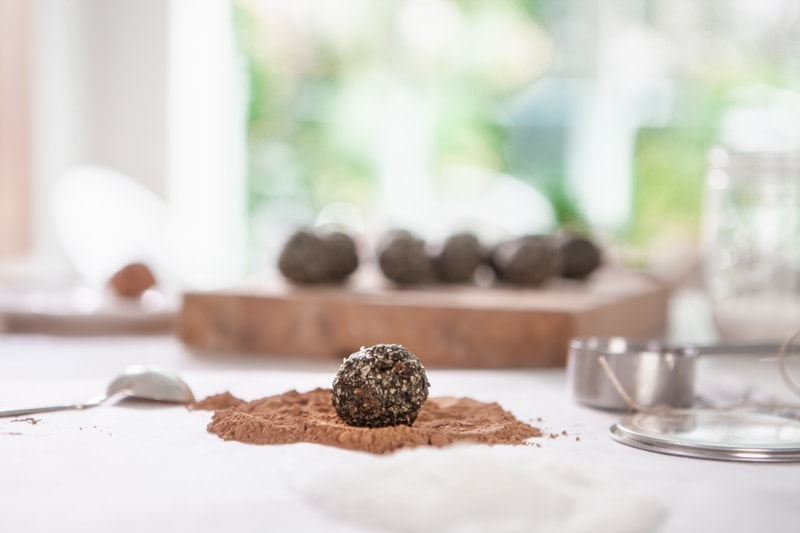 Who else loves a good energy ball? These have been my go-to treats for as long as I can remember. Perfect for a bit of an energy-boost when 3pm strikes!
Bliss balls are a natural treat made from raw, whole food ingredients – pulsed together and rolled into balls.
The core ingredients are always the same: dried fruits such as Medjool dates, raisins and dried apricots, and nuts and seeds such as cashews, almonds, chia and coconut.
[bctt tweet="3pm Bliss Balls with cacao, fresh mint + spirulina – the perfect healthy afternoon snack!" username="laurenglucina"]
From there, you can literally spike them with anything – think superfoods such as cacao or lucuma, adaptogenic powders like Ashwagandha, mineral-rich herbs such as nettle, or immune-boosting medicinal mushrooms like Chaga.
The combinations are endless – go wild!
This particular bliss ball recipe contains some of my favourite functional foods:
Cacao powder and nibs: cacao is a mood-boosting superfood. It contains an amino acid called tryptophan, the precursor to the neurotransmitter serotonin. Serotonin is a natural mood stabiliser – regulating moods, anxiety, happiness and sleep. It's also a wonderful source of the mineral magnesium, affectionately known as the mind mineral, as it is a co-factor in the synthesis of both serotonin and dopamine. The other thing I just adore cacao for – is its rich source of polyphenols, which act as local antioxidants in the gut lumen, whilst providing a fuel source for our friendly bacteria.
Medjool dates: this particular variety of dates are the absolute best in making bliss balls because they're just so darn juicy. Benefits: a natural sweetener with vitamins, minerals, dietary fibre and antioxidants.
Fresh mint: delicious – but also a fantastic digestive-soother. Mint and peppermint are both classed as carminatives for their ability to help reduce griping and intestinal gas.
Spirulina: an incredibly nutrient-dense blue-green algae. Spirulina is a complete protein, a great source of plant-based iron, and contains potent antioxidants with anti-inflammatory effects. A wonderful booster to add to bliss balls and smoothies – safe for the entire family, even during pregnancy and lactation.
How to make Bliss Balls
There is really not much that can go wrong when making bliss balls, which is why they're just so awesome.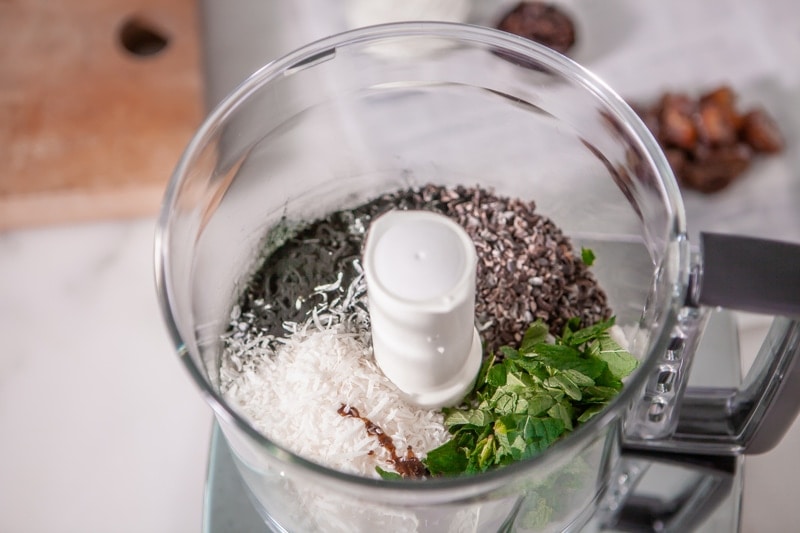 Add everything to the food processor, pulse, roll into balls, done! Almost fail-proof!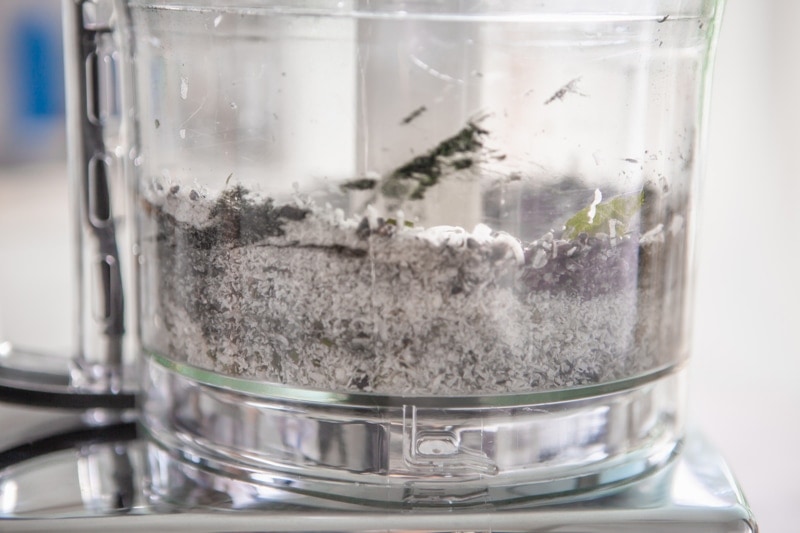 Nevertheless, a few tips;
Use fresh, soft dates, and don't be afraid to add an extra few in there if the balls seem a bit on the dry side.
If your dates are dry, soak them in boiling water for 5 minutes then drain ready for use
Nut butters are a wholesome addition and can be used to replace some of the dates, helpful if you want to reduce the overall sugar content
Try rolling them in a mix of different toppings purely for aesthetics – I've used desiccated coconut, sesame seeds and raw cacao powder here. Freeze dried fruit powders are also fun
If you have food-safe essential oils (I use and trust doTERRA, available for purchase here), a couple of drops of peppermint essential oil in place of the fresh mint is just delicious
Store them in an airtight container to keep them fresh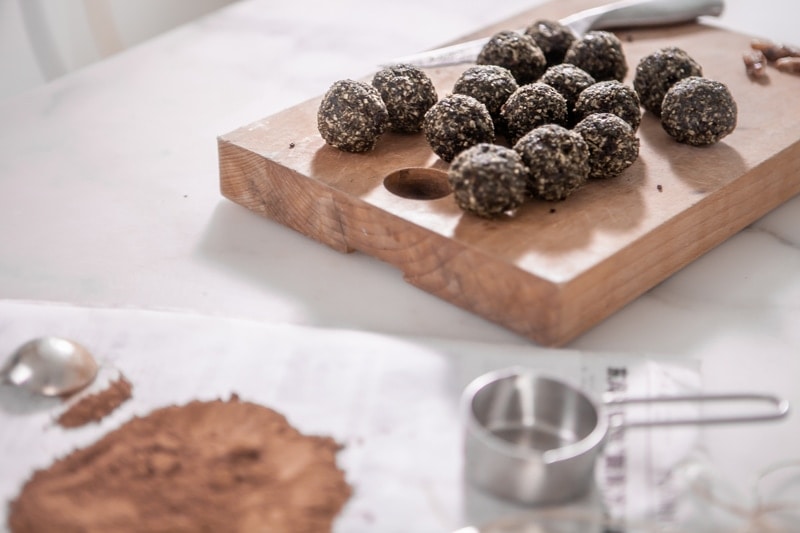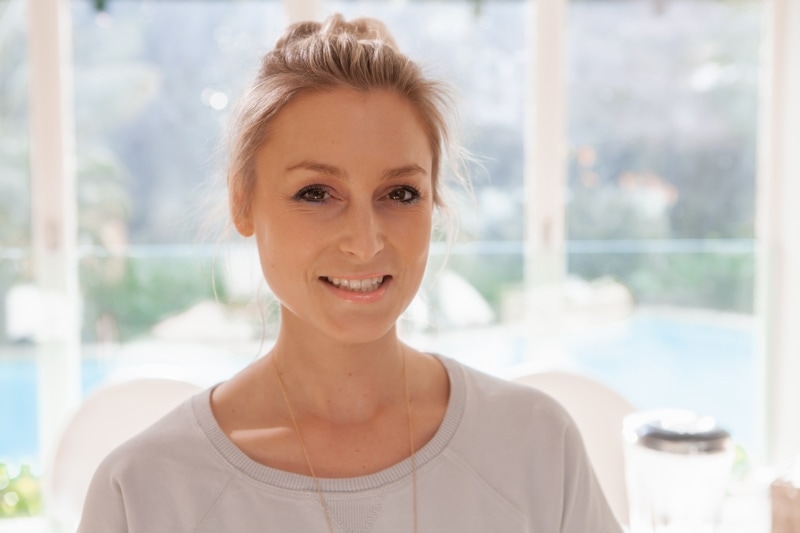 Hope you enjoy this particular combo – this is actually a vintage recipe of mine! Circa 2013 – now I'm really showing my age, I can't believe how young I look in the video! Oh the good old days.
Love,
Lauren.
If you make and enjoy this recipe, please leave a rating below. And better yet – leave me a comment to tell me how you got on, or just say hi – I LOVE hearing from you. Follow me on Instagram, Facebook or Pinterest to see more of my everyday recipes and wellness tips.
If you'd like to chat with me about essential oils, or book in a class, you can do that here. If you're after a Naturopathic consult, read more here.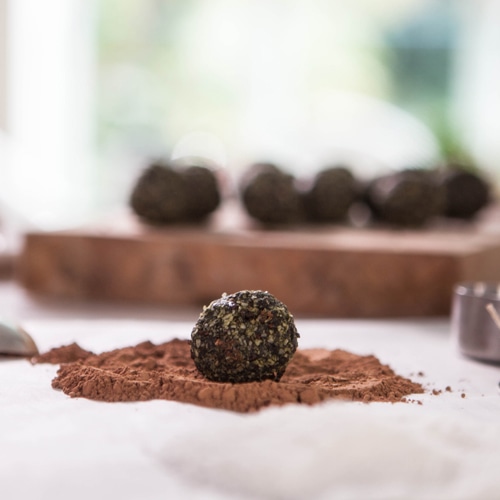 3pm Bliss Balls
3pm Bliss Balls for healthy snacking. Makes a top desk drawer full!
Ingredients
1

cup

shredded coconut

1

cup

desiccated coconut

¼

cup

raw cacao nibs

1

tablespoon

coconut oil

¼

teaspoon

Himalayan rock salt

2

tablespoons

spirulina powder

1

teaspoon

vanilla paste

or extract

½

cup

mint

fresh, chopped

¼

cup

raisins

or sultanas

½

cup

Medjool dates

1

teaspoon

honey
TO COAT:
Raw cacao powder

Desiccated coconut

Sesame seeds
Instructions
Mix the first 8 ingredients together in a food processor.

Add the raisins, dates and honey and mix again till the mixture is nice and crumbly but sticky enough to roll into balls.

Roll into little balls, about a tablespoon per ball.

Now roll them around in a pile of cacao, desiccated coconut or sesame seeds to coat.
Notes
Use fresh, soft dates, and don't be afraid to add an extra few in there if the balls seem a bit on the dry side.
If your dates are dry, soak them in boiling water for 5 minutes then drain ready for use
Nut butters are a wholesome addition and can be used to replace some of the dates, helpful if you want to reduce the overall sugar content
Try rolling them in a mix of different toppings purely for aesthetics – I've used desiccated coconut, sesame seeds and raw cacao powder here. Freeze dried fruit powders are also fun
If you have food-safe essential oils, a couple of drops of peppermint essential oil in place of the fresh mint is just delicious (purchase doTERRA essential oils here)
Store them in an airtight container to keep them fresh
Nutrition