3pm Bliss Balls
25 February 2013
|
2 comments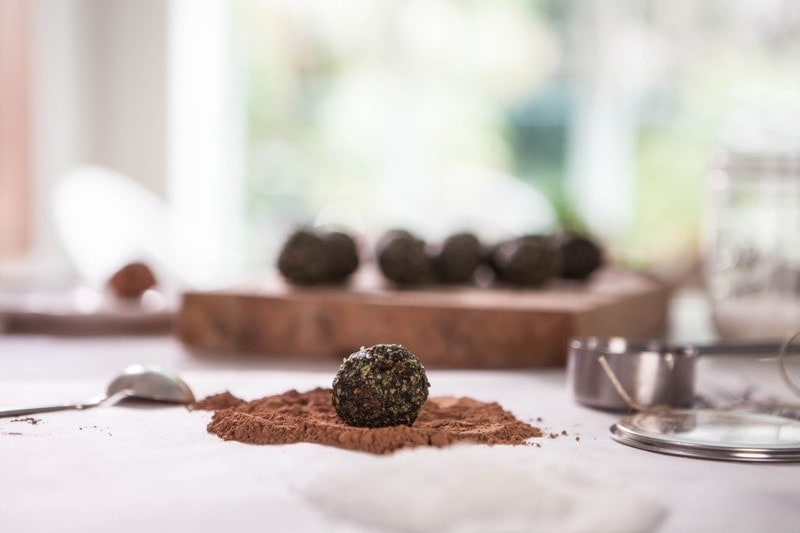 Welcome to my first video in a series that will promise to show you yummy, beautiful, and simple raw foods in a flash. This is all thanks to my clever little brother. There he is down the bottom of the post…aw…cute. So, together, we make stuff, shoot stuff, and share stuff. The idea is to demonstrate that preparing healthy, plant-based meals can be as quick as they are delicious. 
Our first little baby is 3pm Bliss Balls: aren't they sweet!
It's a super quick and healthy treat to make and keep handy at work for when 3pm strikes. Keep a stash in your drawer so that you can ward off the temptation to grab handfuls of chips or candy. Here's what's in them and why they're awesome:
Cacao nibs
Full of magnesium, a great stress buster.
Learn more on the benefits of raw cacao here.
Coconut Oil
Anti-viral, anti-bacterial.

Spirulina
A complete protein source.
Learn more about plant-based proteins here. 
Raisins
For energy and iron.
Learn more about plant-based iron here.
FRESH MINT
For happy digestion.
Dates
For fibre, vitamins and minerals.
Honey
For natural energy. Great alternatives are 100% pure maple syrup, rice malt syrup or coconut nectar.
3pm Bliss Balls
3pm Bliss Balls RAW • DAIRY FREE • GLUTEN FREE • NUTRIENT DENSE
Makes a healthy top desk drawer full.
Ingredients
1

cup

shredded coconut

1

cup

desiccated coconut

¼

cup

raw cacao nibs

1

tablespoon

of coconut oil

¼

teaspoon

of Himalayan rock salt

2

tablespoons

of spirulina

1

teaspoon

of vanilla paste

½

cup

of fresh chopped mint

¼

cup

of raisins

½

cup

of Medjool dates

1

teaspoon

of honey

alternatives: 100% pure maple syrup, rice malt syrup, coconut nectar
TO COAT:
Raw cacao powder

Desiccated coconut

Sesame seeds
Instructions
Mix the first 8 ingredients together in a food processor.

Add the raisins, dates and honey and mix again till the mixture is nice and crumbly but sticky enough to roll into balls.

Roll into little balls, about a tablespoon per ball.

Now roll them around in a pile of cacao, desiccated coconut or sesame seeds to coat.
Lauren's Notes
To make festive looking bliss balls coat in all things red, green and white:
Freeze dried raspberry powder
Beetroot powder
Matcha powder
Crushed pistachios
Coconut
Little brother doin' his lighting thang…
I'd love you to follow me on Instagram, 
tag me @ascensionkitchen so I can see your creations!