If you can't wait to get your hands on some of these beautiful oils, you can set up a wholesale account with doTERRA within minutes and place an order, getting top quality oils for the best prices. Your products will arrive at your doorstep within a few days, and you'll have the option to join the most generous rewards program I have ever come across.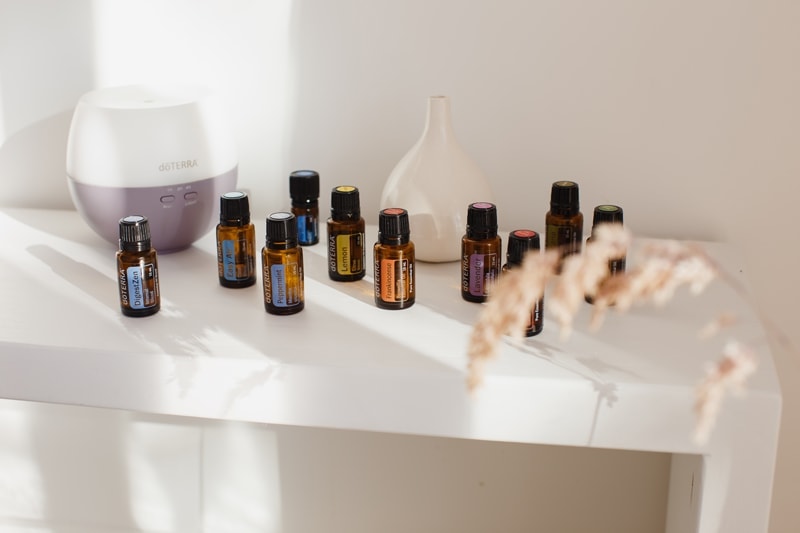 Most people start by purchasing an enrolment kit (no joining fee)
There are kits to suit every budget to choose from, however the Home Essentials Kit (above) is the most popular. The Home Essentials Kit contains your 10 foundational oils, and a beautiful diffuser.
The oils in this kit have such diverse applications, that you will be able to use it time and again for a whole range of health and wellbeing needs. There is no joining fee if you opt to start with a kit, whichever one that might be.
If you don't want to start with a kit, you can pay a small membership fee then order whatever you desire
The membership fee is $35 AU, or $40 NZ. This gives you access to your account for 12 months.
With both options, you immediately get access to oils at wholesale prices, which is 25% less than retail. You also get support from me, helpful oil resources, and access to a vibrant community of oil lovers over on facebook. There is no monthly minimum order (unless you'd like to take advantage of the most amazing rewards programme ever).
And finally, you don't have to pursue doTERRA as a business venture, although if you'd like to, that's a conversation I'd love to have with you.
Ready? Let's do this!
How to Buy doTERRA:
In the top nav, click 'Join & Save', then choose JOIN doTERRA
Click your home country/language and then continue!
Select 'Wholesale Customer'
Complete the 'About You' page, and ensure both the 'Enroller ID' and 'Sponsor ID' have my membership number; 6022806 (this ensures you get support direct from me)
On the next page, choose your enrolment kit (see options below). If you don't want an enrolment kit, select the 'Introductory Enrolment Packet' (i.e. the one-off joining fee)
Enter payment info, then click 'Process Order Now & Continue' (any specials will automatically be added)
As an option, you can choose to join the Loyalty Rewards Programme (LRP) – more on this below
Done! Expect a welcome email with incredible resources from me soon after!
Note: if you have been introduced to the oils via a class by someone other than myself, please connect with them to set up your account.
What happens next? How do I know what to do with my oils?
Once you've enrolled, it's my job to educate you on how to use your essential oils safely and effectively. You'll get an invite to connect for a 1:1 chat once your oils/kit have arrived, so we can go over each and every one. I'll show you how to get the most out of your 12 month membership while we're there.
You'll also receive a short series of emails to help orientate you, with details on safety, ebooks to get your started, and plenty of other resources. Ongoing, I have a private customer facebook group, and monthly workshops on niche topics like toxin-free cleaning, natural beauty and perfume making.
In short: don't worry, I got you!
The Enrolment Kits 
Decisions, decisions! Here is the low-down on a few of the 7 enrolment kits on offer here in Aus and NZ. See below for links to kits available in different countries as they differ slightly.
Family Essentials Kit with Smart & Sassy
$174 AU, $195 NZ | 113 PV
This kit contains 10x 5ml bottles of essential oils, plus a full sized 15ml Smart & Sassy – doTERRA's metabolic blend. Because the bottles are small sized (80 drops per bottle vs 250 drops) – think of this as a sampler. It doesn't come with a diffuser.
Introductory Pack (welcome booklet, brochures + sticker sheet)
5ml Lavender, Peppermint, Lemon, Frankincense, Tea Tree, Oregano, Easy Air, Digest Zen, On Guard, Ice Blue
15ml Smart & Sassy
The Home Essentials Kit
$330 AU, $365 NZ | 235 PV
This is the most popular choice and my recommendation. These 10 essential oils are your absolute foundation. Individually, they have such diverse properties that you will be able to use them time and again to support you and your family's health and wellness needs.
If you want to get an idea of the versatility of this kit, and some of the gorgeous blends and recipes you can create – then have a squiz at the Home Essentials Recipe Book here.
Value: this kit is better value than the Family Essentials, as you get 3x the oils for less than double the price. It works out as $33 AU / $36 NZ per oil (consider Frankincense alone retails for over $100), with a free diffuser and no membership fee.
Personally, I'd add a fractionated coconut oil to this (and to the above!) – so you can dilute your oils appropriately and use them safely, topically.
Introductory Pack (welcome booklet, brochures + sticker sheet)
Petal diffuser
15ml Lavender, Peppermint, Lemon, Frankincense, Tea Tree, Oregano, Easy Air, Digest Zen, On Guard
5ml Ice Blue
More on the individual oils here.
Nature's Solution Kit
$635 AU, $700 NZD | 400 PV
This is the kit for you if you know you are ready and committed to a total wellness overhaul – a wide range of essential oils to support virtually all body systems, in addition to natural cleaning and personal care products, helping you totally detox your home. Hardcore!
Value: this works out as $35.27 AU / $38.8 NZD per oil (18 total – includes Frankincense which retails for over $100), with a free diffuser, a carrier oil, storage box, 6 other low-tox products and no membership fee.
Introductory Pack (welcome booklet, brochures + sticker sheet)
Petal diffuser
15ml Lavender, Peppermint, Lemon, Frankincense, Tea Tree, Oregano, Easy Air, Digest Zen, On Guard, Aroma Touch, Purify, Smart & Sassy, Lemongrass, Lavender Peace, Citrus Bliss
5ml Ice blue
10ml Past Tense, Clary Calm
Low-tox products: Fractionated Coconut Oil, Ice Blue Rub, On Guard Toothpaste, On Guard Beadlets, On Guard Foaming Handwash with 2x dispensers, Correct X (skin ointment), Easy Air Vapour Stick
Wooden storage box
Emotional Aromatherapy Kit
$260 AU, $310 NZD | 148.5 PV
This kit is designed to support your emotions, so it's ideal if you're under stress and are looking for calm and balance. 6 totally exquisite blends, all in the smaller 5ml size, with a diffuser. Hot tip: add a fractionated coconut oil so you can create your own roller blends, to give you comfort topically too.
Introductory Pack (welcome booklet, brochures + sticker sheet)
Petal diffuser
5ml Passion – to get your mojo back, ignite passion and joy, creative sparks – yas Queen!
5ml Motivate – to promote feelings of confidence, courage and self belief, unleash the inner warrior – get it, girl!
5ml Cheer – to uplift and promote positivity, cheerfulness, emotional wellbeing
5ml Forgive – to help you forgive, forget and move on – let it go, girl!
5ml Console – to provide comfort and feelings of hope, it will all be ok
5ml Peace – to help you feel calm and composed, at peace and content – overwhelm be gone!
doTERRA Kits available for purchase in your corner of the globe
You can buy doTERRA products from all corners of the world – ordering through me will mean I'll be your oils support person, regardless of your geographic location.
If you're not opting for a kit, here are the global product guides
If it suits you best to simply open a wholesale account, then browse through your local product guide to select a few items to add to your order.
Why the monthly Loyalty Rewards Programme (LRP) is incredible value (free oils!)
If you are like me (and millions of other doTERRA customers), you may find yourself falling down the rabbit hole of essential oils in the most beautiful way. These plant extracts have so much to offer, you'll soon find yourself wanting to expand on your collection, or replace the oils you have used.
The LRP is so incredibly generous, and the smartest way to grow your collection.
doTERRA assign a point value (PV) to their products. With LRP, you get rewarded up to 30% of the PV of your monthly LRP order back in points to spend on oils of your choice as they accumulate. You will need to commit to a monthly order of at least something to take part, but that can be as much or as little as you like. Unlike other loyalty rewards programmes, you can opt in and out at any time and with no cost.
It's not about spending more – just swapping your shop – ordering your everyday consumables (low-tox) via doTERRA rather than your supermarket, getting them delivered to your door, and being rewarded with points to redeem for oils. Epic!
If you'd like to read more, see doTERRA's LRP flyer here.
Any questions? I'm an email away and happy to chat if need be.