A natural, homemade herbal shampoo made from horsetail and nettle to nourish, strengthen and promote hair growth, with protein-rich spirulina, aloe vera and essential oils. This is not your traditional foaming shampoo – but it still works a treat, and is so fresh and invigorating as you massage it into the scalp!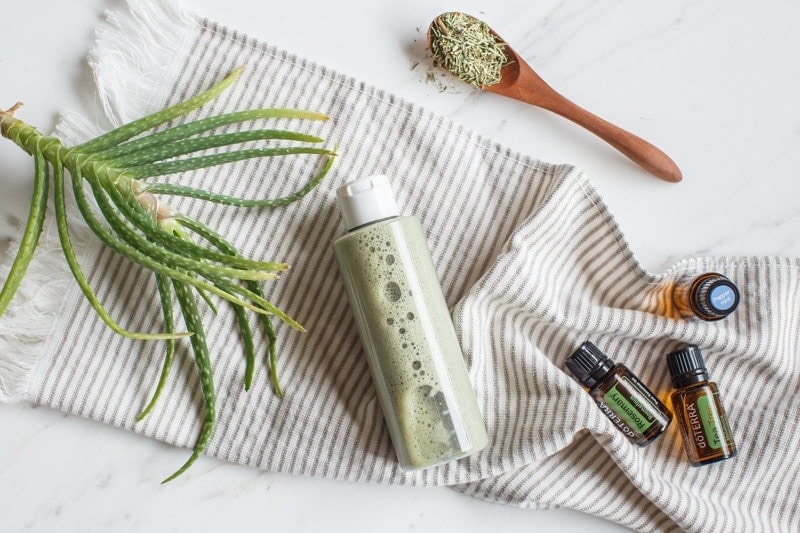 Years ago I decided to enrol in a Shamanic Herbal Apprenticeship to complement my formal studies – which meant I got to spend my weekends in the bush, learning about native trees and wild plants, how to identify them, journey with them on a spiritual level, wild craft them sustainably, and prepare a myriad of nutrient dense recipes and natural medicines with them.
Herbal shampoos were just one of the many treats we prepared, and the basic recipe we were taught made for the starting point of today's iteration.
Now – I'm going to call this one a bit of a working post at the moment – I might tweak the recipe slightly over time so would love feedback on how you go.
I've trialled the shampoo on myself, my partner and parents – all of whom have very similar hair types – fine, wispy, and a little on the thin side.
The feedback from Mum was great – she said she didn't need conditioner, skipped the mousse, and went straight to a blow dry. Her hair felt softer, less tangly, and had more volume. It held in place with a spritz of hair spray without the need for excessive styling.
She wants to pay me to make her a large batch! I'd consider that a win!
My partner thought it was ok – I think he missed the lather. He has slightly oilier than I do – but his hair the next day looked great – much more volume.
I tried using it after applying the Argan Oil Hair Mask I shared a few weeks back – not a good idea – it's just not strong enough to clear a head full of oil!
[bctt tweet="Recipe for a natural, homemade herbal shampoo with essential oils - find it here!" username="laurenglucina"]
The benefits of using this herbal shampoo:
Aside from the castile soap – this recipe is so natural you could literally eat (or drink?) it! No chemical detergents, stabilisers, conditioning agents or additives (ie lathering and foaming agents, thickeners, synthetic fragrances, pearlescents and opalescents)
It is pH balanced to the acidity of your scalp. Your scalp has a pH of 5.5 to neutralise bacteria/fungal growth, whilst the hair shaft has a pH of 3.67. How did I test this? Well – Naturopath perks – I always have a roll of pH litmus paper at home, so I was able to test the final mixture to ensure it was where it needed to be
It contains an array of nutrients to support hair growth, from the horsetail, nettle, aloe and spirulina (think essential vitamins, minerals, amino acids)
It contains ingredients that will add moisture and volume to the hair, leaving it soft and smooth
It contains oil – which sounds counter-intuitive, but will actually hydrate your hair
It contains essential oils – which are invigorating to the scalp, promote healthy skin, and have traditionally been used to support healthy hair growth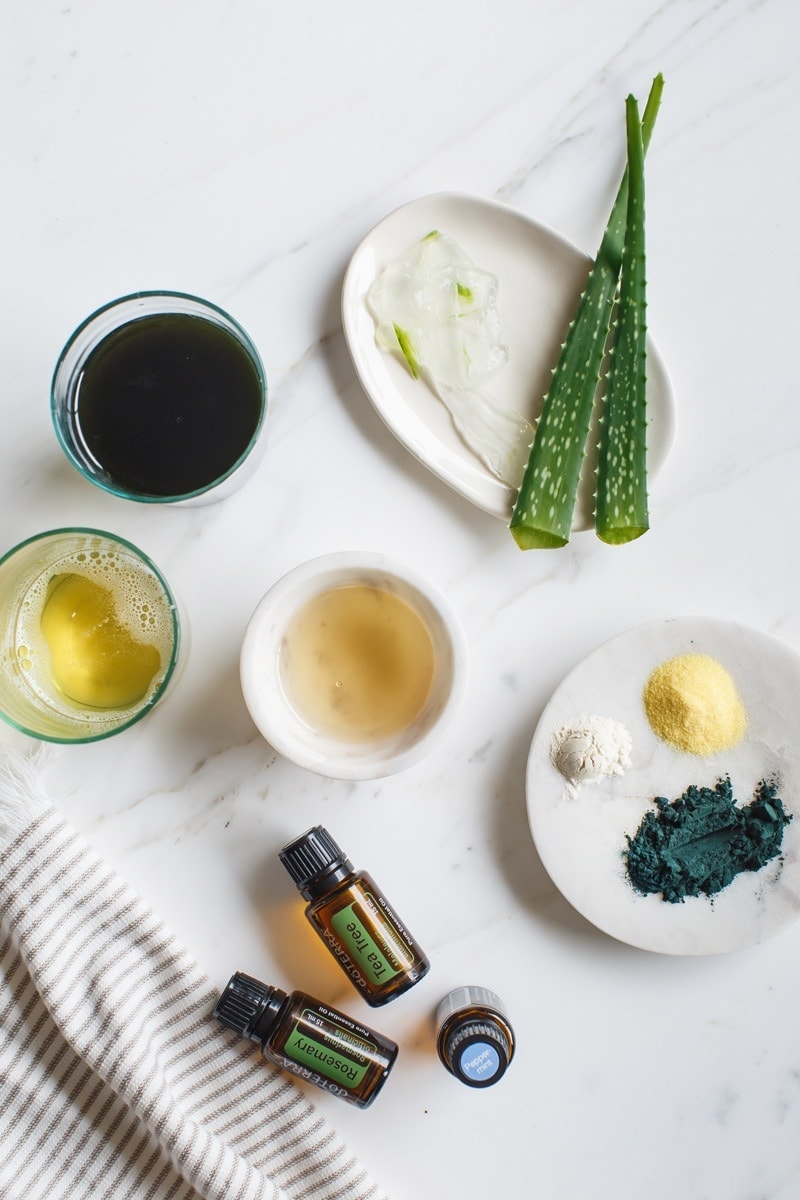 Not your regular shampoo
Obviously, this is not going to be your regular shampoo by any stretch. Firstly – it looks more like a green smoothie than a salon product. Secondly, it ain't foamy. Thirdly, you'll need to make a little of it often, as it only has a little vitamin C in there as a preservative (if I had vitamin E I would have added that – it's a potent antioxidant – by all means break a capsule or two open if you have it in your cupboard).
Basic Herbal Shampoo
To make a basic herbal shampoo, you start by preparing a strong herbal infusion – or a super infusion, as I like to call them. Start with herbs that are nourishing to the hair, such as horsetail, nettles, chamomile, calendula or comfrey.
There isn't a need to get too precise with measurements here – you just take a small jug or glass jar, fill it about ½ full of dried herbs, then top it up with boiling water. From here, you just leave it overnight on the kitchen counter to infuse, allowing the water to draw out the minerals from the plant material.
Once done, you strain it through a fine mesh bag, compost the herbs, combine with castile soap (anywhere from a 1:1 to a 1:3 ratio) and you're good to go.
Fancy Herbal Shampoo
This is where things get real. Herbal shampoo PLUS all the superfood goodies added to it.
Horsetail (Equisetum arvense): Horsetail is named so because of its appearance – it really does look like a horse's bushy tail. Horsetail is rich in silicic acid – a natural source of silicon. Silicon is a key nutrient required in the development, growth and integrity of hair, skin and nails.
Nettle (Urtica doica): Nettle is a particularly mineral rich plant, widely regarded as a tonic for hair growth.
Aloe vera: soothing, moisturising, reduces inflammation, may help promote hair growth
Spirulina: similarly, may add moisture and promote hair growth
Apple Cider Vinegar: organic and unpasteurised please. This contributes some much needed acidity, balancing the pH of the shampoo
Argan oil: I wrote more on Argan oil here. Rich in essential fatty acids to strengthen the hair. I suspect people with oily hair could do with omitting this though
Vitamin C: provides antioxidants, may help preserve the formula somewhat, however I feel a few vitamin E capsules might work better (I had none at home sadly)
Xanthan gum: a substance produced by bacterial fermentation. Used as a natural thickening agent – I think I could have used more of this so stay tuned as I keep tweaking the recipe
Castile Soap: I know Dr Bronner's is popular, but for this recipe, I chose Eco-Castile Soap as it contained far less ingredients: olive oil, coconut oil and rosemary leaf extract
Rosemary essential oil: to support healthy hair, traditional hair tonic
Tea Tree essential oil: cleansing to the skin and scalp
Peppermint essential oil: cooling, invigorating to the scalp – such a beautiful sensation when you massage it into your head! Fave!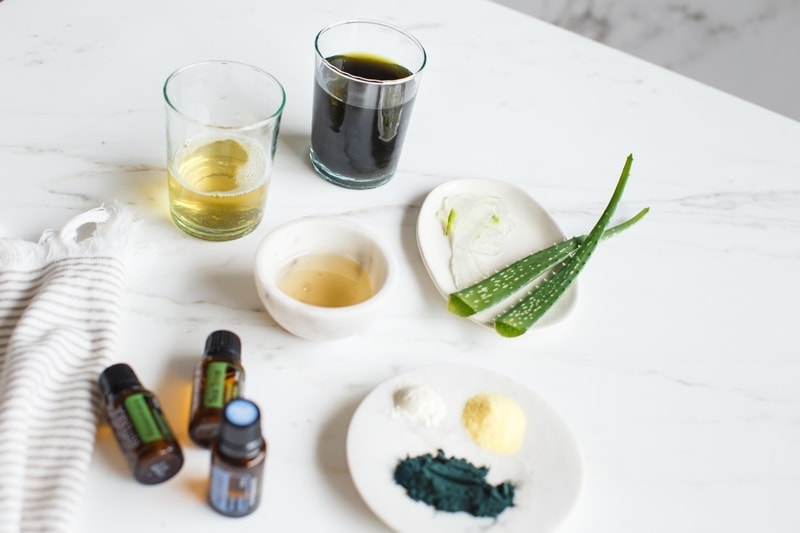 Ok, ready for the recipe? Let's do this.
DIY Herbal Shampoo Recipe
You will need:
Medium size Pyrex jug or similar
Fine mesh bag
Plastic shampoo bottles (recipe yields about 375ml)
Blender
Ingredients:
15g dried Horsetail
15g dried Nettle
1 ½ cups boiling water (375ml)
1 tablespoon freshly filleted aloe vera leaf (or use a pure aloe gel/drink)
5 tablespoons organic, unpasteurised apple cider vinegar
½ teaspoon Argan oil (may need to omit for oily hair)
1 teaspoon spirulina powder
¼ teaspoon xanthan gum
½ teaspoon vitamin C powder (sodium ascorbate)
1 vitamin E capsule (burst and squeeze in)
¼ cup Eco-castile soap (60ml)
5 drops doTERRA peppermint essential oil
5 drops doTERRA tea tree essential oil
10 drops doTERRA rosemary essential oil
Method:
Place the dried herbs in a glass jug and pour the boiling water over them. Leave it to stand on the kitchen bench overnight to infuse.
In the morning, pour the contents through a fine mesh bag, csaving the herbal infusion. Press the bag tight to remove every last drop. Compost the used plant material.
Measure out 170ml of the infusion, and add to a blender. If you have left over, you can add it to your smoothie – just don't waste it.
Add all other ingredients to the blender and whiz for a few seconds to combine. Leave it to settle for a few minutes, then decant into plastic (not glass – safer in the shower), shampoo bottles, label with date.
To use:
Shake well, then use about a tablespoon of shampoo at a time. It won't foam, so to apply, rub your hands together then massage directly into the scalp (wet hair). Rinse as usual.
Shampoo a second time for a deeper clean.
Nope – you won't have green hair, promise!
Should last a week or two - because this is so natural, you'll want to make smaller batches, often.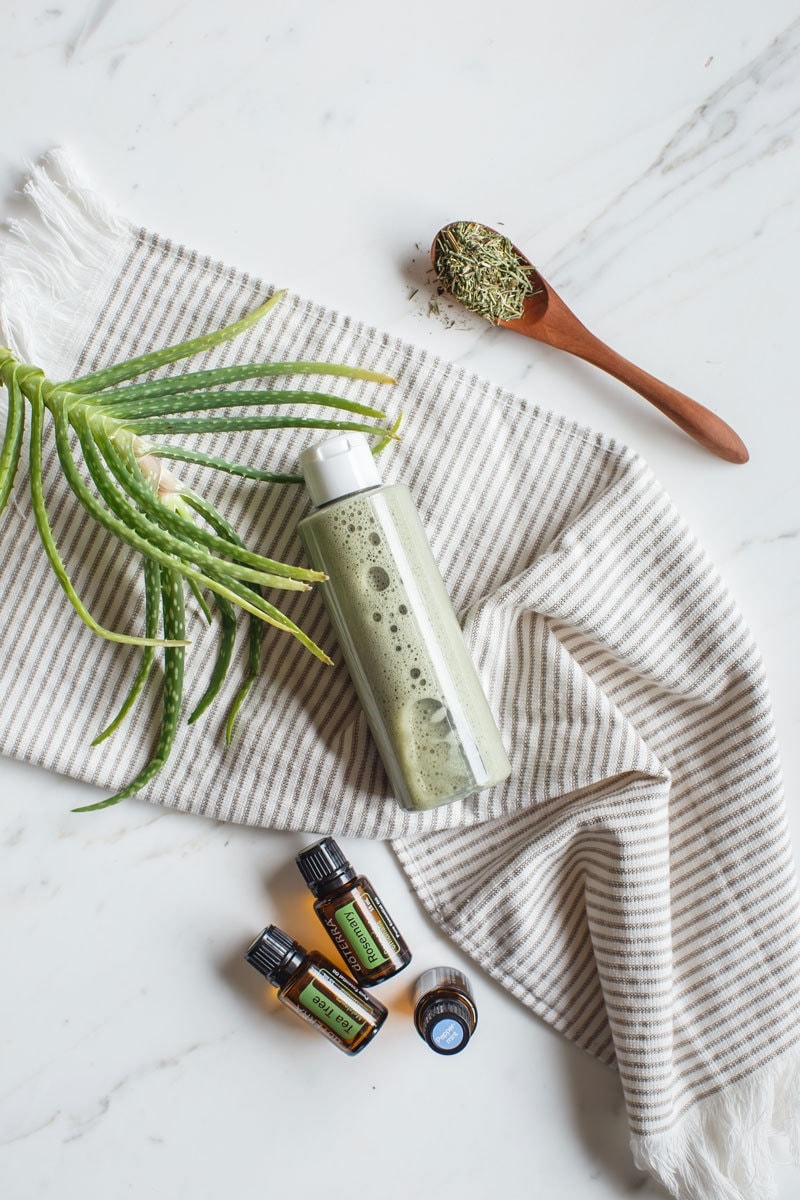 Sourcing the ingredients:
Find the dried herbs at a health store/natural foods store in the tea section
Source plastic shampoo bottles from somewhere like this
Find vitamin C powder at a health store, or a natural skincare supplier
Grow your own aloe, or purchase a pure gel/drink
SOURCING the ESSENTIAL OILS
The essential oils I use are doTERRA, because quite simply, they are the absolute best quality. If you'd like to get started with your own account, you can either book a complementary consult with me to learn more first, or join with doTERRA right away.
If you know you'd love to get on them right away,
I'll guide you through how to purchase them here.
If you'd like to chat further,
you can book a free consult with me here.
And if you're local to me in Auckland and would like to come along to a class,
have a look at my timetable here.
Thank you for reading, happy experimenting and please share how get on - particularly if you customise it for your own hair type!
See you again next week,
Lauren.