This nourishing argan oil hair mask infused with essential oils will be sure to get you the Rapunzel locks you desire. This combo is volumising, deep conditioning, rejuvenating, and promotes hair growth.
Don't you just hate when Goddesses naturally blessed with a thick, shiny, healthy mane are the cover girls for hair supplements, masks and other products?
Well it all ends today – because I'm here with my ever-wispy super fine hair that tangles at the mere sight of a comb, to share a simple recipe I'm so excited about because it really works!
Hair oiling is a beauty ritual that deeply conditions and protects the hair. It involves applying a natural plant oil to the hair and scalp, massaging it in, then washing out.
It can be applied to wet or damp hair, is safe, natural and non-toxic.
With regular application to the hair, you can enhance lubrication of the shaft and prevent breakage, nourish the follicles and promote new hair growth (via an increase in circulation and delivery of nutrients to the scalp).
You can either oil your hair intensely, as in a hair mask applied to the whole head, or as a serum – applying a few drops at a time and massaging in, as maintenance.
It is the combination of the vegetable oil with essential oils (and their regular application) that works to promote an abundant looking head of hair.
[bctt tweet="Nourishing DIY Argan Oil Hair Mask with Essential Oils for luscious locks - find it here!" username="laurenglucina"]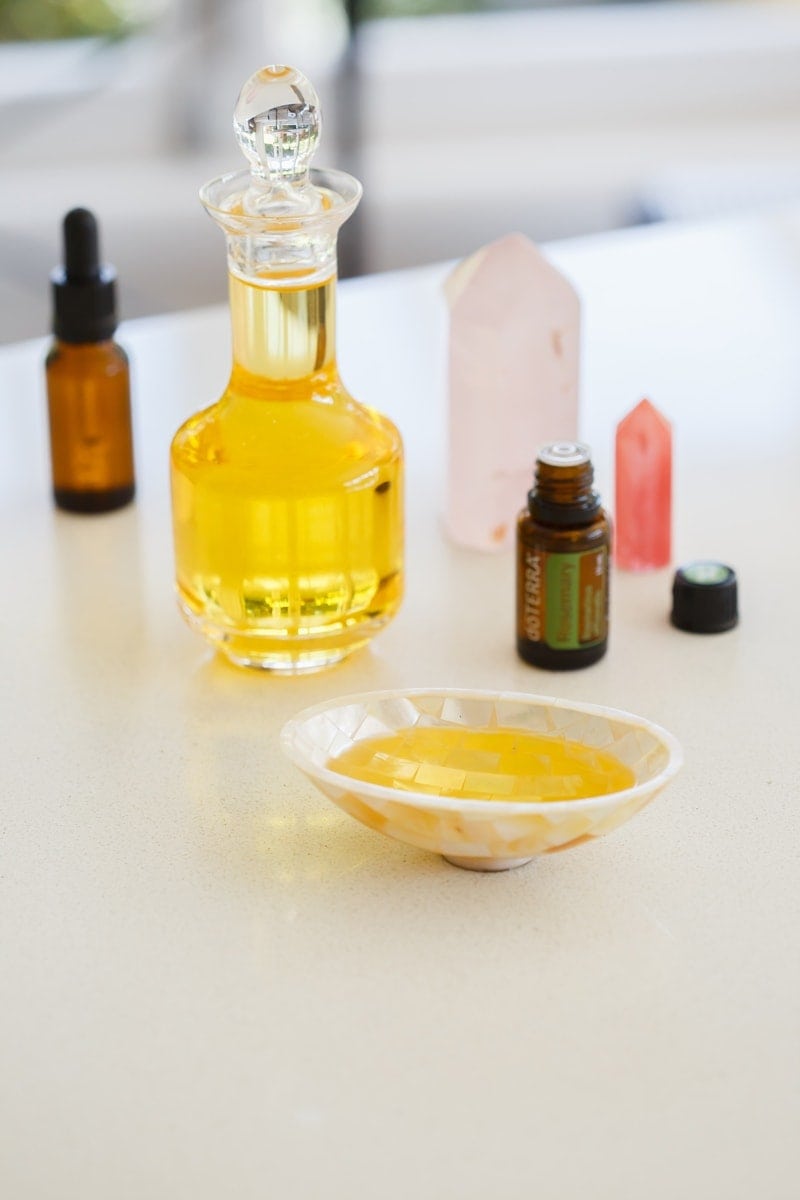 Selecting the best hair oil
Several oils have been touted as being beneficial for hair – sesame, castor oil, coconut, black cumin, and argan are among them.
I've gone with argan for this recipe – I've used cold pressed organic sesame oil infused with herbs in the past, which was lovely, but had a faint sesame scent, and have also tried castor oil, which was a disaster on my hair as it is just so thick and sticky – you'd have to cut it with another oil just to make it manageable.
Argan oil – the 'miracle oil' - comes from the nut of the argan tree in Morocco. Cold pressed extra virgin is regarded as the highest quality.
Argan oil is rich in the antioxidant vitamin E, unsaturated oleic and linoleic acids, sterols, carotenoids and polyphenols. It has been used for centuries to promote skin, hair and general health.
The main fatty acids found in argan oil are oleic acid (48.5%) and linoleic acid (28%). These fatty acids are hydrating and moisturising to the hair
Argan oil contains 63mg/100g of tocopherols (vitamin E), which is over double that found in olive oil. The main tocopherol in argan oil is gamma-tocopherol – a potent antioxidant
Argan's polyphenol content also contributes to its antioxidant effects
The carotenoid content of argan oil may lend some sun-protective effects
Argan oil contains plant sterols – which, when taken internally, are effective at lowering cholesterol
Topically, argan has a history of use for skin conditions – acne, scars, dry skin, wrinkles, psoriasis, eczema, inflammation (including joint pain), burns and wounds
It is the fatty acid content of argan oil that helps hydrate the skin to enhance barrier function. The vitamin E content is protective against free radical damage and signs of aging
Similarly, vitamin E seals deeply, moisturises and conditions the hair, protecting it from drying and breaking
Argan oil's rich nutrient profile can also stimulate new hair growth
Amplifying your Argan Oil Hair Mask with Essential Oils
Now comes for a little extra magic. Not only do essential oils smell wonderful, they may also promote healthy looking hair.
My top pick is rosemary essential oil, but there are a few other hot contenders to speak to:
Rosemary essential oil is traditionally highly regarded as a general beauty tonic. Anne of Cleves – King Henry the Eight's fourth wife, wore sprigs of rosemary in her hair at their wedding. It is also one of our oldest known incenses. When applied to the scalp, it can help promote an abundant looking head of hair
Cedarwood essential oil has a relaxing and grounding aroma
Lavender essential oil is soothing to the skin and scalp
Thyme essential oil has a stimulating aroma and a purifying effect on the skin and scalp
SOURCING ESSENTIAL OILS
The essential oils I use are doTERRA, because quite simply, they are the absolute best quality. If you'd like to get started with your own account, you can either book a complementary consult with me to learn more first, or join with doTERRA right away.
If you know you'd love to get on them right away,
I'll guide you through how to purchase them here.
If you'd like to chat further,
you can book a free consult with me here.
And if you're local to me in Auckland and would like to come along to a class,
have a look at my timetable here.
Thank you for reading, I hope this brings you hair Rapunzel would be envious of!
See you again next week,
Lauren.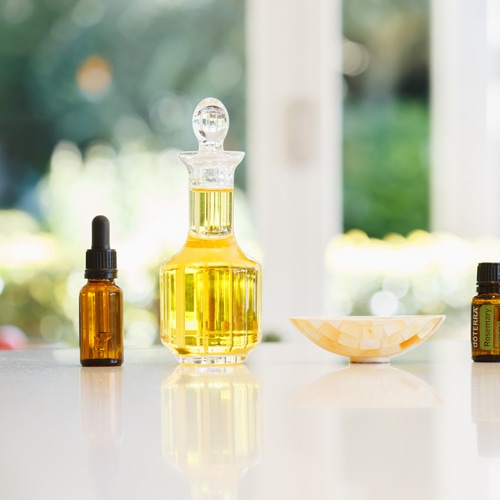 DIY Argan Oil Hair Mask
A simple argan oil hair mask to help nourish the hair and promote new growth.
Ingredients
Large bottle

cold pressed extra virgin argan oil

(avoid oil that has been deodorised)

4-9

drops

rosemary essential oil
Instructions
Decant a tablespoon (15ml) of argan oil into a small dish.

Add 4-9 drops of rosemary essential oil (a 1-2% dilution).

Dab your fingers in the oil then massage into scalp for 2-5 minutes, then cover with a hot towel to promote absorption.

After 15-20 minutes, wash hair as usual – twice, to remove excess oil.

This mask can be applied before every wash.
Notes
It actually took a few weeks before I began to notice just how hydrated and soft my hair had become. After two months I noticed far less hair fall and lots of new, wispy hair growth.
Now, if you don't have time to apply a full on hair mask, you can also make a small dropper bottle of argan up, and add your essential oils directly to it.
Simply add a few drops of the finished oil to your palm and run your fingers through your, hair root to tip, to apply.
I made up a 20ml dropper with 12 drops (2% dilution) of rosemary essential oil.