Relaxing, calming, antispasmodic herbs are gathered and stuffed into a giant tea bag, to make a herbal bath for PMS. Add a cup of epsom salts and a few drops of clary sage essential oil – and you'll emerge from your soak one happy lady!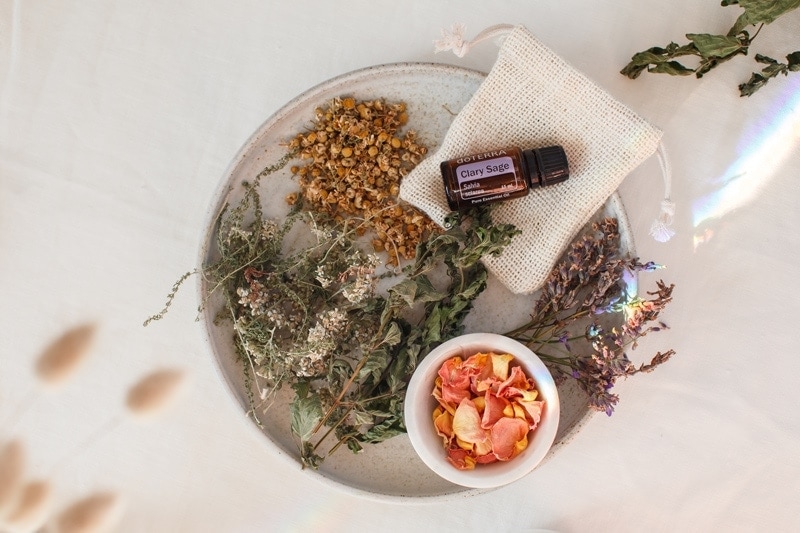 I LOVE taking hot baths infused with herbs – we forget about baths as a mode of delivery for our herbal medicines, but of course it is going to be therapeutic – the skin is our largest organ – so we'll be absorbing the active constituents as we soak.
This recipe is intended for use heading into your Moon time, to ease the tell-tale cramping and discomfort before your menses.
To prepare it, you simply gather your herbs in equal parts (no need to get hung up on weighing out amounts), stuff them into a muslin cloth bag or similar, tie it together, and drop it into your bath while the water runs.
For extra support, add a cup of Epsom salts and some essential oils of your choice.
We'll be using:
Dried lavender (Lavandula angustifolia): nervine, carminative (eases bloating), anti-spasmodic, anti-depressant. Lavender is soothing, calming, relaxing, eases nervous tension and headaches, lifts moods and promotes sleep.
Dried chamomile (Matricaria chamomilla): carminative, anti-spasmodic, anti-inflammatory, analgesic (pain relieving), vulnerary (wound healing). Chamomile will leave you deeply relaxed, as it helps calm and relieve muscular cramps.
Dried yarrow (Achillea millefolium): astringent, diaphoretic, diuretic, antiseptic. Yarrow has an incredibly diverse range of applications. It is beneficial for menstrual cramps, inflammation, restlessness, and night sweats. It is quite unusual in that it can be employed to either help bring on your menses, and reduce excessive bleeding or even halt it entirely if needed.
Dried lemon balm (Melissa officinalis): carminative, anti-spasmodic, mild sedative, anti-viral. Lemon balm works on the gut-brain axis. Incredibly soothing to an anxious over-active mind. Can help ease symptoms associated with PMS such as irritability and insomnia.
Rose: really – I've added rose because it has such a beautiful feminine energy! Added bonus – it is cooling and soothing to inflamed, irritated skin.
Epsom salts: aka, magnesium sulfate. Magnesium is critical for healthy hormone function – it is an oestrogen modulator, is vital in the production of progesterone, and blocks androgen receptors. It is commonly deficient in women and is required for over 300 different biochemical reactions in the body. There is some evidence to suggest that an Epsom salt bath will increase serum magnesium levels.
A hot tip from me, add these towards the end of your bath. A 15-minute soak is plenty. After that, the osmolality of the water will change, and it will start to draw minerals out of your body.
Clary sage essential oil: to add a lovely, woody, herbal and floral scent to the bath. Clary sage contains a constituent called linalyl acetate, part of the esters group - making it an incredibly soothing, relaxing, balancing essential oil. Best practice when using essential oils in the bath, is to dilute in a teaspoon of carrier oil before you add them.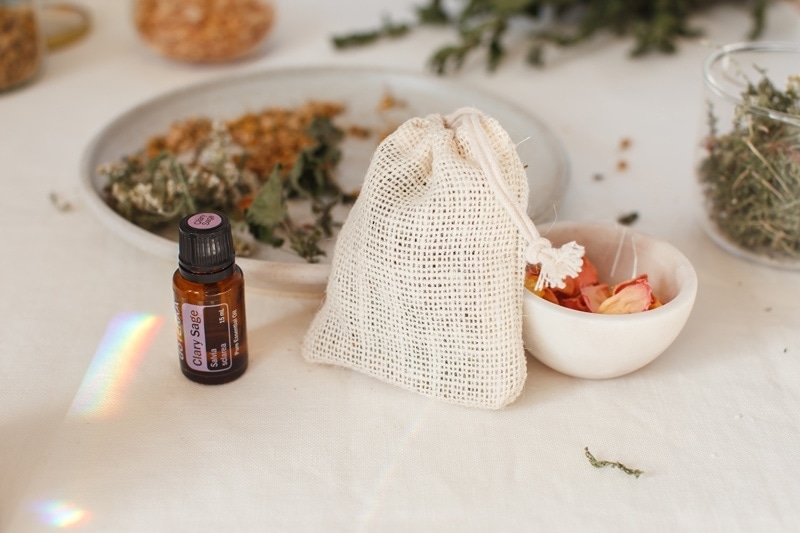 Sounds just dreamy doesn't it! I often prescribe therapeutic baths for my clients – I'm sure you can see why now.
Hope you enjoy the recipe,
Lauren.
If you make and enjoy this recipe, please leave a rating below. And better yet – leave me a comment to tell me how you got on, or just say hi – I LOVE hearing from you. Follow me on Instagram, Facebook or Pinterest to see more of my everyday recipes and wellness tips.
If you'd like to chat with me about essential oils, or book in a class, you can do that here. If you're after a Naturopathic consult, read more here.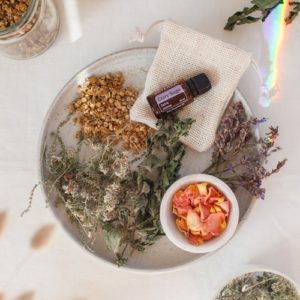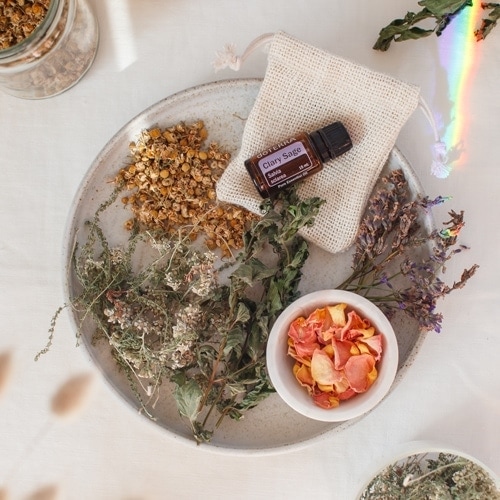 Herbal Bath
A herbal bath to relax and relieve cramps leading into your Moon time.
Equipment
1 small, fine muslin/cotton bag
Ingredients
1

part

dried lavender

Lavandula angustifolia

1

part

dried chamomile

Matricaria chamomilla

1

part

dried yarrow

Achillea millefolium

1

part

dried lemon balm

Melissa officinalis

1

part

dried rose petals

1

cup

epsom salts

1

teaspoon

fractionated coconut oil

or other carrier oil

5

drops

clary sage essential oil
Instructions
Combine the dried herbs in a fine muslin/cotton bag, pull the drawstring tight and add to the bath as it fills with water.

Add epsom salts to the bath.

Dilute the essential oil in the carrier oil, then add to the bath once full.