A healthy, summery, vibrant plant-based Christmas menu to impress.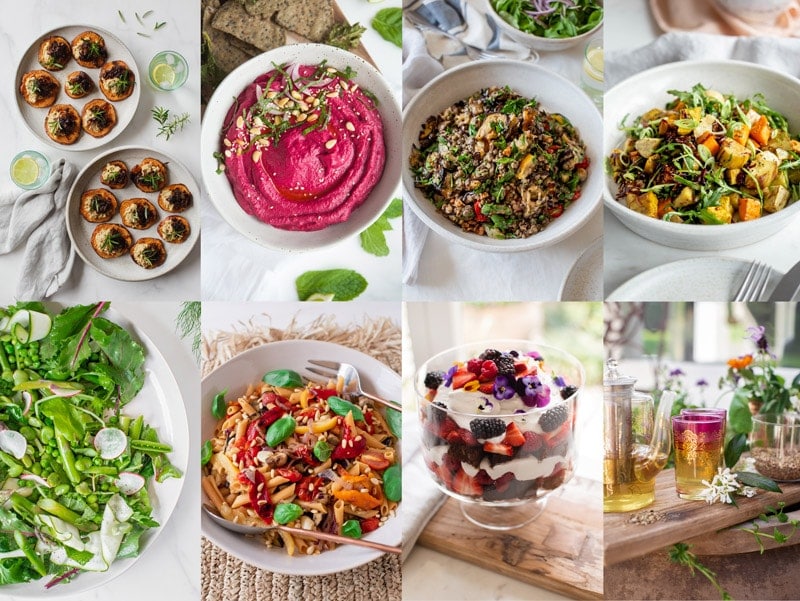 And here we are again, the end of another year, time to dust off the Christmas decorations, don the stretchy pants, eat and drink till merry!
I have for you here, a fresh and vibrant Christmas lunch or dinner menu to consider for your festivities – I know it may seem weird, the thought of planning an entirely vegan Christmas – but why not? If you're hosting – you can make it a time to nourish and feed your family and guests, and educate them subtly on the benefits of eating more plants.
A vegan Christmas dinner is the single biggest way to reduce environmental impact on the big day, alongside minimising food waste.
[bctt tweet="A full, healthy, vibrant + Plant-based Christmas Menu to impress - find it here!" username="laurenglucina"]
Here's this year's plant-powered menu:
Nibbles
Sweet Potato Bruschetta
Radical Roasted Beet Hummus (serve with crudités)
Salads
Asparagus Salad with Maple Mustard Dressing
Kumara Salad with Orange Tahini Dressing
Mains
Mediterranean Inspired Healthy Pasta Salad
French Lentil + Eggplant Salad
Lentil Shepherd's Pie
Sweet
Chocolate Berry Trifle
Vegan Ginger Cookies
Drinks
CCF Tea – Ayurvedic Digestive Soother
Christmas Nibbles
Sweet Potato Bruschetta
These bruschetta look super festive with a little sprig of rosemary on top. You can make the sunflower seed pate and caramelised onions in advance.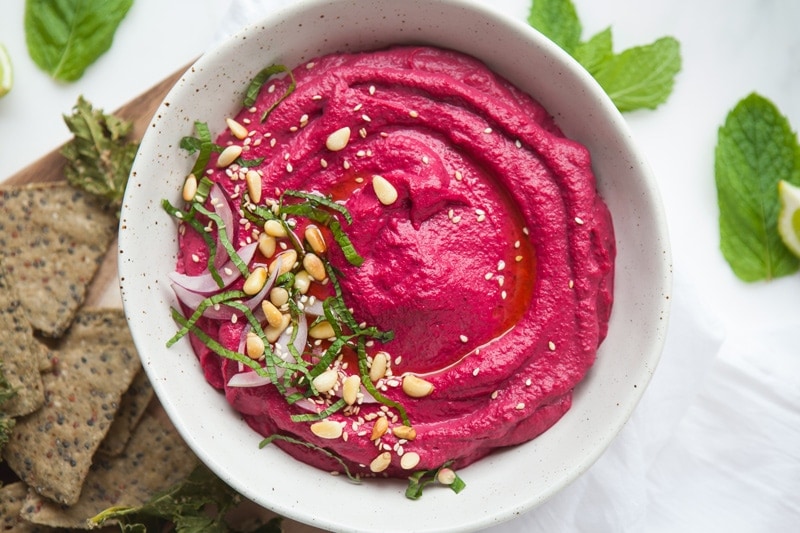 Radical Roasted Beet Hummus
I chose this beet hummus for the outrageous colour. Simply serve with a platter of raw vegetable sticks – cucumber, capsicum (bell peppers), carrots, celery.
These are both quite light, summery recipes – if you're having a White Christmas – you might love this Turkish Lentil Soup.
Christmas Salads
Asparagus Salad with Maple Mustard Dressing
A light, green salad is always welcomed with the heavier mains. Dress at the last minute to keep it looking fresh.
Kumara Salad with Orange Tahini Dressing
Kumara is New Zealand sweet potato – this is a nice alternative to your typical tray of roasted potatoes.
Christmas Mains
Mediterranean Inspired Healthy Pasta Salad
Flavour packed and a crowd pleaser for sure – this pasta salad is best made on the day, because it uses gluten free red lentil penne – who's only fault is that it can tend to dry out a little if it's been in the fridge.
French Lentil + Eggplant Salad
My absolute fave! Soft, juicy, garlicky, lemony eggplant goodness. Filling and protein packed – nobody's going to miss the meat with this one. You can prep several components in advance to save time.
Lentil Shepherd's Pie
This vegan Shepherd's Pie is a cosier option for my Northern hemisphere friends – I love the richness and the flavour in this dish. Plus – it looks rustic and comforting doesn't it?
Christmas Desserts
Chocolate Berry Trifle
The trifle that meets all dietary requirements! Entirely gluten free and plant-based – this is another I recommend making on the day. If fresh berries aren't in season, then I'm sure you'll love Nana's traditional Christmas Fruitcake here (yes, also gluten free, vegan).
Vegan Ginger Cookies
I tend to make mega cookies – if you make these, make the cookies smaller so they go a long way. You may enjoy serving them with…
After Dinner Digestive Tea
CCF Tea – Ayruvedic Digestive Soother
This digestive tea! So simple – equal parts coriander seed, cumin seed, fennel seed. Let it steep well before serving. These three spices are all classed as herbal carminatives, which just means they help dispel intestinal gas and ease spasms. So needed after all that food.
*
And there you go, vegan Christmas menu set! Happy bellies all round.
Have a magical Christmas friends, hope some of these find their way to your table,
Lauren. X