A quick and healthy quinoa salad filled with grated vegetables, tossed with an avocado herb dressing, and finished with toasted nuts, seeds and micro greens. Simple, delicious, impressive.
This plant powered meal is easy to prepare and super satisfying. If you are cooking for guests, adding toasted nuts and seeds and freshly cut micro greens will dress it up perfectly.
I love how these beautiful gluten free grains (or pseudo-grains) are alkalizing to the body and provide such a vast array of nutrients.
Quinoa, the 'Mother Grain', is a good source of calcium and iron. It also contains phosphorus for healthy bones, the antioxidant vitamin E, and B vitamins.
One cup of cooked quinoa gives you about 8g of quality protein, providing all the essential amino acids.
Lx
[bctt tweet="Easy dinner alert! Green Quinoa Salad with zucchini, avocado & micro greens. Recipe here."]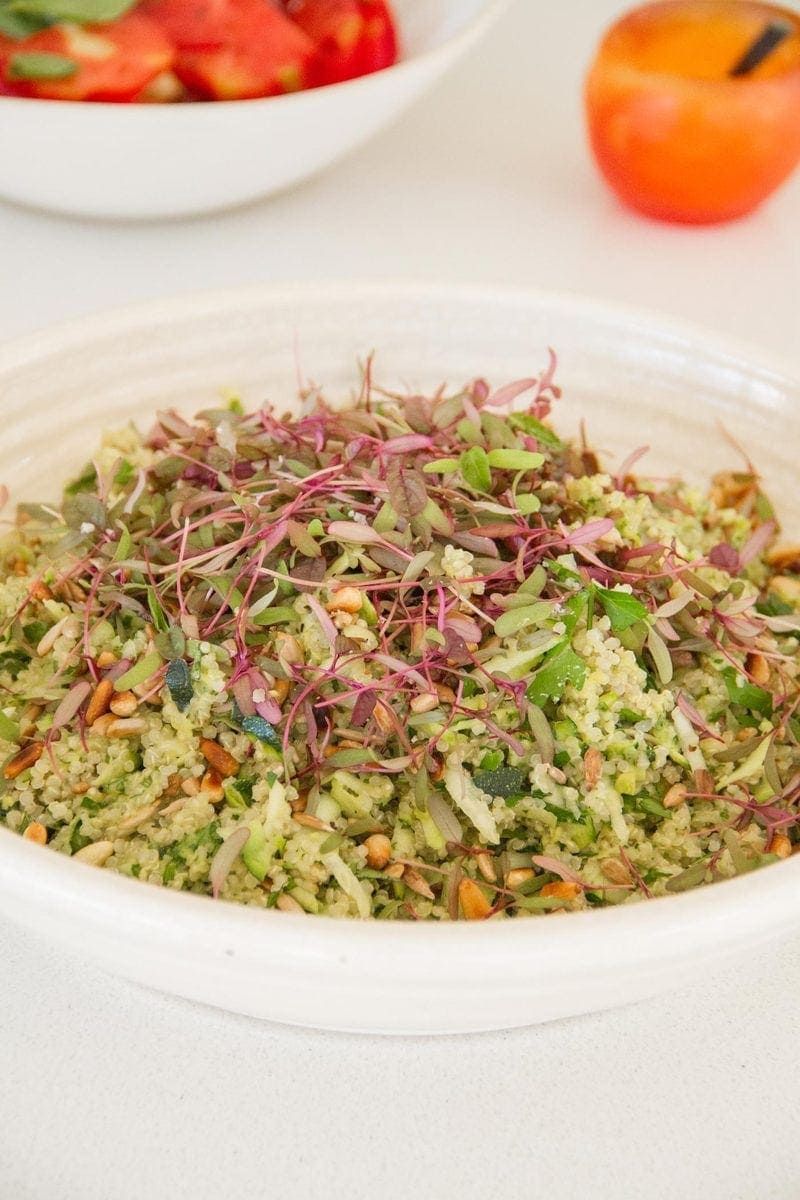 Green Quinoa Salad
A simple, protein rich meal filled with zucchini, avocado and fresh micro greens. Recipe serves 3 (2 people with leftovers).
Ingredients
1

cup

quinoa

Half an avocado

Handful of coriander

4

tablespoons

extra virgin olive oil

One zucchini

grated

Large handful of fresh herbs: mint

parsley, oregano

One stalk of celery

finely chopped

¼

cup

sunflower seeds

¼

cup

pine nuts

Micro greens

Sea salt and freshly ground black pepper
Instructions
Pop the quinoa in a sieve and rinse well, then add to 2 cups of cold water in a pot, bring to the boil, reduce to a simmer, and cook for 15 to 20 minutes.

In a hand held stick blender, blitz the avocado, coriander, olive oil and salt to make a green sauce.

Fold this through the cooked quinoa with the zucchini, fresh herbs and celery.

Gently toast the sunflower seeds and pine nuts, then sprinkle over the quinoa salad.

Top with freshly picked micro greens and fresh herbs, season with sea salt and freshly cracked black pepper.
Nutrition
I'd love you to follow me on Instagram,
tag me @ascensionkitchen so I can see your creations!