5 homemade beard oil recipes and how to use them for hydrated skin, and a healthy, soft and tame beard!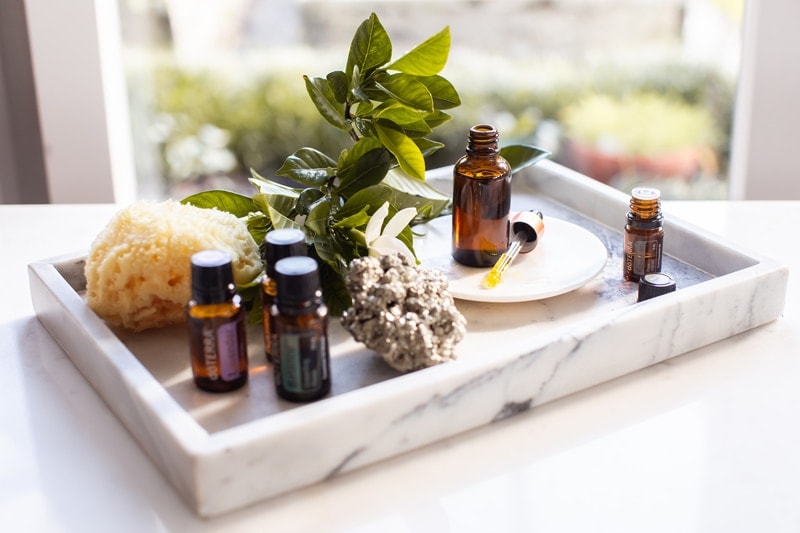 What makes a respectable beard? Serious question. I've never really thought about it – but our wedding is just a couple of months away (an elopement to a tropical island – bliss!), and my partner wants to know – beard or clean shaven?!
So what does make a respectable beard? I'll tell you – because now I've thought about it so much, I'm a self-proclaimed expert!
I want to see thick stubble, not a full on lumberjack, and definitely not hipster – Jason Momoa-style (on a 'groomed' day) would be as far as I'd go, preferably David Beckham. Conversely, nothing overly styled or we end up in Craig David town (soz, Craig!).
I want even length, but not perfectly trimmed. I want soft texture, no flakes (ew), and no patches.
Too much to ask?!
I thought I'd give him a little helping hand by making up a homemade beard oil.
What even is beard oil and how does it work?!
It's a genius combination of carrier oils that protect the skin and nourish the hair, with added essential oils to stimulate the scalp, prevent dandruff (beardruff!), create an abundant looking head of hair, and generally keep it smooth and healthy.
Daily use of a beard oil can:
Hydrate and soothe the skin, reduce irritation and prevent beardruff
Soften and tame the beard
Increase hair growth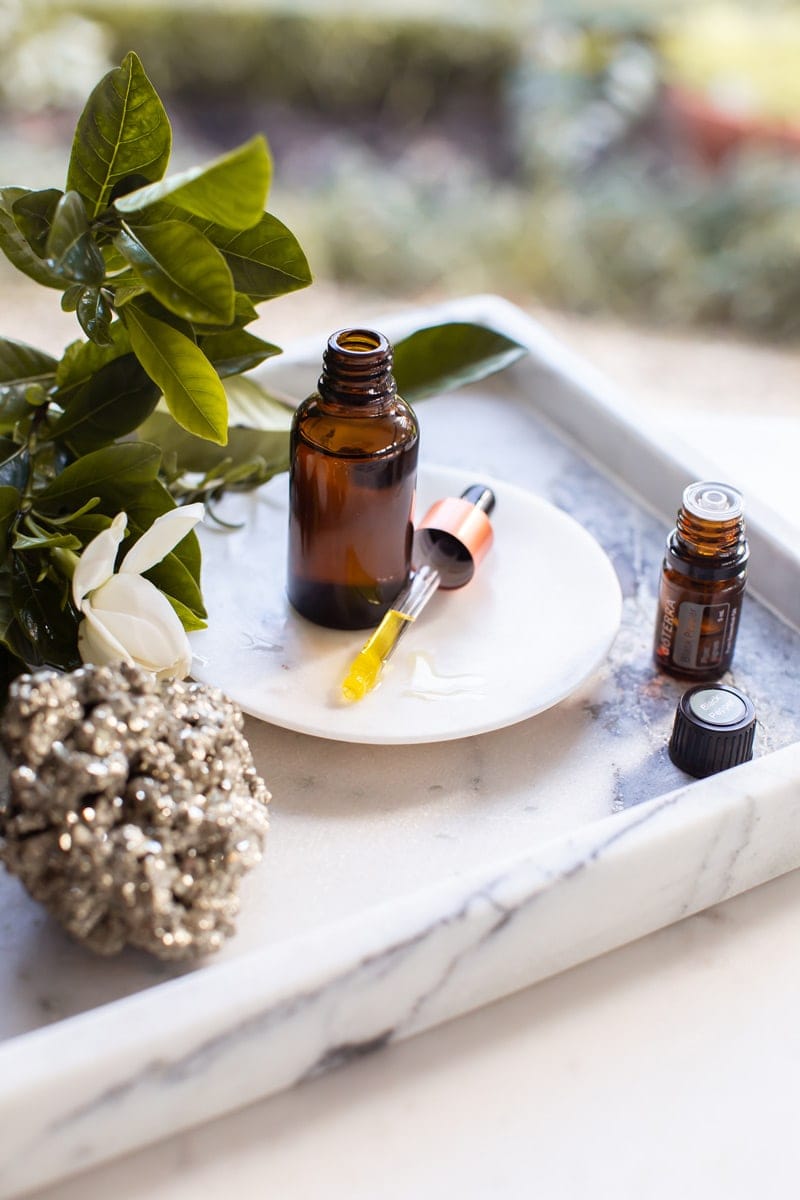 The Basic Beard Oil Recipe
We only need a few simple ingredients to put this together – carrier oils and essential oils.
Jojoba Oil
Jojoba oil is technically a liquid wax, not an oil, and it closely mimics the skin's own sebum. It acts as a humectant – keeping the skin hydrated and preventing loss of moisture. It is noncomedogenic, with anti-microbial, antioxidant and anti-inflammatory properties, meaning it is useful in supporting skin conditions such as acne, eczema, psoriasis, rashes and dandruff.
Argan Oil
Argan oil is most recognised for its ability to promote hair growth – as is castor oil. However, argan oil has a lovely consistency, where castor oil is incredibly thick and viscous, which can make it hard to work with. Argan oil contains fatty acids that are nourishing to the skin, and antioxidants such as vitamin E and polyphenols. It's this rich nutrient profile that helps stimulate new hair growth.
Essential Oils
When using essential oils, you can either base your selection off those that will support the skin and hair, or those that just smell damn good.
For the skin and beard I'd suggest:
Tea tree: renowned for its cleansing qualities and for revitalising the appearance of skin
Rosemary: a traditional hair tonic – to help create an abundant looking head of hair
Cedarwood: for healthy skin and hair, lovely woodsy aroma
Lavender: intensely floral – though calming and soothing
For a masculine scent I'd suggest:
Woodsy oils: Cedarwood, Sandalwood, Copaiba, Siberian Fir, Douglas Fir
Earthy oils: Vetiver, Patchouli, Clary Sage, Myrhh
Resinous oils: Frankincense, Arborvitae
Camphoraceous oils: Eucalyptus, Tea Tree, Rosemary, Marjoram, Lemon Myrtle
Citrus oils: Bergamot, Lime, Grapefruit, Petitgrain (aka the male Lavender!)
Spicy oils: Black Pepper, Pink Pepper, Ginger

Blending your Essential Oils
Now we're getting fancy, girl! Go by whatever smells good to you, or follow my guidelines to blending here.
Diluting your essential oils
Once you've chosen your oils, a 0.2-1.5% dilution is appropriate and gentle for the skin. If you're making a 30ml / 1oz bottle up, then a 1.5% dilution equates to approximately 14 drops of essential oil.
Phototoxicity of the Citrus Oils
If you're using citrus oils, apply in the evening, or avoid going in the sun for 12 hours after application. Citrus oils can enhance DNA damage under UV rays.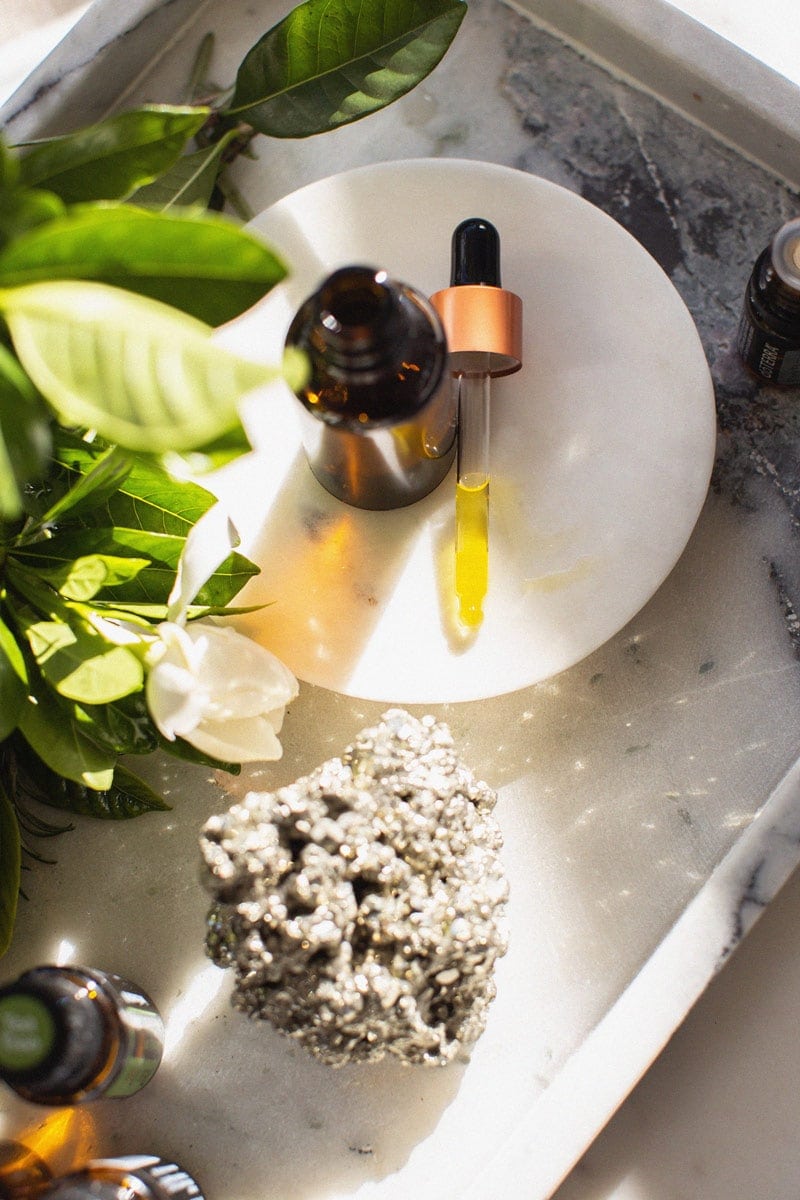 5 Great Beard Oil Blends
Full Beard
Rosemary, Lavender, Cedarwood, Sandalwood
Tame, Soothe and Calm
Manuka, Lavender, Petitgrain, Frankincense
Fresh, Spicy, Woodsy*
Sandalwood, Patchouli, Vetiver, Black Pepper, Lime, Rosemary
Earthy Forest
Cedarwood, Douglas Fir, Pink Pepper, Clary Sage
Fresh and Clean
Wild Orange, Bergamot, Frankincense, Marjoram
*This is my FAVE blend – I think this will be wedding-day beard blend for sure.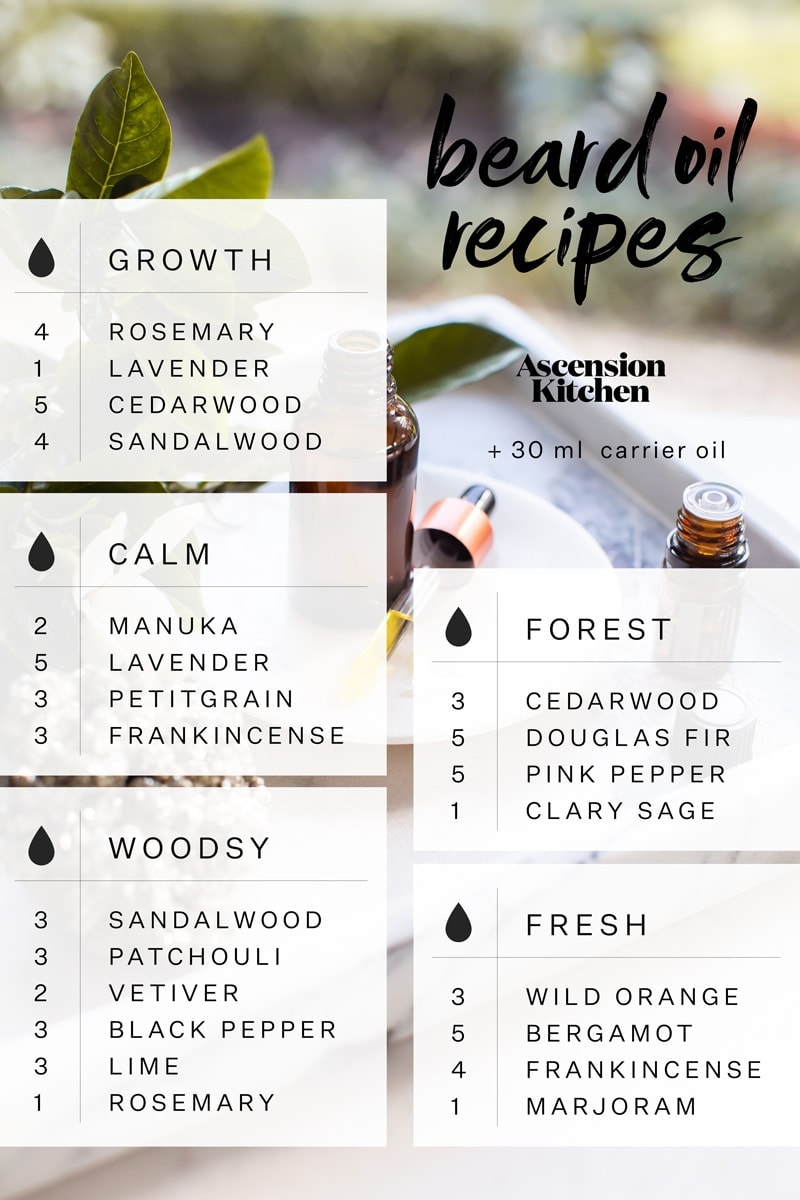 How to Apply Beard Oil
After a shower, add a few drops to the palm of your hand, then rub together and run your fingers through your beard. Easy!
More gorgeous skincare recipes

Sourcing Essential oils
From moi! Obvs. If you're considering getting started on your essential oils journey – I would love to be your lady.
Opening a wholesale account with doTERRA has so many perks – you're not just getting access to top quality oils and a great range of everyday wellness products, you're getting them at 25% off retail, with the option of receiving a further 30% off if you take part in their rewards programme.
You also get ongoing education and support from me, so you'll constantly be inspired with new ways to incorporate these into your wellness practice.
For more information on how to get started, read on here.
Till next time friends,
Lauren.
If you make and enjoy this recipe, please leave a rating below. And better yet – leave me a comment to tell me how you got on, or just say hi – I LOVE hearing from you. Follow me on Instagram, Facebook or Pinterest to see more of my everyday recipes and wellness tips.
If you'd like to chat with me about essential oils, or book in a class, you can do that here. If you're after a Naturopathic consult, read more here.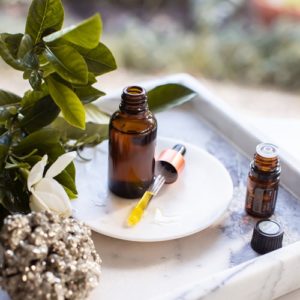 Homemade Beard Oil
Tame the beard! This combination of carrier and essential oils will hydrate and nourish the skin, soften the hair and promote new growth.
Equipment
30ml (1oz) amber glass bottle with dropper
Ingredients
15

ml

(0.5oz) jojoba oil

organic

15

ml

(0.5oz) argan oil

organic

14

drops

essential oils of your choice

see notes for blend ideas
Instructions
Add essential oils to glass bottle, top with carrier oils, then fasten the dropper.

To use, add a few drops to the palm of hands, rub together, then run hands through your beard. Best applied after a shower. If using citrus oils, see notes on phototoxicity.
Notes
You can use just a single carrier oil if you like – I prefer the 50/50 blend.
You'll see some beard oil recipes online call for castor oil, I haven't used it as it's quite viscous, but if you'd like to try it out, I suggest just using a small amount.
14 drops of essential oil to 30ml/1oz of carrier is a 1.5% dilution, I don't recommend going higher than that, though you can use less.
Citrus oils are phototoxic, meaning they enhance UV induced DNA damage, so if using, apply at night or avoid going in the sun for 12 hours after application.
Try some of these essential oil combinations:
Growth: 4 drops Rosemary, 1 drop Lavender, 5 drops Cedarwood, 4 drops Sandalwood
Tame, Soothe and Calm: 2 drops Manuka, 5 drops Lavender, 3 drops Petitgrain, 3 drops Frankincense
Fresh, Spicy, Woodsy: 3 drops Sandalwood, 3 drops Patchouli, 2 drops Vetiver, 3 drops Black Pepper, 3 drops Lime, 1 drop Rosemary
Earthy Forest: 3 drops Cedarwood, 5 drops Douglas Fir, 5 drops Pink Pepper, 1 drop Clary Sage
Fresh and Clean: 3 drops Wild Orange, 5 drops Bergamot, 4 drops Frankincense, 1 drop Marjoram