This DIY face serum is simple but revolutionary! Greedily devoured by the skin – infused with essential oils such as frankincense, lavender and sandalwood.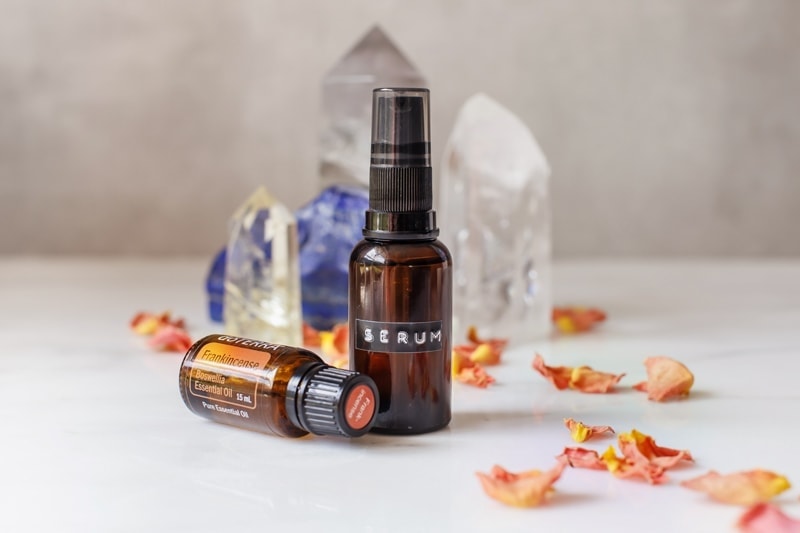 I have to say, since using an oil-based face serum these past six months, my skin has greatly improved.
The melasma over my forehead has faded – despite my face seeing quite a bit of sun over summer, and the redness and tiny baby pimples I used to get around the mouth have virtually disappeared.
My skin has a genuine glow! Hooray!
This recipe is incredibly simple – blend together a couple of complimentary carrier oils (jojoba and macadamia), add some vitamin E to preserve it, and a blend of skin-supportive essential oils.
The hero of this DIY serum is frankincense, and we'll talk a bit more about him in a minute.
First – let's see why each of these ingredients is so special.
[bctt tweet="Revolutionary, simple DIY Face Serum - find the recipe here!" username="laurenglucina"]
DIY face serum ingredients
Jojoba oil
Almost a third of our skin's sebum (a substance produced by glands to moisturise and protect against bacteria) is made up of wax esters. Some loss of sebum is quite normal as we age and cell turnover declines. It can also be induced prematurely by chronic illness, poor nutrition and some medications.
Jojoba is actually a liquid wax, not an oil – and is the closest match to our own endogenous wax esters. Because of this, it is able to pass through the epidermis and into the deeper layers of the skin, carrying nutrients with it.
Jojoba oil is a source of the fat-soluble vitamins A, D and E. Vitamin A is a key nutrient in skin and mucosal healing – promoting epithelial turnover, and vitamin E is a potent natural antioxidant.
It also contains essential fatty acids 6 and 9, which help nourish and balance the lipid bilayer of the skin. Jojoba would be a great oil to use as a hair mask to promote strength and growth – I have a simple recipe here if you'd like to have a play.
Jojoba is useful in supporting skin conditions such as acne, eczema, psoriasis, rashes and dandruff.
It reduces inflammation, is deeply moisturising, promotes wound healing (eg scars and lesions), is non-comedogenic (doesn't clog pores), reduces fine lines, slows signs of aging and can help reduce sun damage, pigmentation, stretch marks and age spots.
Macadamia nut oil
Macadamia nut oil is a wonderful skin food, lightweight and non-greasy.
Like jojoba, it won't clog pores, is rich in essential fatty acids, and is perfect for dry and mature skin.
Macadamia nut oil contains squalene, a natural emollient that will deeply moisturise and boost cell regeneration.
Macadamia nut oil has been shown to slow the signs of ageing, and improve appearance of scars, blemishes and minor irritations.
Vitamin E
Vitamin E is added as an antioxidant to preserve the shelf life of the serum and keep the essential fatty acids they contain from oxidising.
Because of its antioxidant actions, it can help reduce UV damage. Vitamin E is wonderfully moisturising and softening to the skin.
It can even be applied directly to promote wound healing and minimise appearance of scars.
Frankincense
Frankincense essential oil is our hero ingredient here in this homemade face serum recipe, and has a long history of traditional use. Ancient Egyptians used Frankincense resin for everything from perfume to salves for soothing skin.
Frankincense is known as the King of Oils for good reason. When added to your daily face cream or serum as we have here, it can help reduce the appearance of blemishes and rejuvenate the skin.
It has a soft, warm, spicy and clean aroma - when used aromatically, it promotes feelings of relaxation.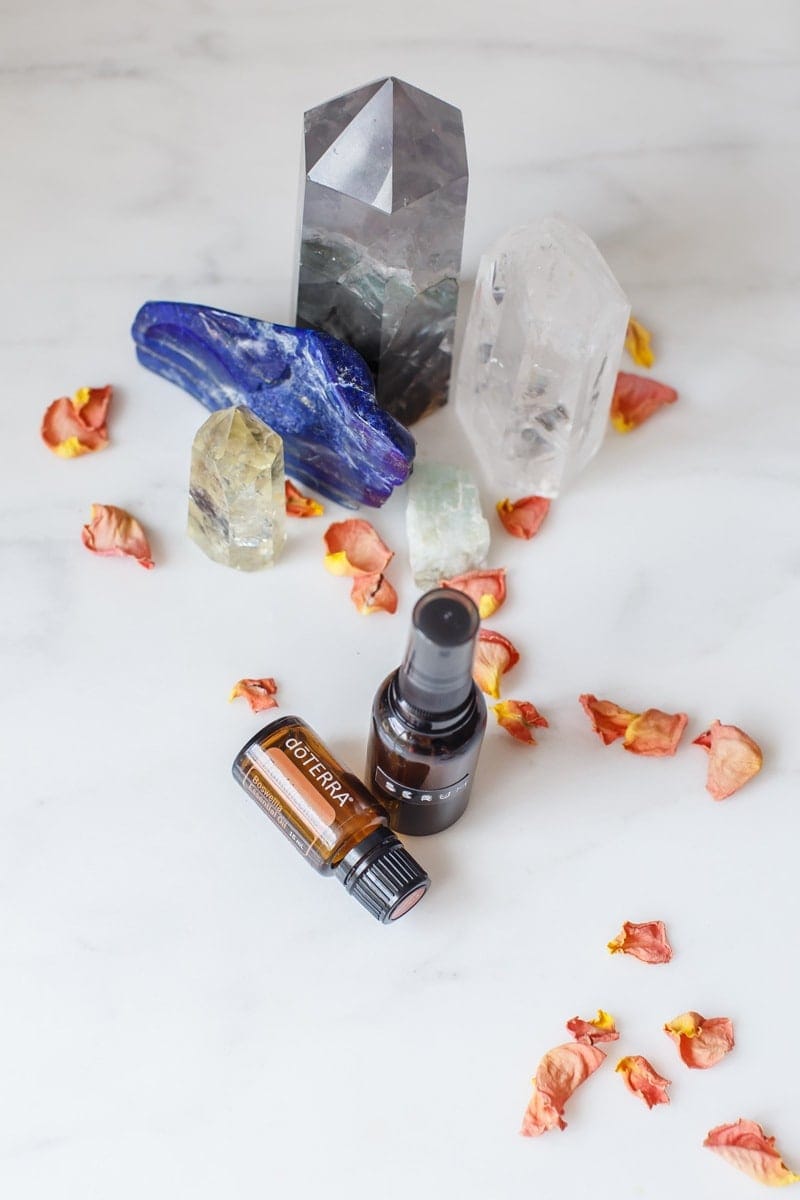 Face serum – supporting cast
Lavender: cooling, soothing to occasional skin irritations, reduces appearance of skin imperfections. If you could only pick two essential oils to use, Lavender and Frankincense blend so well together for the skin. My top picks for sure.
Sandalwood: promotes healthy, smooth looking skin, makes your skin feel nourished and rejuvenated, smells wonderfully woody but sweet.
Helichrysum: also known as 'Everlasting' and 'Immortal' (hint, hint!), a sunny yellow herb from the Mediterranean. Reduces appearance of blemishes and wrinkles, promotes a youthful, glowing complexion
Yarrow Pom: source of omega-5 essential fatty acids, antioxidant. Promotes youthful looking skin – glow in a bottle!
Lastly, a hot skin tip worth mentioning, particularly as we're in the heat of summer - is to stay hydrated! Good hydration is essential, and as effective as a good moisturiser. Avoid excess caffeine, alcohol and salt, and consider a good magnesium supplement – as magnesium improves cellular hydration.
Purchasing your essential oils
I've used the doTERRA essential oils in this face serum because I can 100% trust their quality. When you open a wholesale account through me, you get 25% off wholesale prices via your own access to their online store, with the potential to receive even greater discounts when you take month in their loyalty rewards programme.
Are you ready to join me in living a toxin free life and get the King of Oils on your skin?!
To join, follow my instructions here, or book a Skype chat if you'd like to know more.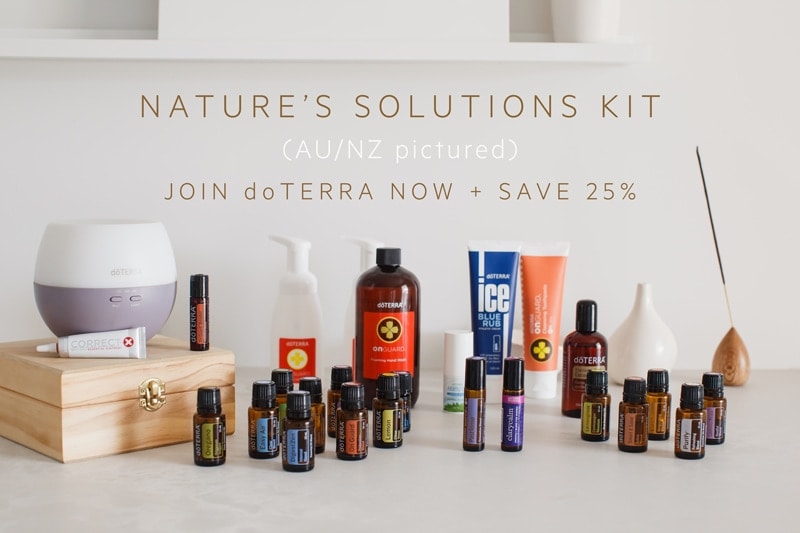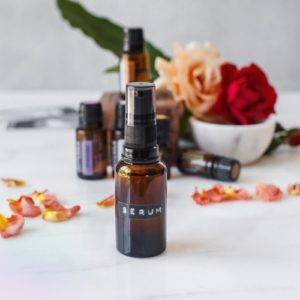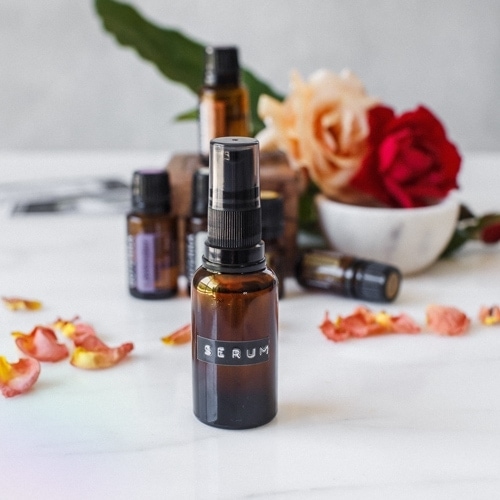 DIY Face Serum with Frankincense
This DIY face serum is revolutionary! Greedily devoured by the skin – infused with essential oils such as frankincense, lavender and sandalwood.
Equipment
30ml (1oz) glass amber bottle with serum pump
Ingredients
15

ml

jojoba oil

15

ml

macadamia nut oil

5

drops

vitamin E oil

10

drops

Frankincense essential oil

7

drops

Lavender essential oil

5

drops

Sandalwood essential oil

2

drops

Helichrysum essential oil

2

drops

doTERRA Yarrow | Pom essential oil
Instructions
Add all ingredients to serum bottle, shake well to combine.

Apply one pump (about 5-10 drops) to clean skin each night before bed.