This healthy apple crumble is topped with oats, a little coconut oil and brown rice syrup, almonds and antioxidant rich goji berries, making it gluten, dairy and refined sugar free.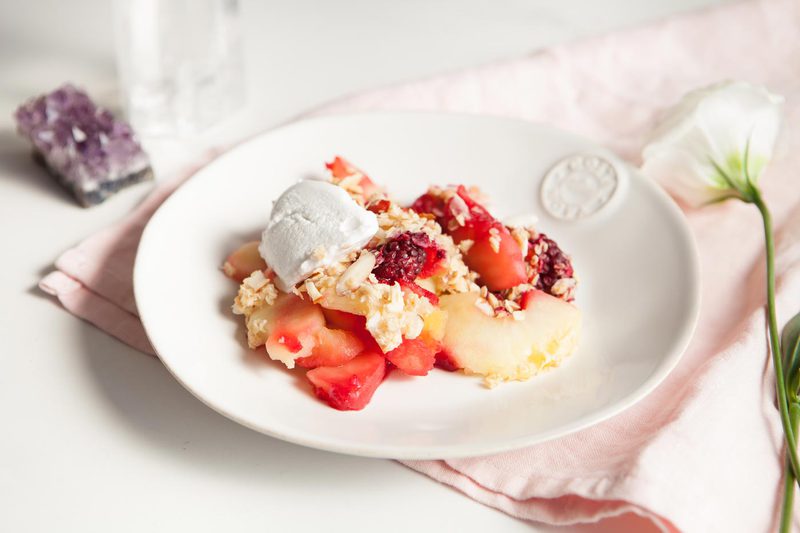 Everybody needs a good crumble recipe up their sleeve. I've shamelessly stolen this recipe from my mum – a beautiful, sugar free, Healthy Apple Crumble. We went on a massive health kick as a family, years ago now, and this was just one of the go-to homemade recipes to get a nutritious makeover. It's completely fool proof, whipped up in no time, and makes a totally legitimate breakfast.
So what's in a normal crumble? A heap load of white or brown sugar (by the way – brown sugar is simply white sugar in disguise – it has just a hint of added molasses), white flour and butter.
In this Healthy Apple Crumble, we've swapped the flour for oats, the butter for just a little coconut oil, and completely done away with the refined sugars. Just a couple of tablespoons of brown rice malt syrup are enough to sweeten – especially when you use seasonal, sweet organic apples.
[bctt tweet="Healthy Apple Crumble - sugar free and a totally legitimate breakfast! Find it here."]
We've also added in some almonds and antioxidant rich goji berries for a little crunch and chew factor. Just be careful when you bake this though – if you have your oven too high, or your tray sitting too close to the fans up top, you're likely to burn the goji berries. It's worth keeping an eye on them as they really make the crumble and taste pretty yuck when they're charred.
Another tip – steaming the apples slightly stops the final crumble being too moist and soggy below.
I've been eating this for breakfast some mornings with a big spoon of coconut yoghurt – super delicious. Store bought coconut yoghurt is typically made from canned coconut cream and cultured with probiotics. Although tasty, they're also usually made with gums or emulsifiers, some even have added sugars.
If you can get access to some young coconuts, then I recommend experimenting with making your own from scratch. I have a simple recipe for homemade coconut yoghurt here. It basically involves blending the soft young flesh with the water, then culturing.
That's all from me today, enjoy your crumble for breakfast, and I'll leave you with this thought:
You were born to be real, not perfect.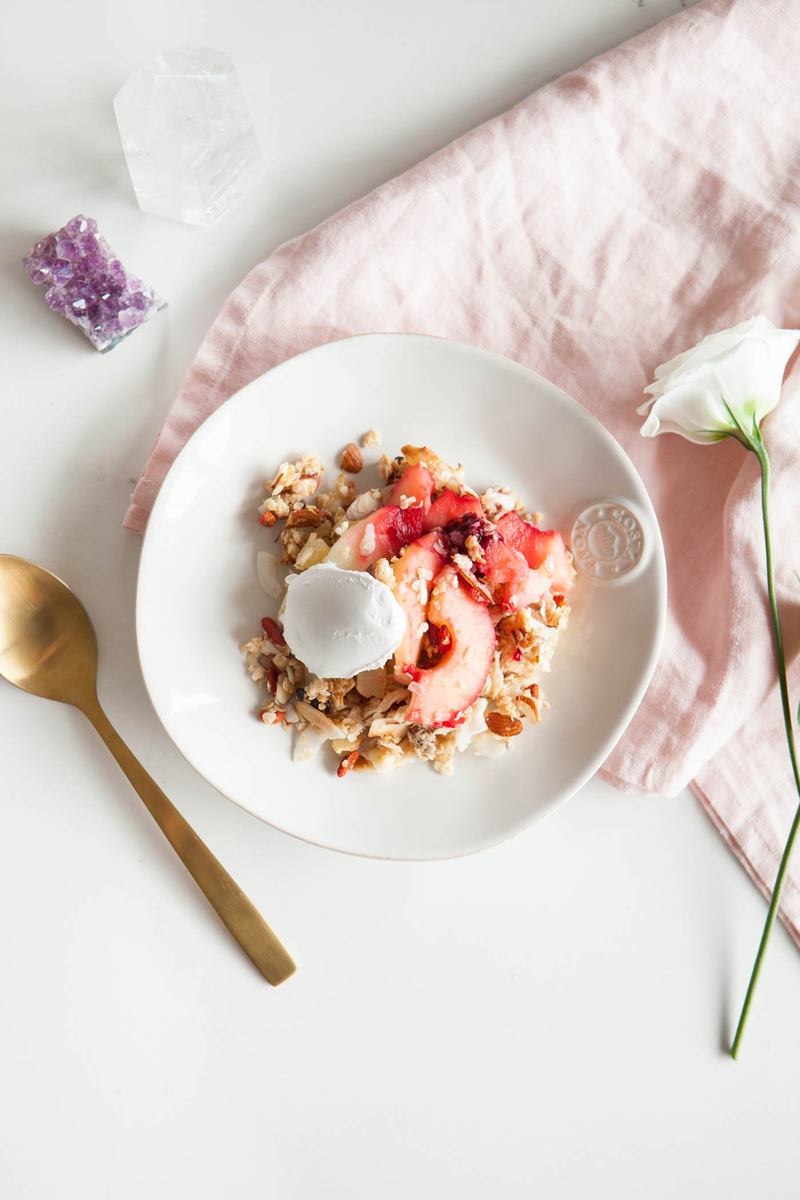 More healthy desserts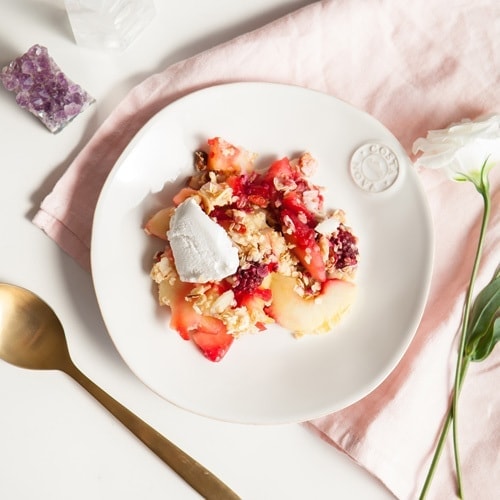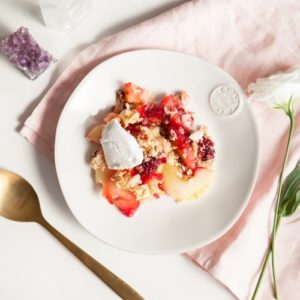 Healthy Apple Crumble
A Healthy Apple Crumble recipe made with oats and coconut, no flour, butter or refined sugar.
Ingredients
8

apples – red and sweet

12

boysenberries

fresh or frozen

1

cup

rolled oats

fine

40

g

flaked almonds

½

cup

coconut flakes

¼

cup

dried goji berries

2

tablespoons

brown rice malt syrup

or pure maple syrup, coconut nectar

2

tablespoons

coconut oil
Instructions
Pre-heat the oven at 180˚C (356˚F).

Peel, core and roughly chop the apples, then steam till they are only just soft. Set aside to drain and cool.

Place apples in a medium sized enamel dish, and push in the boysenberries over the top.

To make the topping, combine the rest of the ingredients in a mixing bowl and use your hands to combine. You may like to use a little extra coconut oil if it feels too dry.

Spoon mixture over the apples and berries then bake till golden on top (about 20 minutes). If it starts to brown too quickly, cover with baking paper or tin foil.

Serve with coconut yoghurt. Delish!
Nutrition
Calories:
334
kcal
Carbohydrates:
50
g
Protein:
5.5
g
Saturated Fat:
8.5
g
Sodium:
30
mg
Fiber:
8.7
g